Image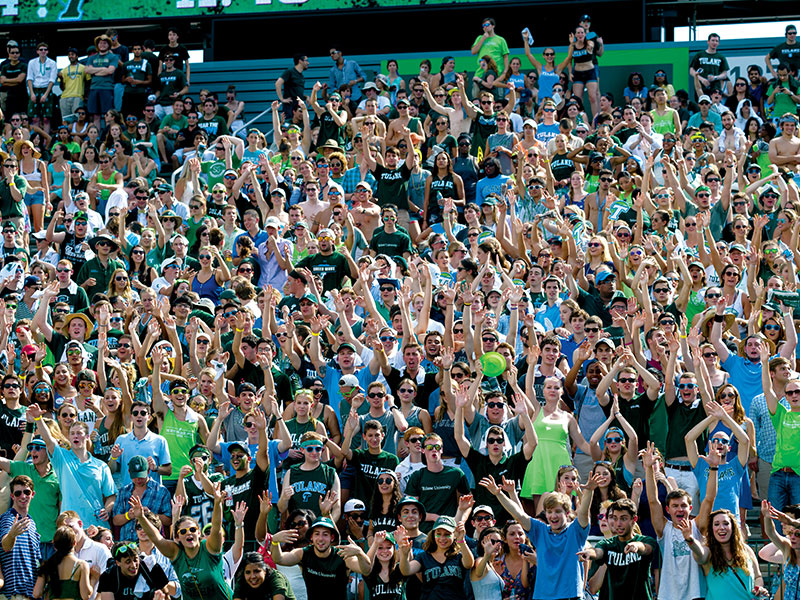 The Hullabaloo Cheer
A One, A Two, A Helluva Hullabaloo
A Hullabaloo Ray Ray
A Hullabaloo Ray Ray
Hooray-Hooray Vars Vars Tee Ay
Tee Ay, Tee Ay Vars Vars Tee Ay
Tulane!
Alma Mater
Words and Music by Williams and Ruebush
We praise thee for thy past, O Alma Mater!
Thy hand hath done its work full faithfully.
The incense of thy spirit has ascended
And filled America from sea to sea!
Olive Green and Blue! We love thee!
Pledge we now our fealty true
Where the trees are ever greenest,
Where the skies are purest blue.
Hear us now, O Tulane, hear us,
As we proudly sing to thee!
Take from us our hearts' devotion,
Thine we are and thine shall be!
Tulane Fight Song
Green Wave Green Wave,
Hats off to thee.
We're out to
Fight fight fight
For our victory.
Shout to the skies
Our Green Wave war cries.
The bravest we'll defy.
Hold that line for
Olive and Blue.
We will cheer for you.
So Fight, fight, old Tulane
Fight on to victory.
The Olive and the Blue
Here's a song for the Olive and the Blue
Here's a cheer for the team that's tried and true,
Here's a pledge of loyalty to thee,
Oh, Tulane Varsity,
Here's to the Greenbacks that never will say die
And here's to the hearts that are true,
To the men of Tulane, who are fighting for her name
For the Olive and the Blue.
Chorus
Roll, Green Wave, roll them down the field!
Hold, Green Wave, that line must never yield!
When those Greenbacks go charging thru the line,
They're bound for Victory,
Hail Green Wave, for you we give a cheer.
Hail Green Wave, for you we have no fear,
So ev'ry man on ev'ry play,
And then we'll win the game today,
Hurrah for Old Tulane.
Makin' New Tradition Everyday
We been around, longer than most
Come right here from New Orleans, they come here from all coasts,
Tulane, makin' new tradition everyday
We got promise, we got pride
Step up on the streetcar, we're ready to ride
Tulane, makin' new tradition everyday
We got a flavor, money can't buy,
Oft[en] imitated, oh, how they try,
So come on, Mr. Horn Man, strike up the band,
For the most distinctive education, in the land
I heard of Harvard, I been to Yale,
Did time at Princeton, baby, kinda' pale
Tulane, makin' new tradition everyday
Solo
We got a flavor, money can't buy,
Oft[en] imitated, oh, how they try,
So come on, Mr. Horn Man, strike up the band,
For the most distinctive education, in the land
She likes to study, I like to read,
We like some Chaucer with our Mardi Gras beads,
Tulane, makin' new tradition everyday