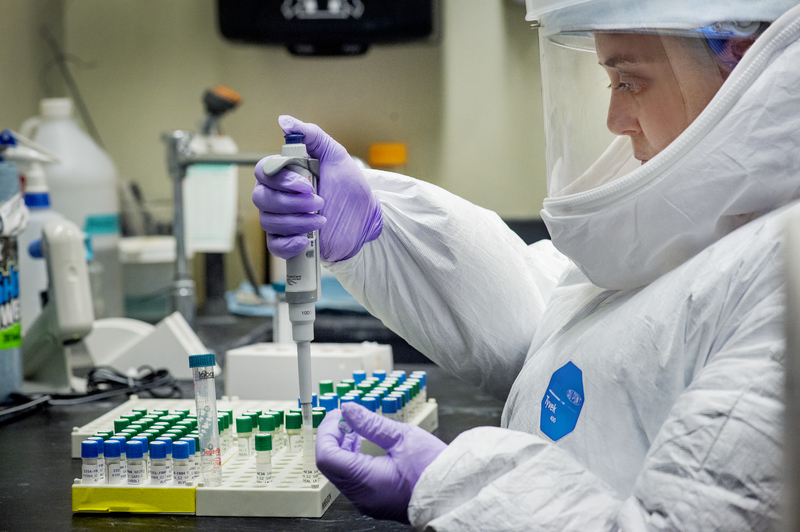 From its early beginning as a medical college with an emphasis on treating tropical illnesses, Tulane has long been a leader in health and bioinnovation. Today, more than 80% of our research grants are for health-related projects.
Faculty in the medical fields collaborate with scholars in the sciences and engineering to develop technologies and devices to cure diseases and develop healthier communities. A recently renovated laboratory space gives researchers a state-of-the-art facility for collaboration on health and bioinnovation projects.
Tulane research has led to discoveries like the connection between low testosterone and diabetes risk, the use of "nerve-on-a-chip" technology to study safer chemotherapy drugs, the development of a 15-minute test for Ebola and the role plants can play in oil spill clean-up. Current research projects include an investigation into the connection between oxygen in the brain and Alzheimer's, a search for a more effective flu vaccine and a study of the way the brain processes the locations of sounds. And our new Brain Institute will combine under one umbrella expertise from the Schools of Medicine, Science and Engineering, Public Health and Tropical Medicine, Liberal Arts and the National Primate Research Center to expand and push neuroscience programs at Tulane to the next level.
A spirit of design thinking and entrepreneurship is woven into the curriculum to prepare the next generation of innovators. Tulane doctoral student Nick Pashos developed a technology to help breast cancer survivors after undergoing reconstruction surgery. His company, BioAesthetics, won the $25,000 Women's Health and Wellness Prize at the Rice Business Plan Competition. Our students have helped invent SafeSnip, a small, disposable plastic clamp that cuts, seals and disinfects an umbilical cord in one step, making childbirth safer in developing countries. A company started in Tulane University's biomedical engineering department, developed Sensifoam, a device that adheres to patients during operations and transmits data to alert surgeons to the possibility of pressure ulcers, more commonly known as bedsores. And, one of our alumni developed Theodent, a chocolate-based toothpaste created from research he began as an undergraduate.
Innovation even extends into the way we teach. The Goldring Center for Culinary Medicine is the first dedicated teaching kitchen in a medical school. Our future doctors receive hands-on training in healthy cooking techniques that they will share with their patients.