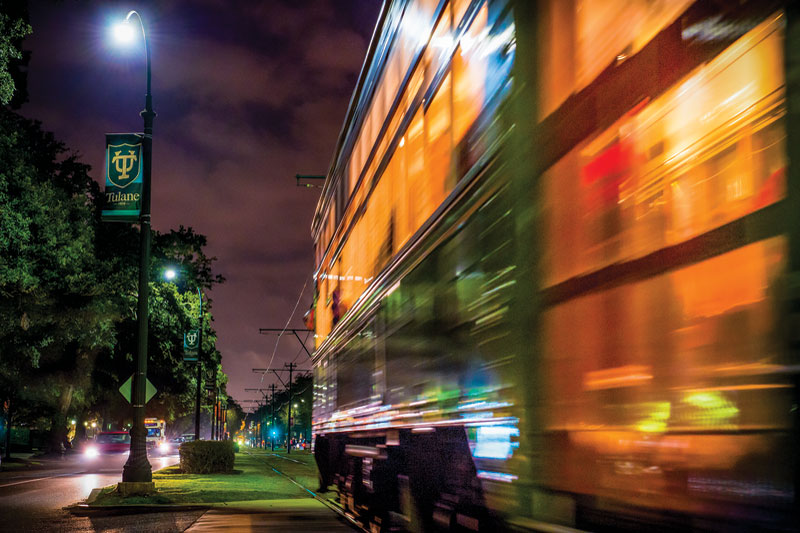 Getting around New Orleans is easy and affordable. The Tulane University Shuttles and Transportation system helps students, faculty and staff travel safely and easily to, from and around our campuses. The shuttles offer commuter connections between the uptown, health sciences, Elmwood and University Square campuses as well as shopping and entertainment venues in and around the greater New Orleans area.
In addition, the Tulane TransLoc On Demand transit app provides students, staff, and faculty the convenience of requesting ride-share style transportation within specified geographic boundaries and time frames.
Public transportation is also an effective way to get around the city. The Regional Transit Authority (RTA) manages all of the city's public transportation. These include buses and New Orleans' historic streetcar lines, which conveniently run by Tulane's uptown campus.
Taxis and ridesharing services like Uber and Lyft give students even more transportation options, making getting around the city even easier.
Student safety is of the utmost importance to Tulane. The Tulane University Police Department (TUPD) is a full-service law enforcement agency that provides police services to all of Tulane's New Orleans campuses. TUPD is available 24/7 to help keep Tulane a safe campus environment. In addition, TUPD offers personal services like Everbridge and safety escorts 24 hours a day. And, our emergency preparedness and response team provides resources to prepare the community for severe weather and other situations.