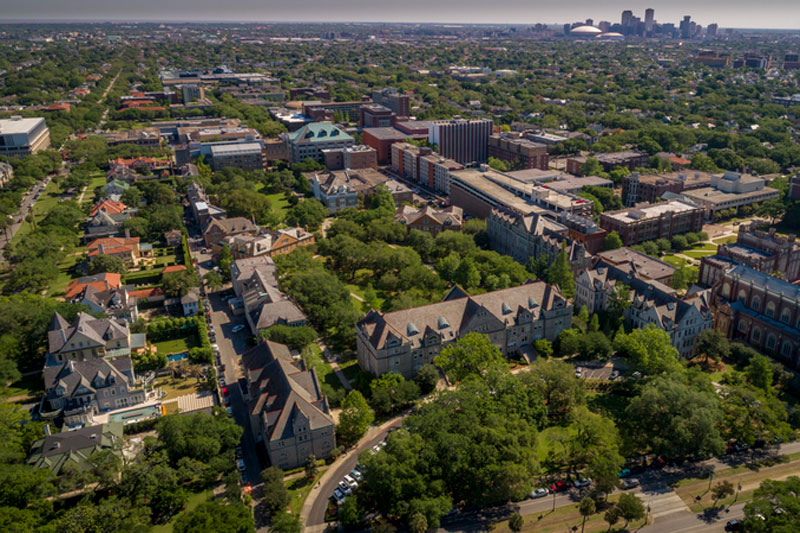 Famed for its history, music and cuisine, New Orleans is one of the world's most extraordinary cities. Our campuses are integral to the landscape and life-blood of this city.
Uptown
Uptown, the home of undergraduate residential life and several schools and colleges such as Newcomb-Tulane, law, business, and more, is nestled among the famous moss-covered oak trees and on the same tract of land as Audubon Park, along historic Saint Charles Avenue.
Downtown
Our downtown campus—home to social work, medicine and public health & tropical medicine—is clustered among the bustling streets and skyscrapers of the Central Business District and abuts the historic French Quarter.
Elmwood
Our Elmwood campus—home to the School of Professional Advancement (SoPA)—is conveniently located for students who live in the city's suburban areas. Students enrolled in SoPA programs take classes at both this campus and our main location in Uptown New Orleans.
Riverfront
The ByWater Institute at our riverfront campus brings scholars from across disciplines together to find innovative ways to manage threats of rising water from coastal erosion, natural disasters and a changing environment.
Tulane National Primate Research Center
Located in Covington, Louisiana, the Primate Center is one of seven federally funded national primate research centers. It has become a premier infectious disease research facility and offers training and educational opportunities ranging from summer undergraduate fellowships through postdoctoral training as well as research opportunities for visiting scientists.
Other Locations
We offer over 100 study abroad programs in over 40 different countries and more than 35 online programs.