A Plan for Now
A Plan for Now provides structure and direction for initiatives already underway and identifies actions we can undertake in the coming weeks and months that will have an immediate and positive impact toward becoming a more diverse, equitable and inclusive Tulane.
Belonging for All
At Tulane we're known for our warmth, resilience and sense of belonging to a passionate, creative, service-oriented community. It is critical that we share that unique bond with every student, faculty and staff member.
A top priority of the Commission will be to create a Tulane culture that embraces diversity and fosters a sense of belonging for all by:

1. Pursuing Racial Equity
2. Being Vigilantly Anti-Racist
3. Identifying and Addressing High-Priority Issues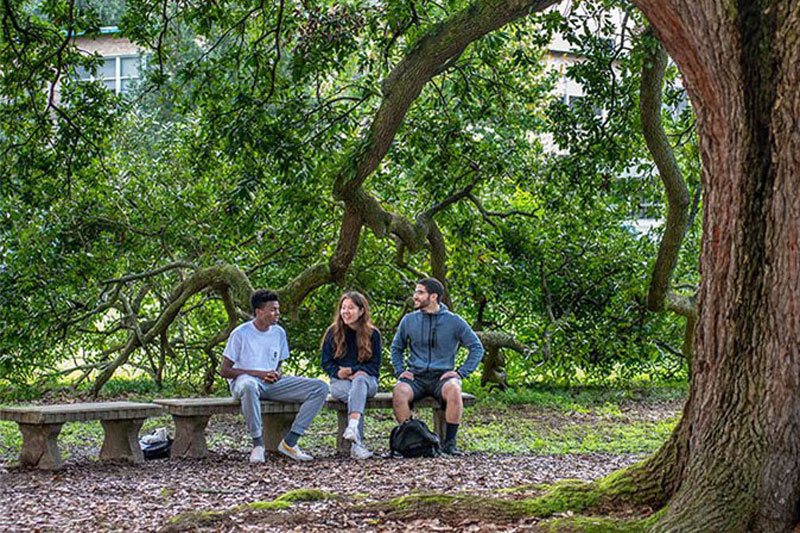 Pursuing Racial Equity
We must deliberately and proactively build a culture of equity. We do this by helping our community recognize and value the wide variety of backgrounds, experiences, ideas and insights each individual brings to our community. And we do this by encouraging our community to approach and engage — with a growth mindset — in open, honest and respectful discourse.
In 2018, Tulane began requiring all first-year undergraduate students to complete a Race and Inclusion course. University cabinet members also recently completed a similar course, and search committee chairs have taken classes on unconscious bias to ensure candidates from diverse backgrounds have equitable opportunities.
Next steps:
Tulane is building on these initiatives to develop broad-based equity, diversity and inclusion programs. It will be the expectation that all faculty and staff will participate.
Equity, Diversity and Inclusion (EDI) Initiative Committee: A committee made up of students, faculty and staff will oversee how these funds are distributed. This committee is co-chaired by Anneliese Singh, chief diversity officer, and Will Ferbos, associate vice president for institutional affairs and deputy chief of staff.

In fall 2019, Les Griots Violets, a coalition of students organizing around issues concerning Black students at Tulane, authored a resolution to establish an equity fee to increase funding for departments and programs that serve marginalized groups on campus. The resolution was adopted by the Undergraduate Student Government. As imposing a new student-paid fee is a lengthy and complicated process, President Fitts has committed $2.5 million annually – an amount equal to the proposed fee – to further the goals of the resolution.

The committee, which includes broad representation from individuals across the Tulane community, is now accepting applications that meet the principles and criteria on the committee's website.
Being Vigilantly Anti-Racist
As we pursue racial equity, we must remain intolerant of racism, investigating and addressing racist incidents. Fundamental to being anti-racist is understanding Tulane's complex history which the Commission will begin doing through the work of the special committees listed below.
The university has added a specific category to the online student concern system to better track bias incidents, which are acts of hostility motivated by racism, religious intolerance or other prejudice. Those reports will now go to a wide array of university officials to receive immediate follow up, which will range from referrals to TUPD or Student Conduct when appropriate. Some incidents, however, involve unknown perpetrators but still require an immediate community response to address the damage done. Other incidents will not rise to the level of student conduct violations, but still require a thoughtful and appropriate response.
Next steps:
The Office of Human Resources and Institutional Equity will distribute a semi-annual report of bias incidents. The data will provide a snapshot of the type of incidents that are occurring on campus. The report also will serve as tool to help our community members navigate the appropriate protocols to report an incident of bias and also tell the reader what to expect during the reporting process.
President Fitts appointed a task force which would – through the development of community-wide principles – make a recommendation on the naming of Hebert Hall. The task force had broad student, faculty, staff and alumni representation. The task force was chaired by Thomas LaVeist, dean of the School of Public Health and Tropical Medicine and Weatherhead Presidential Chair in Health Equity; Ana Lopez, professor of communication and associate provost for Faculty Affairs; and Thomas Reese, executive director of the Stone Center for Latin American Studies and Distinguished Chair in Latin American Studies.

View Task Force Website
In 2019, President Fitts launched the Tulane Trailblazers program to honor the contributions of the many important people from racially diverse backgrounds who have made a substantial and lasting impact on campus. All schools are planning and will soon announce recognitions specific to their communities. The program features the naming of the Décou-Labat Residences (named after the first African-American undergraduates to earn degrees from Newcomb and Tulane Colleges) and the Carolyn Barber-Pierre Center for Intercultural Life (honoring this pioneer for her three decades of dedication to the university).
Identifying and Addressing High Priority Issues
From time to time, there will be time sensitive and/or high priority, strategically important issues that require the direct attention and resources of the university, which currently include:
In 2018, Thomas LaVeist, a national expert on issues related to equity and health, was named dean of Tulane University's School of Public Health and Tropical Medicine and the Weatherhead Presidential Chair in Health Equity, making him the first person to hold one of Tulane's newly endowed presidential chairs.
Next steps:
He and other key Tulane researchers are working to launch a new Health Equity Institute, which will look at how health issues, such as COVID-19, disproportionately impact the Black community.
The Tulane University Police Department (TUPD) plays a critical role in ensuring the safety and security of our campus. TUPD officers prioritize community policing and engagement, which has been a priority of the new Chief of Police who joined Tulane in 2018.
Next steps:
TUPD has instituted an aggressive hiring campaign, particularly among women and other underrepresented groups, which has resulted in the hiring of 16 Black and Hispanic officers, five of which are women. The department is also expanding anti-bias and de-escalation training and has amended and continues to review use-of-force procedures. The Chief Diversity Officer is currently reviewing several TUPD policies as well.
Promoting Excellence and Leadership in Racial Equity
To equip our students to succeed and meet the challenges of an increasingly complex society and economy, it is crucial for Tulane to leverage the richness of backgrounds, experience and ideas inherent in our growing diversity. By moving forward quickly and with purpose to support student, faculty, and staff success, we can realize the intellectual and competitive advantage we need to take this great university to the next level.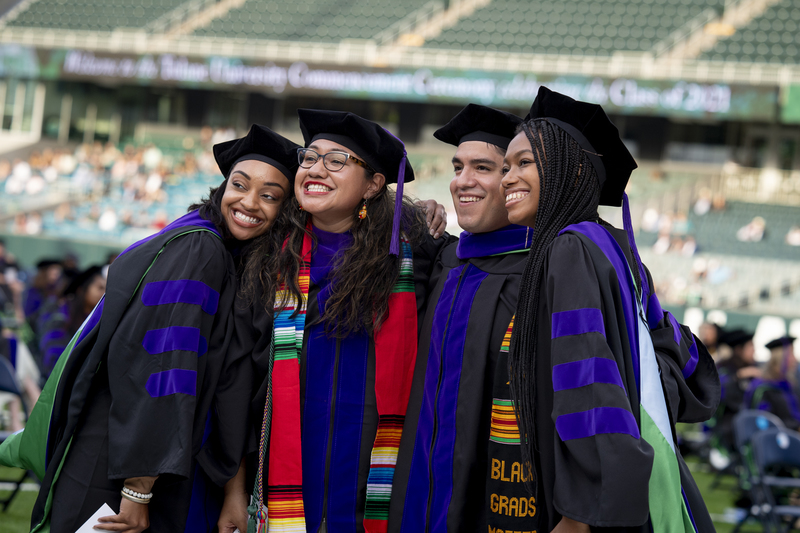 Fostering Student Success
Academic success and achievement takes a village — one that we often take for granted. Ensuring every student has the environment and tools they need to be successful is incumbent upon each of us. In the past few years, we have bolstered the resources to support our students with the following programs and are excited about initiatives underway in each.
For many students, the classroom will be the single best opportunity to have open and honest dialogue about a cross-cultural experience and to develop a deeper understanding of the historic structures that contribute to those experiences. Our goals in this area will be two-fold, first, to provide faculty with the strategies and tools necessary to facilitate productive and educational experiences around what can, at times, be difficult conversations. And second, to ensure that all students experience a classroom environment where their views and opinions are respected and valued.
Over the last several years, the Office of Undergraduate Admissions has worked to diversify its staff as it recruits the most academically qualified and diverse classes in Tulane's history.

As we continue to develop pathways for local students, attract more diverse populations to Tulane, and support their success here, the Office of Admissions is requiring all admissions counselors to receive implicit bias training each semester.

In an effort to reflect and uphold our values prior to admission to the University, the Office of Admissions has developed a process and committee to properly review incidents of bias, racism, and hate crimes that occur prior to a student's matriculation to campus. The Office of Student Conduct investigates violations of the Code of Student Conduct for all incidents that occur in pre-college programs.
In 2019, President Fitts announced the creation of The Carolyn Barber-Pierre Center for Intercultural Life in honor of Carolyn Barber-Pierre, assistant vice president for Student Affairs and a campus pioneer whose decades of dedication to the Tulane community have been instrumental in its movement toward greater inclusion. The center includes The Office of Multicultural Affairs, Religious Life at Tulane and The Office of Gender and Sexual Diversity. Its mission is to strengthen and enhance diversity at Tulane. The offices in the center provide students of color and lesbian, gay, bisexual, transgender, intersex, queer, questioning and allied students with advocacy services, mentoring, personal support and cultural, social, and academic programming to facilitate their adjustment to the university and ability to thrive thereafter.
The University has increased the available funding and staffing support for the Center. The center has moved to a newly renovated and expanded location at the center of campus – a visible demonstration of our commitment – that improves the resources, experience and access of this vital resource.
The Center for Academic Equity was launched in November 2016. The center has created initiatives designed to develop community and fosters opportunities for students of color, students who identify as LGBTQ+, first-generation to college students, DACA status students, undocumented students, and Posse or College Track scholars. Programs such as Equity Thursdays and Proud TU Be First allow sometimes marginalized students to thrive on campus.
Next steps:
Students are invited to share their academic concerns with the center, help shape the center's direction and engage with the broader community.
Supporting Career Success
We've made important strides in recruiting diversity in our faculty and staff. However, ensuring long-term success requires that we approach not just recruitment but advancement and retention with clear intentionality.
The ALAAMEA Alliance, a group which strategically advocates on behalf of Tulane's underrepresented faculty and staff community, has been relaunched. These underrepresented groups include an alliance of members and allies of diverse social identity groups of the Tulane community including Asian, Latino, African American, Multi-Ethnic, and LGBTIQ faculty and staff. The Alliance exists to provide a forum for dialogue and subsequent action on issues and concerns that impact the university's underrepresented Faculty and Staff.
For more information regarding the Alliance's work, please contact anneliese@tulane.edu.
Building on the work of the Taskforce on Embedding Diversity and Inclusive Excellence, the provost is working with the deans to educate faculty search committees to broaden their pools, to overcome implicit bias and to creatively recruit faculty of color.
In addition, Tulane joined the National Center for Faculty Development and Diversity, which gives faculty, graduate students and post-docs access to a variety of resources, including a network of diverse scholars who can serve as peers, mentors and coaches. President Fitts has also led two half-day retreats with faculty of color from across the university to listen to their concerns and enlist their help to improve recruitment and retention efforts. In addition, the president has made additional funds available to help recruit diverse faculty. As a result, 48% of all faculty hired in academic year 2019-20 were faculty of color.
Next steps:
We need to take an "all of the above" approach to truly compete: We need to understand the financial challenges when competing with other institutions. We need to develop creative approaches to not only hiring but also to building pipelines of diverse faculty.
To that end, we need to understand what we can do better to ensure we retain faculty of color once they join TU. Anneliese Singh, the associate provost for diversity and faculty development, has been asked to work on improving mentorship to support the promotion and retention of faculty of color, who are often burdened with the extra work they shoulder mentoring students of color and diversifying university committees.
The Office of Human Resources and Institutional Equity and the Office of Equity, Diversity and Inclusion, in partnership with the Alliance for Asian, Latino, African American, Multi-Ethnic and Allies Faculty and Staff and the Staff Advisory Council, has been charged with creating a robust talent management strategy that focuses on the recruitment and retention of Black employees and other people of color. This initiative includes a leadership institute to proactively improve the diversity of the university's management and leadership ranks.
Next steps:
The university has created the Leadership Institute, which creates new career opportunities and pathways, particularly into middle and senior management.
Partnering with Purpose
Tulane's success as a university is directly tied to the success of New Orleans and surrounding communities. While our service orientation is well known, we haven't always been as strategically and cohesively focused on the local community as we can be.

Moving forward we will, at a university level, commit to engaging with intentionality, purpose, and through partnership to build and support a fairer and more equitable community.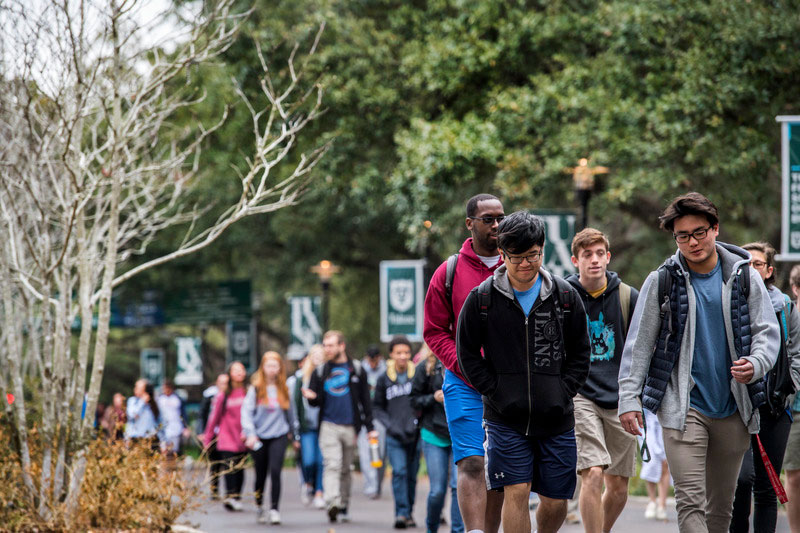 Tulane is the largest private employer in New Orleans and where and with whom we procure services can have an enormous social and economic impact. We have already reviewed our current portfolio of business partners, and we know we need to do more. We are working to understand and where possible, remove or reduce barriers that can make it difficult for minority, women and veteran-owned businesses to compete for Tulane's business.
Next Steps:
We are purposefully encouraging New Orleans businesses to see Tulane University as a potential partner and customer–particularly for those companies who have never tried before. There are some exciting opportunities in the works that will empower our local economy and cost-effectively support Tulane. More information will be shared as it is available.
Tulane is working to build on recent progress and identify new ways to achieve a more diverse student body. Tulane believes that it must be a leader in college access in the local community. Specifically, Tulane continues to expand its efforts to recruit from diverse local public high schools by building pathways for local junior and seniors to enroll. The admissions team hosts college fairs in New Orleans, makes recruiting visits to local high schools, gives presentations on obtaining college financial aid at New Orleans public schools and provides ongoing support of local College Track sites.
Next steps:
Admissions is expanding collaborations with regional partners by reaching out to over 60 different community-based organizations working in the greater New Orleans area. Tulane is furthering our commitment to Louisiana with our college access initiative: The Louisiana Promise. The university is also requiring admissions counselors to complete implicit bias training to help ensure that each applicant is treated as a unique individual throughout the admissions process.
Tulane's success is tied directly to the success of New Orleans and the Gulf Coast region. Established in 2006, the Center for Public Service at Tulane unites academics and action, classroom and communities through which students, faculty, and community partners dedicate themselves to the transformation of civic life.
Next steps:
We are exploring new ways and new partnerships to help ensure that Tulane's public service programs achieve their maximum impact.