Wave of Green Day of Service
Tulane's motto, non sibi sed suis—not for one's self, but for one's own—embodies who we are as Tulanians. Inspired by our core values, faculty and staff come together annually for this Wave of Green Day of Service, hosted by the Center for Public Service. By engaging with the people and organizations of our local community, we aim to understand and improve the lives of those around us.
This year's Day of Service will be held on Thursday, April 6, 2023. Faculty and staff will be volunteering with The Green Project, SBP, Blue Krewe, City Park, NORD Commission, NOPD Sixth District Cleanup Project, Neighborhood Cleanup Project and more. Primate Center employees will be volunteering at the Northlake Nature Center and Habitat for Humanity ReStore on the Northshore.
The Center for Public Service will provide volunteers with a commemorative t-shirt, round-trip transportation, snacks and beverages. Faculty and staff volunteers will check in at Greer Field at Turchin Stadium at 7:45 a.m. Buses will depart for service sites at 8:15 a.m. and return to the athletics complex by 12:30 p.m. for a closing lunch at Yulman Stadium.
Upon arrival at each service site, representatives from the community organization, as well as a staff member from the Center for Public Service, will provide volunteers with a brief training. All sites will have restrooms, snacks, and water (volunteers are encouraged to bring refillable water bottles).
Faculty and staff at the Primate Center may volunteer for one of two service projects on the Northshore: Northlake Nature Center or Habitat for Humanity St. Tammany West ReStore. For more information, please contact Stacey Schwankhart at at sschwank@tulane.edu.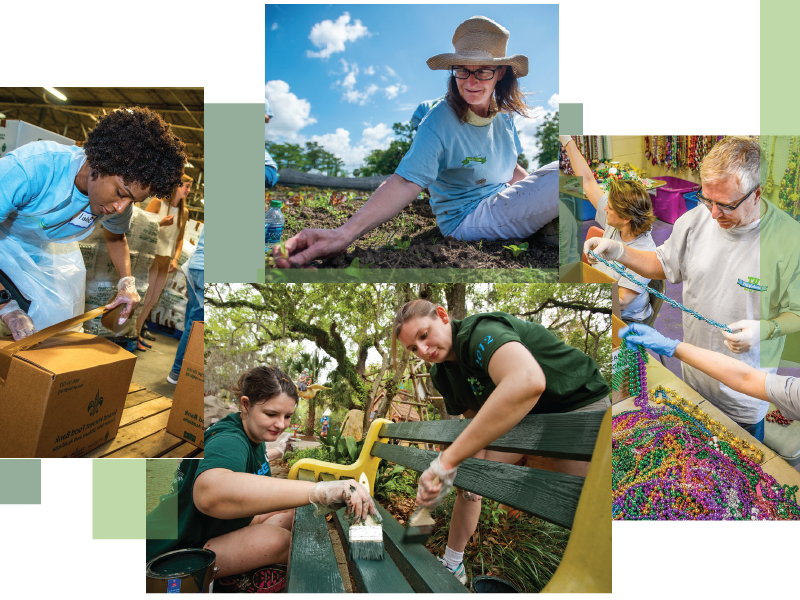 Registration
Registration for the 2023 Day of Service will be available through March 31 for all faculty and staff.
*When you click the Registration link, you will first be prompted to login with your Tulane credentials to complete the form.
Please dress comfortably and bring a refillable water bottle. Upon arrival at registration, volunteers will receive a commemorative Wave of Green Day of Service t-shirt, which all are encouraged to wear that day. Closed-toed, athletic shoes are recommended, as are hats, sunscreen and bug spray for those working outside. Volunteers will receive more detailed directions in their registration confirmation email.
Faculty and staff volunteers should arrive to Turchin Stadium for registration at 7:45 a.m. At 8:15 a.m., buses will bring volunteers to their assigned service sites, and each project will run from 9:00 a.m. until Noon. Buses will bring everyone back to campus for a closing lunch in Yulman Stadium at 12:30 p.m.
Kronos has a special pay code for Day of Service, which does not count against employees' vacation or sick hours. Both exempt and non-exempt employees should log their time for Day of Service by submitting a request for time off in Kronos and selecting the pay code "Day of Service." In gratitude for their service, volunteers are free to leave for the day following the celebratory lunch. They do not need to return to work.
Tulane University strives to host inclusive, accessible events that enable all individuals, including individuals with disabilities, to engage fully. Volunteers with disabilities or who need accommodations can make a request on the registration form. Alternately, requests an accommodation or for inquiries about accessibility for Day of Service, can also contact Maurice Smith, Associated Director for the Center for Public Service: mlsmith@tulane.edu or (504) 862-3366.

To be respectful of those with allergies and environmental sensitivities, we ask that volunteers please refrain from wearing strong fragrances.