Image

"Heroes & Helpers" recognizes a person or team, among Tulane's students, faculty, staff and alumni, engaged in extraordinary efforts on behalf of others in the battle against the major health crisis of our time.
Recent Winners
April 8, 2021: Daniela Rivero Bryant
Image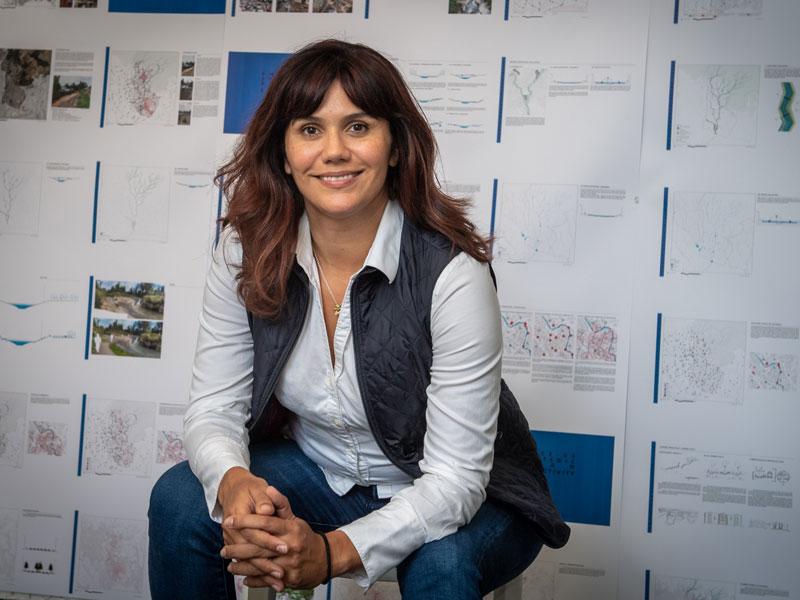 Daniela Rivero Bryant, an economist and a lecturer in the Master of Sustainable Real Estate Development Program at the Tulane School of Architecture, has been named as one of the Heroes and Helpers for her work on a citizen leadership team assisting in the COVID-19 response in her home country of Bolivia. She orchestrated a multidisciplinary team that designed an award-winning telemedicine tool to provide remote medical care and follow-up through a network of volunteer physicians in Bolivia. She also led the strategy to create an umbrella organization that unifies the efforts of volunteer doctors, influencers, technology experts, international aid organizations, communications experts and on-the-ground medical brigades. Her expertise in disaster policy has allowed local and central governments to join in these efforts.
Before attending Tulane in pursuit of her economics PhD, Rivero Bryant spent more than 15 years in post-Katrina New Orleans reconstruction, during which she managed the statewide disposition of several thousand properties sold to the state of Louisiana as part of the Road Home Program.
---
March 16, 2021: Elaine R. Hicks
Image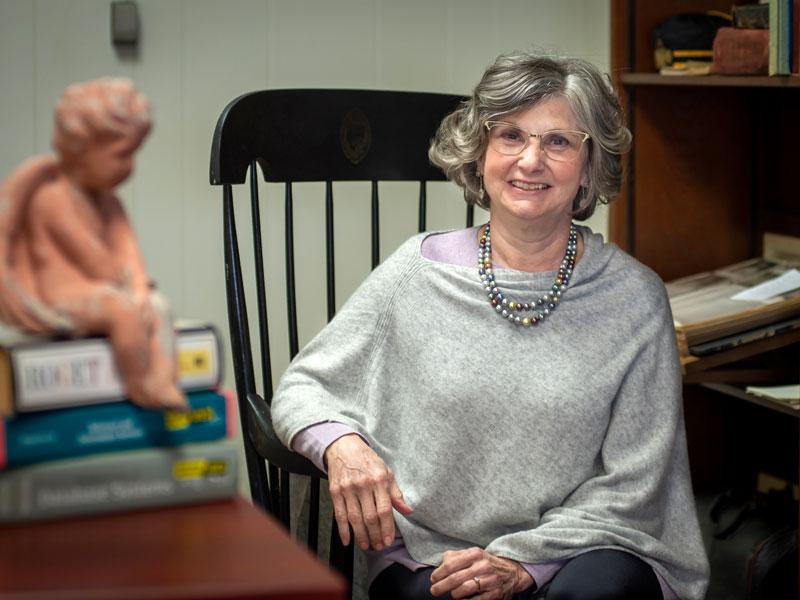 Elaine R. Hicks, a research, education and public health librarian at Tulane, was named one of only three Librarians of the Year by Library Journal, one of the oldest and most respected publications covering the library field. Hicks was honored for her work pulling together an ad hoc organization that she named the Librarian Reserve Corps (LRC), in response to the World Health Organization's need for timely, accurate and searchable reference material about COVID-19. Since March 2020, LRC has vetted, indexed and helped disseminate tens of thousands of health resources about the SARS-CoV-2 novel coronavirus with more than 100 librarians from the United States and worldwide.
---
December 8, 2020: Dr. Prateek "Raj" Adhikari
Image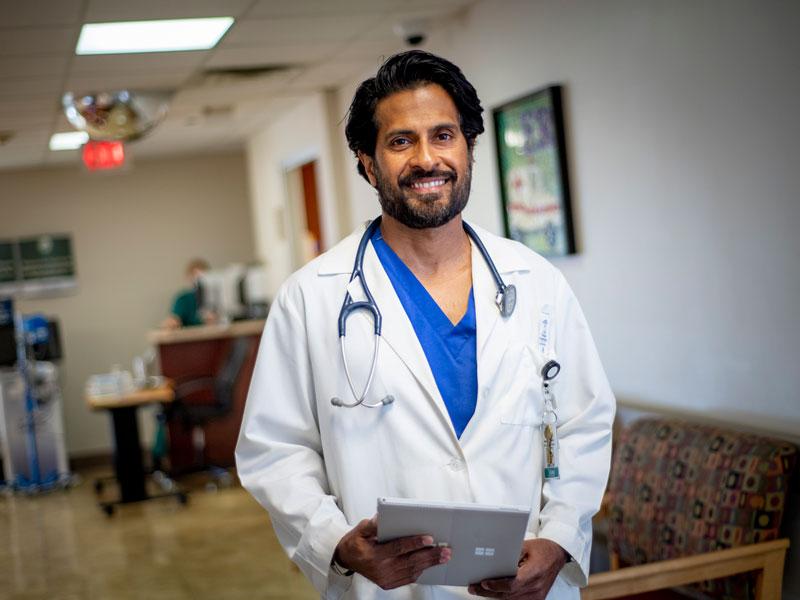 Dr. Prateek "Raj" Adhikari oversees the emergency departments at Tulane Medical Center and Tulane Lakeside Hospital. When COVID-19 became a reality in Greater New Orleans, not only did Adhikari lead his frontline physicians and other staff in treating patients, but he also led efforts to educate staff about personal protective equipment, and talked with local media about COVID safety – including a public service announcement that he recorded for social media.
 
Adhikari, who also has an undergraduate degree from Tulane University, has been with Tulane ER since 2006 and has served as medical director since 2007. His presence is of tremendous value to the university's Student Affairs staff, who rely on him for the safety of the students who need emergency medical care, especially through the pandemic.
---
November 19, 2020: Dr. Kendra Harris and Dr. Anjali Niyogi
Dr. Kendra Harris
Image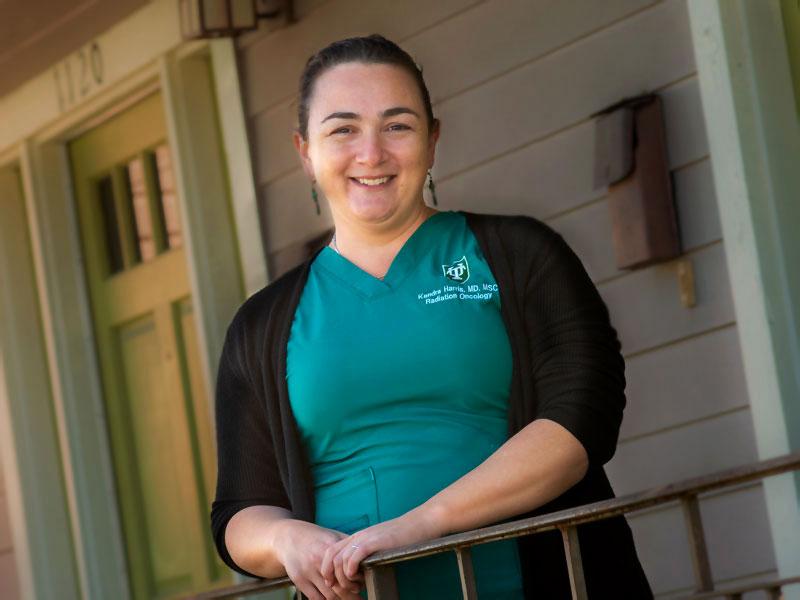 Dr. Kendra Harris found a silver lining in the coronavirus pandemic that has so greatly affected New Orleans. In mid-March, when the first COVID-19 case was recorded at Tulane hospital, Harris, chair of the Department of Radiation Oncology at the School of Medicine, wanted to give support to residents and other frontline healthcare workers, including nurses, custodians and registrars.
Under the leadership of School of Medicine Dean Lee Hamm, Harris partnered with university administrators to establish the Tulane Frontline Providers Fund: Green Wave Heroes. Since the fund began in April, generous donors have contributed almost $700,000 to assist with child-care services, nutritious meals and other support for Tulane healthcare workers on the front lines.
The donations served double duty, supporting local restaurants who were struggling due to the pandemic.
Dr. Anjali Niyogi
Image
Dr. Anjali Niyogi, associate professor of internal medicine and pediatrics and holder of the Kylene and Brad Beers Professorship of Social Entrepreneurship, developed Letters from the Porch: New Orleans Serenades its Medical Community, featuring a series of front porch performances by area musicians and poets. The performances, which can still be viewed online, were filmed starting in March to say thank you to doctors, nurses, residents, technicians, housekeeping, food services and other staff working long hours at area hospitals during the pandemic. Funding for the project began through Niyogi's professorship in The Phyllis M. Taylor Center for Social Innovation and Design Thinking; it then received substantial additional funding through Xylem Corporation.
 
The project team includes Dr. Niyogi and Dr. Harris as executive producers, as well as Jebney Lewis, free feral, Jinx Holliday, Holden Mauk, Zac Manuel, Marrion Hill and Zuri Obi.
---
October 14, 2020: Christine LeGuizamo
Image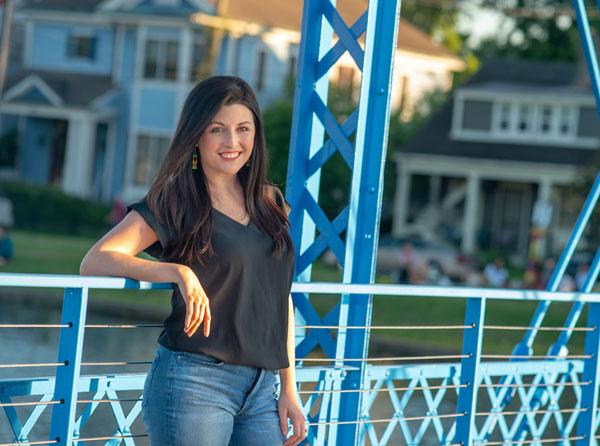 Christine LeGuizamo, a 2013 graduate of the Tulane School of Social Work, is recognized as a Hero & Helper for her tireless advocacy for high school students in New Orleans. LeGuizamo works as a social worker and site coordinator with Communities in Schools of the Gulf South, a nonprofit dedicated to connecting public schools with accessible, coordinated community resources. For many young students, attending in-person school allows for respite and relief from the challenges of everyday life. That support system was removed with the onset of COVID-19, and many students were experiencing worsening mental health due to increased financial, social and academic stress. LeGuizamo kept her lines of communication open, reaching out to her students and their families to offer telehealth support for those whose lives have been upended by the social restrictions put in place to combat the spread of COVID-19.
Over the past seven months, LeGuizamo has found new avenues to connect her students to vital resources while they are temporarily disconnected from their larger sense of community. Beyond virtual and telehealth consultations, LeGuizamo has begun socially-distanced home visits to ensure her young students – particularly incoming ninth-graders – feel the critically important connection between home and school. Her genuine care and concern for her students provides a safety net for those who rely on services offered through their public schools. LeGuizamo is a community hero in the truest sense, ensuring New Orleans students and their families remain connected with their academic community.
---
May 22, 2020: Michael Antoine and Tulane Emergency Medical Service (TEMS)
Image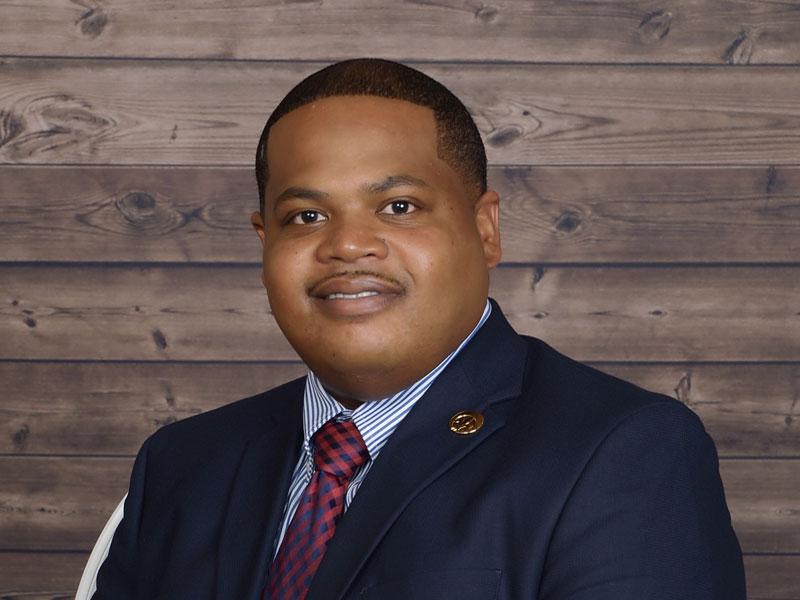 Michael Antoine
Michael Antoine is passionate about helping others, and he has been doing just that for more than 18 years as part of the public safety team for the city of New Orleans. But never did he imagine having a year like this one. Sandwiched between Mardi Gras and the June 1 start of hurricane season – two of the busiest, most hectic times of year – was the ongoing COVID-19 pandemic, which hit New Orleans especially hard.
Tulane Emergency Medical Service (TEMS)
They came to Tulane University from an array of backgrounds and interests, forming a family of sorts through their love of helping others. But it wasn't their dorm floors, club memberships or study groups that led to that close-knit bond. As they were navigating their way through freshman year, some wondering if they would ever fit into college life, they heard about a group called TEMS — Tulane Emergency Medical Service — and knew they had found the group that would change their lives.
---
May 15, 2020: Ross Berlin, Max Steitz and Matthew Wu
Image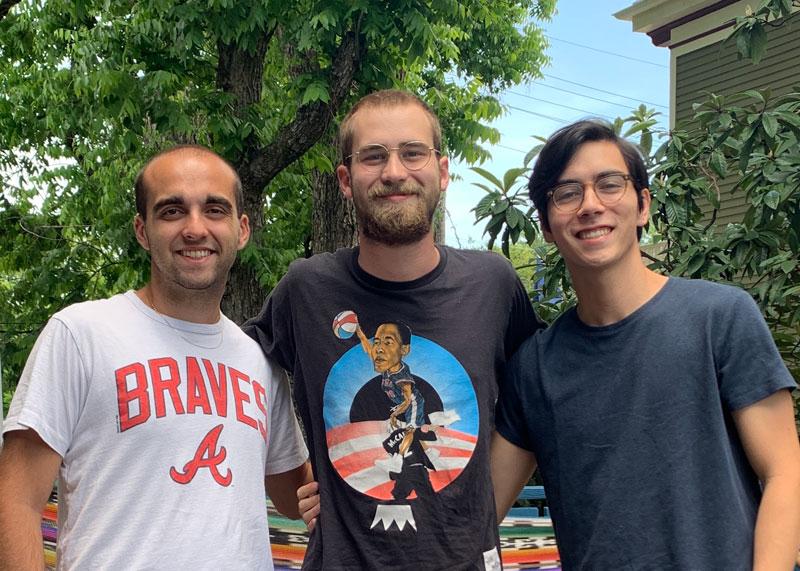 As graduating seniors, Ross Berlin, Matthew Wu and Max Steitz never imagined they would be spending the final months of their Tulane experience in isolation, completing coursework away from the campus they have called home for the past four years.
---
May 1, 2020: Robert F. Garry Jr., Xiao-Ming Yin and Di Tian
Image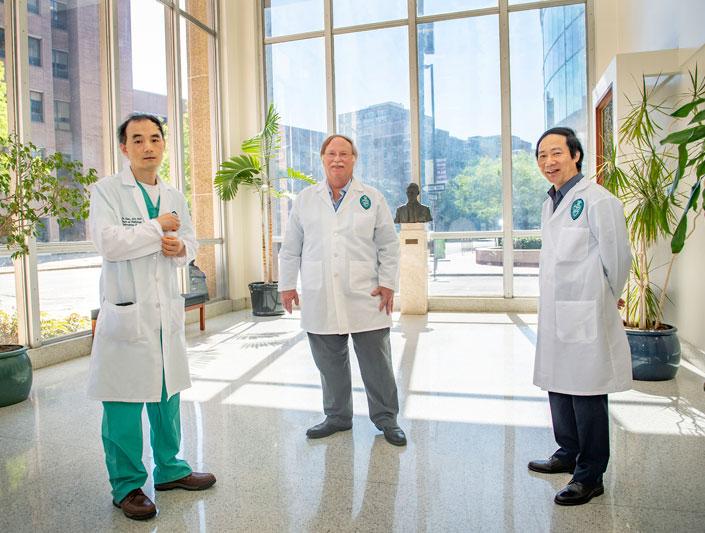 As a group, Drs. Robert F. Garry Jr., Xiao-Ming Yin and Di Tian, are recognized as Heroes and Helpers for their swift, innovative and decisive actions setting up COVID-19 testing at Tulane University School of Medicine. By April 1, they repurposed a research laboratory to process Polymerase Chain Reaction (PCR) tests, where results can be processed within a day. PCR tests are identical to those used by the Centers for Disease Control. Professor of Microbiology and Immunology Garry facilitated the test in collaboration with Professor Yin and Associate Professor Tian of the Department of Pathology, which has validated and is administering the test in a lab certified by the Clinical Laboratory Improvement Amendments (CLIA). A CLIA-certified lab ensures quality lab testing. The testing being done at the medical school saves time from having to ship samples to the state lab in Baton Rouge, where because of demand, results can take days, rather than hours, to obtain. The faster testing allows for better patient care and more effective clinical treatment and intervention.
---
April 24, 2020: Guido Salvatierra
Image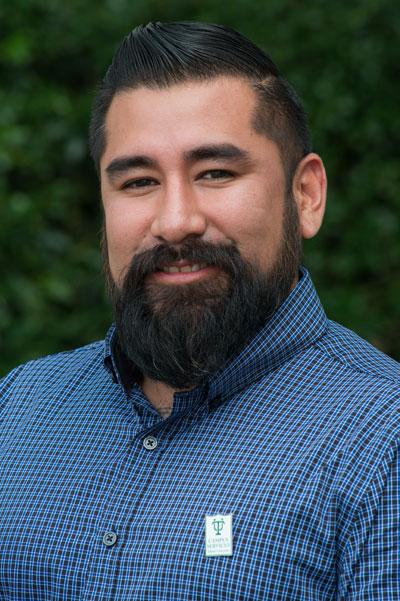 Guido Salvatierra, director of sustainable services, is recognized as a Heroes and Helpers honoree. Salvatierra heroically led his team at Tulane Facilities Services to facilitate a smooth and seamless move-out of students from residence halls as the university abruptly began online instruction and asked students to move home during the COVID-19 pandemic. Most students left in a hurry, leaving behind some belongings and trash. Salvatierra's team effectively and efficiently cleared the residence halls so that the small number of students who did elect to stay on campus would have a safe and clean environment in which to live. Even before this crisis, the Office of Housing and Residential Life has relied on Salvatierra as a huge part of its operation to provide student accommodations that are conducive to living harmoniously and learning productively. Salvatierra stepped up, once again, to the challenge.
---
April 17, 2020: Isaac Hoeschen
Isaac Hoeschen, a School of Liberal Arts student, is a Heroes and Helpers honoree, who returned home to Milwaukee, Wisconsin, when Tulane students temporarily transitioned to online classes to stop the spread of the coronavirus. To help out in the crisis, Hoeschen researched a design for making medical face shields. He ordered enough materials to make 1,000 face shields and, with the help of a friend, found a local machine shop to die-cut the shields. Initially, he put together kits for friends in the neighborhood to assemble. He then contacted hospitals about purchasing the face shields at cost. In less than a week, he had 725 face shields to sell to Froedtert Hospital of the Medical College of Wisconsin. The hospital was so pleased that they asked if Hoeschen could produce 1,000 shields a day. Hoeschen connected the hospital with the machine shop. As a result, the shop has brought back all its employees, returning to full staff, and is now manufacturing face shields of the same design that Hoeschen produced with his friends and neighbors.
---
April 9, 2020: Angie Birnbaum
Image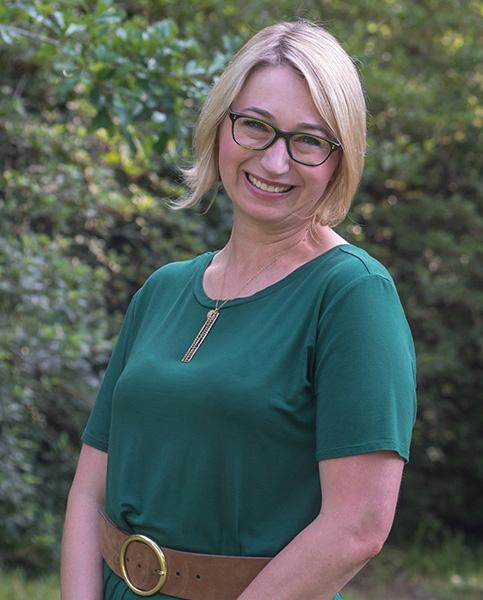 Angela Birnbaum, director of Tulane's Office of Biosafety, is the first Heroes and Helpers honoree. Birnbaum has worked tirelessly to help ensure the safety of medical professionals treating COVID-19 patients. She has developed a process to decontaminate critically needed N95 and other protective masks so that they can be reused by frontline doctors, nurses and other healthcare professionals. She has also used her expertise to secure the support of a nonprofit company to provide disinfected personal protective equipment for frontline heroes working in both the New Orleans hospital system and throughout Louisiana. Before the current crisis, Birnbaum had established an exemplary biosafety program at the Tulane National Primate Research Center that is a national model and that positioned the center to quickly step up to become one of the nation's leaders in seeking to develop a vaccine, tests and treatments for COVID-19. With knowledge, dedication and commitment, Birnbaum is an indispensable asset, working far above and beyond the scope of normal job duties to protect and save lives during this pandemic.