Image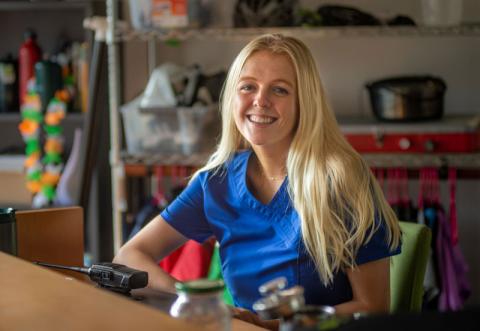 Q: What are your hometown, major and year? What is your degree focus and why did you choose that path?
A: I am from Piedmont, California, and I am a current senior (Class of 2021) studying neuroscience with a minor in public health. I think that I switched majors and minors as many as six or seven times – English, EBIO, molecular biology, you name it – since I started at Tulane (shoutout to my amazing academic counselors who have helped me) because I have many interests across the board. I finally settled on neuroscience and public health because I find the brain and infectious diseases very interesting.
Q: What is the best part about being on campus this semester? Are you going to take a different approach compared to the fall?
A: Because it is my last semester at Tulane, it means a lot to me to be able to have the opportunity to continue exploring New Orleans in new, COVID-19-friendly ways. Walking around Audubon Park with my friends, leading watercolor-painting hiking trips in the swamp, and taking a quiet canoe paddle through Cane Bayou have all been wonderful things I have been able to do this year at school. I (recently started) working as an EMT part-time, so I plan to work hard balancing my time between school, EMT, Outdoor Adventures, and spending time with my friends when it is safe to do so!
Q: As an Outdoor Adventures student worker, what is your favorite part about the job? Have you worked there throughout college?
A: I have loved working with Outdoor Adventures since starting as a trip leader and the rental desk attendant and progressing to be a manager of the program this year! It has been such a great way to explore the beauty of the Gulf South, as well as to share it with other students. I have made so many great friends through the program, in addition to gaining outdoor and leadership skills.

Q: You have studied abroad throughout college. What programs have you done? What was the most rewarding part of the experience?
A: I was fortunate enough to study at DIS Copenhagen in the fall of 2019, and it was one of the most amazing experiences of my entire life! I studied The Cognitive Neuroscience of Consciousness as well as took a midwifery course and anthropology of food course, and they all were such incredible learning experiences. I love how much travel they integrated into the program (like visiting Florence, Italy, for a week to study under the students of Freud) and I met so many lifelong friends – both from Tulane and around the world! I cannot recommend the program enough.

Q: What is your favorite weekend activity? Do you have new hobbies since the pandemic?
A: My favorite weekend activity is taking long walks and runs around the city to see all the beautiful houses and architecture. I have loved looking at all the houses that are decorated for Mardi Gras. As for new hobbies, my dad bought me roller skates for Christmas, and so I hope to become one day good enough for the bumpy New Orleans roads!
Interview by Audrey Watford
Image