Inspired by our motto — not for oneself but for one's own — Tulane's faculty, staff, students, alumni, donors and friends, all Tulanians, are called to advance our distinguished tradition and relentlessly pursue a better tomorrow.
 
Class of 2020 Commencement
Against the backdrop of a beautiful spring sunset over Yulman Stadium, approximately 1,200 members of the CLASS OF 2020 and their guests gathered for their official TULANE COMMENCEMENT ceremony that had been delayed due to COVID-19. NASA astronaut, space shuttle pilot and commander of the SpaceX Crew Dragon, COL. DOUGLAS G. HURLEY (E '88) addressed the crowd, recalling his road to Tulane, as well as his road to the launchpad. President Fitts closed the ceremony with a space exploration quote — "Let's light this candle" — as fireworks lit up the sky above the Angry Wave, and graduates were sent forth to enjoy New Orleans, Crawfest and the great beyond.

"Never give up. Never close the door on your life, always persist."
— KEN JEONG, TO THE CLASS OF 2022
Class of 2022 Unified Commencement
The CLASS OF 2022 celebrated its UNIFIED COMMENCEMENT ceremony in true Tulane and New Orleans style on Saturday, May 21 — with music and laughter mixed with serious recognition of the determination, grit and persistence it took to get to this moment. Student speaker DR. RUSSELL J. LEDET, keynote speaker KEN JEONG and President Michael A. Fitts addressed degree candidates at a packed Yulman Stadium. For the first time Tulane bestowed an honorary degree posthumously, presented to baseball legend Hank Aaron, whose widow, Billye Aaron, accepted on his behalf. Honorary degrees were also presented to Ken Jeong and General David Berger (E '81), Commandant of the United States Marine Corps.
MAKING A BIG SPLASH
National Champions
TULANE SAILING claimed the ICSA Open Dinghy National Championship by a one-point margin over Yale. The victory was the Green Wave's second in the event, following its first triumph in 1973.
ATHLETICS BY THE NUMBERS
1

National Championship

2

Conference Championships

4

Postseason Appearances (Team)

6

All-Americans

28

All-Conference

14

Current Active NFL Players

2

Current Active MLB Players
The Green Wave registered a GRADUATION SUCCESS RATE of 93 percent, a figure that was the highest in the state of Louisiana and second in the American Athletic Conference. 
 
Approximately 70 PERCENT OF TULANE'S STUDENT ATHLETES achieved a GPA OF 3.0 last year, while 18 percent were named to the Dean's List. Twenty-four (24) boasted a GPA of 4.0 during the fall semester and that number rose to 25 during the spring.
LOFTY AMBITIONS, SOARING ACHIEVEMENT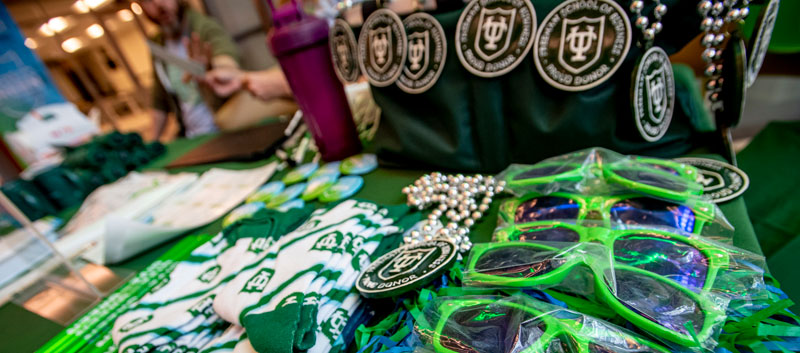 Tulane has again demonstrated its boldness, raising the already-historic ONLY THE AUDACIOUS campaign goal from $1.3 BILLION to $1.5 BILLION. Centered on such dynamic priorities as building out the Downtown District as an innovation hub, advancing pioneering research and cultivating student scholarships, Only the Audacious is establishing a new era of achievement.
FISCAL YEAR '22 NUMBERS
25,132

DONORS

$134,638,517

RAISED
CAMPAIGN NUMBERS
$1.4 BILLION

RAISED SO FAR TOWARDS $1.5 BILLION GOAL

$135,579,092

IN ENDOWED SCHOLARSHIPS

9 OF 10

PRESIDENTIAL CHAIRS COMMITTED

$359,556,911

IN RESEARCH COMMITMENTS