Academic Year-In-Review 2021-2022
" Through research, community, service and respect for differences, we can live true to ourselves — individually and institutionally. "

— PRESIDENT MICHAEL A. FITTS
At last.
Those two words often came to mind during the 2021-2022 academic year. In spite of the lingering pandemic, we were, at last, able to bring back some beloved Tulane traditions, including Crawfest and two in-person commencements — one for the Class of 2020 and one for the Class of 2022. We also introduced new traditions, including the literary star-studded New Orleans Book Festival and our inaugural Research, Scholarship and Artistic Achievement Awards ceremony.
Image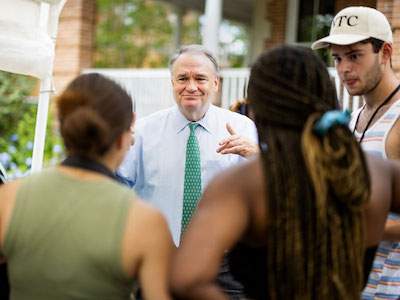 Hurricane Ida made a direct hit and COVID-19 continued to shadow us, but we stayed focused on possibilities and better days ahead. In fact, these challenges served as inspiration for so many of our efforts such as studying the impact of long COVID, strengthening the resilience of disaster-prone communities and seeking answers to environmental issues underlying those vulnerabilities.
This year, as always, we strived to be the best at what we do the best, innovating and collaborating across disciplines to find the solutions, make the discoveries, and help create a better city, country and world.
This was also a year of new arrivals, including our most academically qualified and diverse incoming class ever. We welcomed leading faculty, researchers and staff members, instituted new programs and sought new horizons. While continuing to grow our uptown campus in exciting ways, we embarked on a historic effort downtown that will exponentially expand our mission.
With the redevelopment of the Charity Hospital building and numerous other properties we will locate more of our students, researchers, biomedical engineers and innovators of all kinds in the heart of the city. Major components of the downtown campus such as the Tulane Innovation Institute will bring the discoveries, advancements and breakthroughs of Tulane and other institutions to market faster for the benefit of all.
With the dedication and commitment of our students, faculty and staff, we displayed true Tulane spirit and grit throughout this academic year. And now, at last, we can take a moment to look back on what we accomplished, together.
Image