Image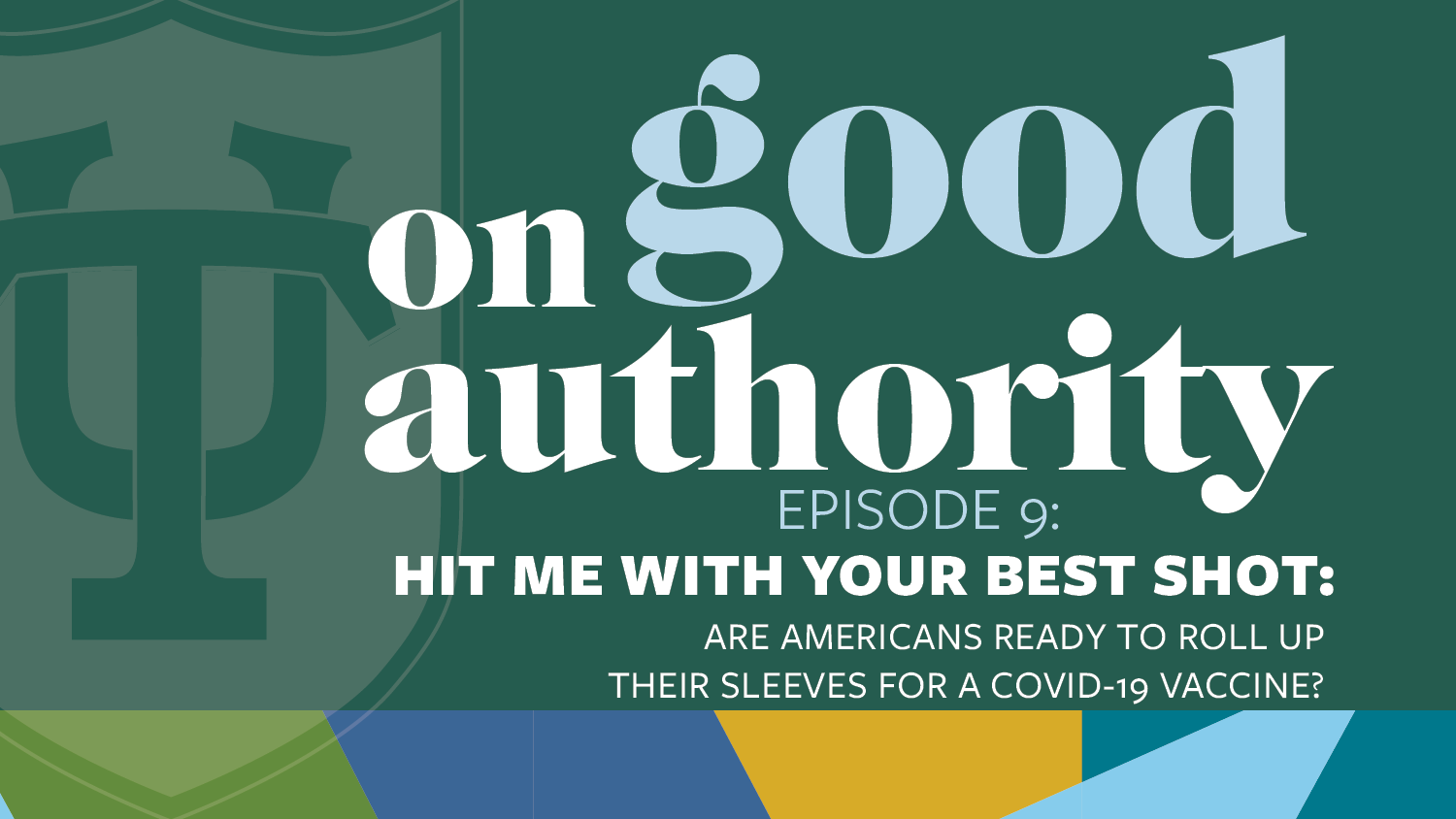 When will most people have a realistic shot at getting their first doses of a COVID-19 vaccine? And will Americans trust the science behind a fast-tracked process to get them to market as soon as possible to end a public health crisis? Health economist Charles Stoecker, a vaccine policy expert at Tulane University School of Public Health and Tropical Medicine, talks about the five leading COVID-19 vaccines and answers questions about what the rollout will look like — and whether the end of the pandemic is in sight.
Transcript ▾
Speakers
Keith Brannon, Charles Stoecker
---
Keith Brannon
Welcome to On Good Authority, the podcast by Tulane University, where we bring you leading experts to talk about issues of the day and ideas that shape the world. I'm your host, Keith Brannon. It's been a long year. But there's some light at the end of the 2020 tunnel. COVID-19 vaccines are on the horizon. The Food and Drug Administration is expected to clear the first vaccine as early as this week. And there are two others racing to the finish line, with another in phase three clinical trials. Does this mean we're nearing the end of the pandemic? Or is this just the end of the beginning? Tulane health economist Charles Stoecker is an expert in vaccine policy. He's here today to answer all of our questions about the COVID-19 vaccines and when we're likely to get them. First off, it's important to recognize that it was less than a year ago that SARS-CoV-2, the virus behind COVID-19, was first reported. On December 31, WHO in China reported a cluster of 44 cases in Wuhan City. Now we've had more than 64 million cases worldwide, almost 1.5 million deaths. And the United States has had more than 14 million cases, and more than 270,000 people have died. But within that year, scientists have mobilized like never before, we now have five major vaccine candidates against this virus, and more in the pipeline. Charles, has this kind of progress ever happened before for a vaccine?
Charles Stoecker
No, this is very exciting. I think that a lot of the prework to these vaccine discoveries were laid before this. We had experience with the SARS virus before. So a lot of people were looking at that type of vaccine, or that type of virus. Also, the company Moderna is a new company. And so, a lot of scientific effort was being focused on developing these these mRNA vaccines, some kind of some of the precursor work, like figuring out what kind of lipids need to go around those, those vaccines, what kind of temperatures that can be stored at, etc. So we are just well positioned to be able to respond to this pandemic.
Keith Brannon
So give us a rundown of the major vaccine candidates. We've got Pfizer, Moderna, AstraZeneca, Janssen and Novavax.
Charles Stoecker
I feel like I'm married in a horse race here. So first out of the gate is the Pfizer vaccine, and their vaccine upon a reanalysis looks like it's about 95% effective, which is very exciting. The second vaccine there is the Moderna vaccine. So that's the the company that specializes in mRNA technology, and their vaccine is also about 95% effective. Just the results from those two vaccines give good hope for the rest of the field, because these vaccines, they're all going to focus on one particular aspect of the coronavirus molecule, that spike protein. So everything targets at priming the human immune system to fighting that particular part of the virus. The third vaccine is the AstraZeneca vaccine. We've only seen the kind of first set of interim results from the AstraZeneca vaccine. And they're a little bit confusing to interpret. So the AstraZeneca trial, there was a small subset of the the first wave that only got a half a dose, half a strength dose in the first administration, and then a full dose in the second administration. And for that particular arm, the vaccine appeared to be about 90% effective. And then for the full body of the trial, the vaccine was maybe about 60% effective. So the question comes in like is, is that a statistical statistical anomaly? Or does that represent really a better way to administer the vaccine? So we're really waiting to see more results on that from the from the US-based AstraZeneca trial. The fourth vaccine, probably to come down the pipeline, maybe the Johnson & Johnson vaccine. They started their their trial maybe a month ago. So we probably won't see, you know, interim results from that trial until maybe the first quarter of 2021.
Keith Brannon
And that's the, the Janssen?
Charles Stoecker
The Janssen, right. The Johnson & Johnson trial may come out a little bit faster, because there's there's, it's a larger trial. It's 60,000 adults compared to, you know, about half that in the first wave for the Pfizer trial.
Keith Brannon
And that's one shot. And that's a one-shot dose?
Charles Stoecker
Yeah, that's pretty exciting. So that's, that's your right. So that is, that is one-shot vaccine, compared to the two dose shots for the for the mRNA vaccines. So the Novavax is the one that we expect results later later, maybe early next year.
Keith Brannon
Were you surprised that the first batch of vaccines were so highly effective?
Charles Stoecker
The FDA expected to approve anything over 50%. So we expected, we thought that maybe the first vaccines that come out of this wouldn't be as good as the vaccines we get later. But when you're 95% effective, there's not a whole lot of room for improvement on the effectiveness front.
Keith Brannon
The Pfizer vaccine is expected to be the first to market, but it has some challenges. It has to be kept extremely cold. Hospitals must have special freezers to store and transport it. What will that rollout look like?
Charles Stoecker
Yeah, so the Pfizer vaccine needs to be kept at about about minus 100, which is colder than winter in Antarctica. So that's, that's a little bit of a challenge. Logistically, I will say that, like a lot of say tertiary care facilities do have the capabilities to store this. And then the vaccine can be kept in a regular fridge for five days after it's after it's thawed. So if there's a pretty steady pace of demand for the vaccine, maybe that's not such an issue in the United States. A lot of times when we look at these like extreme cold chain, we are more more worried about places around the world, maybe some of the other vaccines will have have less extreme cold chain storage requirements. The Moderna vaccine, it needs to be kept at just regular freezer temperature, so that, you could imagine, that just a regular doctor's office would have some storage capability for that. And that one also can be kept in a fridge for probably even longer than the Pfizer vaccine.
Keith Brannon
So the first doses are being positioned around the country. When will people likely first start getting it and who's first in line?
Charles Stoecker
Yeah, so so the first group to be up for vaccines is probably going to be your your people most at risk. So if you think about the people most at risk, those are going to be your frontline health workers. Now at the Advisory Committee for Immunization Practices vote earlier, they did note that frontline health care workers include custodial and cafeteria staff that work in hospitals. So anybody who works on that front line that is likely to be exposed to coronavirus patients, those are the people most at risk, and priority is for protecting them as quickly as possible. The other big group included in the in the first tier for immunizations are going to be people in residence at long-term long-term care facilities. So those are the the populations that really got got got hit hardest by the the first waves of the coronavirus. And the the death polls were pretty scary among those populations. So that's going to be especially residents of skilled nursing facilities, and then then some other long-term care facilities as well.
Keith Brannon
And who's the third, or second and third tier?
Charles Stoecker
The the ACP hasn't actually voted on who are in those tiers yet. But what we expect it'll be, it'll be something like maybe essential workers in the next year. So those could be people like your first responder, first responders, your police, your fire, etc. Also your essential workers, people like K through 12 grade school teachers, like it's really important to get them back in there because we, you know, it's really missing missing in person school and having disrupted school is really going to present a long-term problem for the cohorts that are that are missing education right now. And then after that, you might expect people that have adverse medical conditions that make them at increased likelihood to to suffer from coronavirus. And then at the end of the line would be anybody who's not in those those groups.
Keith Brannon
Is there enough vaccine to go around for those first groups?
Charles Stoecker
So we expect by by the end of December, that the United States will have about 40 million doses of the vaccine. So everybody needs two doses. So that's about 20 million people that can be vaccinated. I've seen estimates that there are about 20-ish million healthcare workers in the United States. So there's just enough to vaccinate that population, maybe. Maybe some hiccups in the in the chain, and, and also you want to vaccinate the long-term care residents. So I wouldn't expect that people that aren't in those two groups to have vaccine available in in 2020. When we look forward, Pfizer's projected that they could produce about 1.3 billion vaccine doses worldwide. So the United States got about half of the initial Pfizer allocations, if that carries through, and then everybody needs two doses, you divide that by by four and you come up with about 350 million people that could be vaccinated with the Pfizer vaccine by the end of 2021. Um, so that kind of puts a like kind of like a far end for things. I haven't seen some firmer prediction projections for the production capabilities of the Moderna vaccine in 2021. And then you also have these other other three leading vaccine contenders that could be available. I will say that it may be the case that the that the AstraZeneca vaccine isn't quite as effective as the mRNA-based vaccines. So it's unclear if the FDA would approve a vaccine that's that's inferior to the other vaccines in the United States. So remains to be seen what other manufacturers would do to the projections for vaccine supply in the United States.
Keith Brannon
When will the vaccine be available to everybody? What do you think is your best guess of the soonest that could happen?
Charles Stoecker
So here are the factors that go into that. One is we don't know how many vaccines will be available next year, if you add in AstraZeneca. So if it is, if it comes out that AstraZeneca isn't substantially inferior to the Moderna and the Pfizer vaccines, that could add into this stock. Johnson & Johnson, we're still waiting on their trial results, etc. So these other manufacturers, we haven't incorporated their capabilities yet. But if they come online, and if they're approved in the United States, then we could probably expect the rest of us to maybe receiving vaccines by by the summer or perhaps even the spring.
Keith Brannon
When do you think, I know that people have said June as maybe a target? Do you think that's realistic in terms of it being available for for anyone who wants it?
Charles Stoecker
It's possible that everyone could get the vaccine by June.
Keith Brannon
Where are people most likely to get the vaccine?
Charles Stoecker
So in the United States, we have a robust vaccine distribution system. And it would be crazy for us not to leverage that.
Keith Brannon
So you could potentially get it anywhere you got your flu shot?
Charles Stoecker
That's the idea, exactly. Because that system already exists, it doesn't make sense to create a new one. Now, that said, if the, if a lot of the vaccine arrives at once, you could imagine that there could be opportunities for mass vaccination settings where, you know, you go to just like we had with the COVID testing where you you drive up and you've got tested, you could drive up and get vaccinated.
Keith Brannon
And we should likely mention the federal government has a website called vaccinefinder.org  where you can find all the information you need on where to get vaccinated. The incredible speed of development could also undermine faith in the vaccine. A Gallup poll found 58% of Americans say they would get the vaccine, but almost 42% said they wouldn't. How do you address this?
Charles Stoecker
Yeah, so that was an interesting Gallup poll. So what you want to do is, you want to break down that 42% number and figure out why people said they wouldn't want to get the vaccine. So the majority of those people were worried about the rush timeline. And I think that you know, as time goes on, as as coronavirus deaths mount, and as we don't see, um, you know, serious long- term consequences of vaccine, people's calculation is going to change. So currently, people are dying from coronavirus at about one per minute in the United States. So in the time that I've taken to answer your question right now, there will have been a couple of additional deaths. More and more people are going to know someone close to them who's died due to coronavirus. So their calculation will change. It's possible that there may be some risks of taking the vaccine. It's likely that that there are, we know that there are some some short-term adverse events. And you're going to have to balance that with with the the risk of the disease itself. The second most common reason cited for for not wanting a vaccine, is that they don't trust vaccines in general. I think that, you know that that may be a more intractable, intractable group than the the first group. About 10% of that 42% number were waiting to see the safety of the vaccine. And then I will just highlight that that Gallup poll is actually, it was it was, the sample collection stopped November 1. Pfizer didn't release their interim results until November 9. So some percent of those people that said they wouldn't take the vaccine, were saying were saying that because they hadn't seen the effectiveness numbers yet. And I would suspect that all of them would be delighted to know that it was 95%.
Keith Brannon
Communities of color, who have been disproportionately affected by the pandemic, are especially wary in the vaccine. Only 48% said they would take it, according to Gallup. How do we make sure these communities are not left behind when the vaccine hits?
Charles Stoecker
So I think a lot of this is about messaging. So the Pfizer vaccine had about about 10% black participants, which should give some some measure of assuredness that the vaccine works in this population and is safe in this population. The second part of this messaging effort is to have people that are that are received, perceived as reliable messengers by those those communities, communicating about the importance of the vaccine. So here in New Orleans, the presidents of Xavier and Dillard Universities published an open letter saying that they had joined the the vaccine trials themselves. There was a local news report about uh, you know, interviewing people and asking them what it would take for them to get to get the vaccine, and somebody said, when Barack Obama gets that vaccine, I'll get that vaccine. So I can imagine, you know, people that are trusted on stage getting vaccinated. We'd seen this before in the polio vaccine rollout where Elvis Presley got up on stage and got the vaccine live, and you could imagine some some similar musical stars, etc.
Keith Brannon
Do you think that these vaccines will end the pandemic?
Charles Stoecker
I think the difference between what our life is like right now, where there are a lot of things that we'd like to do that we can't, there are a lot of us that are out of work that would like to be working, and what it's going to look like after the vaccine is widespread and and in the population protecting us, it's going to be very different. I think that when we think about like, what it takes to return to normal, what we're thinking about is, is usually in terms of herd immunity. So how many people need to get vaccinated, to to stop transmission, transmission, so that those people that can't or won't get vaccinated are protected? The modelers suggest to us that maybe that number is something around 70%. So the it's it's, it's great news that the vaccines are so effective, that we don't have to vaccinate that many more people than 70% to get 70% of the population immune. And how do we get there? Well the, that Gallup, those Gallup numbers you cited earlier, that's obviously below 70%. Maybe, as time goes on, and as as the information about the vaccine percolates, those numbers may rise. So that's good. The second positive sign, I will say, is that people tend to vaccinate their kids a lot more than they vaccinate themselves. We see that vaccination rates for influenza every year among adults are maybe 20% lower than than among kids. So there are some adults that are vaccinating their kids, but are not themselves getting vaccinated. So yes, the vaccine is going to be the main tool that's going to allow us to, to, you know, return to, to work and to play.
Keith Brannon
So looking ahead, give us some hope here. When do you think life will get back to normal?
Charles Stoecker
I was thinking about buying some vacation tickets for next summer. And I haven't bought those tickets yet. So I think that's the best measure of my personal competence. As soon as I buy my vacation tickets, that's me putting my money on the line and predicting that it's back to normal. Haven't bought those tickets yet.
Keith Brannon
When would you likely? I mean, the fall?
Charles Stoecker
Keith, as you know, I work at a university and our schedules are tied to the schedule of the university. So when I can travel is during the summer. So it would be highly irresponsible of me to travel when I'm supposed to be here teaching class, but I would love to. Yes, if I could buy tickets for the fall right now, I would absolutely be buying tickets for the fall.
Keith Brannon
Charles, thank you so much for joining us here today. We appreciate it.
Charles Stoecker
Thanks for having me, Keith. It's been a pleasure. And stay safe.
Keith Brannon
Thanks for listening to this edition of On Good Authority. For more information on other episodes, visit our website tulane.edu/on-good-authority. If you like our show, please subscribe using your favorite podcast app.
Host: Keith Brannon
Editor: Marianna Boyd
Producers: Marianna Boyd and Audrey Watford
Production team: Marianna Boyd, Keith Brannon, Will Burdette, Faith Dawson, Libby Eckhardt, Aryanna Gamble, Carolyn Scofield, Mike Strecker and Audrey Watford