Image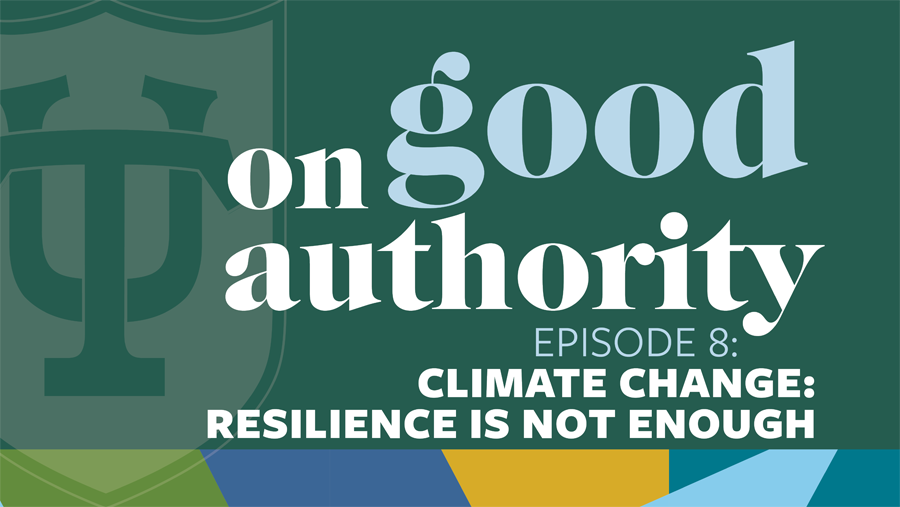 Wildfires in the west, a very active hurricane season, and repeated flooding from sea level rise: climate change has recently made significant headlines in an already unprecedented year. Jesse Keenan, a leading scholar on climate change and the built environment with Tulane's School of Architecture, discusses how climate change impacts our lives and the importance of adaptation.
Transcript ▾
Speakers
Jesse Keenan, Carolyn Scofield
---
Carolyn Scofield
Wildfires in the west and hurricanes along the Gulf Coast devastated many communities this year. Sea level rise is causing some areas including Miami Beach to repeatedly flood.
Jesse Keenan
If we could just keep talking about resilience, then we're going to sort of fake people out to think that we can actually achieve universal resilience. But the reality is, we can't. And that means we're, we have some tough choices ahead.
Carolyn Scofield
Welcome to On Good Authority. I'm your host, Carolyn Scofield. We're talking to Jesse Keenan, one of the nation's leading scholars on climate change and the built environment. His research looks into how to stop climate change in its tracks and also how to help decision-makers understand the risk and uncertainty of climate change. Keenan is an associate professor at Tulane School of Architecture. Jesse, thank you for joining us.
Jesse Keenan
Thank you so much for having me.
Carolyn Scofield
How much does climate change impact everything about our daily lives, from where we live to what we eat, and pretty much anything that we're involved with?
Jesse Keenan
There really isn't an aspect of our lives that isn't connected either directly or indirectly to one, to the environment, but two, with our increasing understanding of the attribution of certain shocks and stresses to climate change, that drive food prices, availability of mortgages, the value of our homes, the cost of cars, the I mean, you name it. It really touches so many key facets of not only our consumption in our household economy, but also our investments, our 401k increasingly. As climate change in its underlying risks, and frankly, opportunities as well, diffuse into the financial system, this is actually now part of our financial future. So it's not like these are just kind of nuisance costs or burdens that are imposed upon us. And indeed, that very well is often the case. But this is actually a broader trajectory that shapes our long-term welfare and our long-term accrual of wealth.
Carolyn Scofield
One area in which we're seeing the impacts of climate change is housing. We've got a lot of vulnerable communities here in Louisiana that have been impacted by multiple hurricanes or frequent flooding. And then you have all the places out west impacted by wildfires. What do you do to make these communities more resilient? Or is it a case of eventually retreating?
Jesse Keenan
You know, it's it really varies. There's so many different perils and hazards and risks across the country, from running out of potable water in the Central Valley of California, to sea level rise to ice and permafrost thaw in Alaska, to increased storms. Really, probably actually, one of the things that most people don't appreciate, one of the most immediate challenges, is from extreme precipitation. I mean, sea level rise is certainly happening. But where we are today, probably one of the most immediate challenges is from extreme precipitation events. So there's really a wide spectrum of hazards and a wide spectrum of exposure to those hazards. And so, every community is different. It's not realistic to assume that we can just protect everything, it's just it's not. So you know, people have to decide for themselves what they want to make investments in to develop some measure of resilience, and where in other cases, they really do have to think about relocation, resettlement, or really doing things quite differently.
Carolyn Scofield
What is it that brought you to Tulane and what do you hope to accomplish here?
Jesse Keenan
In thinking about what I wanted to do next in my career, I felt like I've done and accomplished what I needed to do in a couple of different realms, what I at least set out to do, in terms of driving a certain scholarly discourse, driving the production of some, you know, subset of research as guiding policy decisions. And in many ways, I kept returning to what I love, which is, of course, teaching, I mean, I wouldn't be a professor if I didn't. The fact of the matter is we need all kinds of people all across our economy who have a certain literacy in climate change, climate science. They can understand environmental data, translate it, translate it into decision models and frameworks. They can become the translators for everything in our economy that needs to adapt to climate change. And by the way, it's a huge opportunity as well, it isn't just about managing risk. So I think about, and of course there's all kinds of other opportunities here for, think about this in broader context with like, let's say social policy, we're rewriting the rules of society and environment at the same time. In this rapid moment of change that feels very destabilizing, because it is, there's actually an opportunity to rewrite these rules with new social norms and new, let's say, more progressive relationships between people. How we treat people and how we treat the environment. And I think, you know, the only way we get there is through leadership. And I think that training students to have, not only have this literacy, but to have the analytical and the conceptual skills to be able to engage these very difficult questions about where we want to take the world, is really central to the reason why I came to Tulane. Because Tulane has a wonderful legacy in a couple areas. One, interdisciplinary environmental research, two, applied public service engagement. Public service teaching is a really critical component. And in my mind, of course, it's in New Orleans, which is this sort of terminal patient that no one, you know, really acknowledges, because you're constantly just trying to treat the symptoms, not the fundamental pathology. And all of that, in my mind, adds up to this tremendous opportunity in time and place and expertise, to really mobilize Tulane in coordination in concert with many other faculty who have been working on this for years, to turn it into the climate school. To be able to come to Tulane across various majors and disciplines, and to be able to get access, really, not just to a core competency or a core literacy of socio-climate change, but to be able to hone in on methods and skills that are going to allow them to be the leaders of our economy and our democracy and everything else going into the future as it relates to climate change. So I think we have that opportunity, and there's very few other places that I think are as well positioned as Tulane.
Carolyn Scofield
Since you brought it up, if we could talk real quickly, what is it about New Orleans that can serve as an example to the rest of the world about the the effects of climate change? And also ways to address it or not address it?
Jesse Keenan
Well, let's just look at the big picture here. New Orleans is more or less an island. It's functionally an historic, and certainly it is a relatively new phenomenon in geological terms, right, it just kind of plops up out of nowhere as a piece of sand. And it will return from which it came much sooner than later. I anticipate even fully within at least my lifetime, the geography of New Orleans and surrounding parishes will be quite different than what it is today in both actually environmental and human geography. And so in many ways, there's a kind of urgency here. And the urgency, I think, is demonstrative of challenges that we have all around the country, which is that we have a relatively small city, small in population, relatively deeply inequitable in terms of history and economics and social welfare. And it has by no means the fiscal capacity to deal with hardly any of its problems. And it is essentially treated as a ward by the state. And it has nearly everything wrong with it from a superficial point of view. But yet, there's everything right about New Orleans, in terms of the nature of how people relate to each other and have and its own identity and culture that is in many ways a signal to maybe where this country could or should go in terms of thinking about what we value in life, what we value in terms of community. The continuity of community itself, in its various manifestations in New Orleans is unbelievable. So here we have this, this truly cultural gem. It's not about the architecture, it's more about the people more than anything, you know. So you have this structural, massive environmental and economic problem, but yet it is arguably one of the principal jewels of American urbanism. So the only result here, an outcome that I can see, is that of course, the federal government steps in and really reinforces through massive fiscal expenditures, infrastructure and subsidy and begins to utilize New Orleans as a type of prototype for what many cities could look like in the future. And of course, we have to think about the equitable distribution of these resources. We have to think about training and job education. There's many to this sort of developmental economy that I think would have to come is an opportunity to pull people out of poverty, to advance public and environmental health, and to really think about how we can make investments that will yield a city of the future. Right now, we're on a terrible trajectory. But I have faith, and I actually have a fair amount of faith, that in the future, out of necessity, that New Orleans will be a model for how you do this. Because if we don't do that, the alternative future is quite bleak.
Carolyn Scofield
Do you think we'll get to a point in this country where the just very talk of climate change isn't so polarizing? It seems that this, we're still here in 2020, where some people are saying it's a hoax, or it's not as big a deal as it seems to be.
Jesse Keenan
We're already there. And I think the survey data is pretty complete that we the, you know, vast majority of people in this country are aware of climate change. Many, many people already have some experience that they attribute to climate change. So the politicization will always exist on some level because people are going to compete about over resources. They're just going to compete over, "What do you spend money on?" You know, reducing climate risk or adaptation. I mean, there's conflict even between climate mitigation and climate adaptation. So there's always gonna be some political tradeoffs and negotiation discursively. I think the challenge for us now is not so much awareness, because I think, yeah, there's people that deny climate change, but those people are going to deny just about anything else in a rational civil society would produce anyway. The challenge now is that when you look at the survey data, people wildly acknowledge climate change, but they don't necessarily think it's going to impact their lives directly. So it's a huge disconnect. Like, you know, vast majority of people say, "Yeah, climate change is this." But when you ask them, "Do you think it will cost you money?" Or will, you know, change your well, you know, your your bank account, or whatever it is at the end of the day, however you want to phrase those questions. It's a disconnect. So people acknowledge it, but they don't see how it impacts their lives. So I think the the real challenge is that as we accelerate really quite rapidly with climate change impacts, we advance a broader understanding and greater transparency and even consumer transparency about how climate impacts them directly. Because it of course, it's impacting them today, they just may not be aware of it. And you know, what's really interesting is when you look at the economic or the housing or real estate economics. When they look at people on the coasts that are discounting real estate or housing in particular, which means that buyers and sellers are offering and accepting less money in high-risk areas. It's forward-looking behavior, to the extent that they're anticipating that these assets will decline in value in the future because of the acceleration of things like sea level rise. But what's really interesting about that is that it aligns with not associated with a political ideology or political affiliation, that's statistically doesn't matter, what it aligns with is how well educated you are. And people, the more well educated you are, the more likely it is that you are going to have this forward-looking behavior and hence discount the future value of housing. So I think ideology, self-identified political affiliation and all of that jazz, it, you know, it's not as important as you think. Because it's really about how aware are you and how well educated and to what extent have you availed yourself of the right information and media channels that have provided a service to you in understanding the nature of climate change. And I think in many ways, one of the most fruitful avenues of public policy are greater consumer transparency and disclosure laws and requirements. That and that's everything from buying a home, and you know, getting a form that says, hey, by the way, this form's, this flood, this home's not in a flood zone, but it's been flooded three times in 20 years, FYI. All the way up to purchasing equities and the stock market and being able to look up a company and see to what extent that company has physical and transition risks associated with climate change. So as we get more information, I think we're going to solve that problem or at least address that problem, in large part, going into the future.
Carolyn Scofield
Are you optimistic about the way this country is moving to address these issues and make our nation and communities more resilient in the future?
Jesse Keenan
Yeah, so I am reasonably optimistic, because in the course, and we know this, from our colleagues in anthropology, and sociology, and the like, in the course of human history, people have always adapted. Because if you didn't adapt, you disappear. And so, we've always been pretty good at accommodating climate, I mean, we've had climate change before in human history, right? We've had massive changes in environment in the past. And so, people are pretty good at adapting. The question is, are we going to do it in a manner that is inclusive of those of lesser means, those who are historically marginalized. Who gets left behind? Who benefits from this and who gets left behind, particularly in the age of globalization and global capitalism? These are all critically important policy questions. And I think we'll get there. I think out of necessity, we'll have to get there. We really have no other choice. We no doubt have tough decisions, and we are reliant on leaders to be honest with us about what those tough decisions are. I mean, one of the problems with just the idea of resilience, is resilience is a pretty conservative concept. Resilience is about the elasticity to revert to the status quo, the pre-stimulus status quo, the pre-event status quo. There's different types of resilience, but that's generally what we mean in heuristical terms the United States. And that's actually quite conservative. In in many ways, what we're really seeking to do, because I think we can acknowledge that the status quo is pretty unsustainable in most nearly every facet of of our economy and our society, so what we really need to do is think about transformation adaptation. How do we transform our economy and society in ways that can address this diversity and plurality of values from which our society has come together to build consensus and through things like democracy? So we have no other choice as a path forward. And we need to understand tradeoffs. And we need political leaders to help us understand those tradeoffs. And a mayor once told me that, you know, one of the most important parts of climate leadership, or just leadership in general, is learning how to let people down in increments they can absorb. And I think that's really important, because if we could just keep talking about resilience, then we're going to sort of fake people out to think that we can actually achieve universal resilience. But the reality is we can't. It's not sustainable. The status quo is not sustainable. In some cases, recovery's important. Preservation is important. Stability no doubt is important. But in many other cases, we won't be able to achieve resilience. We'll actually need to adapt and transformatively adapt. And that means we're gonna we have some tough choices ahead. But I think we're heading in the right direction.
Carolyn Scofield
Jesse Keenan, thank you for talking to On Good Authority.
Jesse Keenan
Thank you so much for having me.
Carolyn Scofield
And thank you for listening to On Good Authority. If you liked this episode, subscribe to our show wherever you find your favorite podcasts.
Host: Carolyn Scofield
Editor: Carolyn Scofield
Producers: Marianna Boyd and Audrey Watford
Production team: Marianna Boyd, Keith Brannon, Will Burdette, Faith Dawson, Libby Eckhardt, Aryanna Gamble, Carolyn Scofield, Mike Strecker and Audrey Watford