Image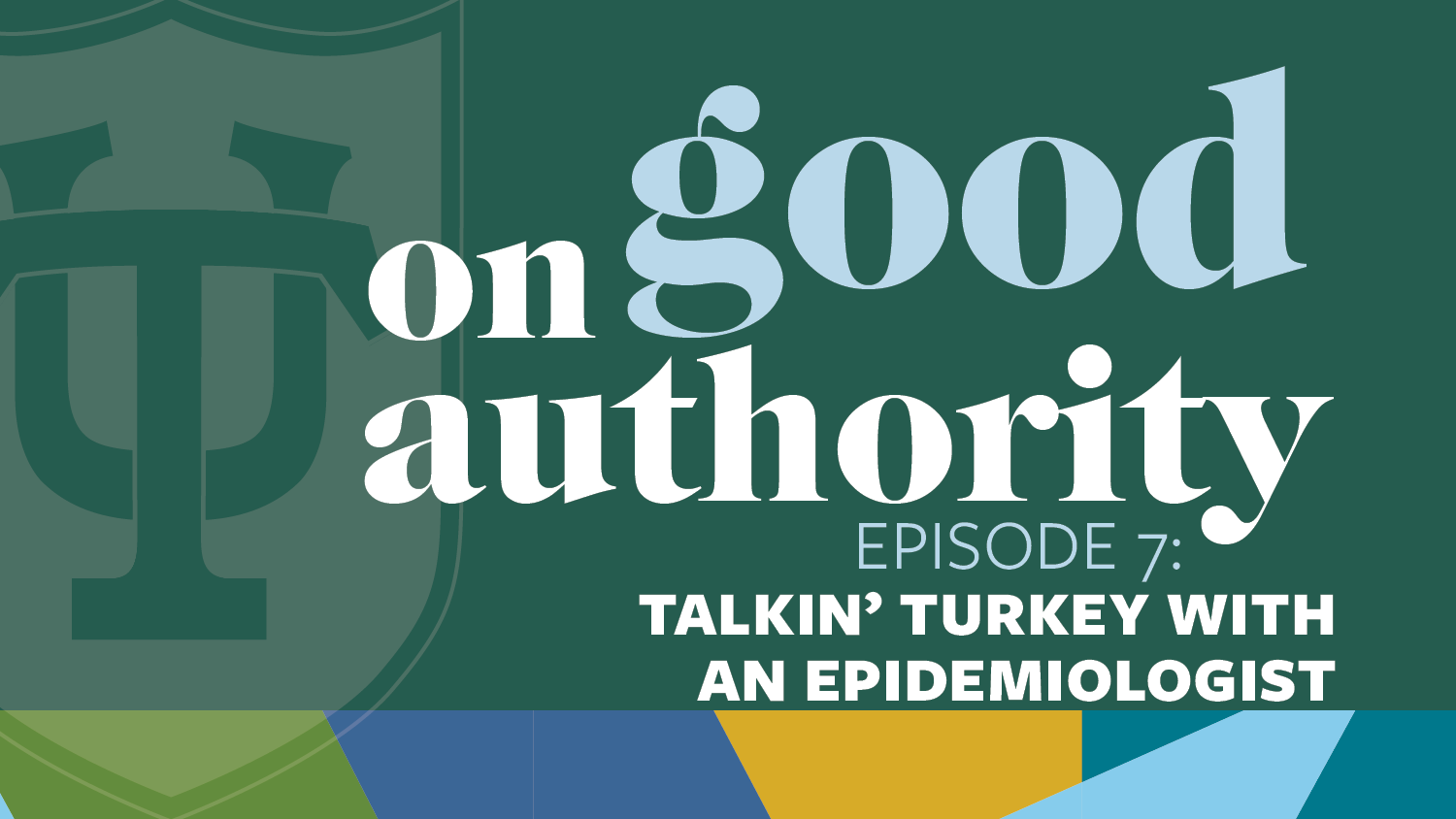 Is it safe to bring friends and family together for the holidays in a pandemic? Epidemiologist Susan Hassig answers COVID-19 safety questions about how to plan for Thanksgiving, what to consider for travel and holiday gatherings and whether this should be the year for Zoom celebrations. Read more from Dr. Hassig about winter and managing COVID-19 risks.
Transcript ▾
Speakers
Keith Brannon, Susan Hassig
---
Keith Brannon
Welcome to On Good Authority, the podcast by Tulane University, where we bring you leading experts to talk about issues of the day and ideas that shape the world. I'm your host, Keith Brannon. This year, Thanksgiving, Hanukkah, Christmas and other holidays are going to be very different than in years past. COVID-19 and safety precautions mean less travel, smaller gatherings, and a much more isolated holiday season. But that doesn't mean canceling all celebrations. Epidemiologist Susan Hassig with Tulane School of Public Health and Tropical Medicine is an expert in COVID-19 risk. Since the beginning of the pandemic, she's been interviewed by Business Insider, The New York Times, The Washington Post and countless others about COVID-19 risk. She's here today to help us sort through how to be COVID-19 safe this holiday season. Susan, welcome to On Good Authority.
Susan Hassig
Hello, Keith. Good to speak with you.
Keith Brannon
So, have you started planning your Thanksgiving or thinking about it? What do you normally do in a regular year for Thanksgiving?
Susan Hassig
My celebration of Thanksgiving has has evolved over time. When I was growing up, it was a big huge family event in the upper Midwest with relatives from, you know, nearby neighborhoods and towns coming together for a huge family feast. And then as I moved away to college, I did more of the Friendsgiving type of events, although we didn't call it that then. And then as I moved overseas, and then came back, I've had a variety of forms of Thanksgiving celebration. Right now, it's mostly a more nuclear family event. My daughter and her family, my grandkids, are nearby. So she and her family and in-laws from my son-in-law's side usually make up our our Thanksgiving event.
Keith Brannon
This year is going to be far from the Norman Rockwell painting of Thanksgiving for a lot of people. What are you planning?
Susan Hassig
I'm actually planning to do a more virtual event. My in-law family has a number of people who are vulnerable, medically. And so, it's looking like we are probably going to be physically separate but united in some other way, probably over FaceTime or Zoom or some other remote methodology.
Keith Brannon
Tony Fauci, his kids live all across the country, and he was interviewed and he said that he is asking them not to come over for Thanksgiving, and they are doing kind of what I guess, probably what you're talking about. So it seems like the advice for experts is sounding less and less like it's a good idea to get together for Thanksgiving.
Susan Hassig
I think that most people who are immersed in this from a scientific perspective would say yes, it's a risky proposition. And not not just to be a Grinch about Thanksgiving or Christmas or Hanukkah, but because the behaviors that we all engage in for two weeks, possibly three weeks even, before we gather for a really short interaction, potentially with multi-generational family or friend groups is is potentially a very risky period. You don't have time to quarantine after you arrive, you may be coming from a high intensity transmission zone to a lesser one, but you carry with you that background potential risk when you when you join. And that's where from my perspective, I would I would rather live to celebrate in another year with with friends and family.
Keith Brannon
So as an epidemiologist, how worried are you about this holiday season?
Susan Hassig
I am concerned because I recognize everyone has a different level of risk perception and risk tolerance. And so, I am concerned. What we are seeing more and more in the data and the experiences on local levels, is events that are generally friend or family group related are often where we see clusters of cases spreading. And so unfortunately, just because someone's a member of your family, doesn't mean that it's necessarily safe to be in close proximity to them, and indoors and without a mask. And it's an unfortunate reality in this time, but it's one I think we need to consider when we're thinking about how to celebrate. And I would argue let's do Thanksgiving in July, maybe after we've got a vaccine.
Keith Brannon
But at the same time, so many people haven't seen their families in months due to the pandemic. And do you feel like the holidays are going to be the time, the one time, when people who may have been cautious about family visits throughout the year finally give in?
Susan Hassig
I am concerned about that because I feel that pressure as well. I would love to go visit my sister and her husband, but they're both in their 80s up in Minnesota. And they've both got underlying health conditions, and even though I've been really safe, I would be concerned that I might, you know, bring something into their sphere, their bubble, that they have maintained with a great deal of care. And it's it's really challenging, the the emotions around connection at the holidays and the traditions that we value are a real challenge for us to deal with. But I would just remind people, this is temporary. I know it doesn't feel like it's temporary, but but it is. And and if we can collectively work together to keep the virus from impinging on people who are particularly vulnerable, and that's generally the older generations for whom these holidays have tremendous importance. I you know, I would argue if it's a local family gathering, or a friend gathering, or a neighborhood gathering, you know, somebody cooks and delivers packaged Thanksgiving meals, you know, to, to the individuals that you're trying to protect but still connect with. And, and everybody get together on a some form of, of electronic communications. You can all be eating dinner together, listening to the same music and perhaps having some heated political discussions post-election.
Keith Brannon
What is your advice for the kinds of conversations families should be having right now about Thanksgiving, and the holidays, and setting some ground rules? I'm sure that this is going to be a minefield for a lot of people, because people are bound to get their feelings hurt, if they say they're not visiting or parents say, "Hey, please don't visit." Give us some tips on how to have this conversation.
Susan Hassig
I don't know if I can give general tips, but I think part of the discussion needs to be talking about how whatever decisions you're making are made out of concern and and not to be restrictive. The challenge is that, you know, the older adults in the family may say, "I'm an adult, I can make up my own mind, I'm, I'm willing to risk it." And that's a very difficult conversation. It reminds me of discussions that I and my siblings had to have with each of my parents, as they became too old and unable to drive and and talking them through the process of giving up their their automobiles. And it's a very challenging conversation to have. I also think that we need to be honest about how each of us is behaving, in terms of the kinds of activities and risks we might be taking for ourselves, because of our own risk perception. And recognizing that that may be a kind of behavior and exposure that that we might not want to bring in contact with, you know, aunts and uncles, and grandparents and parents. Because if you are young and healthy and feel like you know, if I happen to get infected, it's probably not going to be that big a deal. Look at the numbers. It doesn't mean that you can't be potentially the means by which it gets introduced to a more vulnerable group. The unfortunate reality is that that we have seen so many clusters emerge out of family events where, you know, not only have people gotten infected and sick, but people have died. And I don't want to be a complete wet blanket for the holidays, but but I would rather have a different Thanksgiving and holiday season this year and be able to celebrate with great and even more, more abundant joy the following year, because everyone is still healthy.
Keith Brannon
So I want to go through some quick questions, so we can get a maybe a rapid fire round a little bit, because there are some specific questions I know a lot of people have that we want to make sure we get answers to. So quickly, travel, is it safe to visit your family in another city?
Susan Hassig
Maybe. It depends on how you travel. It depends on whether you quarantine before you travel. It depends on whether you have the option to potentially quarantine once you arrive. The problem with a lot of holiday travel is a lot of it is very short. You come in for two or three days, and then you go back home. So those options of quarantining after arrival aren't really available. So quarantining beforehand, then it's probably reasonably safe to travel.
Keith Brannon
Is it safe to go on a plane?
Susan Hassig
I don't plan on flying anytime soon. But I think the actual process of flying, as long as everyone keeps their mask on as much as possible in the plane, and I know that has sometimes proven to be a problem. It is a reasonably safe mode of travel in newer planes. I think the DOD study that came out recently has a number of caveats. Doesn't really deal with the fact that people move around in planes and not everyone's wearing masks all the time. If I had to get on a plane, I would wear an N95 mask rather than just a cloth mask, to protect me from other people.
Keith Brannon
So before you mentioned that if you do travel, you should quarantine 14 days before and after. I guess that's kind of the the best practices rule. But it's not realistic for many people who are making very short trips for a holiday like Thanksgiving. But other people think that testing could be a strategy for accomplishing some of this. I've heard of people saying, "Oh, well, everyone's going to get tested before and then we're going to leave." That that could be problematic. So if you think…
Susan Hassig
It could be very problematic. Testing is not a substitute for distance, masking and and time. And especially depending upon the kind of tests that people may be receiving, the antigen tests are not appropriate for asymptomatic situations as like a check to see if you're infected before going on a trip. And that's what most urgent cares and things like that offer, the ones that are point of care, you get the result in 20 minutes. They have a lot of problems with false negatives and some false positives. And so, the reality is that the test is only going to assess your status at the point at which the sample was taken.
Keith Brannon
So if someone is adamant that they want to get tested because they're very risk averse. If they do want to make a visit, is there any time window where it's an ideal process? And when would they get tested?
Susan Hassig
Well, I think clearly, again, if they're, it depends on the kind of test, because you would have to get, I would argue if you really want to use a test to assess whether or not you're potentially infectious, it should be the PCR test. And so, you have to allow at least 24 to 48 hours to get those results back generally in most testing environments these days. And so, you've got to plan it in that regard, for the anticipation of what it you know, the fact that you're going to be traveling within, you know, the next, you know, within the next day or two. And once you take the test, that's when you need to quarantine very aggressively, because again, the test is only going to assess you up till the point that the test was taken.
Keith Brannon
Switching gears. Say they're having, the family wants to have a Thanksgiving dinner. How many guests is too many?
Susan Hassig
The number of people you can fit in your backyard with chairs six to ten feet apart.
Keith Brannon
Good answer. Is it bad to have young children and older family members at the same event?
Susan Hassig
Problematic, but I would be more worried about teenagers and young adults, frankly, because they're more independently mobile and likely to get into trouble.
Keith Brannon
Should everyone wear a mask?
Susan Hassig
Yes.
Keith Brannon
And you mentioned people should plan to seat guests at least six feet apart, even at the same table?
Susan Hassig
I don't think you should be at a table. I think the food should be on the table. The food should be on the table and people should be scattered so that they can, you know, take off their mask and and eat the food comfortably. You can still talk, but you do not, I think that being around the table, that that picture this year I think needs to be different if you do gather in person. The old the old TV tray kind of modality might need to be resuscitated.
Keith Brannon
Owh. Should people plan to, if they do this, go outdoors if they can, if they're in a temperate climate?
Susan Hassig
If they insist on doing this in person. Yes, outdoors is better. And if you're a really tough Minnesotan, you know, have Thanksgiving dinner in the snow.
Keith Brannon
Is it, I mean, is it safer to go to a restaurant or is that a bad idea too?
Susan Hassig
I think that indoor dining, whether it's commercial or home, our, I mean restaurants might be slightly better because there's likely a better air conditioning air circulation filtration system in in many commercial settings. But again, you're going to be in the same interior space with people that you don't know who they are, what they've been doing, and everybody's going to have their masks off. So I would actually argue that on Thanksgiving I might vote for, if you plan to do something, I would do it at home and do it outside as much as possible.
Keith Brannon
But you're mainly recommending that people do something remote, if they do a Zoomgiving I guess, some sort of virtual event. I know this may sound paranoid, but is it bad, I mean, should you wear a mask when you prepare the food? Should you order from a restaurant?
Susan Hassig
No, I don't think you, I don't think you need to worry about that kind of of transference. The the fact that you're, I mean, the food is going to be consumed not inhaled. And so it's, it is less of a problem. It's going into the gastrointestinal tract and gastric juices, et cetera, are going to take care of anything pretty quickly.
Keith Brannon
So airborne transmission is what you're worried about.
Susan Hassig
Airborne transport is what I'm worried about, absolutely. I mean, obviously, if you're preparing food, you need to be washing your hands assiduously. So I feel like I don't need to say anything about that. But clearly, food preparation involves concerns for all sorts of other reasons, in terms of potential microbial transfer.
Keith Brannon
We've talked about COVID-19 risk, but I mean, are there any other concerns that you have as a public health professional about the holiday season? I know it can be a rough time for a lot of people with depression or just mental health struggles. Is this going to be worse this year?
Susan Hassig
I I'm afraid it might be. I mean, mental health is not my field. But certainly in terms of what I've been reading and and observing and having discussions about with a variety of people, is that I mean, we're already all stressed as a result of this period we've been living through since January, for some of us, March, for most of us. And and that's a long time to be anxious, and to be uncertain and to be under very real stressors of perhaps having lost a job, perhaps being concerned about personal health or family health. I mean, there's lots and lots of pressures. And then we layer on all the other things that are happening in the world. So I am concerned. And that's why I think it's really important to have careful, caring and thoughtful conversations with the people that you might normally engage with on Thanksgiving or on any other holiday coming up, to really talk through what would be a good strategy, and to talk about the hopes for remaining connected but also being safer. But I would like to mention, I'm also concerned about flu. We are moving into flu season. Influenza is popping up all over the country. So it too is also a threat, particularly to older people, but also to little children. And so, flu vaccination is really important. And I would argue that's one of the things if you're planning to get together for Thanksgiving or a holiday this winter, everyone that participates should be sure to get a flu shot.
Keith Brannon
What is giving you hope, that this is temporary and that next year will be different?
Susan Hassig
Science is giving me hope. I mean, the the advances we have made in the short time we have been dealing with this virus are astounding. And I know probably non-scientists are saying, "But we don't have a treatment, we don't have a cure, we don't have a vaccine yet." This process has been incredibly rapid. And there are so many really, really smart people working on this problem, night and day, that I have tremendous confidence that we will get therapeutics, and that hopefully one of these early vaccine candidates will work. But even if they don't, there are 80 others that are in development. And so, we will figure out a result, a response that is going to help us move through this time. But in the meantime, I would argue that we also still have the agency and the ability to tremendously slow down this virus and reduce its impact on us. And it's the same message we've been saying practically since the beginning. Paying attention to how close you are to people. Wearing some kind of facial covering to reduce environmental deposition of the virus. And you know, if everybody wore masks, we could have a very open economy, a very active and open society. But the challenge is it's like secondhand smoke. It's the, you know, the person who smokes the cigarette, it's their right to smoke a cigarette. But as a non-smoker, I shouldn't have to experience the consequences of that smoke that they're expelling having an impact on my health. That's why we don't allow smoking on planes anymore, why we don't allow smoking in interior spaces anymore. That's the same kind of modality. Yes, you may not be concerned about coronavirus, but if you don't engage in the protected behaviors, you're putting people around you at risk. And that's a real challenging message, because I think of the politicization, to really communicate. But as the head of the CDC said a few weeks ago to Congress, you know, the mask is here right now. It will stop the vast majority of coronavirus transmission if everybody, or nearly everybody, would wear it. And in the meantime, while we're waiting for good therapeutics, while we're waiting for good vaccines, that's our best protection.
Keith Brannon
Susan Hassig, thank you so much for joining us here On Good Authority. May you and your family have a wonderful Thanksgiving and holiday season.
Susan Hassig
And I hope you and your family do as well, Keith.
Keith Brannon
Thanks for listening to this edition of On Good Authority. For more information about future episodes, visit our website tulane.edu/on-good-authority. If you like our show, please subscribe using your favorite podcast app.
Host: Keith Brannon
Editor: Carolyn Scofield
Producers: Marianna Boyd and Audrey Watford
Production team: Marianna Boyd, Keith Brannon, Will Burdette, Faith Dawson, Libby Eckhardt, Aryanna Gamble, Carolyn Scofield, Mike Strecker and Audrey Watford