Image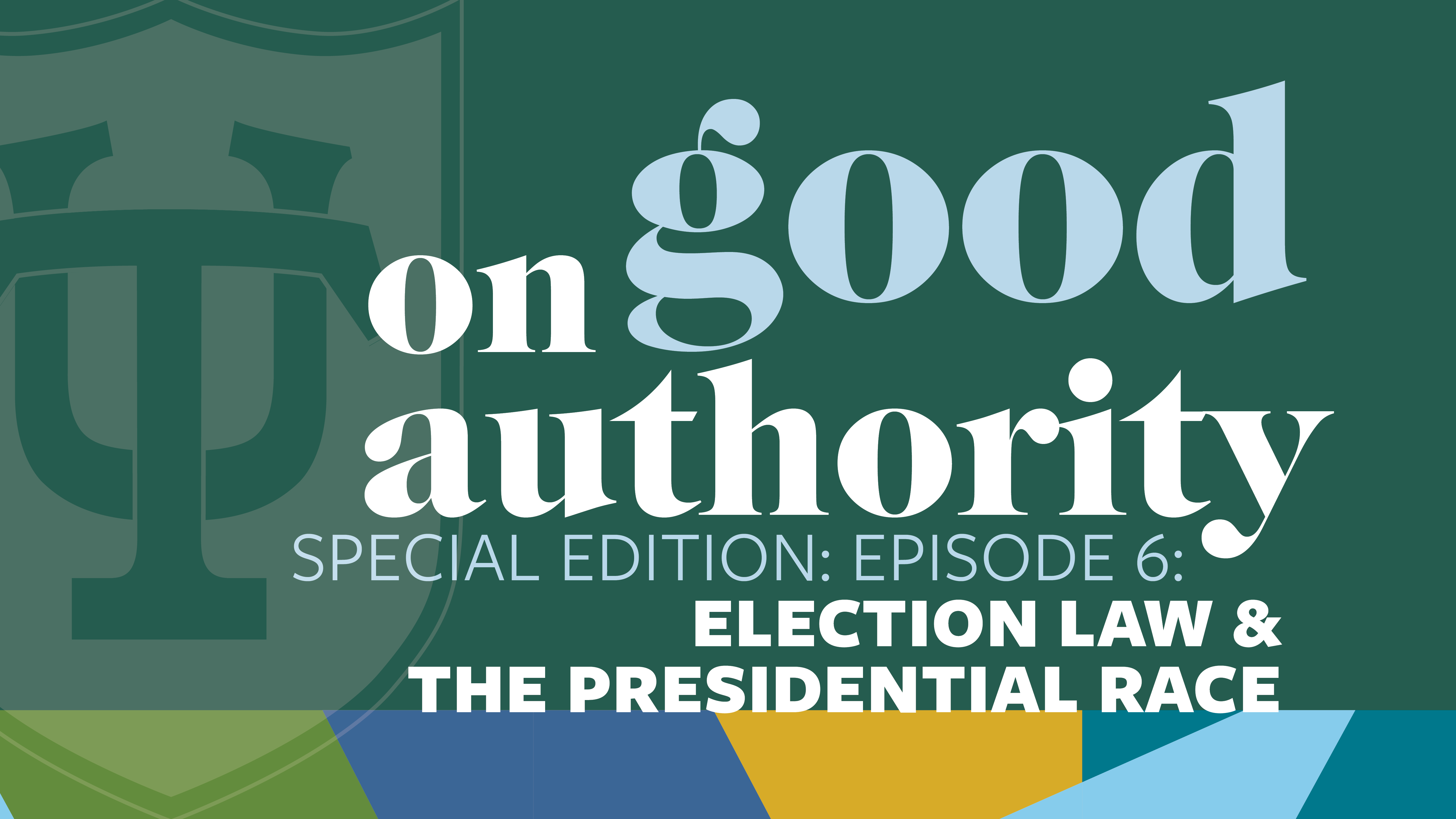 Several states are still counting ballots and the results will determine who leads the U.S. for the next four years. Tulane constitutional law expert Stephen Griffin explains what is happening now and how the 2020 race could change future elections.
Transcript ▾
Speakers
Stephen Griffin, Carolyn Scofield
---
Carolyn Scofield
With the year that 2020 has been, of course the presidential election would not be an easy one. This year saw more mail-in ballots than ever because of the COVID-19 pandemic, and key states, including Nevada and Pennsylvania, are still counting as of Thursday morning. I'm your host, Carolyn Scofield. This edition of On Good Authority checks in with a constitutional law expert to explain what's happening now and what happens next. And Professor Stephen Griffin is teaching a class about election law this semester at Tulane Law School. That seems timely. Stephen, thank you for joining us.
Stephen Griffin
No problem. Glad to be here.
Carolyn Scofield
First, tell us what's happening right now with the ballots that are still being counted.
Stephen Griffin
Well, it was anticipated that a number of states would take longer to count. Part of it is a few states always gave themselves more time, especially to receive absentee ballots, including from overseas and by mail. But another big factor is, especially with states that have large populations, like Wisconsin, Michigan, Pennsylvania, but did not start counting ballots that they already had, by virtue of a mail-in procedure, before election day. So they didn't start doing anything until election day itself. And we're talking about millions of ballots. And they don't, maybe some of them are working on a 24-hour basis, but it doesn't seem that all of them are working, you know, 24 hours. And it's probably better to knock off for the night and come back, but I can understand it's a little frustrating to people, but election law experts saw this coming, that it would take at least to the end of the week before we had a result, although they didn't know how the electoral votes would work out. But it's working out pretty much as expected, in the sense that we all have to be a little more patient.
Carolyn Scofield
Is there anything illegal about counting mail-in ballots after election day?
Stephen Griffin
No, the only issue has been should you count a ballot that was not received by mail, by election day, when the state law arguably requires that. That's the situation that's going on and may still be challenged in Pennsylvania. So there's nothing wrong with counting ballots that were validly received. And it's usually the deadline is election day. But states had to take into account the fact that the Postal Service seemed to be having problems delivering things on time. And so, voters would not even be aware of this and would think that their ballot was in the mail before election day and thus validly cast. So then they got into an argument about postmark. But basically the answer to your question is, there's nothing wrong at all. There's simply a special issue in Pennsylvania with ballots that are being received by the state after election date. My understanding is there actually aren't that many of those ballots, and so it may prove to be a tempest in a teapot.
Carolyn Scofield
As of right now, the President's legal team has filed lawsuits in a few states to stop the count. Does he have a case?
Stephen Griffin
No expert that I know thinks he has any case to stop the count, because there simply isn't any cause of action for which that would be an appropriate relief. Some of his lawsuits are very narrowly targeted at just a few ballots, like in Georgia. But in Pennsylvania, there could be a real issue with the ballots that I talked about. But so far, election law experts are saying that there is no lawsuit that could actually determine the outcome of the election, in the sense that it would either disallow thousands of ballots that might make the difference or allow in thousands of ballots. And so, it's not looking like the lawsuits, at this point, it's not looking like the lawsuits will make any difference. It's a lot of sound and fury at this point.
Carolyn Scofield
Do you think this could end up being a prolonged legal battle, like we saw back in 2000?
Stephen Griffin
That's what I'm being asked a lot. But you know, the circumstances are significantly different. First, it's just true that our ballot counting procedures and our means for recording votes are just better than they were in 2000. But the main difference, and it's really hard, maybe hard to grasp, it's hard to grasp how close the vote was in 2000. Statistically almost a tie. It was only hundreds of ballots you were talking about there. Now, in the current situation, Wisconsin, for example, it looks like they're going to have an automatic recount mandated by state law. That happens when the gap is is is too close. But the gap even in Wisconsin is something like over 20,000 ballots. I want people to appreciate that recounts usually don't change who wins because in a recount, you often discover, you can discover new ballots, but for both sides. It's not going to necessarily reverse the statistical likelihood that you're going to have a different candidate win.
Carolyn Scofield
I can hear your email chiming in the background. I'm sure you're getting a lot of questions from all over the place right now about it.
Stephen Griffin
From an election law perspective, it's mostly good news. The good part is that an enormous number of people voted, that their ballots were validly cast, and they're being counted. It is frustrating that you have some states that, in effect, are taking days to count. But everything seems to be going pretty well.
Carolyn Scofield
Do you think that with the way this election went, where so many people did either do early voting, or absentee voting, that we might get away from this one-day election that we've had for so many decades?
Stephen Griffin
We've been getting away from it for some time. I was really surprised when I first started teaching in this area how popular early voting has become. And it seems to me this election, and the fact that it has gone pretty well, will enormously influence how future elections are taken, and that Americans will in other words, want to keep voting in this way. It's more convenient. They have more time to decide when to show up to the polls. So both early voting and voting by mail are now, I think, part of the American way of doing elections.
Carolyn Scofield
As of right now, Joe Biden leads the popular vote. Is there anything this country could or should aim to change before the next presidential election because in some instances, the candidate who won the popular vote didn't win the electoral college votes?
Stephen Griffin
Well, you're talking to a supporter of national popular vote. I've never been a fan of the Electoral College. It is true that if you shifted to a national popular vote, you would have to solve a number of knotty policy issues, but none of them are rocket science. Right now, the states are our gate gatekeepers. They're the ones who decide how the parties, how the candidates get on the ballot. They're subject to some constitutional rules, but it's up to them. If you're going to a national popular vote, you would have to solve the problem of who is allowed, who gets on the ballot. But you know, especially if the popular vote turns out to be like it was last time, where Hillary Clinton won by something like 3 million votes. It could be Joe Biden wins the popular vote by 6 million votes. I think all of those people should reflect on whether they want their vote to really count, or that whether they want to be stuck in a state like California, were in effect, there were something like 4 million wasted votes, because all you have to be ahead by to get electoral votes is by one. And so close still elects people, as George Bush was elected by a count of only like 300 or 500. He got all the electoral votes. I and lots of other people think that that's just not a good system, every vote should count the same. But that means we should elect a president by a national popular majority, not by this Electoral College, and this Electoral College procedure puts so much pressure on what how individual states choose to implement their election procedures. And so, if there's a weak link in the chain, and all it takes is one state to blow up, like Florida did, although I don't think that's going to happen this time. It could easily happen in a future election, unless we go to a more solid and a solid stable system, which is really what national popular vote would be.
Carolyn Scofield
Do you think there's the political will to change to a national popular vote?
Stephen Griffin
Doesn't look like it if the Republicans can retain control of the Senate. I'm not sure they're interested in going to a national popular vote when they're losing the national popular vote. They might be persuaded to take a look at some individual procedures in states to make sure that the counting goes faster. But I do think in general terms, we're entering a period where people are going to be more open to the idea of political reform. And if Republicans want to drag their heels, eventually I think that's not going to be to their advantage as a party.
Carolyn Scofield
Is there anything else you'd like to add?
Stephen Griffin
You know, there were a lot of things that could have gone wrong, as far as foreign influence hacking in this election, doubts about vote totals, state officials not knowing what to do and being confused, and none of those things happened. And so, I think we should feel pretty good about how American democracy worked out. We have some more work to do, but there were a lot of adjustments made in this year because of COVID that went pretty well. So I think we should take some confidence. And it's really too bad that the President, of course, is making statements that would undermine people's confidence in elections. But when you look at the facts on the ground, I think people will be happy.
Carolyn Scofield
Stephen Griffin of Tulane Law School, thank you so much for joining us.
Stephen Griffin
It's my pleasure.
Carolyn Scofield
And thank you for listening to On Good Authority. If you like this episode, check out the rest, which all feature leading experts from Tulane University, and find On Good Authority wherever you subscribe to podcasts.
Host: Carolyn Scofield
Editor: Carolyn Scofield
Producers: Marianna Boyd and Audrey Watford
Production team: Marianna Boyd, Keith Brannon, Will Burdette, Faith Dawson, Libby Eckhardt, Aryanna Gamble, Carolyn Scofield, Mike Strecker and Audrey Watford