Image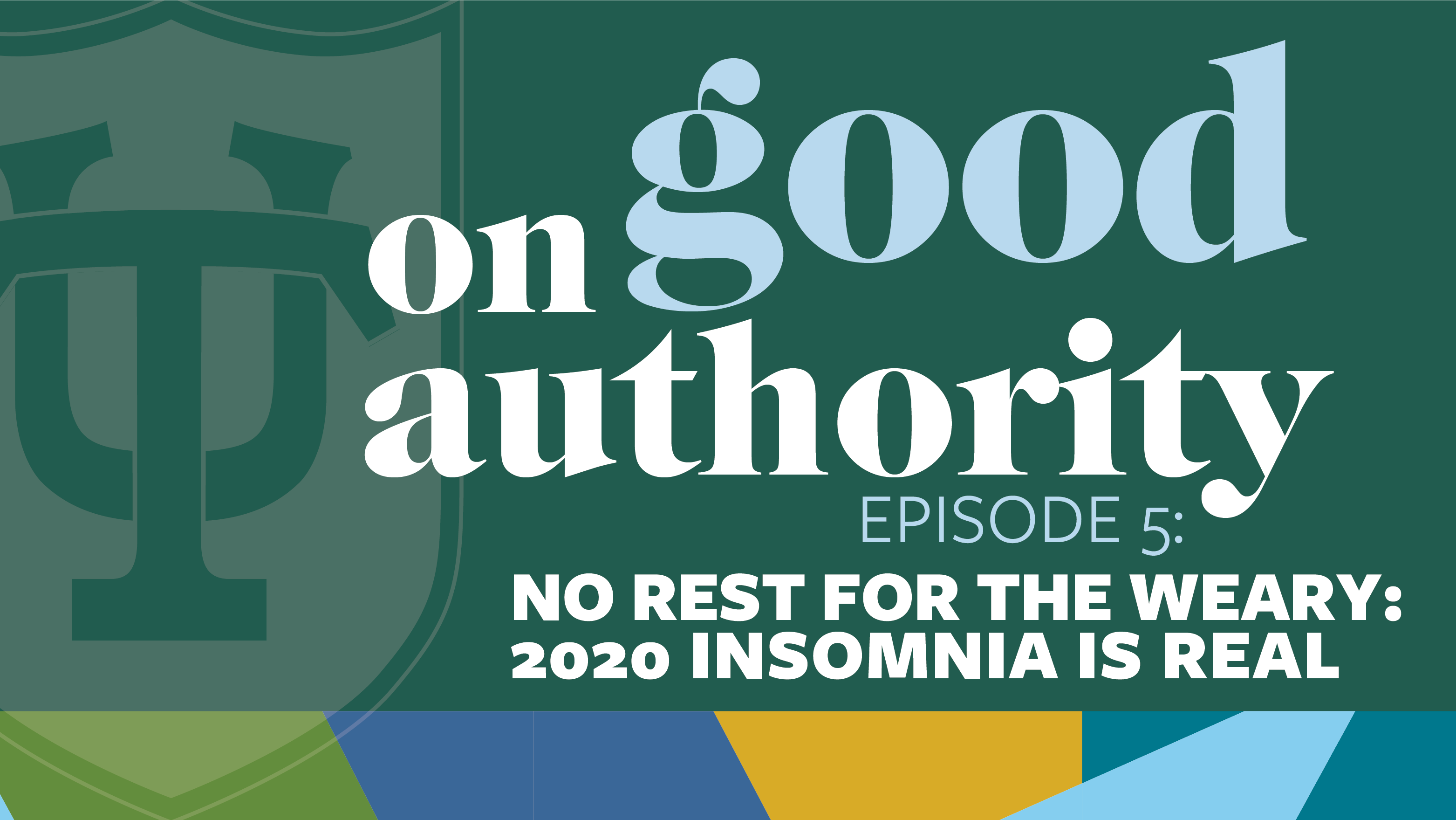 How much is anxiety impacting our sleep habits and what can we do to combat those endless sleepless nights? Tonya Hansel in the Tulane School of Social Work gives tips for incorporating healthy sleep habits into our bedtime routine. For more information on healthy habits, check out these self-care resources.
Transcript ▾
Speakers
Aryanna Gamble, Tonya Hansel
---
Aryanna Gamble
Welcome to On Good Authority, the podcast by Tulane University, where we bring you leading experts to talk about issues of the day and ideas that shape the world.
Tonya Hansel
This is why say, kindergarteners have to take a nap, because they're learning and they're thinking and they're consuming so much. Well, that's kind of where we all are, and our bodies need more sleep, in order to be able to handle the unexpected, the unpredictable, um being able to problem solve in a world that is very unknown.
Aryanna Gamble
How often do you find yourself in this situation: You get in bed, get comfortable, and boom, it's three hours later, your brain hasn't stopped with all the things you have to do tomorrow, and you still haven't fallen asleep. Or you're lucky enough to have fallen asleep at a reasonable hour, and suddenly, it's 3 a.m. and you're wide awake, wondering if you're ever going to get back to sleep before your alarm goes off. I'm Aryanna Gamble, and I'm an insomniac. And now that 2020 is wreaking havoc on all aspects of our work, school and home lives, increasing our stress and anxiety. I have so many new friends joining me here in insomnialand. So in this episode of On Good Authority, I sit down with Tonya Hansel in the Tulane School of Social Work, to talk about the impact anxiety has on sleep, and what we can do to combat those endless sleepless nights. Tonya Hansel is a social worker with expertise in disaster mental health and trauma. Tonya, thank you so much for joining us here today.
Tonya Hansel
Hi, Aryanna. Thanks for having me.
Aryanna Gamble
So over the course of this year, we've had so many different major disruptions to our daily lives, from the pandemic to natural disasters, civil unrest, election anxiety. What kind of an impact do these major disruptive events have on our lives and our ability to cope with everything that's happening around us?
Tonya Hansel
Well, any one of those things can create extreme stress reactions where it's, it's above and beyond the normal stress that we feel and and most people have the, you know, the coping capacity to handle small bumps in the road, right. But for you know, for 2020, you know, all bets are off, our coping has been exhausted. So it's not surprising that many people are having maybe new or exacerbated sleep problems, increased anxiety and even depression.
Aryanna Gamble
And just how much of an increase do we see in kind of stress, anxiety, depression surrounding these kind of sustained disaster events?
Tonya Hansel
Well, in disaster mental health world, we talk a lot about this allostatic load, where you have started having these physical reactions, when you have just periods of chronic stress. And I think for most everyone in the world, that's what 2020 is. It's a period of chronic stress, of one thing after another, whether it's personal or community, pandemic-related, all of these things just kind of weigh on us and can exhaust our normal coping mechanisms. So you know, your 2019 coping mechanisms that kind of help you get through those rough times, those are usually exhausted by the time we're, you know, nearing the end of 2020.
Aryanna Gamble
So what do we know about how disasters affect us in general, and do we know anything about how pandemics specifically affect our mental health?
Tonya Hansel
So we don't really have a playbook for pandemics, right. I mean, the, you know, the the government they have, they're kind of, you know, managing that. But in the mental health world, we have more, especially in the US, we haven't really been impacted by this. And so we've done a lot of work, we learned a lot from Katrina, and kind of how people respond, and when is the best time and what are the best services. So we're kind of using that as our guide, and what we've learned from you know, hurricanes and other technological disasters since. I think the biggest take-home message for me, and that I've learned in all the research that I've done, is that people are amazing at being able to handle stress. And even when they, you know, you'll hear people saying, well, I can't handle one more thing, they can, and, and they do. And, and to me, that's the most amazing thing about humans, is that we can, you know, be given kind of these entire different paths, and we're flexible, that we can respond and we can figure out and still find meaning and purpose in life.
Aryanna Gamble
I keep hearing this term "surge capacity" and our ability to deal with these kinds of issues. Is that kind of what what we're typically using in a disaster and what 2020 is kind of showing us that we're depleting?
Tonya Hansel
Right, that is a perfect example of, especially for those here in southeastern Louisiana, we understand that kind of surge capacity and how important that is. And that's exactly right, that's that allostatic load that I was talking about, where things just kind of build up, and that water or stress is gonna topple over, you know, we only have so much that we can deal with. And it's and the amazing part is that humans are extremely resilient and can persevere through all of these things. So it's not a situation, like in a surge kind of protection, where, you know, it's completely exhausted. But we do have to figure out new ways and different ways of dealing with kind of this added stress that that everyone is going through.
Aryanna Gamble
So how does this kind of depletion of our normal ways of coping impact our lives, impact our ability to really get good quality sleep?
Tonya Hansel
Right. Well, so think about it as periods of thinking, right, whenever our minds are going, and we can react and, and, and we need to be able to recharge, okay. This is why say, kindergarteners have to take a nap, because they're learning and they're thinking and they're consuming so much. Well, that's kind of where we all are, and our bodies need more sleep, in order to be able to handle the unexpected, the unpredictable, being able to problem solve, in a, in a world that is very unknown. And, and that kind of recharge, and letting our, quieting our brains down, is so important. But it's also very difficult. When we are kind of we have that adrenaline going, we have that natural response mechanism for us to say, wow, we need to develop different solutions. And that's that pattern that can develop and really affect your sleep patterns, if you have a hard time quieting your mind at night. Which I would say, I mean, I have a hard time with it.
Aryanna Gamble
I definitely have a hard time with that.
Tonya Hansel
You lie down and then all of a sudden, you just have this flood of information and ideas. And and I think that's a reality for most people.
Aryanna Gamble
Yeah, I would say that's probably my biggest problem getting to sleep, is not being able to shut my brain off. Sometimes I, I get into this place where I turn to the clock, and I realize I haven't fallen asleep. And then there's really this tense moment when I'm panicking, that I might not get to sleep at all. And I'm not sleeping because I'm panicking about not sleeping, and that's keeping me from sleeping. So I can I can definitely go down the rabbit hole. What can we do to combat this? What kind of healthy sleep habits can we incorporate into our routine to help us get to sleep?
Tonya Hansel
Right? Well, and then the worst thing is trying to figure out in your head, how long have I been lying here?
Aryanna Gamble
Right, yeah.
Tonya Hansel
And then you're worried about oh, no, I haven't fallen asleep, what should I be doing? Um, and there are there are a number of things and things that worked for you maybe you know, a year ago, might not be working for you now. So this is kind of a process of listening to your body and figuring out and coming up with solutions that will work for the here and now or work for what you're going through now. There, there are many different things. For me, I really like to kind of keep a pen and paper beside the bed table. Because I do have a problem kind of quieting those thoughts. So if I have a pen and paper and I can write them down, I'm less anxious about, you know, oh, am I gonna forget to do this tomorrow, or, ooh, this was a really good idea. Or ooh, I forgot to pick up paper towels at the grocery store, I need to remember to do that tomorrow. So that's a way that works for me. Other ideas or solutions that I've heard from people that say work very well is if it's been a while, and you haven't fallen asleep, to get up. Because your body, your body hasn't registered yet that it, you know, it's time to go to sleep. So get up and do something relaxing, preferably that doesn't involve screens, you know, so either yoga, meditation, maybe drinking some water or herbal tea, non-caffeinated things that we know that can that can help relax, but but aren't kind of stimulants. So screens are stimulants, caffeine is stimulants, all of those kind of things, to avoid those and then go back to sleep. And the idea would be that you could, you know, that that kind of helps trigger your body to kind of quiet down, you know, if if maybe writing it down or there are other methods that aren't working. You know, there's the old kind of solution of counting sheep, and if that works for you, then that's great. Personally, I'll keep counting the sheep and instead that doesn't really matter.
Aryanna Gamble
Counting is not a help for me either. I find that audio is my best friend. Something soothing, or a story that I've, I've listened to already, or sleep music, that tends to help my brain not think about all the things that I'm trying to think about.
Tonya Hansel
Exactly, and that's what we're trying to do. But for some people, they need absolute quiet. And so it's kind of finding that balance of what what is really going to work for you. And, you know, and for a lot of people, a noise machine or some kind of, you know, music or something might be, you know, what they need to in order to kind of go into that, that good quality sleep.
Aryanna Gamble
So it's kind of an experiment that each of us has to go in and, and see what's working for us.
Tonya Hansel
Right, and, and this could change over time. You know, I used to, I could drink coffee all day, and it wouldn't be a problem. And kind of recently, it's, I had to figure this out that if I have coffee after 3 p.m., you know, I'll be awake all night, and I'll be fighting, you know, doing that kind of I need to get sleep, but I can't, my body can't fall asleep. And that's just a situation that you really don't want to be in.
Aryanna Gamble
So one thing I do want to talk about is not just the amount of sleep, but the quality of sleep. I would consider myself a high-functioning insomniac well before this pandemic, something like four hours of sleep a night. That can be a pretty average sleep night for me. But during this pandemic, and kind of all of the other compounding events, I found that my normal amount of sleep, or normal amount of not that much sleep, doesn't seem to go as far. I wake up still tired, even though under normal circumstances, I would be able to power through that. How does this constant uncertainty, not just impact the amount of sleep we're getting, but also the quality of sleep we're getting?
Tonya Hansel
Right. Well, you know, that goes back to kind of the idea of this constant thinking mode. You know, and one of the reasons why once again, kindergarteners need those naps, and you'll probably find that you need more sleep as well. But you know, and it's also not necessarily like you were saying the quantity of sleep, it's that quality of sleep. So you know, if you're waking up after, you know, eight, say you need maybe an extra hour of sleep per night, and you're waking up and you're not feeling refreshed or ready to start the day. That's usually a sign that something's going on with your with your sleep, you know, are you waking up multiple times per night without being able to go right back to sleep? You know, how, how is your sleep hygiene? What are those practices that you're doing to, you know, help your body get into that state, because it's not just kind of, you know, a power off switch, like we would like. That would make things a lot easier, but but our bodies don't really work like that.
Aryanna Gamble
Um you know, that brings up a good point, when I think about healthy sleep habits, I kind of immediately think about the time right before getting into bed. But are there habits outside of our bedtime routine, that we should also be incorporating into part of our healthy sleep habits?
Tonya Hansel
Well, the number one that the you know, there's ample evidence. And it's not the one that people want to hear most often. But it's that unplugging one hour before bedtime. And that especially right now, when all of these things you know, listening to the news, right up until you tell your body, "oh, it's time to go to sleep now," probably isn't going to work. Because then you get into that thinking mode, we get into that cycle of you know, kind of problem solving. What should the world be like? What what's going on? All of those kind of "what if" questions that we need to quiet in order for our body to relax. Um so unplugging one hour before bedtime for any screens is is really one of the top, top things people can do. And this doesn't have to be every night. You know if you're, if you can manage to do this four nights a week, that's pretty successful. So we don't need to think of it's all or nothing, you know, yeah, you can watch a you know, on the weekends, watch a movie up until you're ready for bed. Just try to make sure it's not every night that that's what you're doing.
Aryanna Gamble
Okay, so what I'm hearing, Tonya, is more naps and less screens.
Tonya Hansel
Well, let's just start with less screens because while I would love to be a solid napper and envy my friends that can just kind of do a 20-minute power nap and their renewed, I am not very good at that. And I think, you know, most people's schedules probably don't allow for major napping throughout the day. We'll leave that for cats. But, you know, or picking one, you know, maybe it's that, you know, a power nap does work for you, and kind of figuring out kind of what are some small steps that you can take. You know, any, any time we're talking about mental health, whatever behavior change you're trying to change, if you try to do all or nothing, usually that's going to be met with a lot of failure and disappointment. So you know, small steps toward, you know, maybe it is trying to take a nap on the weekends, or maybe it is just say, okay, on, you know, Tuesday and Wednesday, I'm going to turn off the, you know, my screens an hour before bed. And those kind of small gains, if you find that it's working for you, are usually easier to kind of continue and to increase rather than trying to start you know, this all or nothing kind of behavior change.
Aryanna Gamble
So it's like a à la carte menu, you kind of pick and choose what you need to make work.
Tonya Hansel
Right. And that can be very empowering, right?
Aryanna Gamble
Yeah.
Tonya Hansel
To say, no, I'm gonna stay up and watch a movie tonight. I'm not going to do my good sleep hygiene. And then you kind of say, well, maybe I'll do it tomorrow. And then, you know, kind of stick to that. And that's kind of how we see behavior change in anything. Whether it's your sleep habits or your eating habits, you know, that those small changes can really make a big difference.
Aryanna Gamble
Tonya, is there anything else you'd like to share with our listeners?
Tonya Hansel
I think just kind of pointing out the importance of getting professional help when these other types of things aren't working, you know. Whether it's for sleep or for kind of anxiety or depression and when it really starts to impact your functioning, and your kind of daily life, and and how that's working or not working. And sometimes it's just best to reach out to a professional to help them provide some guidance.
Aryanna Gamble
Right, I did want to note that your school, the Tulane School of Social Work, has free resources for anyone who needs self-care guidance – can you talk a little bit about that?
Tonya Hansel
Early on in the pandemic, we, the Tulane School of Social Work started to compile resources for self-care, to ensure that, you know, not only you know, the Tulane community, but the larger community could have access to free available resources that could help kind of improve your coping mechanisms, improve your sleep patterns, and that would really give everyone that boost that we need right now.
Aryanna Gamble
Thank you so much for joining us today, Tonya. This was a great conversation.
Tonya Hansel
My pleasure. Thanks, Aryanna.
Aryanna Gamble
Thanks for listening to this edition of On Good Authority. I hope you get a great night's sleep after listening. If you like our show, please subscribe wherever you listen to podcasts. And for more information, visit us at tulane.edu/on-good-authority.
Host: Aryanna Gamble
Editors: Marianna Boyd and Aryanna Gamble
Producers: Marianna Boyd and Audrey Watford
Production team: Marianna Boyd, Keith Brannon, Will Burdette, Faith Dawson, Libby Eckhardt, Aryanna Gamble, Carolyn Scofield, Mike Strecker and Audrey Watford