Image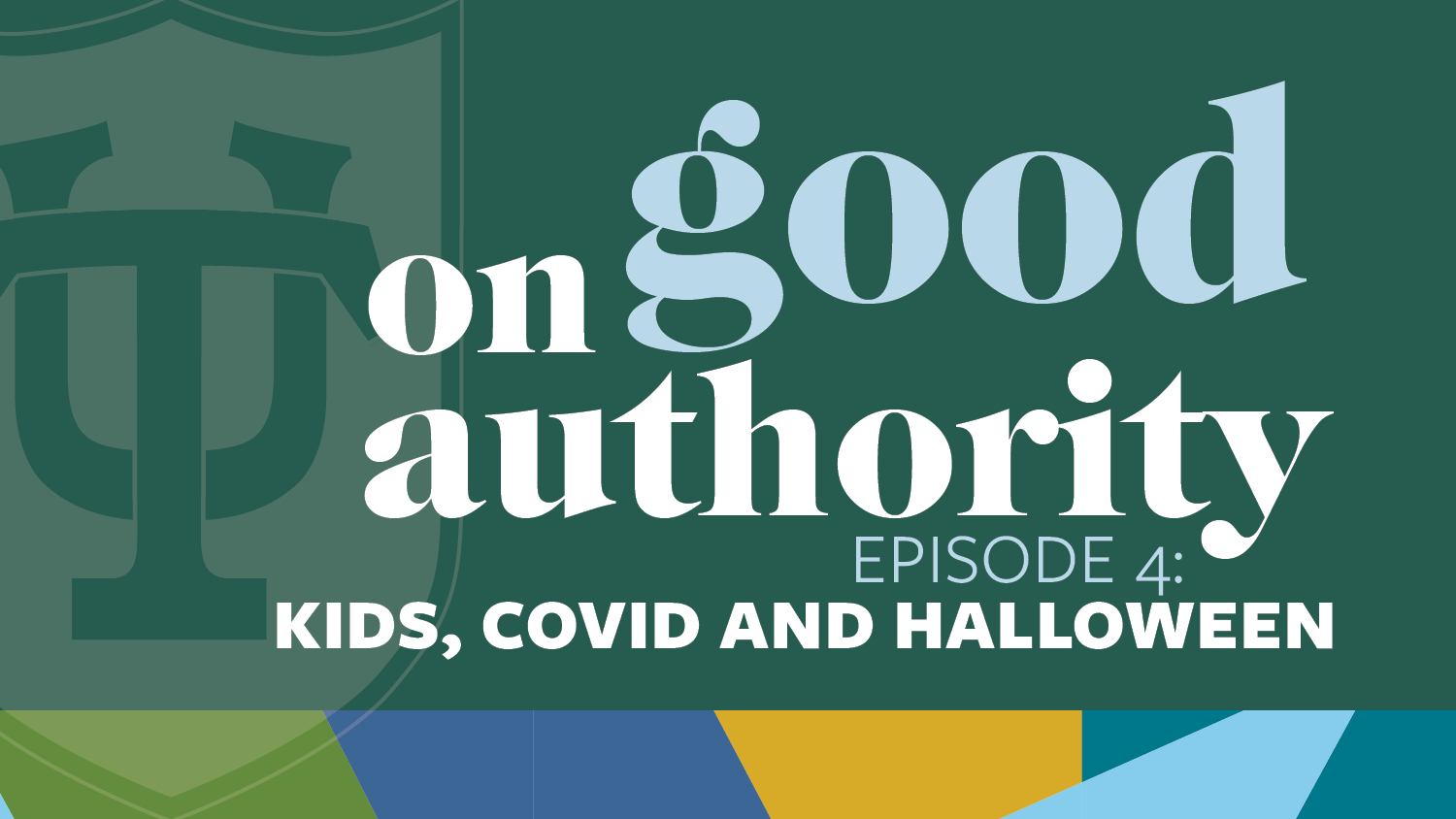 Pediatrician and child and adolescent psychiatrist Dr. Lauren Teverbaugh discusses why celebrating milestones like Halloween are still important, how to talk to your family about celebrating safely and brainstorming new traditions during COVID. Learn more about Dr. Teverbaugh's work here.
Transcript ▾
Speakers
Faith Dawson, Lauren Teverbaugh
---
Faith Dawson
Welcome to On Good Authority, the podcast produced by Tulane University where we bring you leading experts to talk about issues of the day and ideas that shape the world. I'm your host, Faith Dawson. Last month, the Centers for Disease Control and Prevention recommended against traditional trick or treating to prevent the spread of COVID-19 in communities. Here in New Orleans though, Mayor LaToya Cantrell gave kids hope when she said celebrating Halloween would go on. How can we stay safe this Halloween? Today we're joined by Dr. Lauren Teverbaugh, assistant professor of psychiatry and clinical assistant professor of pediatrics at Tulane School of Medicine. Hi, Dr. Teverbaugh. Thank you for joining us.
Lauren Teverbaugh
Thank you so much for having me.
Faith Dawson
Now, I'll start by saying I have a nine year old who would take Halloween over Christmas any day. He likes candy, but he loves being social with other kids in costumes, especially against a backdrop of ghosts and monsters. Why do you think Halloween is such an anticipated event for kids?
Lauren Teverbaugh
Oh, Halloween is that chance to be all of our favorite things, right. And for kids who watched so many cartoons and are into superheroes and and are so imaginative and creative. And it's an opportunity to take on a persona, to to again costume in your favorite person or your cartoon. And it's just a wonderful opportunity to do all the things that are, can be uniquely childlike, in a way that no other holiday provides.
Faith Dawson
Now the CDC has classified activities according to their risk level. For instance, indoor costume parties are high risk, also going to a haunted house is considered high risk as well. Risk, is this a concept that younger kids can understand?
Lauren Teverbaugh
Sure, so they can, but it needs to be broken down into developmentally appropriate terms. So as long as you can explain it to a child at their level, they can understand what it means, especially if you're very concrete. So we know that younger kids are more concrete. You have to say exactly what you mean in the way that you say it. For older kids, they they were talking about our middle schoolers, upper middle schoolers to high schoolers, they can start to abstract think abstractly. And so you can speak in more metaphors and examples, and teenagers can abstract. But for for little kids, risk can simply be explained as we are going to be safe. Being safe means we're going to wear our mask, we're going to wash our hands kind of protect each other. And that way, you're explaining it to them in a concrete way and ways that they can be safe. And they can then follow what you're saying.
Faith Dawson
Some parents are going to allow their kids to trick or treat anyway. If my family decides that it's not safe to trick or treat, how can we explain why it is okay for other kids, especially their friends, to trick or treat if we can't do it?
Lauren Teverbaugh
Yes. Well, you know, this is not a particularly new topic that a lot of parents have to discuss, particularly those families that don't celebrate Halloween. They have families that are around them and their kids at school who do celebrate, but they don't for whatever religious or other family reasons. And so, it's about reframing it. What can we do that's as fun or just as fun? What other creative ways can we can we celebrate Halloween that just may not look quite like the way we used to, but can create new traditions, can be just as fun and provides alternatives that kids can choose to do. And so, part of that is is really reframing it. Not what can't we do, what can we do?
Faith Dawson
For parents who choose to replace trick or treating with another activity, what is important to consider? For instance, is it more important to let the children have their own input into what we do? I'd rather decorate our house, or I'd rather watch a movie or carve a pumpkin. Should kids have some input? Or you know, is it more important that the parents set some type of structure for them?
Lauren Teverbaugh
Both right? And so, it's always helpful when children feel that they have some type of control or some type of choice in what they're doing. And as parents, depending on what developmental age the child is, what age they are, you can put the parameters on what the choices are going to be. Choices that are safe, that are going to work for your family and your household, but that they do allow the childhood opportunity to choose what they're going to do. That's the hard thing about COVID, is that it's cut so many things and we can't do this, and we can't do that. But again, what can we do? And so when you are putting out your choices, then all of your choices should be something that your family can abide by, and if there are multiple caregivers, that you all have talked a little bit in advance and kind of know ahead of time what you know for sure is not going to work for your family. But then leaving it some of the choices open for what they can do.
Faith Dawson
The open-ended nature of the pandemic is, in fact, it's certainly wearing on all of us, but especially so for kids who are less able to manage their feelings surrounding uncertain situations. How can we prevent Halloween tantrums?
Lauren Teverbaugh
Well, there is no 100 percent hard, fast rule. So, so part of that is helping to manage expectations and laying out what is going to happen, especially if you have that conversation about what are some things that are fun that we can do? What are what is our day or afternoon or evening going to look like? What is the expected course of events, talking about that, laying that out ahead of time, so that kids know what to expect. There's not a super huge amount of frustration or disappointment. And again, if you've given them the choice, they've gotten to choose that activity, right. And so, they know that that's something that they were looking forward to that they get to do. But if it does get to the point where frustrations boil over, which certainly can happen, and even still disappointment for for things that may not have gone exactly according to the plan, it's about allowing the child to have that moment. Have that and articulate their emotions. And sometimes that's just utilizing and building skills that they already have in terms of naming and labeling what they feel and and then parents validating that right and panic parents affirming what they're feeling. Oh, I understand this is really hard. And you're probably really frustrated. Because we can't go to door, go door to door like we used to, we're just standing in our costumes, right? We don't get to go up to our friends, as we used to, I understand that must be really hard, right? And you can validate, and you can explain for them how they're feeling. That can go a long way. And then of course, you know, you have your behaviors and tantrums that certainly may not be appropriate like hitting or being mean to other children. And then so of course, even though it's a fun activity, and it's a fun time, it's okay. And it's suggested to be consistent with whatever form of what's okay and what's not in your household. Even if it's Halloween, you can be consistent in that timeframe. If your child needs to take a break, to take a timeout, you need to go and sit down for a little bit and then rejoin the activity, then that's okay.
Faith Dawson
That's great advice. Even in the best of years, Halloween can be a free for all, you know, I can give you some true horror stories where I there were 20 kids in a Spider-Man costume, and I took the wrong kid home. No, that's not true. I took the wrong man, though. Or everyone expects the crowd to be socially distancing. And it's just impossible for that many people to manage that many youngsters. All sorts of things can go wrong. How important is it to have a plan B ready?
Lauren Teverbaugh
That can be so helpful. It can be so helpful for if what you've planned doesn't quite work out the way that it has, to have something at home or something in another setting that is a plan B to go to. Something that can be maybe not the same, but as an alternative, right? Something that you know is going to be fun for your child and fun for your family, and something to go to. Really important.
Faith Dawson
Will it be also important to have kids under constant adult supervision? Because this is one holiday where I feel like you know, they like to flex a little independence.
Lauren Teverbaugh
Yeah, well, it depends on what the setting is right? If you have younger kids, and you're concerned about their safety, especially if you're around people that you don't know very well. And to different contexts, you're not quite sure how your child is going to respond or how others are going to respond to them. Then yes, at the beginning of the situation, you might want to be more vigilant, be a little bit more hands on and watch. But if you feel comfortable, if your child feels comfortable, and it's a situation where you can step back a little bit, constant supervision is not necessarily required. And you know your child and so you do know if they tend to be a little bit more strong-willed and rambunctious and maybe a little bit more oppositional, or you have a child who is more risk averse and is not going to go too far from you anyways, and you have to kind of encourage them to participate versus the opposite. And so, you can use your own child as a as a guide. But in general, if you provide more supervision at the beginning, understand and learn the situation for yourself, and then you can pull back as needed as you go on.
Faith Dawson
New Orleans will be in Phase 3 when Halloween arrives. We'll still be wearing masks and socially distinct distancing. Walk us through the big day, what would you like New Orleanians to know and remember?
Lauren Teverbaugh
I do think that the mayor and our city in particular has been pretty good at explaining how things should go and how we should be distance and how we should be wearing our mask. But I would envision it as being as outdoors as possible, right? So a situation where you get because we know that enclosed environments, that can increase the risk of spread of COVID-19. So a outdoors environment that has lots of ventilation, that there's space between yourself, your family, and those that are around you, so at least six feet. That everyone's wearing masks, right, which is easy, because it's Halloween and we are used to wearing masks anyways, but particularly the mask that covers the nose and the face, and and that kids are enjoying themselves and that they're having fun. And there's so many different creative ways to do that. So that's the general guidelines of what I would do, and what I would see was the best way to do things. But you know, there there are varieties on how that could look.
Faith Dawson
And candy will still be safe to eat, candy won't need to be sanitized?
Lauren Teverbaugh
Candy usually does not need to be sanitized, especially if it's individually wrapped kind. I probably wouldn't be taking the home-baked goods or things that were prepared in a home or that you're not you're not quite sure of what the level of sanitation is, if you do it that way. But if you have candies that are individually wrapped, and especially if that family that's giving out candy has is is puts it outside, for instance. So you don't necessarily have to come up to the door and in to the door. Perhaps it's at the cor– at the at the front edge of the lawn or a little bit of a distance away, so that when you are taking the candy, you don't have to come within six feet of the person that's giving the candy.
Faith Dawson
It's a shame that Mardi Gras and Halloween can't be lumped into one big holiday, that way we can throw candy from like a safe distance from a float. I don't know just thinking here, might try to throw my own trick or treat candy from a second-floor window.
Lauren Teverbaugh
There you go. Or would it not be fun if you had like one of those baskets that you could just like roll down, or with a rope attached to a rope where you just hang it out the window.
Faith Dawson
Genius. That's genius.
Lauren Teverbaugh
Yeah that would be so fun. You can incorporate into whatever your costume is, and it can be like your little goblet of treats that are coming down.
Faith Dawson
Are you a fan of Halloween yourself?
Lauren Teverbaugh
Oh, I love Halloween. I love and you know what I I grew up in an environment where my household was really religious and pretty spiritual. So we didn't celebrate Halloween in my household, we had harvest fest. Where which again, is one of those alternatives where kids who can't celebrate can still go to church or wherever the environment was, a parking lot, usually it's kind of like a tailgate setting up thing, and still kind of get candy and celebrate and have the music and things like that. But, of course, when I moved to New Orleans, I saw Halloween in a completely different light. And I was 100 percent all for it. And I love Halloween. I mean it's I love the costuming in general. And I love all the opportunities that there are to costume in New Orleans, and I take advantage of almost all of them and so Halloween is another one of that. But again, because there's so many parades usually, and so many festivities that are surrounding it, it's a really festive environment. And of course, the houses that are all decorated, which is the one thing we could still do for like 100 percent during COVID is the decorations and and again the costuming, like that's the fun part.
Faith Dawson
Yes. If you had to choose your favorite Halloween candy, what would it be?
Lauren Teverbaugh
I love the Snickers. The Snickers bites.
Faith Dawson
Alright very good. Dr. Teverbaugh, is there anything else that you would like to add?
Lauren Teverbaugh
Oh, I, for me, what would be most important is that, just like most things that are really difficult and challenging, it doesn't last always. And so even though this particular Halloween may be different, and we can still have a lot of fun, but it is going to be different than what, than how we usually celebrate, there will become a time where we can go back to pretty much how we were celebrating. It may be some time, but our the goal is to get there. And as long as we continue to modify and be creative and explore different ways of both being safe but celebrating at the same time, we'll get to a point where things can return closer to normal. I don't think we'll ever have a what we had before, but we'll have a new beautiful normal. And as long as we keep ourselves safe and enjoy ourselves in safe ways now, there will come a time where we will be fully festive again.
Faith Dawson
I look forward to that day. Dr. Lauren Teverbaugh of Tulane School of Medicine, thank you for joining us today.
Lauren Teverbaugh
You're welcome. Thank you for having me.
Faith Dawson
Thanks for listening to this edition of On Good Authority. Check out our latest episodes by subscribing to the podcast. You can get more information by visiting tulane.edu/on-good-authority.
Host: Faith Dawson
Editor: Carolyn Scofield
Producers: Marianna Boyd and Audrey Watford
Production team: Marianna Boyd, Keith Brannon, Will Burdette, Faith Dawson, Libby Eckhardt, Aryanna Gamble, Carolyn Scofield, Mike Strecker and Audrey Watford