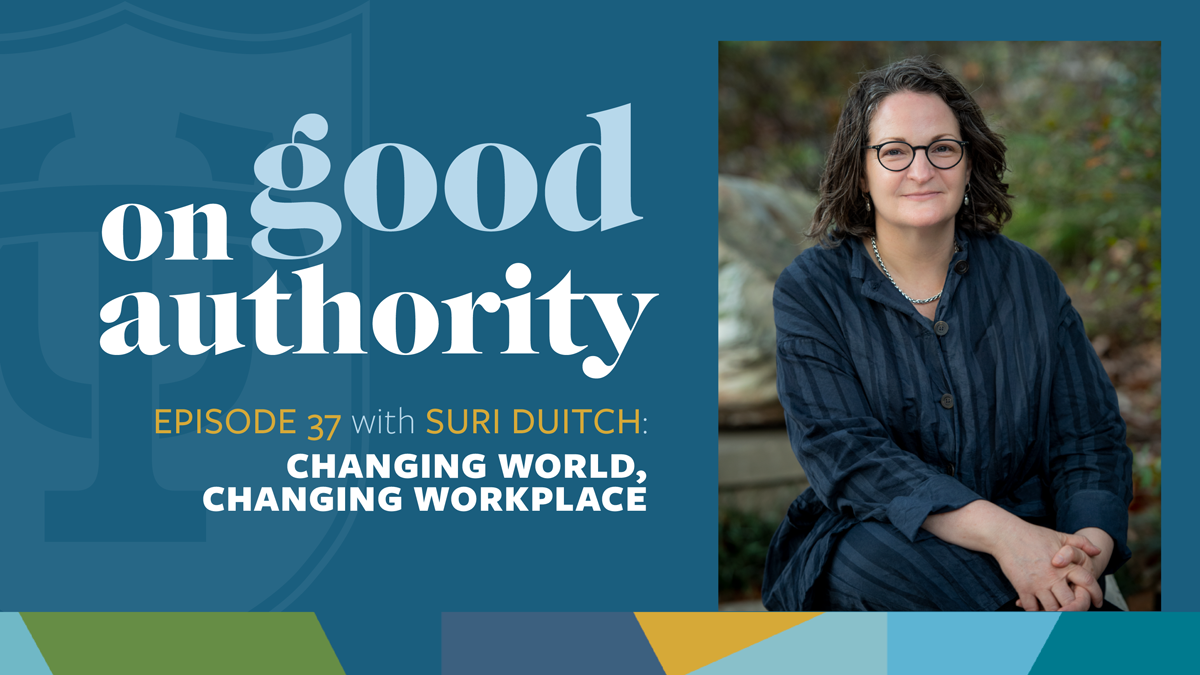 Proof that working Americans are thinking differently about jobs and careers is all around us. The pandemic arguably sped up changes that were already underway, making it necessary for higher education institutions to respond. Suri Duitch, dean of Tulane's School of Professional Advancement, discusses these changes, and the obligation of colleges and universities to prepare today's students for these quickly evolving workplace settings. 
Transcript ▾
Speakers
Faith Dawson, editorial director, Tulane Communications and Marketing
Suri Duitch, dean, Tulane School of Professional Advancement
Dawson
Welcome to On Good Authority, a podcast featuring Tulane University experts. I'm your host, Faith Dawson. Proof that working Americans are thinking differently about jobs and careers is all around us. High rates of job hopping for better salaries and opportunities for remote work, successful unionization efforts, millions who left jobs at the beginning of the COVID-19 pandemic and haven't returned, and tales of toxic bosses being held to account for their behavior. The pandemic arguably sped up changes that were already underway, making it necessary for higher education institutions to respond, both as the primary vehicle of access to careers in this country and in their role as employers of millions. Will these changes stick? And what's the obligation of colleges and universities to prepare today's students for these quickly evolving workplace settings? Our guest today is Suri Duitch, dean of Tulane School of Professional Advancement. Welcome to On Good Authority.
Duitch
Thanks for having me, Faith.
Dawson
How are people thinking differently about work for themselves?
Duitch
Who is working has changed, certainly how we work, and I think how we navigate boundaries around work. So in terms of the research, people like Michelle Holder of the Washington Center for Equitable Growth and Caitlyn Collins of Washington University in St. Louis, have shown that people who left the workforce at the beginning of the pandemic and haven't come back tend to be older or to be mothers of young children. That's logical, right. And people who are older are worried about getting sick, maybe they've benefited from stock market upswings. It just doesn't feel worth it to take the risk. Maybe they don't want to deal with the technology. And young children can't get vaccinated, so parents worry. In part, because of the economic cycle of the pandemic, there are a lot of open jobs, and there's upward pressure on wages. The current phenomenon in which a high proportion of people are quitting their jobs each month, what we refer to as the "Great Resignation," is really about job hopping for higher pay and better terms of work, often including remote work. And Derek Thompson of The Atlantic has written a lot about this. Data show that pay is going up for people in historically entry-level and low-wage jobs. But what I find most interesting is how the experiences of the past few years have brought so many of us to rethink our approach to work, and sometimes even our goals. People often say Americans live to work, and people in other societies in our world may be more likely to work to live. I think many people are rethinking that. We know anecdotally that what's being captured in the data about open positions is also true in our own experiences, as members of society and especially as consumers, where you can see it everywhere you look. The restaurants cutting back open hours because they can't find staff, the difficulty of obtaining goods and services in like the construction trades, for example. I even hear about it from people in exceptionally high-wage fields, like investment banking. It seems to be an across-the-board phenomenon. It's harder to get things and it's harder to get things done because of labor shortages and supply chain issues. And certain fields, such as pre-K-12 teaching and health care, have been especially hard hit because of people's challenges in working through the pandemic and the resulting burnout. But no field is is untouched. I think for those of us who can work remotely, the boundaries between work and the rest of life that have already, were already pretty blurry, have only become more so.
Dawson
Am I correct in thinking that the "Great Resignation" is a little bit of a bit of a misnomer? Because you know, the media would have you believe that people are just chucking it all going, "Alright, I'm done with this." And you know, "I'll see you later." And so, I thought to myself, where are these people going? Or do they have so much money saved up that they don't need to work anymore?
Duitch
I do think that the government subsidies, and particularly in the case of unemployment, gave people financial room to think about work in a different way that they maybe hadn't had before the pandemic. But it is also true that, at the current time, the data do show that the people who are going to come back to work have pretty much done so, and what really is happening now is people are moving around much more frequently.
Dawson
Is there a new interest, or sort of an evolving interest, in how higher education can address this new way that people are looking at work?
Duitch
I had an article in this daily publication Inside Higher Education back in December, that was about changes in work culture. And it talked about changes that were well underway, and it was about how higher education's typical ways of thinking about how to prepare people for jobs and careers are, in my opinion, just no longer sufficient. They aren't deep enough. They don't get to the key questions of how do we enable students to thrive in work environments that are in permanent flux? How do we arm people with an understanding of what they bring to work that cannot be just as well done by a machine? And so, I wrote that we have an obligation to change how we educate in ways that better prepare students, but also to manifest for ourselves as working people the best aspects of this workplace of the future. And there are a lot of positive aspects of this new workplace, just as we have seen through the pandemic, and societal responses to Black Lives Matter and the #MeToo movement, for example. So it gives us an opportunity in higher ed to either see this, you know, to rethink how we're preparing students for work and how we work ourselves and our working environments, or to do the same things we've been doing.
Dawson
So at the School of Professional Advancement, many of many of the students come from a work background, or like they have families. What do they tell you? Do they do they express certain concerns to you that kind of inform how you go about decision-making at your school?
Duitch
They talk about Zoom exhaustion, which so many of us experience. Then they also talk about the new opportunities that working remotely has opened up, in terms of who you can work with and how. But they're also tired, right? It's been a challenging two years for everyone, whether it's having kids who are in school on Zoom while you're, you know, home at your dining table trying to do your own schoolwork and your paid job. Many of our students are first responders, so they've been deployed to deal with climate crises and pandemic needs. Those who are Black, Indigenous and people of color, which is about half of them, have experienced stress, anxiety, anger, maybe depression, in personally dealing with the murder of George Floyd and similar situations. And those in Louisiana have had to contend with hurricanes and displacements connected to that, with the resulting family and financial strain. So there's, there's been a lot of challenges. You know, the upside is that they're they're still smart, ambitious and focused on why school is important to them and and what having their Tulane education will get them. And that is what's getting them through and helping ensure that they meet their goals.
Dawson
Is online education working the way we expected it to, or do you feel like that will be part of the change as well?
Duitch
As in many parts of our society, there's this polarization taking place in American higher education. It's about online versus on ground, it's about those with resources versus those who don't have. And so, what what's happened in American higher education, from my perspective, is that you have this sort of thin bound of institutions that are the most elite that serve, largely, the most elite people and communities. And they've, they've done pretty well, right. Like people still have their jobs, you know, young people still have resources. And they have, you know, continued to migrate to the institutions that have the most. But but the vast majority of institutions, because they serve the vast majority of people in this country, are actually really struggling. And the example of Black men leaving school or not starting school is, is a perfect one, right? People are struggling, they're feeling torn. They're facing difficult choices. And in the end, I think they're going to come back to school, because school is going to continue to be the single greatest point of access to economic security and to career opportunities. But but it's going to take a while to shake out, and the role of the role of online is really important. You know, for one thing, I think that your sort of average student's expectations around what can be done online versus what has to be done in the classroom, and the degree of flexibility that institutions should show towards students has gone up a lot. And institutions are expected to be more flexible and more sophisticated in how they do online education. And at the same time, you know, like my students say, right, Zoom has its upsides, in terms of how you work and with whom and where. And so, online has manifested that, right, and will continue to do so. And those trends are only going to accelerate, and so the differentiation that you're going to see, and I think that you are seeing, is in how online is done, right. Is it a commodity that is, you know, sort of large-scale and anonymous and is really just a path to a credential? Or is it fine-tuned and responsive to our changing circumstances? And does it really seek to get the best value out of in-person interactions, and people doing work on their own, and small group projects and things like that? And that's what we're really working on in our school, for example.
Dawson
Online education being one example, how else is the School of Professional Advancement preparing students to navigate in this newly changing world of work?
Duitch
There's the curricular piece, you know that at any given time, what we're doing to ensure that what we teach is on point with what people need for success in their fields right now and in the future, and that we're anticipating that as much as possible, but but not getting ahead of the curve. And the co-curricular component, of course, which for us, is often about helping students figure out how to translate skills from one field to another. From the military, for example, or from a work history in hospitality into K-12 education. Underlying everything we do is the push to manifest the values and attributes that we strongly believe will make people competitive for the long term. And just to give some examples of these values, so transparency in decision-making and in articulating choices and tradeoffs, collegiality and a shared sense of mission, a lack of attachment to hierarchy, support for informed risk-taking, these are, these are just some examples. And here's why I think that approaching thinking about the workplace in this way is really important. First, it is inarguable that the workplace of the future is less stable, and that helping people who work to be better able to navigate disruption and frequent pivots is important. And second, we're in the midst of a once-in-a-generation opportunity, if if that, maybe even less frequent, to rethink and respond, to change how we work and how we prepare people to work. And we just can't afford to miss out and not step up to this challenge.
Dawson
That's so interesting because it makes me realize the conversation is often about, well up until now, the conversation is often about, like, what are the hot jobs? What are the hot fields? Universities or colleges used to want to be able to prepare people for these industries. And now, this is a shift to talk about, not specifically the industries themselves, but how we're looking at the whole field and the whole process of educating an individual to go out into whatever field they choose. So I just find that interesting because every year they come out with like a list of, you know, these are the top fields for salary or whatever.
Duitch
Well, it has to be both, right. One of the great things about educating people within the context of a university like Tulane is that you do have the opportunity to do both, right. You're helping people by arming them with skills and knowledge that they need for now. But underneath that is both a breadth of education in terms of you know, the sciences and the humanities and the arts, but also the attributes and characteristics that will help them to be successful and to adapt and to manage. And students need all of it.
Dawson
We mentioned working remotely earlier. And one of the things I find interesting in the press is when they try to predict the future. Working remotely, it's going to last. You know, people people want to work from home now. Or people say like, you know, well, commercial real estate is down now, so employees are going to start going back into the office. And all these trend pieces want to kind of predict the future. What do you think is gonna stick?
Duitch
So first of all, remote work. I do think it's the case that, you know, there are going to continue to be shifts in in-office, out of the office, you know, where economic activity goes in terms of cities versus suburbs, all of that. But people really are making choices about what jobs to take based on workplace flexibility to an extent that they were not doing before. And being able to let people work remotely, at least part of the time, is a pretty significant competitive advantage in a marketplace with labor shortages. I don't think that's ever going back to the way it was completely. I hope that the shift in the balance of power between labor and management, and the dynamics of the labor market, that those continue and that individuals continue to have more agency in their work and in decisions about work than they've had for decades in this country. I hope that we don't forget what we've been through. There's a natural human instinct to want to move on from negative or traumatic experiences, right, it's a survival instinct. I think about my first pregnancy and how I swore I was never going to do that again. But then, sort of when enough time has passed, I took back the maternity clothes that I had given away, and I decided to do it again. And, you know, that's like a survival of the species kind of thing a little bit. There's a quote from Emily St. John Mandel's new book, Sea of Tranquility, in which the world is essentially in a permanent pandemic, which seems pretty realistic at this point. And so, this one character in the year 2203 says about a pandemic:
"We knew it was coming, but we behaved inconsistently. We stocked up on supplies, just in case, but sent our children to school, because how do you get any work done with kids at home? We were still thinking in terms of getting work done. The most shocking thing in retrospect, was the degree to which all of us completely missed the point."
I find that really poignant, because I think the question is like, what is the point, right? It's a little bit existential. Why do we work? What do what do we live for? Like to go back to, you know, do we live to work or work to live? And more concretely, how do we balance the demands of work and the and the rest of our lives? And I think we have an opportunity to answer these questions differently, to our benefit individually, and to the benefit of our communities in the world. And I hope we don't miss that.
Dawson
Is there anything else that you would like our listeners to know?
Duitch
One thing that we didn't spend much time on, but I think is really important, is this issue of how many more of us are understanding how others experience the world of work. And the move to remote work was, was freeing for many people, because they didn't, they were out of the office, and they didn't have to, in some cases, suffer through all the sort of non-work stuff that was, that took place in the office that was distracting and and also sometimes really difficult to navigate. And no, I've actually been thinking about W. E. B. Du Bois' concept of double-consciousness. You know, the idea that Black people in this country live in twoness, as he wrote, you know, experiencing the world as a Black person and as an American, and the struggle to navigate that. And, you know, whatever the language is, I feel like there's a lot more sensitivity to just how prevalent it is for so many people to have that experience of feeling torn by the world of work, that it can feel at war with your primary identity as a person. And for those who feel themselves falling outside the norm, however that's defined in a specific work setting. And so, for a lot of people, you know, who did end up working remotely, for example, and didn't have to have the water cooler talk and talk about what they did that weekend, or what movies they saw, or what in many cases was felt like a white-dominated work culture. People are saying I'm not going back to the way things were. And now they have options.
Dawson
Dean Suri Duitch has been our guest on On Good Authority today. Thank you for being with us today, Suri.
Duitch
Thank you so much.
Dawson
Thank you again for listening to On Good Authority. I'm your host, Faith Dawson. For more information on this and other episodes, please visit tulane.edu/on-good-authority.
Host: Faith Dawson
Editor: Roman Vaulin
Producer: Audrey Burroughs
Production team: Marianna Boyd, Keith Brannon, Will Burdette, Audrey Burroughs, Faith Dawson, Roger Dunaway, Aryanna Gamble, Becca Hildner, Mike Strecker, Lance Sumler and Roman Vaulin