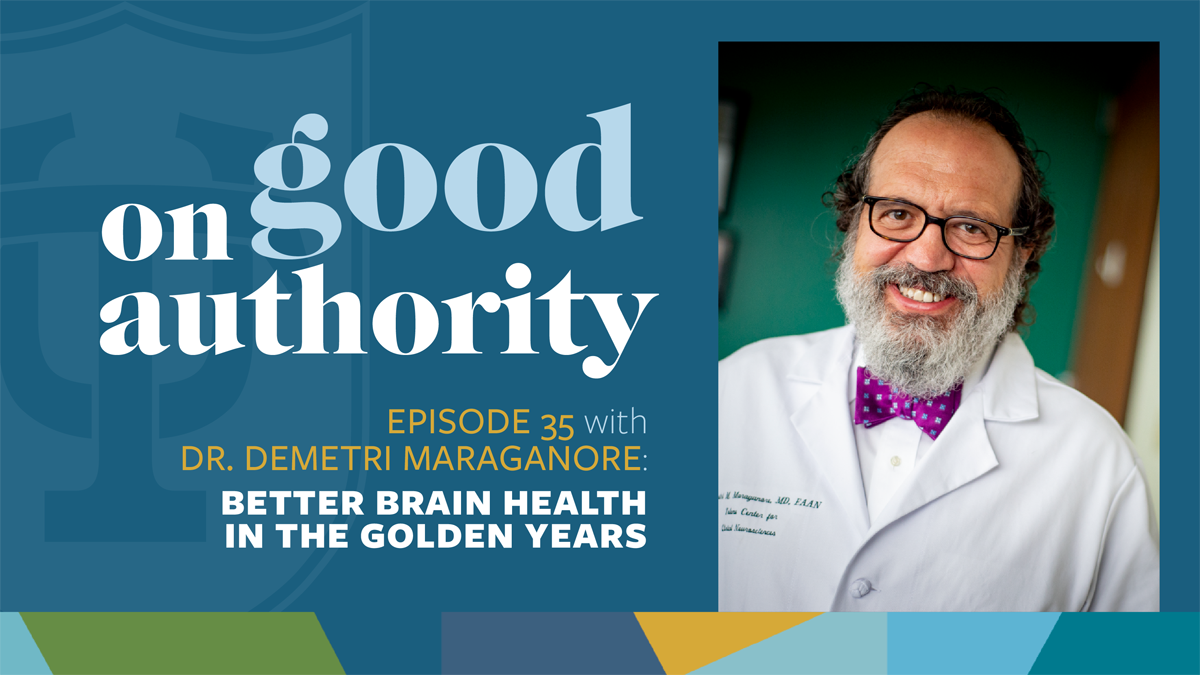 Dementia is on the rise worldwide, but advances in health care and healthier lifestyles mean the life expectancy of Americans is on the rise, too. Tulane physician Dr. Demetri Maraganore is working to make sure that as Americans advance in age, they do so in the best possible health. In this podcast Dr. Maraganore explains how to improve brain health in order to make the most of the senior years.
Transcript ▾
Speakers
Faith Dawson, editorial director, Tulane Communications and Marketing
Dr. Demetri Maraganore, chair, Tulane Department of Neurology; co-director, the Tulane Center for Clinical Neurosciences
Dawson
Welcome to On Good Authority, the podcast by Tulane University, where we bring you leading experts to talk about the issues of the day and ideas that shape the world. I'm your host, Faith Dawson. It might sound like a futuristic movie plot, but today's kids are very likely to live past 100 years old. Advances in health care and healthier lifestyles mean the life expectancy of Americans is on the rise. Even so, dementia is also on the rise worldwide. Tulane physician Dr. Demetri Maraganore is working to make sure that as Americans advance in age, they do so in the best possible health, minimizing risk factors for diseases like Alzheimer's. Dr. Maraganore is chair of the Department of Neurology and co-director of the Tulane Center for Clinical Neurosciences. Welcome to On Good Authority.
Maraganore
Thank you so much.
Dawson
Well, dementia, a category that includes Alzheimer's, is on the rise. But your research shows that dementia and other forms of cognitive decline are in fact preventable. How do you support that statement?
Maraganore
Well, if you look at the risk factors for Alzheimer's disease, and the fraction of the risk that they carry in the population, 65% of the risk for Alzheimer's disease is in fact genetic. So it's intrinsic. And at least at the present time, we don't have good ways of altering people's genetic risk, but 35% of what causes Alzheimer's in the population cannot be attributed to genetics. And observational studies, as well as randomized clinical trials, have identified several modifiable risk factors for dementia. So in theory, by targeting those factors, we could eliminate 35% of Alzheimer's disease in the world.
Dawson
So how can individuals reduce their risk? I mean, are the steps really that simple?
Maraganore
Well, you know, it's never as simple as it is on paper, Faith. But people who are interested in finding out about the risk for Alzheimer's, a first step that they can consider is to get genotyped, to do direct-to-consumer genetic testing. And there are public companies that offer this specifically, including Alzheimer's testing. And an individual can find out from these tests, which usually cost less than $200 out of pocket, sometimes even less than that, whether they carry zero copies, one copy, or two copies of the Alzheimer's disease gene risk variant. It's called apolipoprotein E or APOE4. The E4 variant of the APOE gene confers a fourfold increased risk for Alzheimer's via one copy, or a 15-fold increased risk for Alzheimer's if you have two copies. And so, 75% of us have zero copies. That puts our lifetime risk at less than 10% for Alzheimer's. That's reassuring news. Twenty-five percent of us have one or two copies. For the 20% with only one copy, our risk is increased. We have a 25% lifetime risk for Alzheimer's. For the 5% of us with two copies, our risk is quite high, we have a 50% lifetime risk. So one thing that would be very practical, would be just as we screen aging persons for breast cancer with mammograms, or we screen men for prostate cancer with blood biomarker tests, one could envision screening populations for genetic risk for Alzheimer's, so that we can risk-stratify the population into high risk, medium risk and low risk. And that would allow us to focus on people who carry the greatest risk for the disease.
Dawson
Are there lifestyle factors for those individuals, or are you talking about strict medical interventions?
Maraganore
Both. So we've developed a list of about 20 health factors. Some of them we can't change, you know, the gender that we were born with, our family history of dementia, those are things that we can't alter. But the remainder of the factors include a variety of medical conditions that can be identified and treated, but also lifestyles and habits that we have the power ourselves to address and change. So for example, rigorous aerobic fitness, doing aerobic exercise, getting your heart rate above 100 beats per minute for 150 minutes a week. So for example, five times a week for 30 minutes. That does three remarkable things. It number one, causes the memory structures in your brain, what we call the hippocampi, to grow in size. People who do exercise literally grow that region of their brain. Secondly, the exercise increases spinal fluid levels of two growth hormones that bathe the brain. Glial-derived and brain-derived neurotrophic factors. And these growth hormones stimulate dormant brain cells to sprout and connect and differentiate. And they also inhibit aging brain cells from dying. And thirdly, if you do longitudinal assessments of cognitive function in people who are doing aerobic exercise versus people who are not, the people doing the exercise improve in their cognitive performance. And these studies have even demonstrated the same benefits in individuals who are in their 70s and older, or in individuals who genetically are at greater risk for Alzheimer's. So it's never too late to engage in aerobic fitness, and aerobic exercise will build your brain power and will attenuate age-related changes that contribute to cognitive decline and dementia. Another example would be diet. The Mediterranean diet is the diet of Greece, southern Italy and Spain. And it has been shown to not only reduce your risk, at any age, of death by 50%, heart disease or stroke or cancer by 50%. But it also reduces your risk for dementia by 50%. And in Spain, a large multicenter trial was conducted where hundreds of Spaniards who weren't very healthy. They were obese or had heart disease or hypertension or diabetes or high cholesterol. They were randomized to either strictly adhere to the Mediterranean diet or eat as they preferred. And these folks had annual assessments of global IQ, memory and executive decision-making skills. And they would have been pleased if they were able to attenuate the decline on those measures over time. They would have been elated if they could have flatlined the measures over time. But what they found was astounding. Every year, all three measures incrementally improved for individuals who strictly adhered to the Mediterranean diet. So aerobic exercise and the Mediterranean diet. They don't just protect your brain from aging effects, but they restore your brain to youthful health.
Dawson
That's amazing, because this is advice that we've probably been saying for the past 50 years, you know, eat right and move more. I find that very encouraging. Who are the super agers and how healthy is healthy aging?
Maraganore
Well, you know, the most rapidly growing segment of our population is the 90-plus segment. And there are going to be more and more folks living past their 90th birthday. And even past their 100th birthday over the next 20 or 30 years. And because Alzheimer's disease and related dementias are aging-related diseases, the more very elderly people who are living, the more cases of Alzheimer's we will have in our population. So right now, we have 5 million cases of Alzheimer's in the US. By 2050, we'll have 15 million Americans with Alzheimer's. Right now, the cost of Alzheimer's in the US is $300 billion a year. That's three Hurricane Katrinas a year. By 2050, it'll be $1.5 trillion a year. Fifteen Hurricane Katrinas a year. So if we don't flip the coin of aging from disease to health, we're going to bankrupt the American economy and health care, and a lot of people are going to suffer. So a unique opportunity we have is to identify special cohorts of people who have in fact survived to their 90th birthday and longer, and who are cognitively healthy. And in particular, to identify within that group the individuals who have superior cognitive performance. What are the factors that differentiate those individuals from others, and can we leverage that information to promote healthy aging?
Dawson
Does cognitive health above age 90 often go hand in hand with other types of health? Like people who, assuming they have eaten well and exercised a lot, do you find that they're in good health otherwise, you know, still have mobility, still able to take care of themselves?
Maraganore
You know, at Tulane, we just submitted to the federal government a $91 million grant, 90-plus, for the 90-plus-year-olds, to study empiric cognitive performance over age 90. We have 70 investigators from 20 universities. And we've leveraged our EMR systems, our electronic medical records, to identify within our systems of care 154,144 sashimi grade super agers. These are people who have no medical diagnoses of Alzheimer's disease or related dementias. They are living independently in their home, they're not in a nursing home. They're ambulating independently, they have low indices of comorbid illnesses. They're not visiting ERs or getting hospitalized frequently. These are true super agers. And we've identified over 150,000 of these super agers between 20 universities. And what we're hoping to do through our study, is to identify the underlying factors. We know some of the factors will be intrinsic, there'll be molecular factors. Genomics, transcriptomics, proteomics, metabolomics, all of the biological factors that that influence health. So we'll be looking at those things. And some of those things, like the genomic piece, we can't alter, but we can alter the metabolism of individuals. And so, we're going to be using geospatial methods to look at current residences and prior residences and to make imputations from residential histories regarding environmental factors that might influence people's health. We're similarly going to link these 150,000+ people to the U.S. Census, and we now have U.S. Census data available to 1940. A third area of study will be to look at dietary factors, who's adhering to the Mediterranean diet, who isn't. The gut microbiome, the composition of bacteria in the gut, we know increasingly that gut health and brain health are intimately related. So this is an initiative that we just are launching. We'll know later this year whether we were successful or not. But even today, we're we're working with this large team to do preliminary studies and to gain insights.
Dawson
This is fascinating. And it's it's, you know, much more hopeful than I had realized. So I feel I feel excited to be talking to you about this today. I'd like to know, does attitude, do you think attitude has anything to do with the onset of cognitive decline? Sometimes I feel like when people age, they just kind of make up their minds that dementia is unavoidable because that's what happens to people who are octogenarians or or beyond. Do you feel like attitude makes a difference?
Maraganore
You know, the Alzheimer's Association recently conducted a panel of world experts to do a systematic review. And they looked at psychological factors. And they did find that people who have a prior history of depression are more likely to develop dementia than people who did not. And they similarly found that people who are socially isolated are more likely to develop dementia than people who are not. Your state of mind can influence cognitive health late in life. Others are beginning to study mindfulness, and even meditation. And there's a growing body of literature that shows that the brain activities of people who are meditators show different patterns than people who are not. But whether those meditation type practices reduce the odds for dementia, or increase the odds of cognitive health late in life, requires further study.
Dawson
What about early-onset dementia, does that arise from the same set of risk factors?
Maraganore
So, you know, the younger that you are when you develop dementia, we typically stratify dementia as early-onset, meaning it started before age 65, or late-onset after age 65. And most dementia, of course, begins after age 65. But what we're finding in people who develop dementia earlier in life, they're more likely to carry rare causal mutations in genes. A gene called amyloid precursor protein gene or two genes called presenilin 1 or presenilin 2. These are the rare genetic causes of dementia. You know, when, if you ever saw the movie Still Alice or read the book, you'd you'd know that she had early-onset dementia that was familial, due to one of these rare genetic causes. The same risk factors that apply to late-onset dementia do apply to early-onset dementia, although we do see a greater genetic component for the early-onset case.
Dawson
I see. You and a team conducted the study, the EMR study of more than 45,000 Floridians. So will you conduct a similar study in Louisiana?
Maraganore
So yes, thank you. So when I was at the University of Florida, we, we leveraged the EMR system of the OneFlorida Clinical Research Consortium, which includes 22 hospitals and health systems in Florida and covers about 75% of the healthcare population in Florida. And we got together a panel of 10 different experts. And we said, what are the attributes of successful aging over age 90, that might be captured in EMR system? You know, we we recognized that several factors are not captured well in EMRs, like education level, years of education for example, or income. But we focused on the factors that could be identified in the EMR systems and we identified 20 features. And 19 of the features were ones that you can actually detect in EMR systems. And we used this to identify 45,000 Floridians who were successfully aged, or at least as far as we could tell, they were successfully aged. We then recently completed a pilot study where we reached out to about 3,500 of those people. And we were able to engage a small fraction of individuals to undergo cognitive screening. And what we found was that the computable phenotype of successful aging, the definition of successful aging that we developed in the EMR, was 90% accurate in excluding people who were unsuccessfully cognitively aged. In other words, only 10% of the people who we thought based on the EMR would be successfully aged, only 10% of those people actually had dementia.
Dawson
I described our conversation thus far as being more hopeful than I had anticipated, which is good. But I wanted to know, does anything about your research surprise you? Or did you feel like you've just kind of begun to scratch the surface of the brain, the brain in its study? And it holds all sorts of mysteries.
Maraganore
The one thing that really surprised me in my research is that, you know, there are a lot more people alive today over age 90 in great health than I would have anticipated. And so that excites me. And so, the question is, how can we grow that particular segment of the over age 90-year-old population in the coming years? Because that's my dream in life, I want to make it past age 90 and be a super ager. So that's one thing that really surprised me. I think the other thing that really surprised me was that, you know, you can use features that are routinely captured in EMRs to predict with 90% accuracy that people are, in fact, cognitively super aged. I think that was, for me, a big surprise. But another area of research that, that I think is very exciting, and it's early successes are surprising me, relate to some experiments that we're conducting in the laboratory. So we are looking at rats who are fed either the Western diet, the standard American diet, or the Mediterranean diet. And after just three months of feeding the rats different diets, what we're finding is that the Mediterranean diet rats are smarter. They perform on cognitive and behavioral tests better than the rats that are following the standard American diet. Just after three months. The Mediterranean diet-fed rats have a much healthier gut composition, they have much more diversity of bacteria. Whereas the standard American diet-fed rats, they have a much less healthy gut bacterial composition. They have fewer types of bacteria that are overgrown, including types of bacteria that have been linked in human studies to Alzheimer's disease. We are now in the process of determining what if you were to harvest the gut bacteria of rats that are fed the Mediterranean diet and orally transplant it? A fecal transplantation through encapsulation, orally transplant the microbial composition of the Mediterranean diet to subjects or individuals or rats, in this case, eating the Western diet, could we passively transfer the health benefits? So when I give lectures to communities about the Mediterranean diet, there's always someone in the crowd who raises their hand and says, "Dr. Maraganore, isn't there's some pill you could give us? I could keep eating, you know, crawfish étouffée, and and gumbo, and jambalaya, and and fried catfish and still not get, you know, dementia?" And I typically would kind of roll my eyes and, you know, look at the watch to see how long it was before the the hour was up. But then the thought occurred to me, well, maybe that those people are right. Maybe we don't have to follow a healthy diet to enjoy the health benefits of diet, if the health benefits are actually transferable through the gut microbial.
Dawson
Wow. Is there other work that you think people would find interesting that takes place at the Center for Clinical Neurosciences?
Maraganore
Well, you know, we have a lot of research currently at the Center for Clinical Neurosciences. We're leveraging New Orleans' unique characteristics. And we love New Orleans. So one thing that we love about New Orleans is that it's diverse. And we know that our African American populations have a doubled risk for dementia. And we really need to understand that and address that. And so, we're working now with collaborators at the University of Miami and the National Institute on Aging to recruit African American aging populations into genetic studies, to try to determine are the genetic risk factors for Alzheimer's the same across all populations or are there unique risk factors in our African American population? So that's another unique study that we're pursuing. And then finally, you know, what else is New Orleans famous for? It's famous for music. And we are collaborating with scientists on the uptown campus, neuroscientists, who are interested in looking at music as a potential therapeutic strategy in people who are cognitively aging or who have dementia.
Dawson
That's that's great. All the all the things that New Orleans is strong at. Is there anything else that I have not asked you that you think would be useful for people to know?
Maraganore
That it's never too late. And you know, even if you've got diabetes or obesity, you didn't get to go, you know, finish high school, you know, you've had some head injuries, et cetera. You know, even if you're loaded with risks for for dementia, the evidence shows that if you change your exercise habits, your dietary habits, and if you address your health factors, that can make a huge difference.
Dawson
Our guest today has been Dr. Demetri Maraganore of the Tulane Center for Clinical Neurosciences. Thank you so much for being with us today on On Good Authority.
Maraganore
Oh, it was a lot of fun. Thank you very much.
Host: Faith Dawson
Editor: Lance Sumler
Producer: Audrey Burroughs
Production team: Marianna Boyd, Keith Brannon, Will Burdette, Audrey Burroughs, Faith Dawson, Roger Dunaway, Aryanna Gamble, Becca Hildner, Mike Strecker, Lance Sumler and Roman Vaulin