Image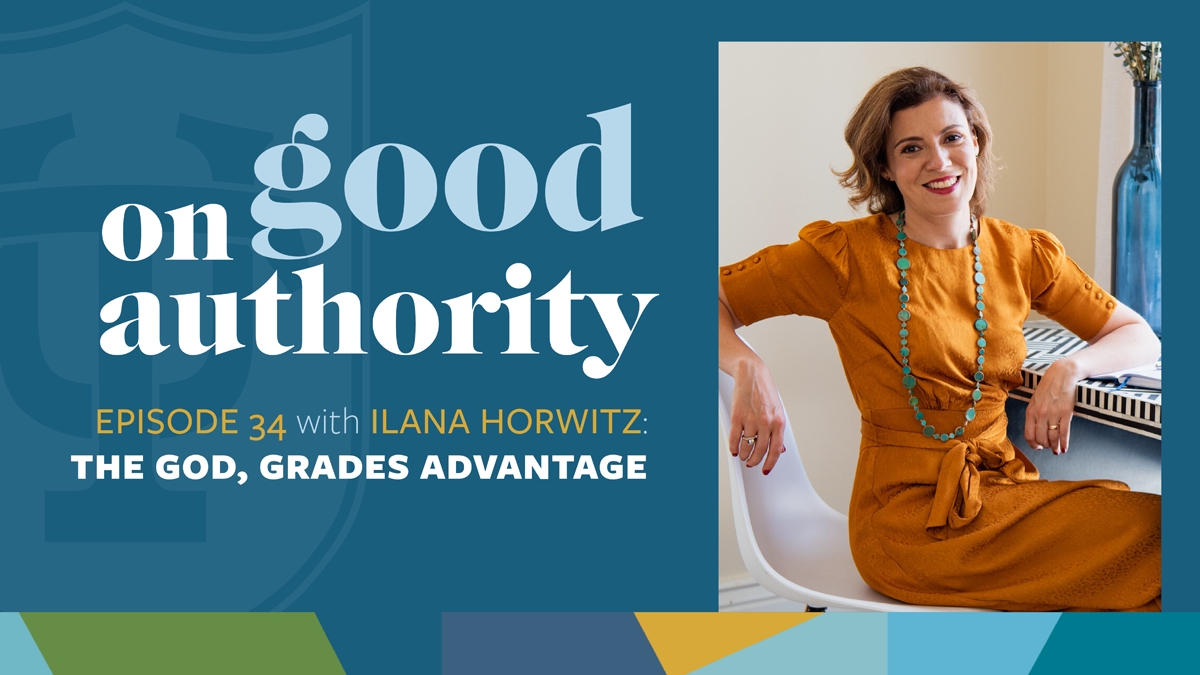 Does a belief in God and strong religious devotion give students an edge in the classroom? Tulane sociologist Ilana Horwitz explores the issue in her new book God, Grades and Graduation. Horwitz, assistant professor in the Department of Jewish Studies and the Fields-Rayant Chair in Contemporary Jewish Life at Tulane, discusses the surprising ways in which a religious upbringing shapes the academic lives of teens in the United States.
Transcript ▾
Speakers
Keith Brannon, director, Tulane University Public Relations
Ilana Horwitz, assistant professor, Tulane Department of Jewish Studies; Fields-Rayant Chair in Contemporary Jewish Life
Brannon
Welcome to On Good Authority, the podcast by Tulane University, where we bring you leading experts to talk about issues of the day and ideas that shape the world. I'm your host, Keith Brannon. Do the devout have an advantage when it comes to academic achievement? Is there something about religious devotion that can help believers earn better grades and become model students? That's a question Tulane sociologist Ilana Horwitz explores in her new book called God, Grades and Graduation. It's a look at the surprising impact religion can have on academic success. Ilana, welcome to On Good Authority.
Horwitz
Thank you so much for having me.
Brannon
I've been excited about your book because, personally, I grew up in a very religious household. Like many of the people you interviewed, the church played a central role in everyday life. We went to church, or Sunday school, three times a week for years. I found myself recognizing a lot of the patterns that you mentioned in the book. But I was surprised when you talked about your own upbringing. You had the opposite experience. Tell us about that.
Horwitz
That's right. So I grew up in Russia. I lived there for the first seven years of my life. My family were political refugees because we were Jewish. And being Jews in Russia under communism was pretty much forbidden. You could go to jail for practicing Jewish holidays. So I really grew up with no religion. I don't think I heard the word Jewish until I was, you know, past the age of seven when we came to the United States, and we settled in Philadelphia. I soon started attending Jewish private schools and Jewish summer camps and had a very heavy dosage of Jewish education, and to make up for all those years. But my family wasn't religious. Talking about God wasn't something we ever did. I would say religion wasn't a part of my life in the way that it is for the conservative Christian kids that I talk about in my book. I think I grew up, now in retrospect looking back on my life, being really curious about religion. I went to a pluralistic day school where there was people who were Orthodox and people who were Reform and people who were Conservative, really people who ran the gamut of religious practice in their own homes. And that sort of immersion in a pluralistic religious environment gave me a lot of empathy, and that even if I wasn't religious, I could see the central role that religion, that sort of God did play for classmates of mine. I just developed a strong empathy that always made me curious about religion, even if it wasn't a central sort of feature in my own life.
Brannon
What sparked your interest in studying the impact of religious life?
Horwitz
I realized, I was a graduate student around 2015 at Stanford, and I was in the School of Education. And I was taking a lot of sociology classes, and I was spending so much of my time thinking about what influences how kids do in life, and how do they do in school, in particular. And I was spending so much time thinking about the role of factors like race and social class and gender. And one day, I came across the 2014 Pew Religious Landscape Study. And at the time, the big headline was the decline of religion in America. But when I opened up the report, what stuck out to me was actually how religious the United States was. I did not realize that America was by far the most devout country among rich democracies. I thought America had secularized a long time ago. I had no idea how being religious in America influenced how kids did at school. And that prompted me to look into this and find out what other scholars had said. And I realized that there were no books that had been written about this really central feature of kids' lives. So I decided to write one.
Brannon
You started with a national survey of religion in the United States, which included interviews with 200 students in secondary schools. What did you find?
Horwitz
What I found in my analysis is that religion has a powerful but mixed impact on adolescents. So one of the central findings was that on average, kids who grow up with intense religious commitments go on to complete more years of education, but often at less selective colleges.
Brannon
You called many of the religious young people "abiders." What did you mean by that?
Horwitz
So I borrow the term "abiders" from fellow sociologists, Lisa Pearce and Melinda Denton, who wrote a book looking at different profiles of religiosity. "Abide by" means to conform or to accept without objection. And so, the kinds of kids that I refer to as abiders in my book are the kinds of kids who are really bought in to the idea of religion. They opt into religion. And it's not something that's forced upon them. At a technical level, the kinds of kids I'm talking about in my book are kids who both believe and belong. That means that they are the kinds of kids who orient their entire life around God, but who also are very active in religious institutions. When I say they orient their life around God, it means that they see themselves as children of God. They profess a personal relationship with God. They emphasize the role of faith in their daily lives. And these are also kids who pray on a regular basis. In order to be an abider in the way that I describe it, you have to both have like a personal relationship with God and believe that God is watching you, but also attend church and be involved in that social community.
Brannon
What was it about being devout and an abider that gave them an advantage when it comes to education?
Horwitz
Yeah, so there's two elements. And it goes back to this idea of both believing and belonging. So abiders are the kinds of kids that, because they believe that God is watching them, you're going to act in a very well-behaved, in a very conscientious and a very cooperative way. Because that is how these kids believe that they can find favor and sort of look good in the eyes of God. And it doesn't matter whether you're at home, it doesn't matter if you're a church, it doesn't matter if you are in school, that disposition of conscientiousness, of cooperation, is going to follow you wherever you go. The reason that abiders end up having an academic advantage is because our schools, especially our public schools, reward kids who are conscientious and cooperative. Those are dispositions that teachers, who are trying to manage large groups of kids or rambunctious teenagers, really value. Imagine yourself as a teacher, right, and you have 15 or 20 high schoolers who are running around. You love kids who are going to be able to sit still, do what you ask, and not make a big fuss about it, right? That is conscientiousness and cooperation. They may not be the smartest kids, they may not be the most creative or the strongest critical thinkers, but they're doing what you ask. And that makes a teacher's job much easier. A key thing that I want readers to recognize in my book is that religion gives abiders an academic advantage because of the way that our school system is structured, because of the kinds of dispositions that it rewards. There's something about the way we have built our public school system that rewards particular dispositions. And it happens to be that kids who grow up intensely religious develop those dispositions early on in life, and they come in knowing, we in sociology refer to this as the "hidden curriculum" of schooling. It's the routines, the rules, the regulations. Intensely religious kids have already learned how to follow the rules really well, because it's something that's really important in being religious.
Brannon
You found that despite good grades, this advantage didn't always translate to one measure of college success– attending a selective university. Why was that?
Horwitz
Kids who are intensely religious grow up with a self-concept that is very much oriented around parenthood, around altruism, and around service to God. It is not particularly important to intensely religious kids to have a prestigious career. And if you think about why kids often go to selective colleges, it's because they are interested in maybe going to graduate school or getting a career that requires going to a more selective college, a more prestigious career. And so, the kinds of kids who are growing up intensely religious say to themselves as adolescents, like, especially if they're in the middle-upper class and know that they're going to go to college, because that is something middle-upper-class kids do. They say to themselves, "I'm going to go to college, that's something that's expected of me, but it doesn't matter if it's the college down the street." I may be a straight-A student and in the National Honor Society and doing really well. But it's perfectly socially acceptable, and also very much in line with how I see my future unfolding, to just get a degree from any college.
Brannon
Did you see differences in how the abider advantage played out among different groups? For example, women and men, or those from different socioeconomic backgrounds?
Horwitz
I thought of kids along the entire educational pathway, right. I began with looking at them when they were in middle and high school, and then I followed them into their late 20s to try to understand what their patterns of higher education was. And at the middle and high school level, when I looked at their grades, all kids who grew up intensely religious had, were doing better. They were earning better grades than kids from their own socioeconomic background, right. So for example, abiders from the professional class were doing, were getting better grades than non-abiders from the professional class. Poor kids from, who grew up as abiders were doing better than poor kids who are not abiders. But that pattern changed when it came time for college. And the reason is, the kids who see the biggest educational attainment bump are generally from the working class and the middle class. If you're in the professional class, your chances of going to college are so high that you, you don't need what religion offers to sort of have that educational attainment bump. You already have a lot of advantages, you have a lot of social and cultural capital, your parents can probably afford college. So you don't sort of, you don't need what religion offers in order to give you that boost. And if you're poor, the road to college is just so steep, and it is so bumpy, and poor kids are so disadvantaged that religion can't do enough to to overcome all those disadvantages. But for working-class kids, and for middle-class kids who are on the margins, for them, it is especially powerful to grow up in these intensely religious homes. Because that conscientiousness and cooperation helps them get better grades, it helps them avoid risky behaviors that are so common and deterring kids from staying on the path to college. Like working-class kids and lower-middle-class kids in America are growing up, especially working-class kids, really in, in communities where there's so much despair. And the ones who are religious are able to sort of be buffered from that level of despair. And that's why religion is so powerful for them. Religion gives them a source of what sociologists call "social capital," that more affluent kids can get from other sources.
Brannon
What surprised you about your findings?
Horwitz
Oh, so many things. I think one of the things that surprised me was the extent to which a belief in God could translate to kids really altering their behavior. Because initially, one of the big questions for me was, well, why is it that kids who are on surveys look really religious? Like, what is it about going to church and prayer and believing in God that actually matters? Like I didn't believe that kids literally would just pray before a test and do better, right, that didn't seem logical. And this one little boy said, or he's not little, he's a teenager. But he said, "I imagine Jesus sitting next to me, and it makes me want to be better behaved." Or they would say things like this one boy who grew up as LDS, he said, "I follow the rules." And the interviewer said, "Oh, like the school rules?" And he said, "No, my religion's rules, those are the most important rules to follow." And so, the extent to which sort of the presence of God and feeling like God is watching, and this commitment to following the rules of religion, the extent to which that manifests in advantage in the classroom, I think stood out to me and surprised me. One of the other things that I found was a gender difference. And I found this in a couple of different ways. So boys, in particular, benefit from the structure of religion. I found that girls already were predisposed to being conscientious and cooperative. We teach girls early on in our society to be conscientious and cooperative. For boys, that gets really reinforced through the church. Boys also tend to be more likely to fall into drugs and alcohol and these risky behaviors that deter kids from being academically successful. By staying involved in religious institutions, it provides a set of guardrails that are especially important for boys. And it is especially for boys during this particular period, who are growing up in working class communities that was, that were particularly hit by the opioid crisis. And so, the boys in the study repeatedly talked about how many people in their communities, including their own fathers, were dying by suicide or dying from drug overdose. And they were, these boys were really feeling it. That the boys, especially who were regularly going to church, and who are surrounded by members of a religious community, both felt more of a sense of purpose in their life. And they were also shielded from this despair because it wasn't so prevalent in their own church communities. I also found a gender effect in the story of college selectivity. In general, girls under match in the college selection process more often. Because it is really for girls that the self-concept around parenthood, around altruism, affected their college choices in a really profound way. Girls in particular have this strong belief that their purpose in life is really to be mothers. And while again, it's important to go to college, it really didn't matter for them where they were going to go to college. And this was interesting, because they were doing extremely well in their high school years, their grades were stellar.
Brannon
I was surprised that you found atheists also seem to do well, but for entirely different reasons. Tell me about that.
Horwitz
Yeah, so one of the things that surprised me in this book is that atheists do not have grades that are statistically significant than abiders. What that means is that they appear to be doing just as well. And I sat with this question for a really long time. People often ask me, especially other academics who identify as atheists or are not religious, they say, "I don't see myself in your story." Like, I grew up with religion, and I'm, you know, very academically successful, like here I am a professor, you know, at Stanford University, where am I in your story? And what I found was that atheists are a very small percentage of the United States. And so, in 2003, only 3% of Americans were willing to go on record to say that God doesn't exist, right. There is a big social, strong social norm to say that God does exist. So if you're a teenager in 2003 who is willing to say that God doesn't exist, you are the kind of kid who's thinking outside the box, the kind of kid who's already willing to question social norms. And when I started reading the interviews with these kids, they looked profoundly different than your average adolescent. These were kids who were reading Nietzsche and Plato and thinking about things that your average adolescent isn't thinking about. They were very intrinsically motivated to learn. They were critical thinkers. They were intellectually curious. And so, what I talk about in my book is that there's actually two ways to do well in school. One is to be extrinsically motivated to please God and just be very well-behaved. The second way is to be intrinsically motivated to learn. And atheist are the kinds of kids who are really intrinsically motivated to learn. It's not that not believing in God is what's making them do well in school, it's that they're actually really curious about the material.
Brannon
One of the big things in churches is to be in the world, but not of the world. But when you go into a school or into a university, the process of education is about challenging beliefs or opening your mind to new ways of thinking. I was curious about one of the reasons that students chose not to pursue a selective university. Was it because they were less likely to put themselves in a position where they felt they would be challenged in those beliefs?
Horwitz
Yes, it absolutely did play a role. There was stories that kids shared about really being nervous about kind of critical thinking that one has to do in college. And kids who grew up with intense religious commitments are nervous about that. And they prefer to be in an environment where there was social homogeneity. They want to go to a college where their beliefs are not going to be questioned.
Brannon
Tell me about the reaction you've gotten now that the book is out. It's been covered by the Wall Street Journal and other national media. What are you hearing from both readers and the public?
Horwitz
I've had an overwhelmingly positive response. I got an email from a woman who talked about she grew up in a conservative Christian household. And she did go to college, and she talked about how a professor of hers told her, she had said that she wanted to stay close to home and that she didn't want to go to graduate school far away. He said to her, "You're wasting your brains. You're wasting your talent by not reaching higher, by not being more ambitious." And she said that when she read the stories of other women prioritizing staying close to home, and other life commitments that aren't just about making money, she felt very heard and seen. She felt like it hadn't been recognized that that was a legitimate life path. And one of the things I really wanted for readers to walk away with after reading my book was that people's decisions around college in particular really vary. And that going to a selective school is not for everybody and that people find their life purpose in many different ways.
Brannon
In one of your interviews with Cardinal Timothy Dolan of New York, he asked you if your book would help dispel the notion that deeply religious people are hostile to education. What would you want those in higher education to know, or perhaps change, in the way they engage the devout?
Horwitz
I wanted people to understand what the lives of conservative Christians look like. It's not something we talk about. And it's something that I think is contributing to a big religious divide in our country, the inability to, to walk in somebody else's shoes. As a sociologist, one of my primary goals is to empathize and walk in the shoes of others. And so, for higher education administrators, I want them to understand that kids' religious commitments, they don't just stop at the public school door, they don't stop when they come to college campuses. And so, by being willing to recognize the role that religion plays, and even maybe asking students about how religion may have informed their upbringing, I think we, we can do a better job as educators, because we then are trying to understand what it is. What are the ideas that kids are coming in with, students are coming in with, rather, and not just assuming that there's like this clean slate that we can just fill with more knowledge.
Brannon
Did this experience change the way you think about the religious or conservative Christians?
Horwitz
It absolutely did. I think I was very oblivious to, to the role of religion in America, the importance of Christianity and the hold that Christianity still has on our country today. And I think, as somebody who's been watching politics unfold over the past, you know, five to 10 years, I think, having written this book, I have a lot more understanding about how people vote the way that they vote, and why they hold the positions that they do. And I want readers to walk away from my book having that level of empathy, because I think the the divide in our social and political and religious views is just growing farther and farther apart. And I'm hoping that by seeing and understanding the the intense role that religion still has in America, people can maybe start to bridge that divide.
Brannon
The book is called God, Grades and Graduation. Ilana, thank you for joining us here today On Good Authority.
Horwitz
Great speaking with you.
Brannon
Thanks for listening to this edition of On Good Authority. For more episodes, please visit tulane.edu/on-good-authority. If you like our show, please subscribe using your favorite podcast app.
Host: Keith Brannon
Editor: Roman Vaulin
Producer: Audrey Burroughs
Production team: Marianna Boyd, Keith Brannon, Will Burdette, Audrey Burroughs, Faith Dawson, Roger Dunaway, Aryanna Gamble, Becca Hildner, Mike Strecker, Lance Sumler and Roman Vaulin