Image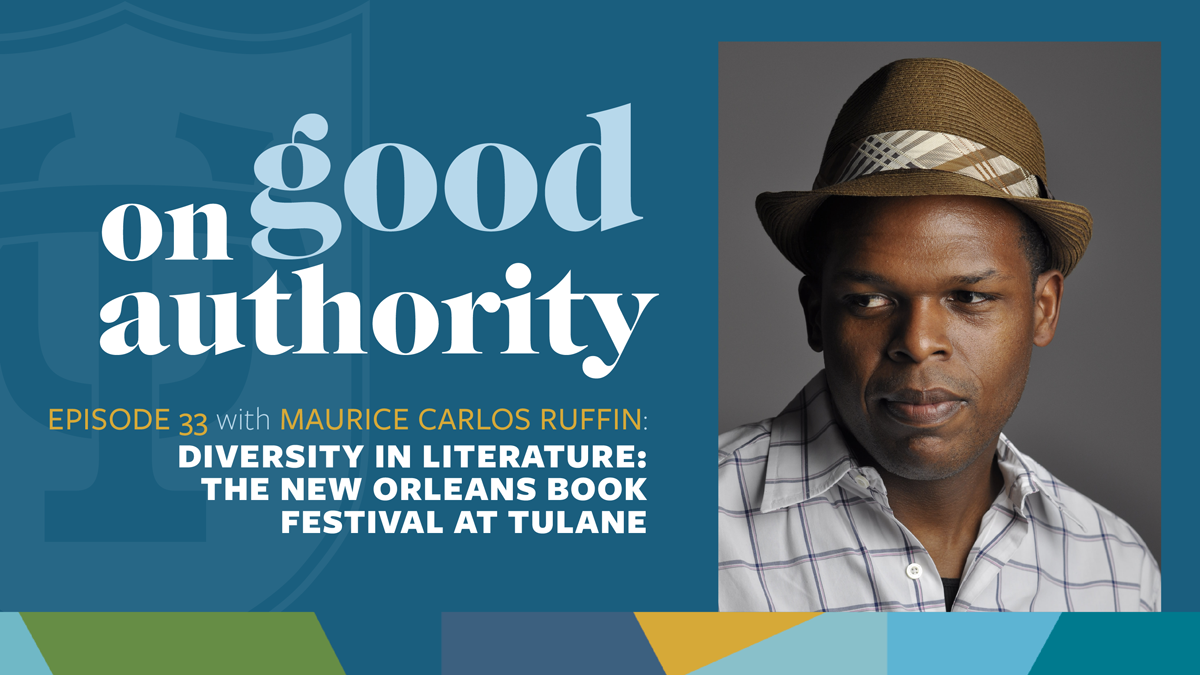 On this episode of On Good Authority, we sit down with writer Maurice Carlos Ruffin to discuss the inspiration behind his debut novel We Cast a Shadow and his most recent collection of short stories The Ones Who Don't Say They Love You. An award-winning author, Ruffin has used fictional storytelling to raise awareness about race issues in America and highlight the people of New Orleans and the city's culture. He is one of more than 100 authors taking part in the inaugural New Orleans Book Festival at Tulane University this week.
Transcript ▾
Speakers
Maurice Carlos Ruffin, award-winning author
Lance Sumler, assistant director, Tulane University Public Relations
Sumler
Welcome to On Good Authority, the podcast by Tulane University, where we bring you leading experts to talk about issues of the day and ideas that shape the world. I'm your host, Lance Sumler. Today on this episode of On Good Authority, we're sitting down with award-winning author Maurice Carlos Ruffin. Ruffin is one of more than 100 authors taking part in the inaugural New Orleans Book Festival at Tulane University this week. Some of his work has been featured in The New York Times, the LA Times and the Oxford American. Maurice, welcome to On Good Authority.
Ruffin
Thank you for having me. It's a pleasure to be here.
Sumler
Your debut novel called "We Cast a Shadow," the setting is based sometime in the future and follows the story of a Black lawyer who is fixated on acquiring money to pay for his mixed-race son to undergo a skin lightening procedure to protect him from the social and legal stigma of being African American. Although this is a fictional story, one could say it's reminiscent of some of the challenges that Black people face every day in the real world. Can you talk about what motivated you to write this book?
Ruffin
Sure. You know, as a storyteller, you want to tell a story that has a certain amount of a punch to it. And I just thought, "What do I understand better than almost anything else?" And it's being a Black person in America. And so, I wanted to very much think about the truth of being a Black person in America, but also the lies that we're told. You know, we're, we're told, for example, that, you know, America is the most equal country in the world. We're told that things are constantly getting better. I wanted to explore the possibility that both of those things were not quite true. That there are places in the world where you can be somebody of African descent, and things are better for you. But also this idea that we're not always getting better with time. That sometimes things are getting worse.
Sumler
So books can be interpreted in many different ways, and your audience consists of people of different races and nationalities. And since a race is a central theme in "We Cast a Shadow," is there a particular unified message that you had in mind while writing this?
Ruffin
I wanted to show the complexity of dealing with race in America. I think that one thing we don't like to acknowledge, because as Americans, we are optimists, I'm myself a very positive person. But I tried to show to the various characters through the narrator, through his wife, Penny, through their son, through the other characters, that they're all taking their own approach to how to deal with the problem of race. And they're all struggling. And I think that that is really true to our life experience, our lived experience, in America today. Whether you're Black or not, you're trying to address the problem, or you're trying to ignore the problem. Neither one of those things is necessarily the best solution to it. And so, I just wanted to have this story acknowledge that it's a difficult thing. Some of us are trying our best, some are not trying their best. And that creates this sort of patchwork quilt of the American racial experience.
Sumler
You decided to name your first novel "We Cast a Shadow." Did you come up with this before or after you finished writing the book?
Ruffin
Afterwards. Or when I was nearly done with it. Actually, an earlier title for the book, and I had many earlier titles, but one of the earlier titles was "All of the Lights." You know, that's that Kanye West song, right, from back in the day. At that time, the book was much more about capitalism and about trying to make it, you know, quote, unquote. You know, get that big hit, get wealthy, and sort of inspire your your offspring to sort of follow the same path. And as the book evolved, I realized no, no, it's not quite that story. This is not necessarily a story about trying in a capitalist society, it's a bit more complicated than that.
Sumler
When you say, "we cast a shadow," who's casting a shadow and what is the shadow?
Ruffin
Most people consider themselves to be a good person. Therefore, if they're doing things that are not necessarily good, they justify by saying, "Well usually I'm a good person." And I think that when it comes to the question of race, you know, even if you're like a wonderful activist, you know, out there in the world, putting your body on the line. But not even just them, for everybody in our society, it's certain complicity. Um, you know, you can be somebody who literally just hates people who are not like you. Or somebody who has these sort of divisions where, "Oh, that person is, you know, too dark-skinned for me to really appreciate aesthetically or romantically." So I wanted it to be the case that we could consider everybody within the story has complicity and has a certain level of accountability that should be weighed upon their shoulders. So the "we" is all of us, literally, and not not just Black people, but everybody in America, in the world. You know, to be a person in the world, metaphorically, is to be a spark of light. But that spark of light only exists because we're surrounded by darkness. And we're trying our best to fight that darkness. But we're not always succeeding in that. And therefore, that shadow is around us throughout our entire lives. You can't avoid that.
Sumler
So in your most recent book, "The Ones Who Don't Say They Love You," it's a collection of short stories. And I think that one of my favorites is "Before I Let Go." Even though this is a fictional book, it does such a great job of capturing the culture of the city. Can you talk a little bit about that?
Ruffin
I wanted to write a book that featured Black New Orleans people living their lives. As a result of that, so many of the issues come to the forefront in the different stories about dealing with the economy, dealing with racism, dealing with education, dealing with mass incarceration. But I think that with "Before I Let Go," because it's the biggest story, I wanted it to touch on all those issues. And specifically, I wanted to write a story I had never seen. Frankly, I've never seen a story of that size about a contemporary Black New Orleans woman living in the city dealing with all these things. Gentrification, corruption, trying to make ends meet, and when her voice came to me, it was so clear. She led the way in that story. And I just really, I love just watching her try and navigate through the world because she reminds me of so many people that I know and love in New Orleans. I think that a writer has a certain duty to reflect the reality in which they were created. There are a lot of classic books that are written by people who spent time in New Orleans. For the most part, they were white males, people like Tennessee Williams and William Faulkner, John Kennedy Toole, I actually love as a writer. All those writers have spent time there, but you know, at the best, at best, the Black New Orleans characters on the periphery of those stories. And I wanted to write a book in which those characters were at the center of the stories, that they were essential to every single page of the stories being told.
Sumler
I also wanted to talk about the title of your second book. It's called "The Ones Who Don't Say They Love You." I think that's a very interesting name for a book of short stories. So can you talk about the meaning behind that title?
Ruffin
People are complicated in so many ways. And I'm not much of a basketball player, but I remember a long time ago, when I was very young, I heard somebody say to me, you know, if you're trying to defend somebody who has the ball, they're coming at you, never look in their eyes, look at their waist, because they can, like juke you out using their head motion. But their waist will always tell you where they're going. I think in life, we often encounter that too. We need to think about, you know, not what people are telling us, but about their actions. And so, in that story, which is the title story, there's a sequence in which the main character tells you, you know, people have told me that they loved me many times. And it proved to not be true. And therefore, when I meet somebody who doesn't say it, and I watched their actions, and their actions say that they do care about me, that's important. And so, I think we all have have had that experience. I think we're living through that constantly. And I think that it's important to look behind the obvious things to understand what we're really dealing with in our lives.
Sumler
I think that makes sense. Because I remember reading a story among the short stories. One was about a prostitute, in addition to the young lady who was, you know, the city was trying to take her home. And they kind of had a central theme of living in a city that claimed that they loved them, but everything that they were going through, showed otherwise.
Ruffin
Yeah, I think it's a very common thing. And I think specifically for marginalized people, and even more specifically for African Americans. You know, this is a country that wouldn't exist without African Americans. Think about the music we created, and the sort of folkways and social details of, of our ancestors. You know, America very clearly loves Black people, to the extent that if you look at, you know, famous actors and musicians and basketball players and football players, yada, yada, yada. But then if you see how many of us are treated who don't have these sort of badges of honor, we're not famous, we're not well known. You compare it to how the average American who is not Black is treated, you have to wonder about that. And so, you know, I'm not trying to say that love doesn't exist. But I am trying to say that love is more complicated than we think it is. And sometimes, you can even think that you yourself love somebody or something. But you're not paying attention to your own motivations, your own actions. And so, I'm encouraged people in this book, which has this title, which is kind of like almost a romantic title, to think about different aspects of love. Throughout the entire book, you see characters who are challenged by this idea of loving a person, a place or a thing. It's one of the main themes throughout the entire book.
Sumler
I know you said that the one we just mentioned, "Before I Let Go," that short story was, you know, one of the biggest ones out of the, you know, the whole book. But would you say that you have one that is your favorite?
Ruffin
It changes for me depending on what day I'm asked. But I do think that there's a story in there called "Ghetto University," and that story makes me laugh, because the plot's kind of wild. And I don't want to give too much of the story, but I will say that it is about an out-of-work Black New Orleans professor whose wife has told him, "Look we've got to make the rent. So go out there and make some money." And you learn very early that to make money, he's been going to the French Quarter, and apparently mugging tourists. But you also learn that he's not actually mugging them. He doesn't have a gun, he's not even, you know, sticking them up. They're so afraid of a Black man in a hoodie in the French Quarter, they just throw money at him. And so, that's like one of the first twists in the story, and the story is full of those kinds of twists. And this sort of tone is like, it's very humorous and sarcastic. And he's very intelligent, and kind of over the top, he's very extra. And his wife, who's the other main character, is sort of the mirror image of, you know, she is just as intelligent and just as extra as he is, and therefore as the twists come, it's very delightful.
Sumler
Do you see yourself exploring other genres in the future?
Ruffin
Yes, absolutely. The next book that I'm writing is a historical drama. I'm writing another book that is still in the pipeline that will be set in the far distant future. So you know, laser beams and teleportation devices, Lord knows what I have in that book as well. I'm definitely the kind of writer who wants to see what's out there and try different things. I love every possible genre of storytelling, from anime and manga and American comic books to you know, French foreign films, Japanese foreign films, and you know, black and white movies from Germany in the 1920s. So I want to try a variety of styles and genres and techniques.
Sumler
So in your leisure time, do you have a favorite genre to read?
Ruffin
I tend to lean towards literary fiction, which itself tends to be a bit heavier and a bit darker. And to get myself out of that, I make it a point to buy commercial fiction as well. So books that are a bit more fast-paced, a bit less pensive, a bit less, you know, sort of thinking on the page. So I love a good fast-paced, you know, comedy drama. Like I love this book that came out a few years ago called "Such a Fun Age," about a 26-year-old young woman trying to make her way with this kind of, maybe racist babysitter who, she's the babysitter for the for the for the lady. And just, I love things that have humor in them. So whether it's, again, a very dramatic thing or like a lighter thing, just that acknowledgement that life can be very complicated, and you can laugh at it, to me, is always a welcome detail.
Sumler
Is there anything else that you wanted to add?
Ruffin
Anybody out there who's listening, if you once loved reading books, but you find you haven't read books lately because you're so busy or stressed out or the pandemic is inside of your minds. Just find something that you really enjoy. To Lance's point, in my book, my second book, there are a lot of very short stories, only a page or two long. And some of those stories were designed to make you sort of get through it without even thinking about it. You can sit down, and five minutes later, you're done with the story. And it's a good feeling of accomplishment to have finished a story. So, check out the book, read it. Hope you enjoy my work. And I'll be out here.
Sumler
Maurice, thanks for joining us today. I'm definitely looking forward to checking out more of your work.
Ruffin
Thank you so much, Lance. I've really enjoyed this time talking to you today.
Sumler
Thanks for listening to this edition of On Good Authority. For more information on this and other episodes, visit our website at tulane.edu/on-good-authority. And if you enjoy our show, please subscribe using your favorite podcast app.
Host: Lance Sumler
Editor: Roman Vaulin
Producer: Audrey Burroughs
Production team: Marianna Boyd, Keith Brannon, Will Burdette, Audrey Burroughs, Faith Dawson, Roger Dunaway, Aryanna Gamble, Becca Hildner, Mike Strecker, Lance Sumler and Roman Vaulin