Image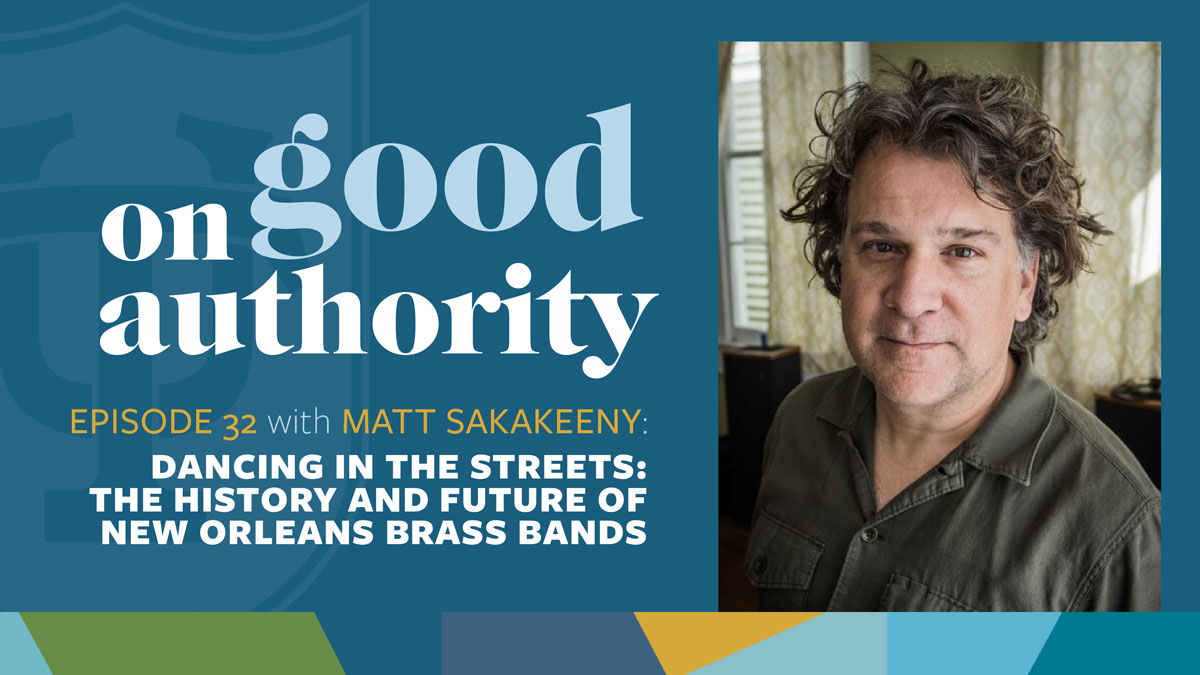 Tulane School of Liberal Arts professor Matt Sakakeeny discusses the many aspects of New Orleans brass bands that set them apart. We explore the genre's African and European origins, their important role in neighborhood social aid and pleasure clubs, and how new generations carry on the tradition while adding their own mark to the music.
For more information on Sakakeeny's research, visit his website.
To learn more about The Roots of Music, visit their website.
Transcript ▾
Speakers
Marianna Boyd, associate director of marketing & digital content, Tulane Communications & Marketing
Matt Sakakeeny, associate professor of music & ethnomusicology, Tulane School of Liberal Arts
Boyd
Hello and welcome to On Good Authority, the podcast by Tulane University, where we bring you leading experts to talk about issues of the day and ideas that shape the world. I'm your host, Marianna Boyd. As residents of New Orleans know, there's nothing quite like hearing the first echoes of a brass band floating through your neighborhood. What is it that makes the experience of listening to New Orleans brass so unique? And how do the confluence of European military bands and African musical traditions bring us to present day brass music? And while our city evolves, how do we ensure that the next generation of musicians have a place in New Orleans' future? To answer these questions, we talked with Matt Sakakeeny, a Tulane School of Liberal Arts associate professor of music and ethnomusicology. Matt studies the intersections of music, race and power. He's also the author of Roll With It: Brass Bands in the Streets of New Orleans. Matt is a board member for the Roots of Music, and he is also the guitarist and bandleader of Los Po-Boy-Citos. Matt, thanks for joining us.
Sakakeeny
Great to be here, Marianna.
Boyd
Can you talk about your general background and academic journey that got you to where you are now?
Sakakeeny
I actually went to conservatory and studied classical guitar. But I became a recording engineer at the same time. I was I was, you know, interested in sound, ultimately wound up working at the Smithsonian in D.C. in the Museum of American History, making radio, going out and doing recordings of folk music and classical music, in D.C. and all around the country. And I got invited to move to New Orleans in 1997. And I was the producer for a public radio show called American Roots. That really opened me up to all kinds of amazing music in this amazing musical city. And I was able to, you know, record interviews with Dr. John and Allen Toussaint and the Rebirth Brass Band and all of these musicians that, you know, later I would come to understand more fully and, and even teach now that I'm at Tulane. So I feel very, very blessed to have gotten that invitation to come to this place. And that kind of started me, my interest in in New Orleans is a musical city.
Boyd
So what got you interested in brass bands? And why did you decide to study them?
Sakakeeny
I mean, I came at it from a couple different ways. I mean, first of all, I lived in New Orleans for years before I thought of myself as a scholar of the music. I was just out as a fan, I was out as a producer for this, you know, music radio show that was based here in the city. There's a wonderful documentary called Always for Pleasure about Mardi Gras in New Orleans. And there's a whole part about a traditional jazz funeral, which is a very profound musical burial tradition of Black New Orleanians. And I remember thinking, "Oh, God, imagine if, you know, what an amazing tradition, it's too bad I'll never get to see that." And then literally, you know, the next weekend, learning of a musician's passing and going to see a traditional jazz funeral, as as a you know, a respectful observer, but also just wide-eyed at the the reality that these traditions, you know, persist here and change. I remember another memory of just walking into a bar where this band I'd never heard of was playing, the Rebirth Brass Band. And they were, you know, playing this just incredibly funky dance music, and people were so into it, and I'm just in the crowd. And I have no idea what this music is. And at one point, everybody just starts singing, you know, "Ca-sa-no-va." And, and I'm, I'm like, wow, this is a song that like people know. I thought they were just, you know, sort of riffing in a jazz improvised dance. But this is like familiar music in this city, this is, you know, that that gets people out and into it. But I actually left New Orleans to get my Ph.D. in 2003 at Columbia University, and when it came time to think about what I was going to do my dissertation on, I knew it was going to be about New Orleans. But I thought, you know, I'd be talking about, I had a whole chapter where I was going to study you know, punk music in New Orleans and how no one thinks of it as New Orleans music, and Mardi Gras Indian music. And when I actually sat down to write the plan, I realized no one could ever, no one could ever fit all of that in one study. But if I focused on the brass band, I could almost sort of gesture to all of the significance of New Orleans music through this one tradition, of not just the horns and the drums, but the the neighborhood parades and the funeral tradition and the cultural economy of the city. The the way the city relies upon musicians for the tourist trade. All these these big picture issues that I could almost access if just through the brass band alone.
Boyd
For those not familiar, can you give an overview of what brass band music is? And then I'll go ahead and throw in, what is it that makes New Orleans brass bands, in particular, so distinctive?
Sakakeeny
What around the world are known as marching bands, really come out of military traditions. When we think of marching bands in the United States, we think of, you know, football halftime shows, and the Rose Bowl Parade or the Macy's Day Parade, and this kind of patriotic, and frankly, you know, militaristic history. The sort of key to what Black New Orleanians did with the marching band, is they scaled down the band into say, somewhere between 8 and 16 or 20 pieces, and that allowed them to improvise. If you think of like, you know, the Ohio State University Marching Band, or the Marine Band, you can't just be like, "Oh, yeah, the trumpet player is gonna take a solo now." That doesn't happen. You've got, you've got 150 people, you can't just do what you want, you can't, you can't express yourself in a marching band. And so, the key musical aspect of this jazz approach to the brass band is that musicians can improvise, they can improvise together, and then of course, there's all these rhythmic aspects that are happening. They're not just playing straight marches. They're starting to play syncopated jazz rhythms in that time period. And so, it's not just Black musicians playing, you know, marching band music. It's, it's, it's them turning the marching band into a Black music ensemble.
Boyd
Well, that sort of brings us to my next question. From a musical theory standpoint, what is it about New Orleans brass bands' sound that sets it apart from like a collection of proficient brass musicians from anywhere in the country?
Sakakeeny
There's actually a phrase that people use to describe the uniqueness, which is called the New Orleans style. And in the early 20th century, if you think about New Orleans jazz or brass band music, it's always these wind instruments in front. The trumpet plays the melody, the trombone, you know, fills in the spaces with the sliding "orrrr" kind of sounds. And then there's a reed instrument, traditionally a clarinet, that eventually gets replaced by the saxophone. The role of that reed instrument is often to play these busy parts. It's almost like a cooperative reliance between those three instruments. I often ask my students, like, you know, "What's the melody?" And they listen, and it's like, I mean, I can hear Louis Armstrong playing trumpet, but there's so much going on. They're playing a song, it has a melody, but they're, they're open within the kind of structures of that melody to add in something different every time. That's what makes New Orleans really unique. When jazz developed elsewhere, like when you think of something like a Miles Davis or a John Coltrane, you know, later, they don't really do that. You know, the musicians play their part at the beginning of the song, and then they do an individual solo, and then they they play, you know, the part at the end, too. So the whole thing about New Orleans is really this rich texture, where that accommodates everyone. We think it actually comes out of, of church singing. So if you think of like a stereotypical white church, you take out your hymn book and you, everyone sings a hymn in unison or in harmony. But if you think about a stereotypical Black Baptist or Pentecostal church, you know, the goal is not to sing in unison at the same time. The goal is to be heard as an individual, as part of this overall collective jazz. It is like, ideally, how democracy would work. Individual voices have their, their individuality, but they come together in some type of solidarity. One of the things I like to tell my students is we often approach music in terms of like, taste. You know, what do you like? What do you think, what do you think is good? You know, what's your subjective view of music? But another way to think about it is in terms of competence. How do you learn to play music competently? If you're a classical musician, you have to learn how to read music and perform it faithfully like the composer intended. That's what competence is in that arena. Competence in the New Orleans music arena is you have to be able to improvise. You have to be able to play with a, with a certain tone that's desired by the audience. That doesn't mean, I mean, most musicians in New Orleans do know how to read music. In other words, it's not an either/or. It's just that you can't get a gig if you, if someone looks at you and says, "You go, it's your turn to solo." And you can't. Well, you don't get the call back next time.
Boyd
It's hard to imagine a time when songs like "Casanova," "Do Whatcha Wanna," and similar hits by Rebirth and other notable local brass bands weren't echoing through New Orleans neighborhoods. So would you say that the '80s and '90s were like a golden age of brass music? Or does it predate that?
Sakakeeny
From the early 1900s until about the 1970s, brass band music in New Orleans was really approached as a tradition. Brass bands would play jazz funerals, which always begin with a dirge, which are, which are Christian hymns that are played slowly, but instrumentally, by the brass band as the body is brought out of the church. And then, you know, the characteristic change in the jazz funeral is when there's a switch to up-tempo spirituals, you know, "I'll Fly Away." And then up-tempo, secular songs like "Didn't He Ramble" as a way of celebrating the life of the dead and in a joyful celebration, for those that are still living. You know, the idea being this is how the deceased would have wanted us to go on, to enjoy ourselves while we're here. And then in a parallel tradition that's known as a second line parade, which are these Sunday afternoon parades sponsored by neighborhood organizations called social aid and pleasure clubs. And that's a deep, that has a deep tradition as well, because many of those modern-day social aid and pleasure clubs started out as burial societies and benevolent societies and mutual aid societies for Black people in New Orleans in the late 1800s and early 1900s. But in terms of the music played at that, those parades throughout the 20th century, there's a fair amount of continuity in the kind of style. Their rhythms sound a lot like jazz rhythms, you know, "doots, doots, doots, doo doo doots," and you know, jazz songs, and maybe new songs would come in as they became popular, but the way they were played was relatively consistent over time and really came, the differences really came down to which trumpet player is playing with which band, or which band has a little bit of a different style. But in the 1970s, a big shift happened. It's sometimes referred to as a renaissance in brass band music, in part because Danny Barker, the local jazz musician, started a children's youth ensemble called the Fairview Baptist Church Band in order to continue to play in the traditional way. But some of the musicians that came out of the Fairview Baptist Church Band teamed up with some other musicians and really began to change the music. The music was more in tune with funk, which was popular at the time. Later, hip hop, but funk and soul music of the 1970s influenced the brass band, right, because these are musicians, they listen to what's going on. The rhythms began being more contemporary, the songs began being more contemporary, you might hear Parliament Funkadelic or James Brown or The Gap Band. You know, the tuba began playing you know funkier baselines from from from Black popular music of the time. And so there there in some sense was, I don't want to call it a split, but let's call it a split, towards musicians like Michael White and Gregg Stafford and the Original Liberty Jazz Band and Original Tuxedo Jazz Band, that tried to maintain the older way of performing. And even some social aid and pleasure clubs like Black Men of Labor, that that really are committed to continuing to parade and make music in an older style. But The Dirty Dozen track really became the the worldwide, you know, kind of global phenomenon of New Orleans brass band music as modern contemporary music. And so, after The Dirty Dozen brought in funk, what we really began to see in the in the '80s and the '90s was Rebirth Brass Band writing new funk songs, you know, "Do Whatcha Wanna," "Take It To The Street," "Tornado Special," you know, you listen to that and you're like, "Okay, is this traditional brass band music?" No, it's like modern music. And then you get a band like The Soul Rebels. And they're rapping over a tuba and a drum, you know, on a song like "Let Your Mind Be Free," which is a very groundbreaking song. And so hip hop is starting to come into the conversation because these are young Black Americans that have open ears. And so in some sense, that that kind of two camps remains today.
Boyd
As you alluded to, neighborhoods and brass bands are intrinsically tied together with the social aid club second lines. With gentrification and a shift in neighborhood makeup, do you feel that the city's tradition of second lines and brass music is threatened?
Sakakeeny
Absolutely. Yes. I mean, I think the changes we're seeing in New Orleans are like changes that are happening all across the country, which is that whiter, wealthier Americans are moving into the city. What that means in New Orleans is that working class Black New Orleanians are in a pinch in terms of rent, in terms of home ownership. At the end of the day, the majority of our musicians, the majority of our culture bearers in other areas, Mardi Gras Indians, are working class Black New Orleanians. You know, very, very few people are Trombone Shorty or the Neville Brothers, or even Rebirth, that get paid to travel the world. I think there's some organizations like the Music and Culture Coalition, and other organizations locally, that are working with the city council to try to protect the livelihoods of musicians. The question I always put forward is, you know, everybody loves New Orleans as a musical city and loves New Orleans music. Does the city love its musicians back? You know, that's one way to look at it.
Boyd
So similarly, can you touch on the future of brass bands? And how are new musicians typically trained and brought into the fold?
Sakakeeny
I should say, in general, that I'm not worried about brass band music like perishing or something like that. Young people come up in this city, and they hear the music. I mean, they know that they can enter into that tradition and still have, take some ownership of it, still play the music they want to play, play the songs they want to play, play in the style that they want to play in, that there's an opportunity for that. And so, despite the concerns with with people being displaced, I don't see a downturn in brass bands or social aid and pleasure clubs or Mardi Gras Indian tribes in this moment. I see young people coming up and really wanting to, being enthusiastic about joining those traditions and representing what's so unique about and wonderful about New Orleans. What does worry me is the future of music education. After Katrina, the city moved, or I should say the state moved towards an all-charter school system in New Orleans. And what that means for music education is that individual schools get to choose whether they offer arts education. The bind that those schools are in is that what they're accountable to is standardized test scores, and there's no standardized test scores for arts education. So there's a real incentive for principals to teach to the test. What we are seeing that sounds great, but you know, sounds like an antidote to what I just said is, but is complicated, is that we are seeing marching bands remaining in high school and in some middle schools. Basically, I think the reason why that happened in the charter school transition is if you were, you know, running Warren Easton High School or or, you know, any of the other you know, Landry-Walker, or any of the other public high schools in New Orleans, and you were their principal that was like, "We're gonna cut band." You would not have lasted long in your job. So there so there was a public demand for marching band to continue. And so, so our high school marching bands are doing okay, but what's missing is everything else. So elementary school general music education is really a problem in the city. So so even if, you know, Wilbert Rawlins at Landry-Walker High School, who runs, you know, a very famous high school band in the city. What he'll tell you is, "When I get a freshman coming in the door, they don't, many of them have never taken more than an odd music class before." And that's not because they didn't want to. That's because likely the middle school they went to, and the elementary school they went to, only had a part-time teacher coming in. So, so we're losing a certain quality of musical education, and then we're losing a certain broadness of musical education. There's hardly any choirs, there's hardly any string orchestras or ensembles, it's really narrowed towards marching band.
Boyd
You mentioned in your writing about the importance of music being accessible, and that's something that people from privileged backgrounds likely take for granted. So not just accessibility to lessons or instructors, but also getting rides to and from practice and performances, and maintenance of well-loved instruments and sheet music, which is expensive. How do you think that we can make music more accessible and inclusive?
Sakakeeny
Ideally, kids should get in-school music education with public funds to purchase the instruments, the, you know, uniforms if it's a marching band, sheet music, and all of that. If I were, you know, standing on addressing the school board, and the principal's out there, I would say, "That's what you should be offering your students." And there's all kinds of educational and psychological and social benefits to music education, but in the current situation, you're just not going to get every school to provide those services. And you rightly pointed out, you know, schools have to offer transportation. Schools have to offer meals. Schools have to watch these kids and provide a safe environment for them when they're in school. So ideally, all those things would happen in school. In lieu of the fact that that isn't the case for everyone, there's been a host of of after-school programs that have popped up. I work very closely with an after-school program called the Roots of Music. I helped found the organization with the drummer Derrick Tabb. They, you know, pieced together a band in 2008. And they've been growing and growing since then. And from a Tulane perspective, it's been a real, really gratifying to work with the program through the Center for Public Service at Tulane and to have my Tulane students volunteer as academic tutors at Roots of Music. This band is a real contender. I mean, they're 9 to 14-year-olds, but they'll go up against you know, even some of the high school bands, and of course, all the other middle school bands. And every time I walk into Roots of Music, which is a lot, and I hang out with these kids and see, you know, the mentorship they're getting from Black New Orleanian teachers that grew up in circumstances very similar to them. I just feel, I always walk out feeling so much, so good about life and so hopeful about, you know, the potential of, of our future. So yeah, those kids and their teachers really give me life and, you know, make me proud to be a little part of it.
Boyd
So these tremendously talented students and band leaders have had their lives upended by bouncing between virtual and in-person classes for almost two years. Can you talk about what this carnival season means to these students and, I guess, to paradegoers in general?
Sakakeeny
It's been really hard to keep a band afloat during this time and able to get together with all of the shutdowns and lockdowns and interruptions. And, you know, they all want to put their best foot forward. So I think one of the most endearing things I've seen is, you know, the teachers coming to me and saying, "Mr. Matt, I really hope we're ready for Mardi Gras." Because if they go out there and their band doesn't sound good, you know, it reflects upon them. So that's been a really, you know, beautiful, touching thing to see. A hint, though, I did attend Roots of Music practice recently and the band sounds amazing. Yeah, we can't wait. Yeah, we're all excited.
Boyd
All right, well, I know we're up for time. Was there anything else that you wanted to add?
Sakakeeny
Thanks so much. No, it's a pleasure talking to you.
Boyd
Okay, thanks so much, Matt. It was really a great conversation. Thanks for listening to this edition of On Good Authority. For more information on this and other episodes, please visit our website tulane.edu/on-good-authority. And if you like our show, please subscribe using your favorite podcast app.
Host: Marianna Boyd
Editor: Roman Vaulin
Producer: Audrey Burroughs
Production team: Marianna Boyd, Keith Brannon, Will Burdette, Audrey Burroughs, Faith Dawson, Roger Dunaway, Aryanna Gamble, Becca Hildner, Mike Strecker, Lance Sumler and Roman Vaulin