Image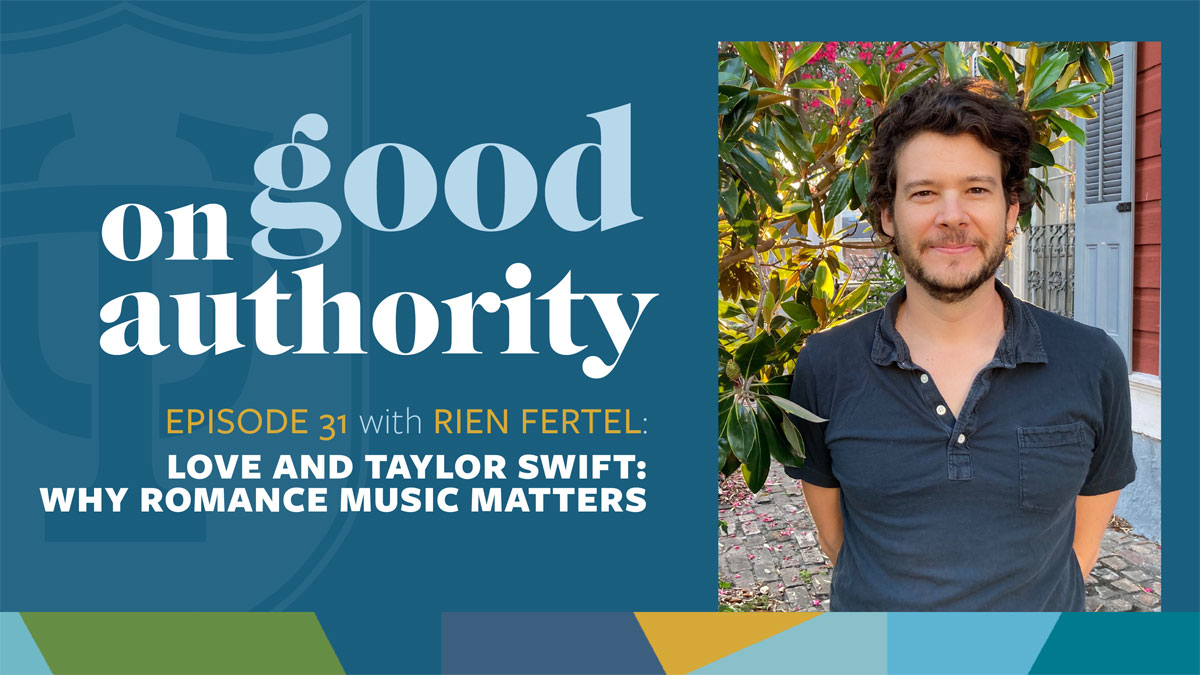 Love songs make the world go round. But why? And what can we learn from their history? School of Liberal Arts professor Rien Fertel discusses why romance music (and icons like Taylor Swift) matter to the human experience.
Transcript ▾
Speakers
Rien Fertel, professor, Tulane School of Liberal Arts
Becca Hildner, social and digital media coordinator, Tulane Communications & Marketing
Hildner
Hello and welcome to On Good Authority, the podcast by Tulane University, where we bring you leading experts to talk about issues of the day and ideas that shape the world. I'm your host, Becca Hildner. Love songs make the world go round. Themes of love and heartbreak have been foundational for much popular music throughout history. From religious devotionals to iconic breakup albums, you can take away the melodies, rhythms and production, but one thing always seems to remain – love. So why do we love love songs? Today, professor Rien Fertel of the School of Liberal Arts joins us to discuss why ballads of romance and regret matter. Rien, welcome to On Good Authority.
Fertel
Thank you. Thanks for having me.
Hildner
So you teach a class about the history of love songs and romance music. And I think there's a couple of theories about how romance music originated. One of them being that we may have based our songs on the mating calls of birds. Is this a credible theory? Or are there more credible theories about the origins of romantic music?
Fertel
Some evolutionary biologists believe that, that music and perhaps human language came out of copying birdsong. And birdsong, you know, you might recognize you know, the trees full of of birds in the springtime, and this is their, their mating songs, their mating calls. And so some think that that's where we, where we got music. But love music is, according to other historians, so historians of music, as old as music itself. And we can locate the roots of love music if we go all the way back to say 600 B.C. and Sappho the Greek, the Greek poet. But Sappho's lyrical verse, what we do know about it, we know very little, is that it almost certainly had a musical and sung quality to it. And we can go back even further to say Egyptian procreative songs, which were recited during fertility rituals. There are similar songs in ancient China and India. We can skip forward to the troubadours of southern France during the Middle Ages, who their, their big input to the love song was they added biographical details to kind of like their sung tales of woe. And then later, operatic songs, folk songs added scandal. They added violence and other kind of sordid details to the mix. And then there were freedom songs, and freedom songs, both from the Americas, so this is this is what we recognize this as gospel music, the blues. But freedom songs from both the Americas, and from early on, earlier, from North Africa, found power in dreams of freedom from bondage, but also freedom to love freely. And so, if you put these like many centuries of history together, you get pop music, you get pop music of the past century plus.
Hildner
Something I found really interesting when reading some of the books that that your class reads, is the erasure of the influences of women and people of color. Not just on romance music, but on music in general. What kind of impact do you think that that's had on music today? And do we still see that?
Fertel
Yeah well, one of the one of the great books we really focused on was a book called "Love Songs." It's by Ted Gioia, who is one of the leading kind of music scholars today. And he does a fantastic job of explaining that love music, love songs from the very beginning, have been examples of what he calls soft rebellions. And he defines soft rebellions as kind of like a very radical form of cultural power that eventually becomes a social and political force because of its, the way it critiques, the way it upends traditional patriarchal power structures. And the soft rebellion that is love music, Gioia explains, has been written, performed and consumed most often by marginalized and disenfranchised peoples. So that is women, people of color, the enslaved. And over and over again, what we see is that when these soft rebellions kind of critique the power structures, that the power structures do strike back. And that these often white, patriarchal power structures, they ban, they suppress, they denounce, they whitewash, and they do the rest outright, to destroy love songs. And we see this over and over. Sappho is a really great example of that. And what often takes place after the the banning or outright destruction of love songs, the erasure of love songs, is that the power structure then appropriates, picks up and runs with the love songs. They're usually a little more watered down, but we see this over and over again. We see it in the in the church, the Catholic Church, we see it in, you know, kings and courts did this all over Europe to the troubadours. So that's the basic kind of, the ebb and flow of the history of love songs. And we see this today, we, you know, we often talk, when we think about pop music today, we talk or think about appropriation. The appropriation of, of Black music, the appropriation of music by women that that is then picked up, sold by, by men and popularized by men. Something I learned very early on in teaching this class, I've learned from my students, is that the fathers of young women today, and most of my students were young women in the class, they, they outright hate Taylor Swift. They don't have many good things about Taylor Swift, and the name of the course was "Why Taylor Swift Matters." She being kind of the kind of prime example and you know, in my belief, of love music, pop music today. And and this, you know, perhaps I was surprised at first, you know, who can who can, you know, have so strong anti-feelings about Taylor Swift? But I understood, it was like it was a common trope, right? When I was when I was a teenager, my parents denounced my love for rap music. And their parents thought Elvis and the Beatles would cause the downfall of civilization. And so today, it's, you know, it's, it's Taylor Swift, among many other targets. So, so nothing changes, is, I guess, was the, one of the themes that came out of the class, one of the things I learned. Whether it's Sappho or Taylor, the story remains the same.
Hildner
So you have your students read a book called "Glitter Up the Dark" by Sasha Geffen. And in their book, they reference another critic who said that music might be the gayest art possible. Could you talk about the meaning behind that assertion and how this community has shaped pop music over the years, and romance music over the years, and some of the kind of struggles that they faced when they were creating this music?
Fertel
Yeah, "Glitter Up the Dark" is a really wonderful recent book by Sasha Geffen. And they make the case that American and British pop music over the past century or so has been inherently queer, androgynous, gender bending. Geffen, you know, kind of unpacks the very obvious examples in chapters. There's a chapter on David Bowie and Prince and Patti Smith and Freddie Mercury and Janelle Monáe, for something more recent. But Geffen also tells the stories of early blues pioneers, many of whom were queer women. One of my favorite stories in the book is Wendy Carlos, who was this electronic music pioneer and transgender icon, who wrote the scores for a bunch of popular films that I grew up loving and didn't know who Wendy Carlos was. This is like "A Clockwork Orange," "The Shining," both Stanley Kubrick films, Disney's "Tron" movie from the '80s. And Wendy Carlos was in the, you know, during their era, was most famous for recording an album called "Switched-On Bach," which is just what it sounds like. It was kind of like an electronic reimagining of Bach's works. And Geffen writes that Carlos used, it's really interesting, they argued that Carlos used synthesizers, and a lot of these synthesizers were being built by Carlos themself, to navigate and embody multiple genders. This was kind of like we can think of it, and Geffen makes the case, that we can think of it as sort of like the auto-tune of the 1960s and '70s. And we can hear the impact of Carlos today in the music of Frank Ocean, Lil Nas X and Halsey, arguably. All queer artists whose music is nonconforming, it's transgressive, and it's arguably inherently queer.
Hildner
I am glad you brought that up. Because it does seem that music now, and society now, is more accepting of outwardly queer music that doesn't stick to the typical pronoun pairings that you would see in the past. But many artists still continue to use queerbaiting to just get people interested in their music. So I'm curious to hear your thoughts on how the queerbaiting of today kind of relates to the way we treated people in that community in the past.
Fertel
Sasha Geffen definitely makes a case that that queer is cool. And I mean, before reading this book, I would say that this would be a phenomenon just within my like half lifetime, right? So just over the past couple of decades. And that it was something that you didn't see so much of in the '80s and '90s. But Geffen does make the case that that the Beatles, like you said, did hijack, whether they recognized it or not at the time, queer culture, queer dress. And it's interesting because the case can be made that it was their fans that recognized it more than the Fab Four themselves, right. And so, the those matching suits, especially the haircuts, became code among fans and non-fans for queerness. So, fans were able to embrace the Beatles as gender bending, right. They didn't dress as men dressed in England in the period. But to be a Beatle also became a code word, and usually a pejorative code word, to call someone a homosexual, right, in the early 1960s. To dress as a Beatle was, you know, insidery, could be very cool, but if you were anti-Beatle, if you were outsidery, it was, you know, it was a negative.
Hildner
So switching tracks a little bit, I want to talk about why love songs are so enduring and why we always sing about love as as humans. I think it's interesting, and having a religious background myself, a lot of the religious songs you sing at church or in school are love songs to God. Can you talk about that, and why that is, and how that plays into the history of love songs throughout time?
Fertel
Yeah, I mean devotional love songs, so love songs that have come out of out of religion or the church is really interesting. And and early gospel music is and has been seen by some of the writers we read, have read in this class, as as erotic-tinged, for sure. And so you have songs with with, you know, titles or that speak to holding hands with Jesus and having Jesus walk around one's bed at night. So, you know, these weren't openly erotic songs, but you know, arguably winkingly erotic or indefinitely coated, right, with eroticism. Love as devotion has been a trope in love songs from the very beginning. And you know, the main themes of love songs have perhaps really never changed, going back to ancient Egypt and Sappho. The, you know, the same themes carry on today. So we're talking thousands of years, love songs have spoken to the power to transform oneself. They've spoken to the power of passion, and also often negatively to possession, and how love often involves the possession of, you know, a partner or another body. Love songs have always been both confessional and very secretive. Love songs carry secrets, which I think does a large part in explaining why we love them. We can both feel like we can reach out and touch the artists, right, and we know something about them when they're being confessional, but there's always just something being hidden. Love songs forever have idealized one's lover, and they also forever have talked trash about bad boyfriends. So pop music, you know, pop music sounds different year to year, and maybe even week to week in the era of Tik Tok, but you know, love songs have always, you know, have always kind of carried the same tune.
Hildner
In the same vein, with intense love can also come inevitably intense heartbreak. And heartbreak albums are really in a league of their own, with albums like "Rumors" and "Back to Black" and others, reaching across stylistic and generational divides to connect with listeners. So what is it about these albums that make them so enduring?
Fertel
Yeah, so this course, I've never admitted this, but this course, like all good class ideas, I did not even tell my students this and I feel bad about it in retrospect, but like all good class ideas, this course came out of a breakup. The idea came out of a breakup. And I found myself in the winter and in spring of 2021 listening to a lot of breakup albums, as one does when one has a breakup, and the one I listened to most of all on repeat was Olivia Rodrigo's "Sour," which was which was brand new at the time. And I, you know, I do not represent Rodrigo's main audience. But her debut album, which is I think, a dozen breakup songs, and it kind of winds its way through the stages of grief. But her debut album, "Sour," it spoke to me, it comforted me, and I should say that "Sour" did definitely cross or secure like some gender and generational crossover. And the question for this course was, you know, why is music most always about issues of love? Love and loss, heartbreak, romance and regret, and and I ran with it. And I, you know, Googled, you know, "books about love songs" and sure enough, like a bunch of recent books that that a lot of them, you know, I found to be very interesting, had just been released. Everyone probably has a favorite breakup album. And we of course listen to breakup albums whether we are in the midst of a breakup or not. But but I think breakup albums, and I spoke a bit to this before, they they, breakup albums, we can identify with the personal stories that breakup albums share, we can identify with the struggle. And often because we know these artists, artist celebrities, very well, or we think we know them very well, we can we can kind of feel like we share the intimate details of their romantic struggles. And so this is, this I think explains a lot of Taylor Swift's popularity. You know, Taylor Swift did not invent the breakup album, and breakup albums have have been around for as long as as pop music LPs. Frank Sinatra had, you know, is credited with writing some of the first breakup albums after a couple of his divorces. But it seems like today, like everyone has a breakup album, right? Like so Adele just released a breakup album, Kanye had a breakup album, Beyonce had a breakup album. You know, my parents' generation, the biggest albums of their early lives were breakup albums. This is this is Fleetwood Mac's "Rumors," this is Bob Dylan's "Blood on the Tracks." This is Bruce Springsteen's albums. This is Richard and Linda Thompson, who recorded one of my favorite breakup albums, it's Marvin Gaye.
Hildner
So, we cannot end this podcast of course without talking about Taylor Swift's re-recordings. What re-recording are you liking the most? Which one are you looking forward to the most? And what kind of impact do you think these are having on the industry and future artists?
Fertel
Yeah, well, I should say, I should explain the re-recordings for those who might not know. But I was, I was very, very lucky to teach this course when the album called "Red," and then in parentheses, "(Taylor's Version)" dropped. And for those who don't know, the master recordings of Taylor Swift's first six albums are owned by this private equity firm. And, and so Taylor Swift does not own her early music. But she is smart, and she is savvy, and she knows that she has legions of fans that will buy and/or listen to her kind of note-for-note recreations of these albums, which are what these Taylor versions are. And two Taylor versions have been released so far, both with new content, and that new content includes the stuff like, you know, there was a 10-minute, you know, mega version of this old song of hers called "All Too Well," and "All Too Well" became kind of this, I guess like a decade later, this like, you know, it kind of defined the last months of of the last year for many, many people. And the background story, which you should all go read about, and there was an accompanying film that Taylor Swift directed. So, you know, I find it very interesting that, you know, learning from my students and just reading widely about Taylor Swift, it's very interesting that that her fans, that Swifties, are treating these re-recordings not as re-releases, but as new music. And so, these are old songs, note-for-note re-creations, but performed in a studio by a woman who is now a decade older. And she's also recording new music, of course, right. So she's had some Grammy Award-winning albums that have come out over the past couple years, big albums. And I would say, I look forward to it all. Like I look forward to the new stuff, and I look forward to the new-new stuff or the new old stuff. I will listen to "1989" again when it comes out, which I haven't listened to in years, I think probably since it came out. I listened to all of her albums again, or maybe for the first time for some of them, when I was prepping this class over the summer, and I'm not a huge Taylor Swift fan. This class definitely made her or made me a bigger fan. But I look forward to it all.
Hildner
Rien, where can people go to find out more about some of your other research and other works you have coming up?
Fertel
Yeah, so all of my writing is compiled on my website rienfertel.com, and my first name is spelled r-i-e-n f-e-r-t-e-l. And I have I have a new book coming out. I have a book on humanity's relationship with the brown pelican coming out in September of this year. I think we're just calling it "Brown Pelican." And it's about this this singular bird, who funnily enough is one of the only birds that does not sing.
Hildner
I hope that you have no more terrible breakups, but we are grateful for your very interesting class. Thank you for being with us here today, Rien, and have a happy Valentine's Day.
Fertel
Thank you so much. Happy Valentine's Day.
Hildner
Thanks for listening to this edition of On Good Authority. For more information on other episodes, please visit our website tulane.edu/on-good-authority. And if you like our show, please subscribe using your favorite podcast app.
Host: Becca Hildner
Editor: Marianna Boyd
Producer: Audrey Burroughs
Production team: Marianna Boyd, Keith Brannon, Will Burdette, Audrey Burroughs, Faith Dawson, Roger Dunaway, Aryanna Gamble, Becca Hildner, Mike Strecker, Lance Sumler and Roman Vaulin