Image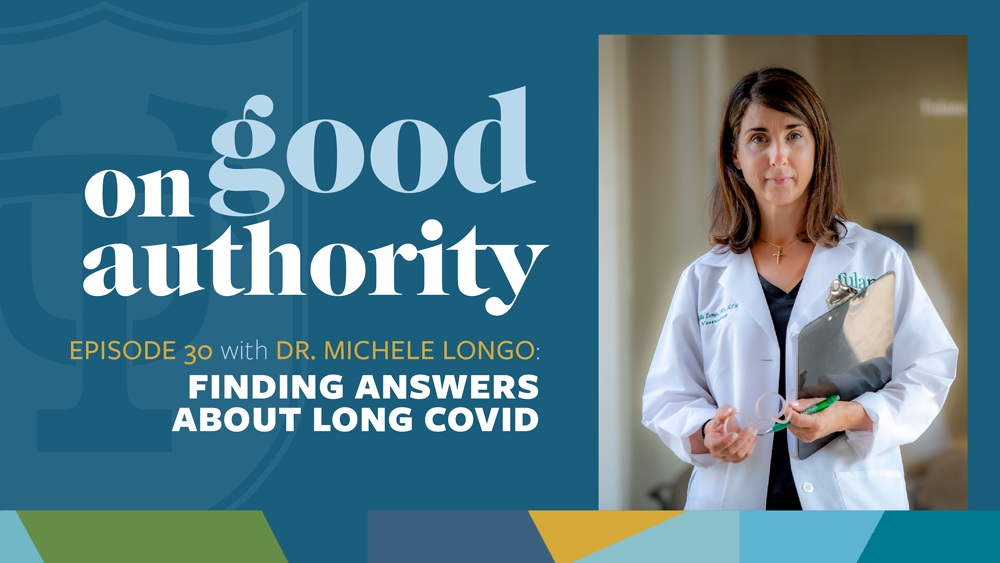 Brain fog, forgetfulness and debilitating fatigue are some of the symptoms people are having months after contracting COVID-19. Doctors are still trying to understand why and how to best treat it. Neurologist Dr. Michele Longo founded the Tulane Neurology Post-COVID Care Clinic, one of the first in the country to help the growing number of patients dealing with lingering symptoms of long COVID. She talks about the latest treatments, what researchers are learning and how long most symptoms usually last.
Transcript ▾
Speakers
Keith Brannon, director, Tulane University Public Relations
Dr. Michele Longo, neurologist, founder, Tulane Neurology Post-COVID Care Clinic
Brannon
Welcome to On Good Authority, the podcast by Tulane University, where we bring you leading experts to talk about issues of the day and ideas that shape the world. I'm your host, Keith Brannon. Back in the early days of the COVID-19 pandemic, doctors began to notice something peculiar. People were getting symptoms that wouldn't go away. Some were exhausted for weeks after testing negative for the virus, others couldn't focus or had trouble remembering things. Another common symptom was losing their sense of smell, or finding that things they normally loved, like the smell of coffee or flowers, now smelled awful. None of it made sense, and not even to doctors. Now, scientists have a name for it. It's called long COVID or post-COVID-19. But they're still trying to figure out why it happened and how to fix it. Today, we're joined by neurologist Dr. Michele Longo from Tulane University School of Medicine. She started the Tulane Neurology Post-COVID Care Clinic, one of the first clinics in the country to treat the growing number of patients with long COVID. She's here to talk about what doctors have learned in the past two years and what people who may be dealing with lingering symptoms can expect for the future. Dr. Longo, welcome to On Good Authority.
Longo
Thank you so much for inviting me. I'm so happy to be here.
Brannon
How many people get long COVID? I've heard estimates from 1 in every 3 cases to almost half. Do we know how common it is?
Longo
It seems to be between 10% to 30% of people with the alpha and with the delta variant were getting long COVID. We don't know what this new variant, omicron, what that number is going to look like. And what we think about when we use the term long COVID, is that that's kind of an umbrella term that's used to capture a variety of physical and/or mental conditions that persist for weeks or months after the acute COVID infection.
Brannon
Even if it's just 1 in 3, considering that more than 60 million people have been diagnosed with COVID-19 in the U.S., that's a lot of people.
Longo
Yeah. In our state alone, at this point we've had, you know, about 900,000 people have COVID. And so you're right, if we're thinking 10% to 30% of that, that's hundreds of thousands of people.
Brannon
Are we seeing long COVID cases among those who get breakthrough infections? Breakthrough infections as people who are vaccinated who still get COVID. Is it too soon to tell what the trajectory will be?
Longo
Yeah, I'll take the first part of that question. We have seen long COVID in breakthrough cases prior to omicron, but not not as commonly as what we were seeing in people that had been hospitalized or in people that were not vaccinated. And as far as what the impact of omicron is going to have with long COVID, it's too early to know, because we've only had omicron for about a month in this country. And we are typically kind of defining long COVID as symptoms that might last two, three months after an acute infection. So ask me that in the spring.
Brannon
What is the typical patient you're seeing right now and has that changed with any of the variants?
Longo
So these are going to be primarily people that were infected with the alpha or with the delta variants. They are typically women. They are in their 20s, their 30s, their 40s. They tend to be middle-aged, previously healthy. And they are typically reporting various symptoms that include things like brain fog, or shortness of breath, fatigue, headaches, problems with taste and smell, and problems with feeling dizzy when they stand up or feeling like their heart's racing. There's been about 50 symptoms that have been described with long COVID. But these are some of the most common that we hear about.
Brannon
You were telling me that one of the most frustrating things about long COVID is that people felt that their symptoms weren't being taken seriously.
Longo
A lot of the patients that I see, they struggle with what we refer to as an invisible disability. You know, when somebody is talking about problems with fatigue or with exercise intolerance, that's a very another common symptom.
Brannon
I think I have that right now.
Longo
These are things that, our tests can all be normal, and and the disability is based on with that patient's telling us, and we don't necessarily have some marker for long COVID or some way to objectively measure that disability. And so, I think that adds to the stigma that we see with, you know, we've seen with other neurologic conditions that have invisible disability. Like, you know, multiple sclerosis, or even if patients with migraines struggle with this. I think it was a big support to our patients to not only have clinics like this that, you know, are interested in the symptoms and are familiar with it. But when the World Health Organization defined long COVID, they addressed one of the other features that I think can stigmatize an illness. And that is when the symptoms kind of, they come and go, you know, one day, you might be able to put your trash out, but the next day you can't get out of bed. And patients have told me that family members, employers, people, their friends, their neighbors, they they don't believe them when they say, "Hey, today, I actually can't go up the stairs in my house," and if they're having a bad day. So that, the the inconsistency of the symptoms contributes to people who are being made to feel like they're not validated when they talk about the struggles that they're having.
Brannon
What kind of impact does this condition have on people's lives?
Longo
That's that's another interesting feature that the World Health Organization put in their definition, where they said the symptoms have to impact in your day-to-day functioning. And, you know, we see people that cannot function in their daily jobs, or their chores, because of these symptoms. You know, I've had, I had a patient who was a kindergarten teacher. She told me there's no way that she could chase after five-year-olds with the amount of exercise intolerance she had.
Brannon
You mentioned the World Health Organization. Now, WHO came out with a definition of long COVID. They defined it, and I'm going to summarize it a bit here, as a case that lingers from three months since the infection and last at least two months, and quote, "Can't be explained by an alternative diagnosis. Common symptoms include fatigue, shortness of breath, cognitive dysfunction, but also others like anxiety, depression, pain and changes in hearing, smell and taste. Symptoms may also fluctuate or relapse over time." That's also kind of a vague catch all description. Why is this such a problem to classify?
Longo
You know, the symptoms are so different in many patients, you know, when there's not a cookie cutter formula to what the patient's gonna look like when they walk in the door. And the other thing is, there just hasn't been a lot of agreement on, how long do the symptoms have to last before it constitutes long COVID? You know, I like the way it was described by Dr. Koralnik at Northwestern, where he said, you know, if you get the flu, or you get something like that, you may not be able to do your baseline physical activities for maybe, you know, a week or 10 days, maybe two weeks is getting kind of far out, but certainly by a month, you know, something else might be going on. And that's an unusual response to something even like the flu. It'd certainly start raising some red flags to me if someone is still struggling with shortness of breath, or brain fog or fatigue, you know, even one or two months after that initial infection.
Brannon
How do you treat long COVID?
Longo
We treat the most bothersome symptoms in the patient that's before us. So if somebody comes to see me, and they are, their most bothersome symptom is brain fog, I'm going to approach that patient as I would anyone else as a general neurologist. I would explore what could be contributing to that. Are there sleep disorders? Could there be mood disorders? I'd look at the medications they are taking, you know, there are some medicines that can contribute to problems with thinking. So I would hear about what's that person's general medical condition like, and then I would do some cognitive testing. And based on my suspicion, I may have somebody else do more thorough testing than what we do in the clinic. They may or may not get imaging of their heads, depending on what the index of suspicion is for something structural contributing to the symptoms. And then we look, we do bloodwork where, you know, we make sure that there's not a thyroid problem, or a problem with kidneys or liver or something, or a vitamin deficiency or an infection that could be contributing. I think of long COVID as being a diagnosis, in a sense right now at this point, of exclusion. Got to think about other things. And then once we have a diagnosis, if that, if I suspect that the most likely cause is long COVID, and I haven't found some other medical illness that's contributing to that, then the approach is cognitive therapy. I think the therapists have played the biggest role in the support of these patients. Patients with brain fog, they have trouble with finding the right words, or with their memory, and having therapy to help with some strategies for coping with that has been very helpful to patients.
Brannon
What do you think causes long COVID? What is happening in the body to create such a range of symptoms? And it seems to be different with everybody. Is that really unusual for a disease to be like this?
Longo
Even with some of the previous coronaviruses, you know, with SARS, with MERS, we saw some similar lingering issues. But I think that, you know, COVID could affect every organ in the body. And so, it is going to look different in different people. Now, what's causing long COVID? I want to be clear, I don't think we have that answer yet. But what we do have is a lot of interest, and with the NIH getting Congress to approve $1.15 billion to study long COVID, I'm hoping that we can have an answer to that very soon. And Tulane is participating in that study, I would like to add.
Brannon
You are part of that, aren't you? A co-PI in that research? Can you tell us a little bit about what that is, for people who don't know?
Longo
Yeah, RECOVER is actually a study that the NIH is funding, which is researching COVID to to enhance recovery. And what we are doing is collecting blood and saliva and other fluids to try to look to see if we could find any inflammatory markers. And we're also talking with the patients, doing examinations, trying to do tests to better understand what are the symptoms? Who's getting this? How do we prognosticate? What what is the recovery going to look like? So that's one of several studies at Tulane that are going on. This is probably one of the biggest ones, though, that's across the nation, that is trying to understand what are the symptoms of long COVID. You know, there's been a lot of consensus that there seems to be a persistent inflammatory state. The patients themselves will come and come and tell me, they'll say, "I feel like there's inflammation all throughout my body." I take that seriously, when they're describing to me what they think the cause is. Is there an inadequate antibody response, is there some remnants of the virus somewhere? We don't know. We know there's been studies that have found remnants of the virus in the intestines four months after the infection. Why do some people have that? Did they not mount enough of a response to get rid of all the virus when they were sick? Is that why the vaccine helps some people? Because we know that about 20% of people with long COVID will see some improvement in their symptoms. And we wonder if that's because of vaccines helping them to mount that response that they didn't do initially with the infection.
Brannon
It's fascinating how the mind and body works. You know, I know someone who sells wine for a living. She got COVID and lost her sense of smell for months. Smell is a big part of wine tasting. So she's having trouble, you know, recommending different bottles to customers. What causes that to happen? Do we know why the sense of smell is affected by this?
Longo
With the alpha, with the delta variants, they were getting into the body through the nose. SARS virus likes the ACE2 receptor. The good news is that with the ACE receptor not being actually in those cells, in the in the olfactory neurons, we see a lot of recovery, we see a lot of improvement. And so, there are some smell therapies that we have mounting evidence showing that it's helping our patients. But I think for a lot of my patients, when they have, you know, on average, they have five to seven symptoms that they're struggling with. But one of the ones that really bothers them is the loss of taste or smell. There are things that we can do to to help with that. And I think there's a lot of hope in that area too.
Brannon
Do most of your patients get their sense of smell back and how long does that usually take?
Longo
Most of them do have improvement, and it just takes time for that mucosa that was affected to recover from from this. Sometimes as the sense of smell is coming back, it goes through these periods where things don't smell the way they're supposed to. But that can often be part of the road to recovery. So I will say that's something to keep in mind, but you know, one of the things that I warn all my patients about is I have had patients that have had fires, that weren't able to to smell their their smoke, just you know the smoke alarms. I've had patients tell me that they nearly passed out because they were cleaning a bathtub and they couldn't smell the detergent. It can really impact the quality of your life.
Brannon
So we're two years into the pandemic right now, at the time of this recording. Is there any concrete data on how long long COVID lasts?
Longo
Recovery, certainly, from what I've seen in the 100-plus patients that we've taken care of, has been more along the course of months than days to weeks. And, you know, the hope is that that we'll be better able to not only understand how long, you know, predict for the patients how long their symptoms will last, but better understand what we can be doing to speed up the recovery. And those are not things that we know at this time.
Brannon
Right now, with omicron, I know so many people who've gotten COVID. The people who have gotten it who are vaccinated have all had mild symptoms. And you know, there's the question, do you start living your life and going out? Or do you completely withdraw? And one of the variables is no one wants to get long COVID.
Longo
That's right. Dr. Anthony Fauci, our U.S. infectious disease expert, said that just at the, at the end of last month, saying that long COVID can happen, no matter what virus variant occurs. And he said that right now, there's no evidence to suspect that it'll be any different with this than it was with the previous variants. So time will tell, but he certainly is getting the word out that long COVID is a reason to get vaccinated, even if you are not afraid of getting seriously ill with COVID. Because the vast majority of patients that I see in my clinic, they were not seriously ill with COVID. They had what we would consider mild. And some of them even, some of them were even asymptomatic, and we only found out that they were positive because of the testing they had to do because of work.
Brannon
Will there be a cure for long COVID? Or perhaps a drug that would prevent it from happening in the first place?
Longo
When we get better at understanding which group of patients is more likely to have it, their cause be inflammation or an autoimmune response. Or does this group have something going on with the vasculature? When we can better understand that clinically, and then have the biology to back that up, then I think we can talk about, yeah, I would suspect that we would be able to have better therapies for the underlying cause.
Brannon
As you mentioned, you see these patients for weeks at a time. This clinic has been one of the only places that they can find where people treat their symptoms seriously. What kind of impact has that had on you personally, as a doctor?
Longo
You know, in neurology, we take care of lots of conditions that don't get better. And I guess that's true in medicine for a lot of things, but especially for neurology, we are providing support for a lot of conditions, or what we refer to as neurodegenerative disorders, that we can't necessarily cure. But with long COVID, a lot of the patients get better. They do get, you know, to their to their baseline. They need some support along that that road to recovery, but it's, it is tremendously rewarding to be there on that, on that journey, as we help them and support them. One of the first patients that I had was a lawyer, and she was really struggling with brain fog. She said she would try to read something, and she'd have to go over it multiple times. And then then looking at a screen would bother her, and she'd have to step away from from that. And she was really concerned about how she was going to support herself. She was one of the first patients that we had started saying, hey, maybe just having some cognitive therapy, having someone to help with some techniques for focus and with concentration and doing that. It was very helpful for her. She also had some other contributing factors. She had terrible sleep. So many of our patients, their sleep is is disturbed by COVID, and it really affects their wellness. And she also, she was having anxiety because she's saying, "How am I going to live? How am I going to support myself?" and needed a little support from from counseling. And so, I feel like with this multifactorial approach, and really her determination to get better and to really, you know, she was really motivated to try and just kind of hang with us and do this, the help and the support, and work with the team that we surrounded her with. She's back in her in her practice. In fact, the last follow up that I had with her, she said, "Just call me, I'm fine. I'm doing I'm doing great." Nothing thrills me more than that.
Brannon
That's phenomenal. And how long did that take?
Longo
She was about four months. I suspect that most of our patients will improve. But I tell them along the way, you've gone through this this difficulty. We get the opportunity to do kind of a medical overhaul and helping people to learn about lifestyle modifications that can promote healthy brain aging, is an opportunity that any neurologist is going to jump on. At the end of this, like her, she's on the Mediterranean diet, her sleep is improved, we've got, you know, she was able to return to the point that she could exercise. Just doing things that are going to promote healthier brain aging from this point on, and I think that's, you know, something that's good.
Brannon
My last question for you is, of your patients, what percentage of your long COVID patients are vaccinated?
Longo
That that's a much smaller percentage of my clinic. The vast majority of people that I see with long COVID were not vaccinated or not fully vaccinated.
Brannon
Well Dr. Longo, thank you for joining us here today. And thank you for all that you've done for your patients.
Longo
Thank you so much for the opportunity to talk about long COVID. You know, when we get the word out, and we do things like this, it helps to reduce the stigma. And it helps to support people in knowing that there's people that are interested in this. So thank you. I appreciate it.
Brannon
Thanks for listening to this edition of On Good Authority. For more information on other episodes, visit our website tulane.edu/on-good-authority. If you like our show, please subscribe using your favorite podcast app.
Host: Keith Brannon
Editor: Roman Vaulin
Producers: Marianna Boyd and Audrey Burroughs
Production team: Marianna Boyd, Keith Brannon, Will Burdette, Audrey Burroughs, Faith Dawson, Roger Dunaway, Aryanna Gamble, Mike Strecker and Roman Vaulin