Image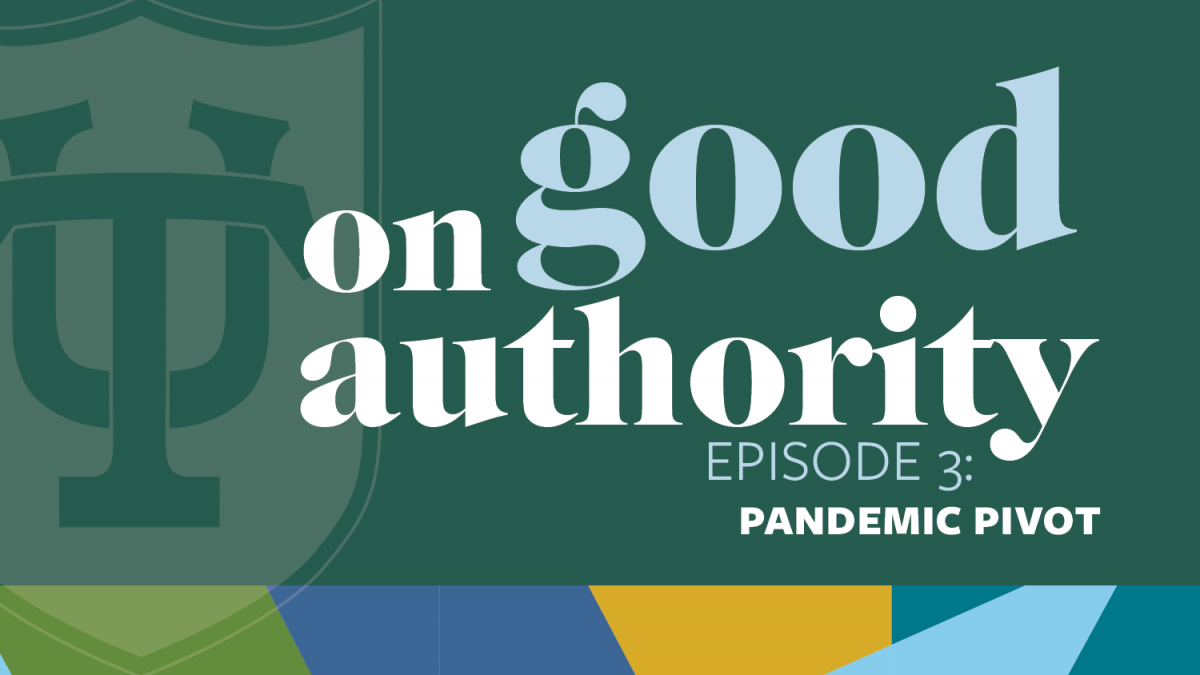 Julia Lang is the associate director of career education and life design at the Phyllis M. Taylor Center for Social Innovation and Design Thinking at Tulane. Her class "Taylor Your Life" helps students learn how to plan a fulfilling life and career. The same principles in her course are in "(Re)Designing Your Life in a post COVID-19 world," her step-by-step guide to making big decisions in uncertain times. Click here to read her guide, which includes the worksheets she mentions in the podcast. To learn more about her life design class, click here.
Transcript ▾
Speakers
Keith Brannon, Julia Lang
---
Keith Brannon  
Welcome to On Good Authority, the podcast produced by Tulane University, where we bring you leading experts to talk about issues of the day and ideas that shape the world. I'm your host, Keith Brannon.
Julia Lang  
If you're curious about something and you're interested in something, it's all about testing it out and trying it out and being okay with kind of being bad at it, especially at the beginning.
Keith Brannon  
Julia Lang is an expert in life design. She's with Tulane's Phyllis M. Taylor Center for Social Innovation and Design Thinking. She teaches a class called "Taylor Your Life." It's essentially a roadmap for how to build a fulfilling future. She's written a guide for anyone who needs to make a pandemic pivot. It's called "(Re)Designing Your Life in a post COVID-19 world." Julia, welcome to On Good Authority.
Julia Lang  
Thank you so much. I'm honored to be here.
Keith Brannon  
So your course sounds amazing. Where were you 20 years ago when I needed you.
Julia Lang  
Um definitely not where I am now. And I would not be where I am now if this course had not come into my life.
Keith Brannon  
Many of us get pretty vague advice at the beginning of our careers: follow your passion, do what you love. But we're not really given a framework for how to guide a career. You think we need to be much more intentional about planning for our future.
Julia Lang  
Well, I wouldn't ever "should" anyone. I wouldn't say that you should be, but I think it can really help. According to Gallup research, 75% of workers in the USA are unhappy at work, and 15% actively hate their job. On top of that, a lot of us just really don't know what's possible. We are familiar with the working world of adults that we know or that we knew in our youth. And so, I think taking some time to really explore beyond what you already know can be really helpful. Um, you know, you talked about follow your passion, do what you love. And I actually really disagree with that. Our society really has come to fetishize passion. So if someone says follow your passion, they can really have harmed you. I think if you're only looking to do something that you're passionate about, and you don't know what that is, it can really make you feel excluded, it can make you feel like a failure. Whereas curiosity just kind of taps you on your shoulder and makes you examine something a little more closely. So if you're curious about something, and you're interested in something, it's all about testing it out and trying it out and being okay with kind of being bad at it, especially at the beginning. And this is also one of the hallmarks or frameworks of thinking like a human-centered designer. We often say when human-centered designers get it right, it's because they got it wrong first. So failure is actually okay. It teaches us a little bit more about a certain pathway or something that we might want to pursue, and it gives us some clues about what we can try or adapt or iterate for next.
Keith Brannon  
So how did you start to come up with this course? I mean I, you, we talked a little bit earlier, and you said the seed was planted years ago, when you were facing a big life decision, and it involved a wedding dress in the closet.
Julia Lang  
Ah, it is true that I was working at the Taylor Center for Social Innovation and Design Thinking and leading a lot of workshops on programs on design thinking for social impact. So teaching folks how to use this problem solving methodology to address a wide range of different challenges in their life and their work. And around that time, the "Designing Your Life" book came out by Bill Burnett and Dave Evans. And I really just started doing a deep dive into a lot of different literature in the field. And all the while I'm teaching design thinking for social impact, and there I was, in an eight-year relationship with a wedding dress in my closet, and about to start and commit to a life with someone that I really realized was not in line with the life that I wanted to live. And what I realized, and my motivation for being and staying in that partnership, it was all rooted in fear. And in class, we talk about there's two types of fears. There's safety fears, which are really good, healthy fears. Whereas a lot of other fears, what we call barrier fears, are really rooted in our own self-doubts, internal critiques and insecurities. And what I realized is that all of my motivations for staying in that life were barrier fears. It was all well, this might not happen, or I might not find this. I have this crazy spreadsheet I made. I italicized everything that was rooted in fear in terms of a plus-minus column for staying, a plus-minus column for going.
Keith Brannon  
I love that you made an entire spreadsheet about that. Was this in Excel?
Julia Lang  
It was. I have given it to friends since. If anyone needs it, let me know. Yeah, and fast forward, I um now, after four years later, I am married to someone completely different. And I am nine and a half months pregnant with my first child due two weeks from today. So everything that I have students do in the class, I have done and tested on myself. And the instructors also do all these exercises themselves and see how it applies to their life before they teach the class. It's part of their onboarding. And so, it's been really interesting to see how instructors, and my own personal life, has really changed as a result of teaching this class.
Keith Brannon
Well, speaking of changing lives, you took the tenets of your course and created something new to help people, who may be facing a lot of uncertainty due to the pandemic. It's essentially a blueprint. There are seven steps that you've outlined, to help people kind of work out their own pandemic pivot. Tell us how all this works.
Julia Lang  
So I think our toolkit can really help people systematically examine where they are, what resources they have available to them, what matters to them, and identify really clear steps for them to begin exploring and imagining what might be possible next. It is not about leaping into the unknown. I really cringe when I hear someone say, you lost your job, just go try something new. That is not what we're advocating. What we are rather talking about is building actual experiments, getting your thoughts out of your head and into the real world, to begin testing out what might be possible without overinvesting time or money or completely pivoting or jumping ship blindly.
Keith Brannon  
So the process starts with kind of a reality check, with step number one.
Julia Lang  
Yes, so step number one is really about acceptance. It is acknowledging what is real for you, in order to then have an honest assessment of where you are, so you can move forward. And it takes courage to really take a step back, take a step away, or take a step inside and reflect on what is not working in your life.
Keith Brannon  
That's not an easy step for everyone to take, because they have to make some pretty hard judgments about where they are, and maybe some of their own responsibility in where they are.
Julia Lang  
It's true. And I think one of the reasons that can be helpful, if anyone is going to try to follow these steps and and to do these exercises, is to do it with a group of people. And so, sharing your fears and worries and questions can be really validating, and empowering, because you realize that others are also sharing similar struggles. Talk about what is working for me right now. What is working, what is not working? While there's a lot that's outside of my control, what do I have the ability to control? And when I think about my future, what are my biggest open questions? What am I focused on currently trying to do? And what am I interested in spending more time on or learning more about? By simply asking yourself those questions, accepting where you are, you can really begin to create a blueprint that illuminates how you can move forward.
Keith Brannon  
So step two is to define what matters to you. You recommend making two lists, pains and gains. What do you mean by that?
Julia Lang  
Yeah, so pains is really, what is not working? Maybe you're floundering trying to homeschool your children while attempting to work full time. Or you're spending every night watching movies that make you feel more isolated and alone, pains, what's not working. Gains are what is working. Maybe what are some surprising insights or new things that you've been trying in this quarantined life that is working, such as you've begun to cook more or call family or go for morning walks? What is bringing you peace and stability in these really uncertain times, and how can you intentionally increase the frequency of what is working, in order to then give you some clues about what might be next.
Keith Brannon  
So how would this approach work for someone who may have lost her job, or in an industry that's really been hit hard by the pandemic?
Julia Lang  
Yeah, so I think if someone's out of work, or they're interested in changing their professional pathway, they can start to think about the pains and gains in their own industry. So examine all the possible new jobs or opportunities that are needed to fill gaps posed by this pandemic. So for instance, there is a growing need for strengthening healthcare systems, for building technologies to enable remote work, or to help people build connections, right. So people can think about their industry, what is or isn't working. Or they can, this might also be an ideal time for them to ideate, to brainstorm, to think beyond borders and test out different pathways and life experiences that they might have never considered, such as applying for jobs in a different state, in a different country, which right, most work is being carried out remotely right now, which actually makes that possible. And so, this can really be a time to give themselves permission to research and explore and talk to people and consider a vastly different pathway than they have previously allowed themselves to think about.
Keith Brannon  
So step three, that's the fun part. We get to make lists. So you think people should brainstorm all sorts of different ideas of what they could do for a career, or several steps ahead, or basically a path forward?
Julia Lang  
Yes, in order to have a good idea, you first have to have a lot of ideas. And so one of the classic design thinking exercises that is used in any, that lots of design thinkers use, is called best to worst ideas, where you make a list of all of the worst possible ways that you could solve a challenge, and then you convert it to a best idea. Maybe a pain that you have is looking at your phone, looking at reading news every night in bed, that's something that's really zapping your energy. So you make, you flip that, how can you make that the best idea would be, try not looking at the news at all after 3 p.m. You can also think about this more broadly and start by listing the challenges in your field of interest due to the global pandemic, or the pains that an industry is experiencing. And then assess how work is being disrupted or new opportunities might be emerging in that field or in an entirely different field.
Keith Brannon  
You have a worksheet that you can download that's got a pretty, it's got, you can map out five years out, right?
Julia Lang  
Yeah. So one of the activities that I encourage everyone to do, I've done it, my instructors have done it, all of our students have done it, is that we ask folks to create three radically different sketches for the next five years of their life. The first sketch that they make, it's the top of mind, right? So the thing that that most easily comes to mind, that kind of that hot idea you've been nursing for some time. Then there's the pivot sketch, or what you would do if you were suddenly unable to do that. Artificial intelligence took over, there's no need for being, for doctors, and you're a doctor, what would you do differently? And then the third sketch that we asked folks to complete is constraint-free. So what would you do if there were no constraints, be it money, time, family obligations, if no one would think less of you or judge you or love you any less, and if you are not bound by any oppressive structures in society. Not saying that those oppressive structures don't exist. They are real, very real, but we want for people to give themselves permission to really think about what they would do if there were no constraints.
Keith Brannon  
So how does running through all of these different scenarios help people really focus on what to do next?
Julia Lang  
What we often find is that once people sketch out these plans, they then find that there are ways that they can begin to embed different elements of all of these plans into their current life, without overinvesting time, or money or energy or making a big leap. So one of the activities that we have people do is after they sketch out their plans, they think about one prototype, one experience, that they could begin tomorrow, or in the next week, to begin testing out those ideas or that pathway without overinvesting time, money, energy, doing it for under $10. People are often surprised that they can embed elements from that constraint-free plan into their life now. So for instance, someone writes that they want to be a journalist and that they love writing. An experiment you can do that costs no money is to start blogging and see if you actually like it. You fantasize your whole life of being a writer, okay, set a timer and write every day for an hour. Do you love it as much as you thought you would? Or is that, is the idea of being a writer really different than actually writing? So there's lots of ways that you can begin to prototype and test out ideas that you might be interested in without quitting your job, without moving to another country, without ending your relationship, right. But there's, there's ways that you can test out these ideas before you make a big life decision, so you can make a really informed next step.
Keith Brannon  
So once you do your experimenting, then you go to step five, which seems to be the most traditional career advice. You say people should design their personal brands and stories. Where should people or how should people go about putting their best foot forward after going through the other steps?
Julia Lang  
You really get to design how others see you. And this is, especially now in quarantine, or in a post COVID-19 world, we are increasingly living in a digital world. And so, I really encourage you to use this time to hone your personal brand and story. What that looks like is Google yourself, do you like the you that is portrayed out there in the world? Think about how you can intentionally craft your story and talk about yourself. So part of that prototyping, right, if you're, if you if you if you're interested in writing, then start building an electronic portfolio. We have in our class, we have a activity that's also linked in the article about crafting your pitch, right? When anytime that you meet someone, or anytime someone asks you who you are and what you're about in the world, having something in the back of your mind that that you can say that demonstrates your interests, your skills. And also always include some sort of ask, always include an invitation to invite other people into your life design. I'm looking to get connected to people working for women's justice in Chicago or, right, it's it's you, you always want to have an invitation, an opportunity for someone to provide a referral or resource. Most people like to do small things to help other people. And so, in that way, you are crafting. You are the pilot for explaining who you are and building that first impression, while also leaning into relationships that you've built in your exploration to build your way forward.
Keith Brannon  
So number six, be flexible. And this is a bit of a step that tripped me up because you say that people should be prototyping here in their flexibility. But should they be looking at their plan A, plan B or plan C?
Julia Lang  
So you're not allowed to say plan A, plan B and plan C in our template. They're all parallel, right? So the key is to engage in simultaneous prototypes from all of your different life sketches. Don't treat these different plans as the primary payment plan, the backup plan and the long shot. If you go into it thinking that way, then you're setting yourself up for failure to begin with. Try to go in it with an open mind, and really explore and test multiple different pathways. In terms of being flexible and adaptable, it's really being honest about what works and what doesn't. Failed experiments are incredibly valuable, as they teach us what not to do, and help us understand what is not working. So before you overinvest and spend $100,000 on your next MBA, or before you quit your job and become a teacher, have you actually tested that out and then really honestly assessed what you liked or what you didn't like? And that's how you can make an informed decision without just leaping into the unknown and realizing that your idea of a job or your idea of a career is vastly different than what it actually turns out to be.
Keith Brannon  
So the last step is step seven, and that's a bit of a pep talk. You say accept the COVID-19 reality for now, but believe your life is worth redesigning. And you have a pretty good quote that goes with that. It's from Oprah Winfrey, and the quote is, "Every time you state what you want or believe, you're the first to hear it. It's a message to both you and others about what you think is possible."
Julia Lang  
Yeah, it's about giving yourself permission to be the designer, not the passive recipient of external circumstances in the world. One of my favorite metaphors comes from a meditation by Thích Nhất Hạnh. If you imagine a hill, and there's a person that is running down the hill with this massive boulder that is coming down the hill rolling behind them, and they're just running trying to flee this, this this huge boulder behind them. And that boulder has changed, that boulder is the world, that boulder's, right, everything beyond us that we don't feel like we have control over. And then if you think about that person, instead of fleeing and running and terrified in front of the boulder, actually on top of the boulder, as it's coming down, light on their toes and dancing, being flexible, being nimble. That is how we're hoping people can think about their their life design. And designers exist because they believe that new products, new services, new structures are possible. The designer that created the chair I'm sitting in is not mourning over the discarded prototype, the first model that they made of this chair. This chair exists probably because a lot of other models happened before it. So I would say yes, that we must accept that this is our new normal for now, in terms of a post COVID-19 world, being in quarantine, not being able to interact in the ways that we're used to. And put forth the energy it takes to really dig deep, talk to people, build experiments, and test our way forward. So I'm not asking folks to leap into the unknown, to jump off a cliff. We're simply asking them to accept where they are, with what is working and what is not working. Which can be really challenging and scary, to deeply self-reflect and define what matters to me, and to really give yourself permission to ideate, to brainstorm, to think big and build actual experiments in the world to test your ideas. All the while gaining insight and ideas about new fields and opportunities, while building real relationships with humans doing that work. Which then can lead into a vast array of new and different opportunities that you may have never known existed, or might have never existed, if you wouldn't have given yourself permission to think and dream and connect with with other people in the world.
Keith Brannon  
The whole, the whole guide is very empowering. I was I was inspired by it, reading it, and I think a lot of other people will too. Julia, thank you for joining us here today On Good Authority. Really appreciate it.
Julia Lang  
Thank you. It's been a real pleasure.
Keith Brannon  
Thanks for listening to this edition of On Good Authority. If you'd like a copy of Julia's handouts, please visit our website tulane.edu/on-good-authority. If you like our show, please subscribe using your favorite podcast app.
Host: Keith Brannon
Editor: Marianna Boyd
Producers: Marianna Boyd and Audrey Watford
Production team: Marianna Boyd, Keith Brannon, Will Burdette, Faith Dawson, Libby Eckhardt, Aryanna Gamble, Carolyn Scofield, Mike Strecker and Audrey Watford