Image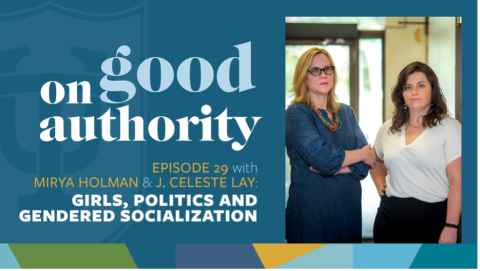 Why do children, especially girls, see the world of politics as one that is designed for and inhabited by men? School of Liberal Arts professors J. Celeste Lay and Mirya Holman break down the findings of their study of children's political attitudes and gendered political socialization.
Transcript ▾
Speakers
Faith Dawson, editorial director, Tulane Communications and Marketing
Mirya Holman, associate professor, department of political science, Tulane School of Liberal Arts
Celeste Lay, associate professor and associate chair, department of political science, Tulane School of Liberal Arts
Dawson
Hello and welcome to On Good Authority, the podcast by Tulane University, where we bring you leading experts to talk about the issues of the day and ideas that shape the world. I'm your host, Faith Dawson. If you ask a kid who should be president, their answer might surprise you. In our time of encouraging kids with messages like "You can do anything that you put your mind to," kids are nonetheless picking up messages to the contrary, especially girls. And one of those messages might be that politics is not for girls or women because it seems to be a world designed for, and inhabited by, men. Today, political science professors Mirya Holman and J. Celeste Lay of the School of Liberal Arts break down the findings of their study of children's political attitudes and gendered political socialization. Welcome to On Good Authority.
Lay
Thanks for having us.
Holman
Great to be here.
Dawson
Kids are like sponges, and I have a 10-year-old son, and they're actively soaking up what they see and hear in the media. So do you feel like these super hopeful parental messages, like "You can do or be anything you want to be," are being superseded by what they pick up on TV and elsewhere? And why are those messages more likely to stick in a kid's mind, Celeste?
Lay
Yeah, I think that you know, we as parents, I also I have two kids, and you know, we, as parents, want the world to be the way that you described. That, you know, kids can do anything they want. And, and so we want to believe that. And we certainly want to believe that for our own children. But certainly, they don't just learn from us, right? They learn from their schools, and their friends, and television, and the internet, and all sorts of things. And so, they're picking up information from everywhere. And so, we may be giving them these positive messages. And they may be hearing that from teachers at school. But that's not what they're seeing, particularly when it comes to politics, and and their political socialization, when they look to the leaders of the United States or other countries.
Holman
We also noticed a lot in our study that kids are paying attention when we think that they're maybe not paying attention. So kids have really distinct ideas about who belongs in politics and who doesn't belong, and who's a good person and who's not a good person. And that maybe is from adult conversations that they're overhearing, or watching the nightly news, or reading books in the library. But they're taking up information from lots of different sources. And it's not just, they're not just listening when you sit them down and say, "You can be anything you want to be." Instead, instead, they're learning about the world from lots of different places.
Dawson
When girls intake these messages, they start to exhibit attitudes that maybe politics is meant for men. And that they should not, for some reason or another, have political ambitions as often as boys do, or or as often as men do. This, and as they get older, this belief is strengthened. And so, to take it back a step, what is gender socialization, because this is part of a part of a broader kind of concept?
Lay
Yeah, I think gender socialization is the process of children learning what it means to be a man, what it means to be a woman, right? What are the appropriate activities, the appropriate occupations, the appropriate things to wear? All sorts of things about what it means to be their gender. In terms of breaking down traditional gender stereotypes about what, you know, that women are nurses and men are doctors, for example. That, you know, we see a lot of evidence that that still exists today. You know, young girls and young boys pick up, again from all these different sources, all sorts of attitudes about what is appropriate.
Holman
What kids do pick up on is these patterns that we see in society. And so, they might pick up on, for example, that almost all the teachers in their elementary school are women. And they might pick up on, you know, every time they go and visit their mom or their dad at the bank, everybody that's important that sits behind a desk is a man that wears a suit and a tie. And so, it's not that these are things that we we can't provide alternative role models to children, but children are observing what they see in the world. And they and they're trying to make sense out of what they observe, and as part of, as how they do that, they observe these patterns of what men do and what women do.
Dawson
So can you tell us about the DAPL task?
Holman
So we borrowed from a long history of research in science education. And they, for a very long time, people that have been studying what kids think about scientists have been asking kids to draw a picture of a scientist. So for about 40 years, researchers have been asking kids to do this and repeatedly finding that when kids draw pictures of scientists, they draw pictures of white guys in lab coats, essentially. That's what every kid thinks of when they think of a scientist. So we adapted this for the political science realm. And we asked kids to close their eyes and think about what they think of when they think of a political leader. And then we gave them crayons and we gave them both, a sort of a regular pack of crayons, and then we also gave them, Crayola has a multicultural pack of crayons, which allowed kids to draw leaders of with different skin tones. And we asked them to draw, you know, physically depict on a piece of paper, what they saw in their minds when when they thought of a political leader. And then they answered a couple of questions about what the political leader was doing, some words that describe the political leader, and what they think the political leader does on a daily basis.
Dawson
And what, how did you react to the findings? Like what what did you find?
Lay
Well, one of the things that we found was that boys are very likely to draw men, to draw male political leaders, and sort of regardless of age. So the children in our study are ages six through 12, they're from first grade to sixth grade. And so, they're pretty young kids. And we found that regardless of that age, boys draw men for the most part. About 75% of the boys drew drew a leader who was a man. Girls, on the other hand, they were more likely to draw women, but that was particularly true of young girls. So the six and seven year olds, the first and second graders, actually a majority of those, the youngest girls drew women leaders. But as they progress and age, as they get toward middle school, they begin to draw men. And by the time they're in sixth grade, they're at the same likelihood of drawing a man political leader as a boy is. And so, something happens in those elementary years, that by the time kids are in sixth grade, by the time girls are in sixth grade, they are not seeing themselves as political leaders.
Dawson
That's just insane to me. That's, you would think by the time they get to be 12, they would be owning it. That we would be seeing, we would be seeing female mayors and female governors and city council people who are female. And that they should like not just look at, look at it in terms of "One day I, or someone like me, might be President of the United States of America." But there's such a wide range of political leadership that they could see themselves in. And they still don't.
Lay
Yeah, role models are really, you know, role models are really important to political socialization. And gender socialization, you know, what, what kids see out in the world, but there are these counterforces to that. And so, you know, for one, girls and boys are seeing a lot fewer women in these leadership positions. And so, you know, you mentioned, we happen to live in a city that has a woman mayor. But, you know, that's not the majority of cities across the country. And you know, there are, I'm not exactly sure how many women governors, but there aren't very many. And so, you know, that is a problem in terms of that role modeling.
Holman
Indeed, as girls learn more about the political system, they encounter more and more men, and examples of men in the political system. And that's both through social studies curricula and and you know, thinking about if you're going to teach about the office of the presidency, you're teaching about men, to students. If you're teaching about the founding, you're teaching about men, if you're teaching about the civil rights movement, you're teaching about men, because that's that's the sort of the dominant way that kids learn. But they're also learning it from every time they see political leaders on television or every time their parents talk about political leaders. Because there are just way more men in politics than there are women in politics.
Dawson
Did the regions of your study affect the results in any way?
Lay
Yeah, so we studied in four different states across the country. So we studied here in the New Orleans area. And then other members of our research team studied in rural Ohio, upstate New York, and the Boston suburban area. And so, you know, we got a pretty wide swath of the country. It's by no means a representative sample or a random sample of kids of this age, but we do have rural, suburban, and urban. We have some racial and ethnic diversity. And we don't see, in terms of these patterns, we don't see significant regional differences. So it's not the case that the kids that are growing up in the city are, you know, that the girls growing up in the city are necessarily, you know, less, you know, less likely or more likely to draw women as leaders than those in rural America.
Dawson
Do you think there will be, as these women, as these girls rather, grow up into women, that these attitudes will inform them as grown-ups?
Holman
Celeste has a bunch of research on on how our experiences growing up shape our our long-term political views that would suggest, yes, these are really impactful experiences. That kids are learning how the political system works, and some of that is, "Do I run, am I interested in running for political office when I'm older?" And we find that girls are less interested in running for political office, and the gap between girls and boys grows as children age in our sample. But it also is things like are you interested in reading books and magazines about politics, are you interested in having conversations or playing games about politics, going to a museum that features political issues. All of these are factors where girls, as they age, become less and less interested in anything to do with politics. So early on in their life, they're already sort of opting out of participating in the political system.
Lay
And we do see it throughout. So if you look at student government, for example, in high school and college. Even though girls are a majority of college students in the country now, they are a decided minority of those that run for student government in their universities and colleges and and in high school. And so they're, they're just not interested in these sort of political or conflictual, you know, these these positions that force them to disagree with other people or to argue with other people. We, we've seen a lot of that in political science that, you know, women are turned off by that conflict and perceive the political arena as this very conflictual place. And so, they they just devote their energies to other things.
Dawson
One of the words that stuck out to me from your study was that boys are more likely to see themselves in careers where being assertive is considered a benefit. And that is not necessarily a trait that young girls would apply to, or their career aspirations, or anything like that. And I look at that, and I think, or rather I think about that, and I go, like, "What's wrong with being assertive?" You know, the first thing my mother always told me was like, "If you want something done right, you better do it yourself." But then I'm not a political leader either, so I don't know.
Lay
Yeah, I mean, I think there's like a meme where, you know, one woman is asking a friend like, what, why is, why is he assertive and I'm difficult? It's like because you're a woman, basically. And it's just, you know, society tends to look at women and men differently on these kinds of traits. And it's and it's a fine line to walk, if a if a woman is interested in politics or runs for office to, to be seen as competent and assertive and decisive, but also not not difficult and bitchy.
Holman
We also though see this on the flip side for men, right, that characteristics that we associate with strength among women, such as being compassionate or caring, being mothering. If men exhibit those same characteristics, sometimes they're punished for them, right? So it's not just that women lose out, it's also that men lose out. That both, neither gender is able to fully experience the the human existence because we're confined by these gender roles.
Dawson
We had mentioned earlier about gender socialization and the the role that gendered political socialization plays. So do you see correlations between those two?
Holman
So what we argue in this paper is that there are two processes that are well documented that are occurring at the same time. One of these is this process of kids learning about gender, right? And they they're learning, in essence, how to perform gender. They're learning what the roles are, they're learning what men do and women do, they're learning what men don't do and what women don't do. And then the same time, they're learning about politics. Who belongs in politics, who gets to have a say, what the major events are, what things are right to do, and what things are wrong to do. So these two, these two processes are happening at the same time. We argue that this then produces this process of gendered political socialization, where they're learning that the role of being a political leader is something that's associated with men and masculinity. And women, women don't really belong there. That's not where, where they, where we see them. Instead, we see them in roles like being schoolteachers, or being nurses, being stay-at-home moms. And kids internalize these messages and begin to understand the ways, the places where they think they might belong in life as they grow older. The roles that they might want to occupy. And for a young girl, she may want to be, she may be interested in politics. But in expressing that interest, she is expressing an interest in a role that is counter to the gender that she's being socialized into.
Lay
I'll just add that, you know, the the age factor for girls gets also at the role that adolescence plays in this. And so that as this process happens that Mirya just described, girls are seeing what other girls are interested in, right. And so it, that just reinforces what they're seeing out in the world in terms of the, you know, the the distribution of male-to-female political leaders, for example. Then as as girls begin to disengage from politics, their friends are disengaging, and it just, it just reinforces. And the same is true for boys. So boys are seeing that assertiveness is valued, and that their friends are assertive, and you know, that they get attention for being assertive. And so, they do it. And so, the peers also play a big role in this. And we know, from just literature on child development, that the older a child gets, the more relevant the peer group is, versus parents or teachers or these these other agents of socialization.
Dawson
Now, let me ask you a question about the boys in your study. Do you feel that the boys look at leadership as something that's important to them?
Holman
Well, they certainly are interested in politics at a higher rate. But what we do find is that as kids age, both boys and girls, they express less interest in politics. So it's not just, it's just that girls nosedive at a faster rate than boys do. And this is a, you know, this is consistent with research among adults in political science. Where there are a lot of adults out there in the world that have no interest whatsoever in in politics and view it as a negative place, as a place filled with fighting, where nothing ever gets done, gridlock. All the messages that we get all the time about politics in the United States reinforce to adults and to children that yeah, this is this is not this great place. So boys do see themselves in political leadership more than girls do. But at the same time, as kids are learning about politics, they're increasingly turned off by it.
Dawson
Is there a next chapter to your research?
Holman
Well, one thing that we did is we made a comic book. An activity book for kids that introduces some of these ideas to children and talks about the idea of leadership being something that's, political leadership as being open to everybody, and doesn't just have to be boys that are interested in being president, it could be everybody. So we're hoping that we can get that out there, and kids kids might be able to enjoy that and use that. But who knows what the next step is?
Dawson
This has been a fascinating discussion. Thank you so much for these insights. J. Celeste Lay and Mirya Holman of the School of Liberal Arts. Thank you for being guests on the podcast today.
Lay
Thanks for having us.
Holman
Thank you very much.
Dawson
And thanks to you for listening to this edition of On Good Authority. For more episodes, please visit tulane.edu/on-good-authority. And if you like our show, please subscribe using your favorite podcast app.
Host: Faith Dawson
Editor: Marianna Boyd
Producers: Marianna Boyd and Audrey Watford
Production team: Marianna Boyd, Keith Brannon, Will Burdette, Faith Dawson, Roger Dunaway, Aryanna Gamble, Daniel O'Connell, Mike Strecker and Audrey Watford