Image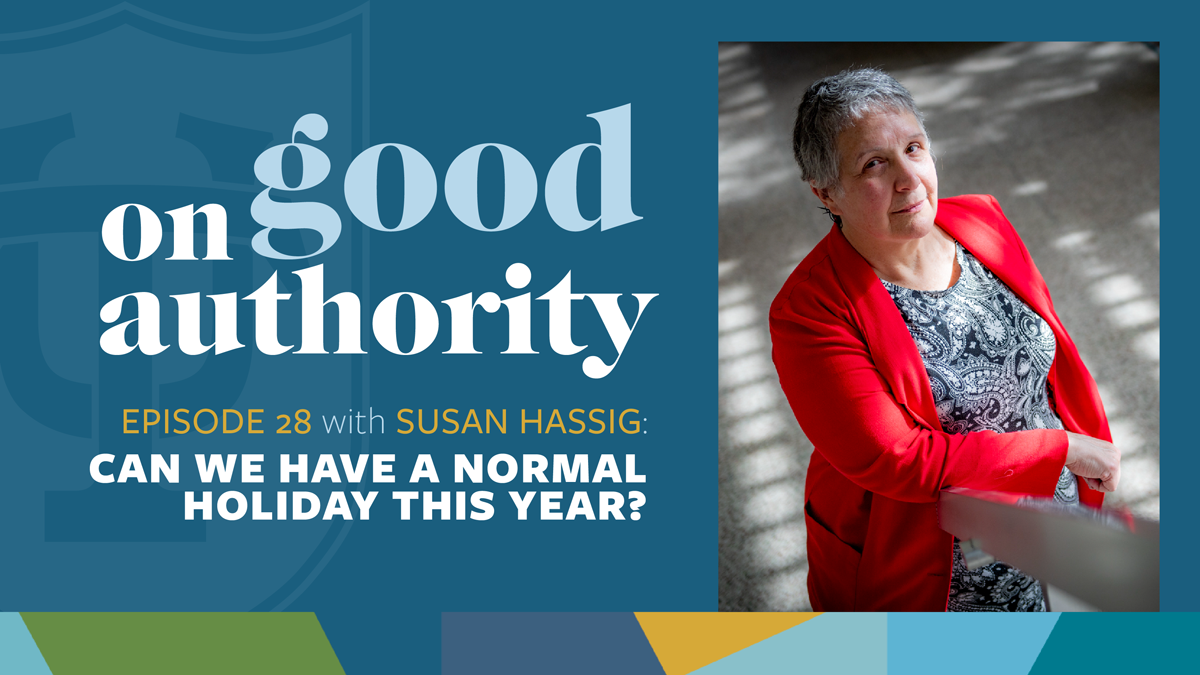 Now that COVID-19 vaccines are widely available and mask mandates and restrictions on gatherings are no longer in place, is this the year that Thanksgiving and the holidays return to normal? Tulane epidemiologist Susan Hassig is back to answer all your questions about how to plan for the holidays this year — and stay safe from COVID-19.
Transcript ▾
Speakers
Keith Brannon, director, Tulane University Public Relations
Dr. Susan Hassig, epidemiologist, Tulane School of Public Health and Tropical Medicine
Brannon
Welcome to On Good Authority, the podcast by Tulane University, where we bring you leading experts to talk about issues of the day and ideas that shape the world. I'm your host, Keith Brannon. A year ago, we were all worried about how to safely celebrate the holidays during a pandemic. Many people stayed home or had small gatherings if anything at all. Now, a year later, much has changed. There are vaccines against COVID-19, and many aspects of life have returned to normal. But the virus hasn't gone away, and case rates are again climbing in parts of the world as we head into the holiday season. Many have lots of questions. Can we, here in the U.S., have a normal holiday this year? Is it safe to go to parties with crowds of people? Can we finally let our guards down and have a little fun? We're back with Tulane epidemiologist Susan Hassig. She is our resident expert in COVID-19 risks, and she's here to help us sort out how to be COVID-19 safe this holiday season. It's a topic we talked about with her last year around the same time.
Susan, welcome back to On Good Authority.
Hassig
Hello, Keith. Good to speak with you again.
Brannon
So, I'm feeling a strange sense of deja vu here. Have we done this before?
Hassig
Yes, I'm afraid we have. And it's it's a frustrating position to be in.
Brannon
Well, you know, it's November. Mask mandates had been lifted all over. COVID-19 case rates are falling in places. It seems like things are much better than they were last year when we were talking about this. How are you feeling about where we are now?
Hassig
Well, I have mixed feelings about where we are right now. We do have falling case rates. But we are not down to the level we were before the last holiday season yet. In fact, we're almost 50% higher in cases than we were back in October of last year. And while it is dropping, we're losing approximately the equivalent of four airline crashes a day in people still dying from COVID. So as much as it feels like we might be passing to the end of the pandemic and moving that way, we're not there yet. Ninety percent of the counties in the United States at the time of this recording are reporting elevated, sustained or high transmission of SARS-CoV-2. That's even with all of the vaccination that has occurred. And so, I think, while we can feel a bit better about this holiday season and talk about some some ways to make it more fun, I don't think we can let down our guard entirely, yet.
Brannon
So we're not out of the woods?
Hassig
No, we're on the edge of the woods.
Brannon
Well, how are you approaching the holidays this year?
Hassig
I'm probably going to be doing some small gatherings. One with family, but not a widely extended family gathering, and another with friends, kind of a Friendsgiving for Thanksgiving. But everyone is going to be vaccinated that's attending.
Brannon
This is different from your Zoomsgiving last year.
Hassig
Yes, we didn't do anything physical for Thanksgiving last year. So I've made some progress. But I do think vaccination is the game changer for what may be possible this holiday season. And that can be a really great thing, but it could also potentially introduce some challenges.
Brannon
What is your advice for people planning for Thanksgiving? Is it okay to bring back the big family gathering?
Hassig
Maybe. I think it depends on your definition of the big family gathering, whether older relatives are a central part of that event. But I think you, everyone involved in the process needs to think about the fact that we still have some concern about our oldest community members and family members, especially if they have preexisting medical conditions. Even with vaccination, it is those individuals who have wound up, in some cases, in the hospital. And so, I think we want to be careful about the composition of the family gathering and think carefully, and and I would seek input from the people who are most vulnerable about what they are potentially comfortable about.
Brannon
So what does that mean for grandparents? I'm getting a mixed message here. So we can't leave grandma and grandpa out of Thanksgiving.
Hassig
No.
Brannon
How do we handle that?
Hassig
Well, I think everyone that wants to participate in a big family gathering needs to make it a priority. And that means perhaps not doing an office party in consideration that you want to make sure that you're presenting potentially the lowest risk to the family gathering that's of importance to you. So I think it's a matter of of setting priorities in terms of which events you want to invest, you know, your your participation in. My nightmare is someone who is doing a whole series of all sorts of parties, one right after another, leading up to Thanksgiving or to Christmas. And then that is a kind of situation where possibility of exposure, and then they would potentially bring that into the family gathering.
Brannon
So the takeaway is, if you are having a multigenerational event, limit your exposure the week before.
Hassig
That would be my recommendation. And and maybe even since we now have over the counter testing available, maybe they they do an at home test before they join the gathering.
Brannon
Is it okay to have a vaccine policy for family events? And how do you politely say that?
Hassig
I think it's appropriate to have a vaccine policy, and I don't know that there's any way to do it politely. I think honesty and being straightforward is, is probably the most important way to address this because the the responsibility of a host, certainly, is to try and ensure that the gathering that you are creating is as safe as possible for the most vulnerable individuals. Now, I would not put children into the unvaccinated category. Because again, children can be, to some degree, moderated in terms of their behavior, again, in the week prior, and I would hate to, as a grandparent myself, have a family gathering without the grandkids present. But I think that that's something that parents of those children need to think carefully about, but adults who are unvaccinated have an opportunity to be vaccinated. And if they want to participate, I think that it's not unreasonable to make that an ask.
Brannon
So you're saying before, you know, when the invitations go out, you ask about vaccine status?
Hassig
Yeah, say that you you really want only vaccinated people at your event, and at least one shot, preferably two.
Brannon
How do you handle close family members who are vaccine holdouts?
Hassig
I think that it's a very challenging process. And it probably needed to start several months ago, if we're looking at the holidays. But I think part of the process is to not quote facts and figures to them. But ask them why they haven't chosen to be vaccinated, and to get them to open up about what they're concerned about, so that you may be able to steer them towards information that would allow them to change their minds. So I think getting them to talk about their priorities and what they really would like to get out of the holidays may be a great opportunity to help nudge people towards vaccination.
Brannon
So you send Uncle Joe the takeout menu for Whole Foods or something.
Hassig
Well, you can say, "Listen, we'll drop off a, you know, a mini Thanksgiving, and you can join us by Zoom, Uncle Joe. But, you know, we would like to keep Aunt Sally and Grandma Sarah around for, you know, many more holiday seasons to come." And, and COVID is still potentially having an impact on on individuals who have those preexisting conditions, even if they're vaccinated. Not as not as badly as it was prior to vaccination, but it's still a very possible event, especially with Delta being so transmissible. If we weren't dealing with Delta, I think I wouldn't be quite as concerned, but but Delta is so transmissible that I would be really hesitant to have an unvaccinated adult in a in a family gathering.
Brannon
What if your vaccine holdout actually had COVID, a prior infection, and they still haven't gotten the vaccine? Does that change anything?
Hassig
Depending on when they had the infection, if they had been recently infected with COVID, let's say in this last Delta surge, they probably still have some residual immunity. If that's the situation, they should do a rapid or a PCR test right before the, as close to the event as they can, to find out for sure that they're negative. A more distant infection, without subsequent vaccination, is unlikely to provide any useful protection.
Brannon
What is your advice for having kids at these multigenerational events?
Hassig
Well, I'm not entirely unworried about kids, because they can transmit it to others if they themselves are infected. By Thanksgiving, hopefully, we will have the five- to 11-year-old Pfizer vaccine approved for emergency use. And certainly, having children in that age range to receive at least one dose before Thanksgiving would be a tremendous benefit. Keeping kids on kind of a short leash, perhaps not doing a sleepover with a bunch of friends. Children can potentially bring the virus into a gathering, but because, especially under the age of 12, they they can, you know, be reasonably well contained, they're not independently mobile, they can't drive. So you've got some containment in terms of what kinds of activities they're going to be participating in before.
Brannon
Let's talk about Christmas, Hanukkah and holiday gatherings. I'm assuming the same Thanksgiving rules apply that you just talked about.
Hassig
I think it does. And I think what's important about all of these holidays, is that it also depends on who you're bringing together in terms of, even, geographically. How they're distributed within the country, or perhaps even from outside the country. But recognizing that different parts of the country may be experiencing higher transmission, as we get deeper into the holiday season, perhaps the result, as a result of Thanksgiving. I think, you know, looking at what to do for Christmas and Hanukkah and any other festivities, I think you need to pay attention to what's happening at that time. The, you know, the CDC website gives you county-by-county estimates of, of viral transmission, and and that might be helpful in terms of the location where the event is going to be held, and where people are coming from, if they're coming from different locations.
Brannon
What about holiday parties? And let's be real here, there's a lot of pent-up demand, they're going to happen. Can we safely have big holiday parties?
Hassig
Well, I think if you know, the policies that we have in New Orleans are basically put into effect for your holiday party, you know, vaccinated or negative test among consenting adults. You know, then then that's not an unreasonable pathway to follow. But I think too again, if you want to have a big family gathering as well, the timing of those holiday parties may want to be separated in time a bit from the more traditional family gatherings. You know, do you really want to prioritize a workplace holiday party for a safe family gathering? And I think there still may be some prioritization in that regard.
Brannon
If you are someone who always hosts a big party for the holidays, what should you be thinking about? And what kind of safety precautions, as a host, should you take?
Hassig
I think you should be right up front with your guests saying, "Listen, we want to have fun. We don't want to have to, you know, be worried when we're celebrating the holiday event or the the occasion. And so, we're asking that everybody be either vaccinated or have a negative test, very close, you know, within 48 to 72 hours of the event to join us, and we'd love to have you."
Brannon
So what's your advice for someone who gets a lot of invites to holiday events? Who may be a little confused about what what's risky, what's not risky? Should I go to all of these events, or should I, you know, just say, "Hey, I'm only going to go to this friend's party, and maybe not that one, because I don't know a lot of those people"? And you know, honestly, people say they're vaccinated. I mean, you don't know if that's actually the case. And at a party, you're close talking to people. So what's your advice?
Hassig
I think prioritizing is a good idea. And I think one of the things you mentioned, the the degree to which you have knowledge or connection already to the individuals that are going to be attending, or the majority of the individuals that are going to be attending, is probably a good metric. You know, maybe this is the season to have fun, but with people that you already know. It might not be the time to break out and and have a big party with a whole bunch of people that are on a social media invite list, because then you really have no idea. Because everybody that's coming to the party is bringing their behavior for the last week into the party space, whether they're vaccinated or unvaccinated.
Brannon
As 2021 draws to a close, are we nearing the end of the pandemic, or is COVID-19 here to stay?
Hassig
Well, I don't know if we're nearing the end of the pandemic. And unfortunately, I suspect the answer is probably not yet, because this virus has demonstrated a tremendous ability to rebound and kick us where it hurts multiple times. We have a tendency, at least in this country, of reducing the mitigation measures that will effectively control the virus too soon, dropping them too quickly. And thus, it it prevents us from, you know, effectively quelling the virus much more aggressively, by maintaining some basic mitigation measures through a period of quote-unquote low transmission. But that's not where we are right now in the United States as a country. And you know, that's the that's the real challenge with this virus is that it can rebound so quickly. Delta has demonstrated, as a variant of SARS-CoV-2, that transmissibility can overwhelm even the vaccine protection as it, as far as infection goes. And so, I think we need to be aware of that and recognize that until we get much more of the world's population vaccinated, the United States is going to be constantly struggling to keep this under control. And so, we need to get our unvaccinated Americans vaccinated, and we need to get the rest of the unvaccinated global population vaccinated, so we don't get new variants. And that's what's going to stop the pandemic.
Brannon
Susan, thank you for joining us here today and keeping us safe this holiday season.
Hassig
It's always good to talk to you, Keith. I really enjoy our conversations.
Brannon
Thanks for listening to this edition of On Good Authority. For more information on other episodes, please visit our website tulane.edu/on-good-authority. If you like our show, please subscribe using your favorite podcast app.
Host: Keith Brannon
Editor: Marianna Boyd
Producers: Marianna Boyd and Audrey Watford
Production team: Marianna Boyd, Keith Brannon, Will Burdette, Faith Dawson, Roger Dunaway, Aryanna Gamble, Daniel O'Connell, Mike Strecker and Audrey Watford