Image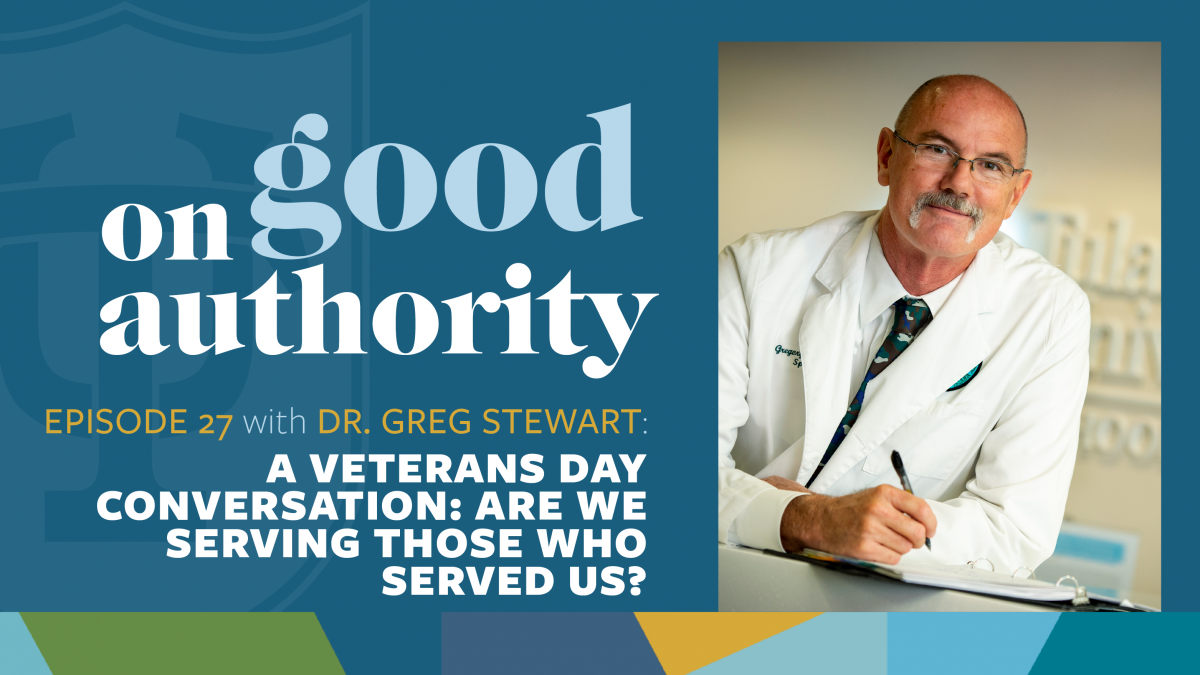 Military veterans endure, perhaps, the most physically and mentally demanding profession, from which few walk away without consequence. Medical care for veterans after they have served their country is a crucial resource for life. Tulane University's Dr. Greg Stewart joins On Good Authority to discuss the challenges some of our heroes face when it comes to health care and a new treatment concept for veterans.
Transcript ▾
Speakers
Roger Dunaway, assistant director of Tulane Public Relations
Dr. Greg Stewart, W. Kennon McWilliams Professor in Sports Medicine, medical director for the Tulane University Center for Brain Health
Dunaway
Hello and welcome to On Good Authority, the podcast by Tulane University, where we bring you leading experts about issues of the day and ideas that shape the world. I'm your host, Roger Dunaway. Today is the national observance of Veterans Day. And while we should all take a moment to recognize and thank the men and women who have served in the armed forces, it's also important to acknowledge the challenges some of our heroes face when it comes to health care. What are the common hurdles for veterans seeking quality care, and how do we treat their mental and physical wounds from one of the world's most demanding professions? I am joined today by Dr. Greg Stewart, the W. Kennon McWilliams Professor of Sports Medicine in orthopedics. He is also the medical director for both the Tulane Center for Brain Health and the Professional Athlete Care Team. He's also co-director of the Tulane Center for Sport. Dr. Stewart, welcome to On Good Authority.
Stewart
Thank you. Happy to be here.
Dunaway
Hi, Dr. Stewart. Historically, how have veterans been treating when it comes to their health care?
Stewart
So there's two ways that the warriors and our military are treated. They're treated while they're active duty by the Department of Defense. And then once they're finished with their military duty, they are treated through the Veterans Administration. And while there's some continuation, it's two different systems. So they actually transition from the DOD, or Department of Defense, into the VA, or Veterans Administration, health care. And not everybody who served is eligible for VA services. And and that's got its own set of issues. But a lot of the veterans either don't have easy access to that, or they're not comfortable with the care that they get.
Dunaway
Can you walk our audience through some of the misconceptions when it comes to veteran care?
Stewart
A lot of the veterans, they're feeling that there's always someone who deserves it more than they do. So they have, at this point, volunteered to go and put themselves at risk for their friends, for their family, for their country. So they go and do that and put themselves potentially in harm's way. And part of that is to think of themselves second. And so, this still happens even once they go to look at receiving care. So often, they feel like that someone else is more deserving, so they don't want to go in and take up a spot. They don't want to take resources that could help someone else who maybe needs them more than they do. And so often, they just won't access the health care that they need, thinking that they are then helping someone else.
Dunaway
So how do you reach the individuals who may be living in kind of a silo and convince them to seek treatment?
Stewart
You know, a lot of this is very much word of mouth. So you have to get into the community. It's difficult, because I think that there's, even now with some of the specialized care that we're providing, there are individuals that are in their basement, you know. That are that are kind of hidden, that don't want to seek care, that they have significant issues with post-traumatic stress, or depression or anxiety, or substance use, that's more self-medicating and mild traumatic brain injury that, you know, a lot of these invisible wounds. That's kind of the signature of Iraq and Afghanistan, that these individuals are hard to reach. They're almost hiding. And I think that the other piece to that, that you know, everyone gets so worried about is the suicide problem with veterans. And that's a big issue. Look at the different things that lead to suicide. Those become major depression, substance use or abuse, underdiagnosed, misdiagnosed mild traumatic brain injury are some of the top areas that need to be addressed in preventing this veteran suicide. Interesting, post-traumatic stress in and of itself is not a high indicator for the potential for suicide. So, really, we need to look at some of these other areas in order to really help.
Dunaway
One year ago, Tulane University launched the Center for Brain Health under your direction. Its sole mission is to care for military veterans, regardless of their discharge status. Since its opening, Dr. Stewart, what has surprised you the most and what hurdles have you encountered?
Stewart
I think the difficulty in finding the individuals that really need this care. So I think that becomes important, something that we continue to work on, you know, with this we're part of a network across the country doing some of this. And some of the other facilities and institutions that are out there, the kind of the mothership, Marcus Institute for Brain Health in Colorado, Shepherd Center in Atlanta with their share project, are having some of the same problems that we are. So how do you find these these individuals? It's been frustrating for us, because we know that we have a very unique specialized level of care for individuals with some of these invisible wounds, and we're not able to find the people who would most benefit. So I think that's frustrating. Some of that selflessness that these, that the veterans have, is very humbling and very interesting to have to deal with. Because they will come in and talk about how they don't want to take up these resources because someone else would better benefit from them. So we have to talk to them about the importance of them going through this, so that they can help and be better for their family, and their friends, and their other buddies that may need these services. I was talking with a veteran recently coming into the program, and kind of the comment that they made is that they know that they were once whole and they're not sure how to get back to being whole. And and I think that that's kind of what we're here to help with. And I think that's where this comprehensive program comes into play. Because when you talk with them, it's not just that they need behavioral health services, they don't just need some counseling. That this becomes as much mindfulness as much spirituality, that they don't know how to well describe, and talk about, and discuss what's wrong with them. So things like music therapy, art therapy, journaling, these kinds of things become really important, because they're not sure how to express themselves all the time, verbally. So giving them these other tools and how to deal with their feelings and their concerns becomes important.
Dunaway
Dr. Stewart, can you share with our audience a broader view of the new concept you developed over the last year to treat veterans?
Stewart
It's a comprehensive Mind Body Spirit approach that we do. And, you know, we talked about some of the physical aspects of what's going on and that becomes important. But I think as we talk about some of these invisible wounds, I think it's important, as everything ties together. So some of the physical aspects, some of the body aspect, becomes issues with regard to pain. So they have joint injuries, potential blast injuries, they have things like this that they're dealing with that are that are physical, that potentially prevent them from sleeping, so they don't sleep well. And as we all know, once you're sleep deprived and fatigued, the issues with regard to mental health change, so kind of a lot of that mind piece starts kind of declining, and then we get into the spirit aspect. So it's coming up with a way to deal with this whole person, again, Mind Body Spirit, as we interact and deal with these individuals.
Dunaway
And what's been your takeaway from this new treatment?
Stewart
It works incredibly well. And I think one of the other things to keep in mind, is that as you get into the military, you're basically taking an entire community and moving it to a front line, essentially. So you've got cooks, and barbers, and maintenance, and everyone else that's there that has to stay in shape. And so, we see individuals who are cooks, who'd maybe been out exercising, and a mortar round comes in and explodes near them, or they've ended up being kind of brought into some of the patrols and going out. So I think that, that this isn't just about the guy or girl who kicks the door in, you know when we think about the military. This is this is the entire community that you're moving over, in order to bring them in. And you've got this whole group of individuals at all these different levels, so you have all these different experiences that they're bringing with them as well. And so, we see people who come in, and you put them in a yoga class, and you know, you talk to them ahead of time, and they're like, "I'm not going to do yoga, really? That's not something I'd ever considered doing." Or music therapy, "I can't sing, I can't play an instrument." And at the end of this, this program, coming out and saying, "Oh my gosh, not only was yoga great, but now I'm doing it with my spouse." Or we do the the end, the commencement, and you have these these warriors who have written a song in order to express kind of what's going on with them and and how they feel and some of this internal stuff and how they've become to deal with that. So I think that, you know, as we get into that treating the body, which is a, which is a big piece of this and very important, that we have to keep in mind that the body is tied to the mind and the spirit, and that it really takes all of these different aspects in order to make them better. At the end of the three-week intensive outpatient program, they have made very impressive changes. The spouses often are, in hearing and talking with the veteran while they're in the program, feel like that we're handing them back a more whole person. You know, and we explain to them that what we do is kind of part of a journey. So it's not the it's not the end, it's just part of the journey, and they've got to continue on with these things.
Dunaway
And just to be clear, this treatment, it works with some of the worst cases, traumatic brain injury, PTSD, and anything beyond that?
Stewart
It does. And I think it's important to keep in mind, our our side of the program and the network is primarily looking at mild and moderate brain injury with post-traumatic stress, mental health issues, some moral injury. But it really doesn't matter. What we're seeing is, in talking with military veterans and some of the special forces and just in general, is that no one talks to them at the end of this about spirituality, and about the moral injury, and some of the mindfulness components of of what we do. And so, it becomes really important for them in really healing. And I think the thing to keep in mind is that, you know, think about how much time and effort and money goes into training them. So you know, there's the whole boot camp with a different kind of training, and even once they're out of boot camp, and now their different jobs that they're assigned to, and additional training even beyond that. At the back end of everything, we don't de-train them or untrain them. And so, we've taken them to this point, and we don't do as good a job of bringing them back.
Dunaway
As a doctor, how rewarding is it to provide that necessary treatment that those veterans need and help them back into everyday life, where they become productive citizens and have a good quality of life?
Stewart
I tell you that that is probably one of the most rewarding things that that you do. And it is, you know, countered on an individual basis. You can go back and say, you know, we've seen this many guys or this many girls and this many veterans, but it becomes one of those things where it's the the individual stories. And, and when you come back and see them later, and and they see you and how excited they are to see you and and talk about how the program really did change their lives and made them healthier. It's just, it's quite the experience. It's very humbling on our part. We tell all of these individuals that we're honored to be able to provide this care and to be able to help them and to be able to do these things.
Dunaway
Can you tell us how the veterans have responded to the treatment?
Stewart
One of the things that's been so interesting with the veterans is that one of the things we look at is a state of hope scale. And we give that even at the beginning and the end of the three-day evaluation. And the significant increase in these veterans' state of hope of, "Oh my gosh, I found a place," that can bring all of these resources and all these individuals to bear has really been very, very humbling in dealing with them. And, you know, they come back, and some of the gifts that they've given back, you know, a helmet, or having an American flag put together with things. You know, you you understand kind of what makes, what's important to them, and then having them come back and text pictures of their family, or a birthday party with their kids, or or the kinds of things that are so important to them. And those kinds of stories are really, I think, what is most impactful for us.
Dunaway
When you began treating veterans at the Center for Brain Health, did you think you might have to take a nontraditional approach?
Stewart
So we knew coming in that we needed to do some of these other things. But you know, I'm a medical doctor trained in Western medicine. So I kind of came in with my own bit of skepticism as to how important this would be. Knew that was part of the program, knew that's what we're putting together, but then to interact with some of our providers and to hear them, and then see the response and the interaction from the from the veterans, it has very, very much made me a believer in all of this. You know, I thought it would be important, but I don't think I realized how important it would be. And you know, the response from the veterans, the response from individuals in the community that have helped us with all of this, with, you know, providing the art, the music, the yoga, canine services, the integrative therapy, the spirituality, all of these things has just been phenomenal.
Dunaway
All right, Dr. Stewart, is there anything else you'd like to share with our audience about veteran care?
Stewart
I think that the welcoming home and the thanking them for their service is important. I think that equally as important, if you're going to thank a veteran for their service, thank their family, thank their spouse, thank their kids for their sacrifice, because they have allowed the veteran to serve. So I think that becomes probably the other important thing for people to think about, especially on this Veterans Day, as we honor those who have served and come back, to also remember that while they were serving, their families were also sacrificing.
Dunaway
Dr. Stewart, thanks so much for joining us today.
Stewart
Thank you for having me. I think this is an incredibly important topic, and I appreciate y'all covering it.
Dunaway
And thank you for listening to the latest edition of On Good Authority. For more information on future episodes, visit our website tulane.edu/on-good-authority. If you like our show, please subscribe using your favorite podcast app.
Host: Roger Dunaway
Editor: Daniel O'Connell
Producers: Marianna Boyd and Audrey Watford
Production team: Marianna Boyd, Keith Brannon, Will Burdette, Faith Dawson, Roger Dunaway, Aryanna Gamble, Daniel O'Connell, Mike Strecker and Audrey Watford