Image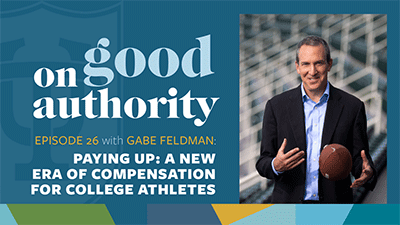 Tulane University's Gabe Feldman, one of the leading voices in the U.S. in the field of sports law, discusses college athletics' new, profiting landscape, one where college athletes can now receive almost unlimited compensation for the first time. It's a period unlike any other in the history of college sports and the beginning of a time of great uncertainty. What does the future hold for the NCAA? Is this the new wild west for college athletics? What will happen to the decades-long system that has controlled the multibillion-dollar industry that is college athletics?
Transcript ▾
Speakers
Roger Dunaway, assistant director of Tulane Public Relations
Gabe Feldman, Sher Garner Professor of Sports Law, Paul and Abram B. Barron Professor of Law, director of the Tulane Sports Law Program, co-director of the Tulane Center for Sport
Dunaway
Hello and welcome to On Good Authority, the podcast by Tulane University, where we bring you leading experts to talk about issues of the day and ideas that shape the world. I'm your host, Roger Dunaway. Today we're talking about the new landscape of college sports. For the first time in the history of the NCAA, college athletes can now receive almost unlimited compensation. So far, there are few guidelines for policing these new moneymaking opportunities, and questions remain about how this new era will affect amateurism rules. What does the future hold for the NCAA, and have we entered into a wild west for college athletics? I'm joined today by Gabe Feldman, the Sher Garner Professor of Sports Law and director of the Tulane Sports Law Program. He is also co-director of the Tulane Center for Sport. Gabe, welcome to On Good Authority.  
Feldman
Thanks, Roger. Thanks for having me.
Dunaway
All right, Gabe. Let's get started with Alston v. the NCAA. This was a landmark Supreme Court decision when it came down in late June. Can you explain the outcome really from both sides?
Feldman
Sure. And you used I think the right word, landmark. This was the first case the Supreme Court has decided involving the NCAA and antitrust issues since 1984. And that 1984 case was known as the Board of Regents case that changed college sports television more dramatically than anything else, because it did not allow the NCAA to control football television broadcast rights. And it led to competition among the conferences and individual schools to compete over broadcast television. So that's why back in 1983, there were 12 games or so shown per an entire season on television. And now there are more than 12 games shown on any given Saturday morning or Saturday afternoon. So you can pretty much watch any college football game you want on television because of that 1984 Supreme Court decision. We hadn't had the Supreme Court address the NCAA since that Alston case in June, and the NCAA has argued since 1984, that even though they lost that case, the Supreme Court said look, the NCAA is different than most competitors, they need to cooperate for their product to exist. They need to have the schools reach agreements on when to play the game, where to play the game. So they should be entitled to special deference, special treatment under antitrust law. And really, they shouldn't have to deal with all these pesky antitrust cases, because it interferes with them being able to run their business and have these sporting events. And the Supreme Court, this past summer, disagreed with the NCAA and said no, you're not getting an exemption from antitrust law, you're not getting the special protection under antitrust law. You have to defend your rules, like every other company does, or group of competitors does. And the rules that were in question there were restrictions on benefits related to education for college athletes. And the NCAA said, look, we get to decide how we define amateurism. We get to decide what athletes are able to be compensated. That's what the Supreme Court had said back in 1984. They should uphold that now. And the Supreme Court said no, it is illegal for you, as an association, to restrict the education-related benefits that college athletes can receive. But that's sort of the broad strokes of it. And it's the first time the Supreme Court has ever held any NCAA rule related to amateurism or eligibility is illegal under antitrust law. So although it's narrowly related to education-related benefits, the thought is it might open the door for future litigation that could take down the entire amateurism or collegiate model.
Dunaway
All right speaking of benefits, in a bombshell announcement, the Southeastern Conference became the first league to really weaponize the Alston case by implementing education-based benefits for some of its athletes. So now, SEC athletes in football and men's and women's basketball can receive up to $6,000 each year in benefits, such as computer equipment, internships, and I'm sure there's a whole lot of other things. But how much of a competitive advantage is this for the SEC?
Feldman
Well, I think it's going to be a competitive advantage, but it's going to be another piece that appears of the recruiting arms race, and that SEC schools, first, are going to be competing with each other based on that, and then presumably, they'll be competing with other schools and that other schools will probably be pushed into doing that as well. I think the positive of this, unlike some of the other competition we see for college athletes, at least this is competition for education-related benefits, at least in theory this is helping the student part of student athlete and leading to an academic benefit as opposed to another waterfall on campus for athletes or another laser tag facility, that this is more in line with the academic mission of the schools and the NCAA. But there's two components, though, that you mentioned. One is what's called in kind benefits, and that's the musical instruments, science equipment, laptops, stuff that's not cash but related to your class. There are no limits on what they can do other than what the school puts on it. And then there's the cash part of it, where the Supreme Court said the NCAA cannot limit how much cash athletes are paid, based on academic achievement, below $5,980. And the conferences now have the ability to decide what limits they want to put on it. The SEC announced they're not going to do any limits as a conference. Instead, it's up to the schools to decide. So we might see SEC athletes getting better computers, better musical instruments, all that sort of stuff. But also, each school could decide if you get a 3.0, if you graduate, if you do something academic, you get $5,980. There were complaints that schools wouldn't be able to afford the full cost of attendance a few years ago, this is now money on top of that. There's a really important question of beyond the Power Five, or even sometimes within the Power Five, can schools really afford to keep spending money like this? I have an answer to that. I think it's yes. But then I think maybe the other question is do we want them to keep spending money on athletics? And here, this is at least geared towards academics, it's hard to see this not being used as a recruiting advantage.
Dunaway
All right Gabe, let's move on to unionization. Last week, the National Labor Relations Board stated in a memo that student athletes at private schools should be treated as employees of the school. Would you say that this is yet another blow for the NCAA? And is this realistic since it doesn't cover state schools as well?
Feldman
It's another possible threat in a year, or several years, filled with threats. And as you said, there's a couple important limitations on this. One is it's the National Labor Relations Board, and they only have jurisdiction over private employers. So although that would cover a school like Tulane, it wouldn't cover most of the football programs in the country that are state schools and are therefore public employers. The other one, and maybe even more significant, is this was an advisory memo essentially written by the general counsel of the National Labor Relations Board. And it is not binding on anyone. It's not even binding on the NLRB. The NLRB General Counsel had written a similar opinion about six years ago. And that made headlines but didn't change the law. So I think it's another signal of how people outside of athletics, and how people in positions of authority, see college sports and see the potential unfairness and possible ways for athletes to get more rights. But it is not a change in the law yet. It may lead to changes in the law down the road. But I still think it's far behind all the other things we've talked about that might change college sports, including the actual courts, Congress, and state laws.
Dunaway
Let's say that they did go forward with a ruling, and all schools had to pay their top athletes. Well, how would that affect school funding for, say, Olympic sports?
Feldman
What's interesting is if they are given the right to be employees and unionize, there wouldn't be any order of what they would have to pay, they would just have to negotiate with the athletes. And that might lead to greater pay for some of them. But it also might lead to lower pay, that that the athletes who are getting the full scholarship who are not the starters, they might be worse off through collective bargaining. We just don't know. But it would fundamentally change the relationship between the schools, the coaches, the athletic directors, and the athletes. I think there's no question. And it would raise a lot of challenging issues, both with respect to how, if they have to pay more for football and basketball, how do they support the Olympic sports? And then also would some schools say we're just going to get out of that model? If that model is based on the athletes practicing a certain number of hours and playing a certain number of hours and generating this much revenue, we'll go to the D3 model or the Ivy League model, where we will still have college football, it just won't be at the level it is right now. And that may be where we're headed anyway. A split between the schools that are willing to pay hundreds of millions for college athletics and those that want to do it as an add on to academics, but but don't want to spend that much, or don't have the ability to spend that much money on it.
Dunaway
All right, let's move on to the NIL. Can you provide some background to our audience about the NIL and how it benefits student athletes?
Feldman
So NIL is an acronym that stands for name, image and likeness. In the rest of the legal world in this country, it is known as the right of publicity, which basically means that every person in this country owns the right to their face, to image of them, to any other likeness, to their name, to their identity. And that they can either prevent other people from using it, or sell it, so that people can use it. But just like you have the right to own your car and prevent anybody from using it, and if you want to charge money for someone to use it, you can. Same thing with your name, image and likeness. You own that. For over 100 years, the NCAA has had rules in place that say that college athletes are not allowed to monetize their name, image and likeness, as part of their broader amateurism model. And the theory was that to maintain the distinction between college sports and pro sports, you had to prevent college athletes from earning compensation based on their athletic ability. Which really has meant two things. One, you can't pay them to play. And then two, you can't pay them for the use of their name, image and likeness if it's based on their athletic ability. This year, the NCAA now allows college athletes to receive compensation from third parties for the use of their name, image and likeness. Now those rules vary from state to state and school to school for reasons we can talk about. But that is the biggest change in college athlete rights in our lifetimes, and maybe our parents' lifetimes, and maybe in anyone's lifetime, because of that very hard line that the NCAA had drawn against athlete compensation, all of a sudden a fundamental pillar has been removed. College athletes now have exponentially more rights to monetize their NIL, which means they can do commercials, they can do endorsement deals, they can do social media appearances, they can get paid for their autograph, they can host camps and clinics and promote that using their name, image and likeness. In other words, they could do anything that every other student on campus was allowed to do, and every other person in this country was allowed to do, now without fear of repercussion from the NCAA or the conferences.
Dunaway
Gabe, you mentioned state to state. Does the fact that most states now have laws make the playing field uneven when it comes to how much an athlete can make, according to the state in which they live?
Feldman
Yeah, and that's been part of the issue that's come up, is the NCAA has always pushed for uniformity in rules. And their argument is, just like professional sports leagues, you need to have the same rules across teams because you don't want to give somebody an unfair competitive advantage, or in college sports, an even greater unfair competitive advantage that they may already have based on where their school is located, tradition, history, things like that. And so, the NCAA was trying to put together a national restriction on NIL that would be more permissive but would still have certain guardrails or parameters in place. The problem with the NCAA's approach was that California, now two and a half years ago, passed a law that said college athletes are going to be able to make money off of their name, image and likeness. And then other states followed suit because those states didn't want their athletes to fall behind. And so, by now we have almost 30 states that have laws on the book for NIL, many of those took effect July 1 of this past summer. So on June 30, and all this, in 10 years we'll be talking about this as this was just this massive change, but we're living through it, and it's all changing so quickly. But on June 30, so the day before these state laws were gonna take effect, the NCAA said, all right, we're instituting an interim policy on NIL. We're not going to put that national policy we originally had in place because we have all these different state laws. So the interim policy says, if you are in a state that has a law, follow that state's law and the restrictions it might have on NIL. If you're in a state that does not have a law on the books, then you, institution, get to decide what the NIL rules are. And the only thing the NCAA is going to restrict is pay for play or pay as a recruiting inducement. As long as it's an NIL deal, they'll allow it, again, unless the state has a law in place, or the institution decides not to allow it. And so, we have ended up with now kind of tiers. We have schools and states that have laws that are pretty restrictive on what college athletes can do. So some of the state laws say you can't use the marks and logos of the school, so you can't do a commercial wearing the jersey. Some say the institution can't be involved in helping you get the deal. Some say you can't use institutional facilities. Some say the restrictions, and essentially what will be group licensing, that others have some of those restrictions, but not others. And then the schools that are in states that have no laws on NIL, some of them have said, you can do anything you want, college athlete, you can do a deal wearing the jersey as long as you get permission from the school. We can help you set up the deal. We can't be paid for play, but we can do everything else.
Dunaway
Do you foresee all 50 states eventually having a law?
Feldman
I mean, that was the thought. And there was a race for a lot of states to pass laws, including Louisiana, right before that July 1 date, so that they wouldn't be disadvantaged compared to the states that had laws in effect. But as it turns out, at least for now, the schools that are in states that don't have laws are at an advantage, because all of the laws that are in effect, no matter how permissive they are, have some restrictions. And those restrictions are more restrictive than the nonexistent law in those other states. So I think there's now been a sort of a pause button hit by a lot of these states to say, wait a minute, do we need the law? Because our athletes are doing fine, and maybe we should just leave it alone. Eventually, I think whether it's all 50 states adopting law, or Congress adopting a federal law that would provide uniformity across all the states, or the NCAA doing a final policy, a permanent policy that tries to put consistency, I think that will be the equilibrium. I think that's where we'll end up. I'm not sure how long it takes to get there, or what will be the mechanism for it. It could be through the states, it could be through Congress, it could be through the courts, or it could be through the NCAA. But the fact that we have all four of those variables, I think just highlights how complicated and unpredictable a situation we're dealing with right now.
Dunaway
So I know you work with Tulane's athletics department on the NIL. How is Tulane handling this with its current student athletes?
Feldman
Yeah, that's a great question, and I have to give credit to Troy Dannen, the Tulane athletic director, because he has been progressive on this issue from day one. Very early on, Troy, with other folks in athletics, and then folks over at the Tulane Center for Sport, came together to work on putting together a plan to help educate Tulane college athletes as to how to maximize their ability to profit off their name, image and likeness. How to do it in a way that is compliant, that protects their legal rights, that protects their reputational risks, and also sets them up for creating a brand after they leave college. Because as we know, most athletes in every school are not going to turn pro. If they do turn pro, that's for a relatively short period of time. So how do you set yourself up to not just think about four years, but the next 40 years? And how do you make NIL part of that? And, and it fits in well with, I think, Tulane's interdisciplinary approach, with their focus on entrepreneurship, on building skills. And so, we've got a really good Wave Brand Works program there where athletics is already educating college athletes in this space, and Tulane has been way ahead of the game.
Dunaway
Gabe, right now with where we are with the state of the NIL, is there any way that the conference, or the NCAA, or the even the school can police the NIL effectively?
Feldman
So there is, but the NCAA has said, in part because of the outcome in the Alston case, and the Alston case said, you, the NCAA, as an association can't agree to these restrictions, but individual conferences can. So after that decision, the NCAA, maybe because of that decision, or maybe for other reasons said, all right, we're not going to introduce a national NIL policy. Instead, we're gonna allow individual institutions to do it. So unlike every other area with the NCAA bylaws, there is no real NCAA enforcement mechanism, because there are no NCAA rules specific to NIL, other than the two I mentioned. So it's really on the institutions. And the problem with institutions policing themselves is just like in any area, you're probably not going to turn yourself in, particularly when there's nobody else watching. And there's no other fear of the NCAA coming down on you. And then there are the states. The states that have state laws in place, they, in theory, have enforcement mechanisms, just like they would for violation of any other state law. But most states are not really looking closely at this and don't have the resources to look closely at this. So it's a little bit of a, lawless is probably saying it too extreme, but it but it is sort of mostly unregulated. What the NCAA could do is if there's a deal that's clearly pay for play, they could investigate that, and they could enforce the rules there, just like they would with any pay for play deal. So even though NIL is permitted, pay for play is still not permitted. That's still a violation of other NCAA bylaws. So there is still that overarching oversight. But for the most part, this is a pretty much do what you want.
Dunaway
So there's a bigger topic at play right now that not a lot of people know about. And I know it's something you've been working on, Gabe. It's called the Athletes' Bill of Rights concept. Can you shed some light on this and what it would mean for college athletes going forward?
Feldman
Sure. So there's been movement, again, started at the state level with name, image and likeness legislation. And three years ago, five years ago, that was a sort of very hot button controversial issue. I think at this point, most people agree that college athletes should be allowed to make money off their name, image and likeness. But the discussion now has moved past just NIL to broader athlete rights. So what are those broader athlete rights? Well, there's greater health care, greater insurance, lifetime academic scholarship. So if you leave school early or just have issues, you can always come back and finish your degree. And other things around it, primarily around health and safety and education, but but other things as well. And there was a bill introduced by Senators Booker and Blumenthal last year. So two democratic senators, that was an Athletes' Bill of Rights that said, college athletes are entitled to not only name, image and likeness, that was sort of, of course. There was also greater health care, greater insurance, greater educational benefits. And then, the big one that I think scared, scared people in college sports was that athletic departments that generated a certain amount of revenue had to share a percentage of that revenue with the college athletes. So that would be the TV money, ticket revenue. That's the that's the sort of Holy Grail for all athletes, but particularly college athletes, because pro athletes already get a share of revenue that the leagues make, college athletes do not. That was the sort of broad Bill of Rights. And there was a lot of pushback on that. And there's been a modified Athlete Bill of Rights, introduced actually by a republican senator, that doesn't have that revenue sharing aspect of it, and has more modest gains on the other areas, health care, insurance, education, but still pretty significant gains. And the idea is that all right, we're going to give athletes these rights, but then in exchange, the NCAA gets greater protection. So the NCAA gets some sort of antitrust protection, some sort of protection from state law, but it provides this much larger set of minimum rights for college athletes than they have now. And not only at the power schools, but potentially all the way down to Division Two and Division Three. So that's where the debate is, that there are some laws that have been introduced, that what I call just NIL bills. And the others are NIL plus, and NIL plus is more along that Athlete Bill of Rights.
Dunaway
We've touched on this a few times throughout this podcast, but the future of the NCAA, and I know you've spent the last year working with the uniform law commission in drafting a model act for states to adopt, where are you on this process? And how do you think it'll play out?
Feldman
So we have the uniform law commission, which is a group of lawyers representing all 50 states across the US. So for a lot of people, it's their nightmare, having that many lawyers from that many states in one room together, but their charge is to identify areas of state law that can benefit from uniformity and then draft acts that all states can adopt. And so, name, image and likeness was identified as one of those areas. Starting about a year ago, I helped them draft that law. It was approved earlier this summer, and now they're at the stage where they are approaching individual states to try to convince them to adopt the law so that every state will have the same law. They're also working with Congress to say that Congress can work together with the individual states to provide a mechanism at the federal level and the state level to again, achieve uniformity. I think that needs to happen. The question is sort of, the future of the NCAA hinges in part on whether they get protections, whether they get uniformity, but it also hinges on how they decide to reorganize. Troy is a member of the NCAA's Constitutional Convention Committee that is meeting weekly to try to figure out whether they need to modify the NCAA's constitution and their mission and their role. So they may decide to change it themselves. The courts may change it by just gutting the power of the NCAA. The conferences may revolt and try to break away. There are lots of different variations. But even if the NCAA as we know it today goes away for whatever reason, somebody's got to replace them. Somebody has to govern college sports. Somebody has to run these tournaments. Could it be done a different way? Sure. Could it be done at a different level? Sure. But someone has to do it. Someone's got to make decisions. Someone's got to provide that unifying governance entity.
Dunaway
Gabe, when you talk to presidents and athletic directors, can you share some of their thoughts about this new landscape?
Feldman
Yeah. I mean, I can say generally, the reactions have been pretty consistent. Which, summing up, would be what is going on? How do we get this under control? How did we let it get here? I think there is general consensus that the current system is broken. And it's broken because of all the incentives to spend money in ways that aren't necessarily consistent with the academic mission. That a lot of decisions are made where academics come second or third, and that college sports have become professionalized in lots of ways. The only way it's not is the pay for the athletes. And that it seems unfair to continue just restricting the athletes' rights, while not trying to reform other areas of it. So I think there's a consensus that they need to reform the other areas of it, but no one knows exactly how to do it. And also, even if some people think they know how to do it, keep in mind, the NCAA represents hundreds of thousands of college athletes and institutions. And some of them are big time football powers in Division One, some of them have no football at all, are in Division Two, Division Three, and then lots are in between. And there's no consensus on how it should be governed and what changes should be made. But again, I think, given the pressure from Congress, the pressure from the states, the pressure in the courts, that they realize now, if we don't change, the change is going to be forced on us.
Dunaway
Gabe, is there anything else you'd like to share with our audience about this new era for student athletes and college sports?
Feldman
I would just say that it is a time like no other in college sports. It really, we are living through history. And we've been saying that the NCAA may be at a tipping point for a long time. I think this may be the tipping point.
Dunaway
Gabe, thanks so much for joining us today.
Feldman
Thanks for having me. My pleasure.
Dunaway
And thank you for listening to the latest edition of On Good Authority. For information on future episodes, please visit our website tulane.edu/on-good-authority. If you like our show, please subscribe using your favorite podcast app.
Host: Roger Dunaway
Editor: Daniel O'Connell
Producers: Marianna Boyd and Audrey Watford
Production team: Marianna Boyd, Keith Brannon, Will Burdette, Faith Dawson, Roger Dunaway, Aryanna Gamble, Daniel O'Connell, Mike Strecker and Audrey Watford