Image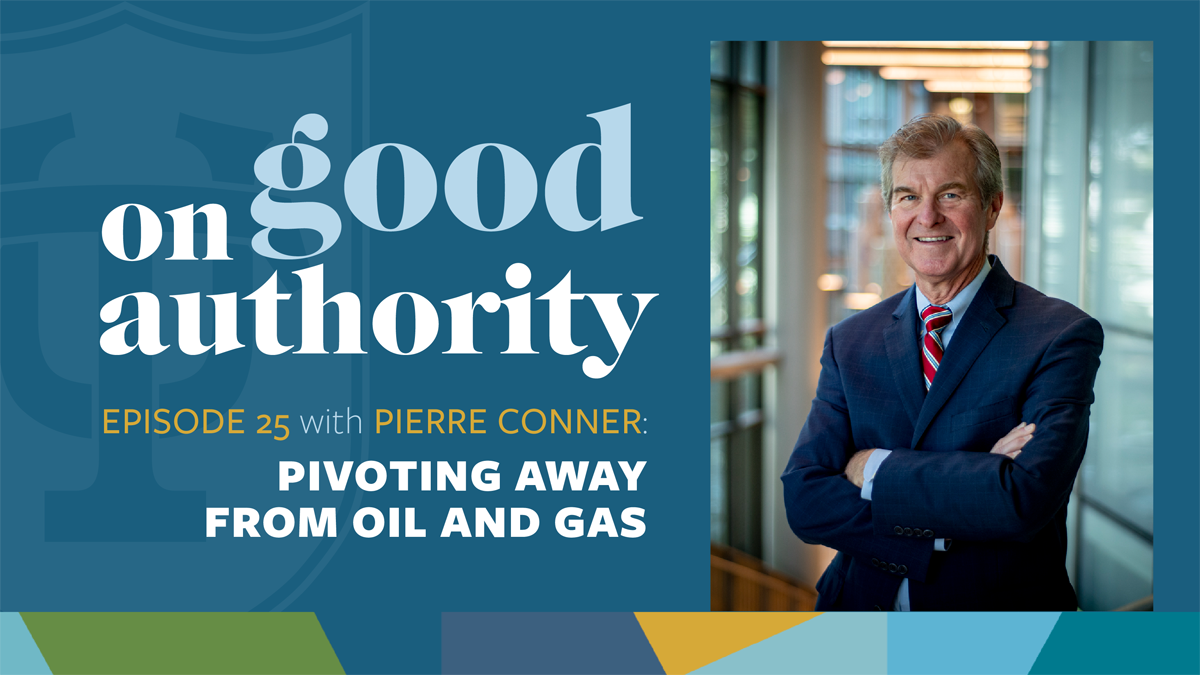 Tulane Energy Institute Executive Director Pierre Conner of Tulane's A. B. Freeman School of Business talks about what's in store for the energy industry as the U.S. and other countries transition away from fossil fuels. Which states are leading in the race to become more sustainable and how will oil and gas dependent states like Louisiana adapt to a rapidly changing energy landscape?
Transcript ▾
Speakers
Keith Brannon, director, Tulane University Public Relations
Pierre Conner, executive director, Tulane Energy Institute, A.B. Freeman School of Business
Brannon
Welcome to On Good Authority, the podcast by Tulane University, where we bring you leading experts to talk about issues of the day and ideas that shape the world. I'm your host, Keith Brannon. Pierre Conner is executive director of the Tulane Energy Institute. And he's here today to tell us about the future of energy here in Louisiana and across the country. He's been in the energy investing and oil and gas sectors for decades. But he's preparing his students for an industry that will be radically different. The U.S. and other countries are shifting away from oil and gas to cleaner energy sources. Earlier this year, Royal Dutch Shell said that its oil production likely peaked in 2019. BP is planning for a 40% drop in its oil and gas production over the next decade. And one of the country's biggest automakers, General Motors, plans to entirely phase out gasoline powered cars by 2035. Oil giant Exxon Mobil is forming a business unit focused exclusively on technologies to lower carbon emissions. Pierre, these are some big changes ahead for your industry. Welcome to On Good Authority.
Conner
Hey, thanks very much, Keith. And thanks so much for having me.
Brannon
When President Biden said in the debates last year that the U.S. should transition away from oil and gas, people here got nervous. But you've been saying those in the industry weren't surprised. What is the sense from those in the business about the future?
Conner
That's right. I think there was maybe a little surprise that it was said out loud. But look, this is a letter that's been in the mail for a long time coming to Louisiana. I think in your intro, you mentioned a couple of really big players that were already headed that way. Shell, BP, others, Total, Equinor. These are companies that are in the traditional upstream oil and gas business and know that the future is going to be different. Those companies already knew was coming. The big players have been prepared for this.
Brannon
Have we already reached peak oil? It seems like companies have different points of view on this. Is demand for oil growing or declining?
Conner
And the question of peak oil, you you put a caveat on that Keith. Is it, say, you know, is it demand or production? You know, there was, if you go back in the 70s, there was a perspective that we would reach peak oil production, and there would never be any more to be found in great quantities, and the prices would go up to compensate. Of course, the reality, I believe, is that technology will continue to find if we need it. But more likely what will happen is that we'll reach a peak demand of the commodity of petroleum. And maybe not this year, next year, but within the next decade.
Brannon
This pivot away from fossil fuels will have a profound impact on the economy, especially in energy dependent states. How do you see this affecting states like Louisiana in the short term?
Conner
The pivot away from fossil fuels will have a profound impact. And the impact will be where the investment is. Louisiana's infrastructure is built around the ability to support oil and gas operations on the shelf, and those things are going to shift. The shelf production is declining, I don't see it coming back. The deep water is there, but if we shift away from petroleum products, we'll be transitioning to different types of industries. There's some great Tulane graduates that are involved in a biofuels plant on the river. And, you know, some have been anticipating the shift, and they're getting in front of it.
Brannon
Which states are leading when it comes to renewables right now?
Conner
Well, gosh, Keith, everybody knows it. It's Kansas. Oh wait. I think you thought I was gonna say California. Well, now, Kansas has increased their renewable power production by 511% since 2019 timeframe, and they have a lot of wind resources. So so that's great. And they seem to be doing it well. They don't have a lot of a lot of other natural resources. Okay, California, yeah, they produce the most amount of renewable electricity of a state. But I don't know that I'd say they're leading. Look that that's part of the value of understanding where we are, going to make this point again, and where we want to be, because I wouldn't say that California made its transition smoothly. And there's been some bumps along the way. But they are well suited for solar power, given the irradiance, and that, simply put, that's, you know, if you're in California, you're more likely, Southern California, you're going to get a sunburn. So they have good solar irradiance. And they have the ability to put a lot of solar power in the grid.
Brannon
So is solar the biggest source of renewable energy in the country right now? Or is it wind or?
Conner
Wind is, is growing fast. Solar is one of the largest. It also lends itself to distributed power. So that is to say, I could do community solar, or I could do rooftop solar. You know, we're not going to have distributed windmills, we're not going to put them on our house. That's not realistic, obviously. But offshore wind has a lot of potential. And I'll tie it back to Louisiana. We'd like to be the center of expertise and knowledge in offshore wind construction. We have the people and the know-how. That's my point about Louisiana, taking our heritage and our experience and trying to get out in front of this.
Brannon
President Biden's climate goal is to decarbonize the power grid by 2035. The administration says that solar energy could power up to 40% of the nation's electricity. Do you think that's an achievable goal?
Conner
Well, that's quite ambitious. And frankly, it's good to be moving in that direction, but I don't believe that it will get to that percent of the grid by that timeframe, by 2035. Solar represents about 3% of the total electricity that we use in the country. And there's a significant amount of land required. As well, it adds a lot of volatility to the system. Solar power's peak comes at noon. But of course, energy demand peaks at about five o'clock, when everybody gets home, turns on the air conditioner and opens the fridge. So that added storage adds to the cost. And of course, one of the things we're learning about is that the infrastructure, the grid, the transmission, all of that will have to be built as well. And I think that's going to create a bit of a bottleneck to get to 40% of electricity supplied by solar.
Brannon
What do you think is a more realistic goal? If it's not 40%, you know, how much could we be by that time?
Conner
Well, there's some pretty good work done by a group called Thunder Said Energy that says that in total, renewables can reach 50% of the grid. Now, that is a total including solar and wind. But I think that the, the solar capacity is probably somewhere in the 30% range, and then you get to see some wind that could add some of the remaining.
Brannon
Does that mean also, if we're more renewable, is that cheaper power? Or is it going to be more expensive?
Conner
As it gets implemented, you know, what we're seeing in the course is that it is becoming more expensive. So if you lived in California, you've seen your price of electricity go up, if you lived in Germany, you've seen your price of electricity go up, as they try to include more renewables in the system. So there needs to be a balance. And I think that's going to be the challenge is to keep the cost down. Because you know, I worry about the the the equity of the transition and how it affects lower income, as they might spend more on their electricity.
Brannon
In August, the administration announced a target that by 2030, half of the vehicles sold in the U.S. will be electric or plug-in hybrids. What kind of impact will that have on the industry?
Conner
Well, it's going to be a pretty dramatic impact because 92% of transportation is currently fueled by petroleum, by by by crude oil. So if we see an increase in electric vehicles, you're going to see obviously demand for electric power increase, infrastructure required to charge, that's a significant investment there, and you're going to have to see a lot of new vehicles purchased. One of the things that I worry about is the cost, and right now, electric vehicles, even with significant tax incentives, are still quite costly. Now, the average age of a vehicle on the road in United States, I believe, is somewhere around 12 to 15 years or so, from what I've heard. So you'll see some transition, and if the available equipment is going to be electric vehicles, maybe there'll be an inflection point.
Brannon
You don't see the cost going down as as production ramps up? Wouldn't that hopefully mean economies of scale?
Conner
I think you'll see some. I mean, there's going to be investment of course. But that's, initially, I think you've seen that the cars that are coming out are significantly more expensive than average vehicle cost. And, again, those that are going to be impacted, that are having to replace existing vehicles, you know, it's it's not a one-for-one at this time.
Brannon
So what is driving the push for renewables? Is it climate change? You know, we've seen the impact this past year with warmer temperatures, more extreme weather, stronger hurricanes. What is the energy industry's perspective on climate change?
Conner
I think that the perspective on climate change has been changing of recent, driven a lot by the investors, and by the equity markets, and by the, by the public perception. And you see it in companies like BP, Shell, and even Exxon, that are making significant investment in renewable energy. Now, the perspective is traditional fossil fuels are going to be a significant component of our energy system through 2050, in the 50% range, and I think what their perspective is that we'll have to implement carbon capture used in sequestration technologies. So that's the concept that you would still use a fossil fuel, but that the greenhouse gases that are emitted are captured, and sequestered, or reused. And I think there'll be a significant increase in that kind of business.
Brannon
But do you think the industry is prepared for some of the more dramatic reductions that things like the Paris Climate Accord are calling for?
Conner
According to the International Renewable Energy Agency, $115 trillion has to be invested in clean technologies between now and 2050 if you want to limit global warming to one and a half degrees Celsius. Worldwide, GDP is less than that. So per year, we're, you know, that's a significant investment. I think there's incentive to be involved in the transition and get out ahead of it. It's coming.
Brannon
So looking in your own crystal ball, what kind of future do you see for energy over the next decade? Is this going to be a period of big transformation?
Conner
Oh, I think there's big changes coming, and that's what I'm excited about here at the Freeman School at Tulane is, is really educating the next generation of energy leaders for 2050. And they will be making these decisions at the peak of their careers. They'll be influencing what we do, and how we use our energy, and how efficient we are. So big changes are coming and I hope good ones. I just walked out of my class of undergraduates, they, 30 students in there, and many of them are environmental studies majors. They're really excited about it, they are challenged by it, and they want to be involved in the transition. I think one of the things they're beginning to understand is, it's not going to be easy. And it has to be thoughtfully implemented. I think that's the most important message I want to leave with people is just, you know, saying it doesn't make it so. And aspirational is one thing, but you know, implementation of the transition, it's going to be tricky and vitally important that we do it right.
Brannon
Well, great. Pierre, thanks for joining us here today.
Conner
Well, it's been a pleasure, Keith. Thank you for all your efforts. And I appreciate the opportunity to share with you and the listeners on the topic of the energy transition.
Brannon
And thanks for listening to this edition of On Good Authority. For more episodes of our show, visit our website tulane.edu/on-good-authority. If you like our show, please subscribe using your favorite podcast app.
Host: Keith Brannon
Editor: Daniel O'Connell
Producers: Marianna Boyd and Audrey Watford
Production team: Marianna Boyd, Keith Brannon, Will Burdette, Faith Dawson, Roger Dunaway, Aryanna Gamble, Daniel O'Connell, Mike Strecker and Audrey Watford