Image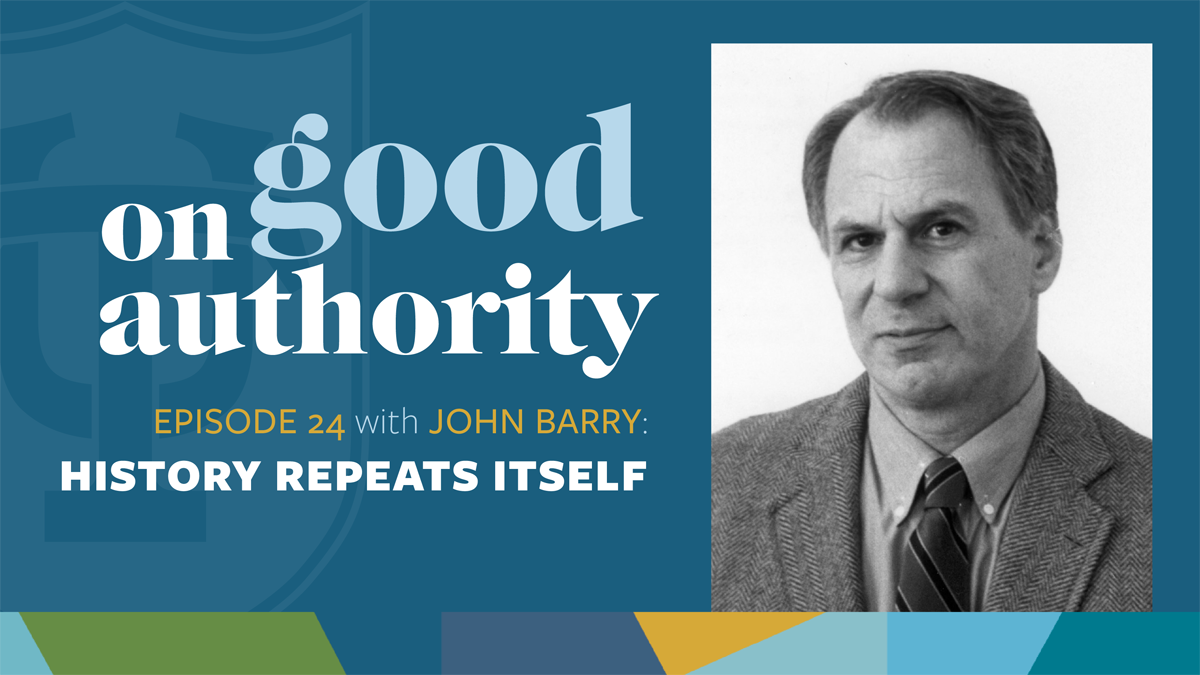 The Delta variant of COVID-19 continues to surge across the country. Tulane expert John Barry answers questions about what insight pandemics of the past can give us about what to expect next as this fourth wave continues to unfold.
Transcript ▾
Speakers
John Barry, best-selling author, professor, Tulane School of Public Health and Tropical Medicine
Aryanna Gamble, director of special projects, Tulane Communications and Marketing
Gamble
Welcome to On Good Authority, the podcast by Tulane University, where we bring you leading experts to talk about issues of the day and ideas that shape the world. The Delta variant is surging across Louisiana and the Gulf South, especially in areas with low vaccination rates and high pandemic fatigue. And the glimmer of hope the vaccine provided this spring is crashing amid another wave of the COVID-19 pandemic. Looking back to pandemics throughout history can give us insight into lessons learned and what we can expect next, as this fourth wave unfolds.
Barry
Well, I think the lessons learned are exactly the same, so much from 1918. You know, number one, tell the truth. Number two, nonpharmaceutical interventions work.
Gamble
Today, on this episode of On Good Authority, we're sitting down with Tulane professor John Barry, who has been an invaluable resource in predicting how the course of the pandemic has unfolded and literally wrote the book on the deadliest pandemic in history. Throughout his career, he's worked with the federal government to develop plans for influenza preparedness and response, and has been featured in the New York Times, The Washington Post, and other media outlets throughout this pandemic.  
John, can you give our listeners some context and a general comparison of the 1918 flu and how that differs from what we're seeing today with COVID-19?
Barry
1918 was much more virulent. Probably the best estimates for the death toll are 50 to 100 million people. The world was much smaller then. If you adjust for population, that would be equivalent to 250, to 225 to 450 million people today. So it was much deadlier. People who died were younger. The vast majority of the deaths were people aged 18 to 50 or so. Children under 10, and particularly under five, were particularly vulnerable to the 1918 pandemic. One of the biggest differences, however, would be duration. The influenza virus moves much faster. It's got a much shorter incubation period. It mutates much faster. And the entire spectrum of the 1918 pandemic really lasted only about a year.
Gamble
How did the waves of the 1918 flu unfold?
Barry
First wave was extremely mild. One statistic summarizes that the British Grand Fleet had 10,313 sailors reporting a sick day with it. Only four deaths. That's about as mild as you can get. A variant emerged. It was much more transmissible than the first wave, and also much more virulent and produced the vast majority of the deaths. There was a third wave that began, and that was in the fall of 1918. In March 1919, there was another wave, lethal by any standard except the second wave. After that, the virus calmed down. One of the interesting things was, if you were sick in the first wave, you had very good protection. Natural immunity developed against the second wave virus, better actually than the best modern vaccine that we've ever developed. You know, up to 89% protection, whereas the best vaccine we've ever developed was 61%. But if you were sick in either the first or the second wave, you did not have any natural protection against the third wave virus. That variant escaped immune protection.
Gamble
John, what was the political landscape like at that point? And did that impact the guidance for the general public?
Barry
In terms of public policy, the government in 1918 did try to minimize the threat of the pandemic, not for many politically partisan reasons, but because we were at war, and they felt that any damage to morale would shift focus from the war effort and hurt the war effort. But in 1918, nobody believed the lies they were being told that this is ordinary, influenced by another name and so forth. This was actually official government pronouncement, but nobody believed because there were too many deaths. And people were dying, sometimes with horrific symptoms, sometimes in as little as 12 hours. So there was much more fear in 1918.
Gamble
So what are the biggest lessons learned from these experiences?
Barry
The two lessons from the 1918 pandemic were, number one, tell the truth. It's by far the best public policy in terms of getting cooperation from the public to contain a pandemic. And number two, that various, which are referred to as nonpharmaceutical interventions, social distancing, et cetera, et cetera, that they work. Both things were adequately demonstrated in 1918. And they've been confirmed by what we've seen this time around.
Gamble
Was there any indication that those interventions would be as successful as they were? It feels like during this this pandemic, there was some uncertainty at the front end, whether or not those measures would be enough. Was that a lesson that we didn't take to heart from 1918?
Barry
Well, actually, they weren't nearly as effective in 1918 as they have been this time around, because they weren't nearly as complete 1918. You know, we were at war. So no industry was shut down. The only thing that was shut down were, you know, places where crowds gather, you know, saloons, theaters, churches, schools. Things like that were closed. But as a general rule, business was not interfered with, because that would have hurt the war effort. So closures were much more complete this time around. Even in the United States, which, compared to some other countries, you know, it still left quite a few things open. I think one of the big surprises from this pandemic, I don't think anybody in public health anticipated that closures could be as effective as they have been, where they have been implemented with great discipline.
Gamble
You talked a little bit about the course of the 1918 pandemic and how the waves unfolded. What can we learn from that and apply to our situation today? What can we expect next, as this Delta variant and Lambda variant and Delta Plus variant, run their course?
Barry
It does stop, eventually. The virus is always going to continue to mutate. That does not stop. But the progression of the virus, in terms of making more people sick and making them sicker, that does stop. We don't know when it's going to stop. Is Lambda going to be worse? We don't know. Is, you know, is Eta going to be worse? We don't know. But the virus is never going to stop mutating.
Gamble
So back in May, in an interview with CNN, you said, "I look forward to watching football in a stadium in a few months." What do you think your chances of that are now that we're kind of in the thick of a Delta surge?
Barry
They also asked me who I was going to root for. And I said Tulane University, of course. And Willie Fritz, I think tweeted out that comment. I used to coach football at Tulane in my in my youth. So he and I have sort of become buddies. I don't know. At some point, but we don't know exactly when, there are going to be enough people who have been exposed to Delta, that there will be a precipitous decline in the new cases. Where that puts us in the football season, I don't know. I don't know how fast it happens. I don't know how fast people in Louisiana are going to increase the vaccination rates. In New Orleans itself, it's been pretty close to the national average. The rest of the state has lagged far, far behind.
Gamble
Let's touch on that a little bit more, as far as messaging. There's a lot of disinformation about COVID-19, about the vaccine. What, are there lessons from history that can help us improve making sure people know the right information?
Barry
Not that I know of.
Gamble
No magic bullet?
Barry
Well, the reality is, we're dealing in a new world with the social media and the internet. Rumor existed before, and rumor behaved in the same way, but it didn't transmit as easily. There were all sorts of rumors in 1918, you know, that it was germ warfare, you know, Germany-made germs. That was actually suggested by some national officials, people part of the federal government effort, because they felt that it would help gin up war effort. They were because of, some of the, one of the symptoms was people were turning dark blue from lack of oxygen. So dark blue, I quoted one physician saying he couldn't tell African American soldiers from white soldiers. So you're spreading rumors, the disease itself is spreading rumors of the Black Death of the Middle Ages. You know, it's difficult to assess how widespread such rumors were. But in that case, those rumors would only have made someone more willing to comply with a closure more and to stay home. Whereas the disinformation we're getting these days makes you less willing to comply because they minimize the disease. And I don't think we've figured out yet how to correct for wrong information, outright lies, you know. I was on, actually I guess it was C-SPAN, on Sunday. And, you know, one of the callers was sadly misinformed, and I just wonder, where do these people get their information? Why do they trust something that comes to them from social media, but they don't trust information that comes from people at NIH who have spent their entire careers, and dedicated their own lives, trying to save people's lives? It's crazy. It's literally crazy.
Gamble
In March, you wrote an opinion piece for The Washington Post that abandoning masks and social distancing would be the worst possible move for Americans. And it it seems like that has borne out. Is there like a bittersweet feeling of knowing that you're right, but still hurtling towards the wrong direction?
Barry
Well, that was a, you know, funny timing, because actually, at that time was before Delta. And I was perhaps overcautious. It was Alpha. We were concerned about Alpha back then. At that point in time, there were several state legislatures moving to outlaw mask mandates. Masks are an important tool. You know, it all, the virus as I, you know, said before, since this thing started, the virus remains the boss. We obviously thought, with the vaccination, we were way ahead of it. And those who are vaccinated are way ahead of it. You know, the numbers on vaccinated people who go to the hospital, much less die, are infinitesimal compared to the unvaccinated. But the game has changed because the virus has changed. Delta has provided, you know, more information. The data changes. You have to adjust to the data. So CDC changed its position. Yeah, I know, it seems like a whipsaw. It is a whipsaw. But it's not because of stupidity, or politics, it's because the virus is changing.
Gamble
What do you think future historians will write about us and how we handled, or mishandled, this pandemic? What will be the lessons learned from this experience?
Barry
Well, I think the lessons learned are exactly the same, so much from 1918. You know, number one, tell the truth. And number two, nonpharmaceutical interventions work.
Gamble
Earlier you talked about the the end, and that this virus will run its course. That gave me a little moment of hope. What what does that start to look like, when we make that turn around the corner?
Barry
Well, it looks like it did in, you know, let's say the middle of June, before Delta really took hold, when we were all beginning to celebrate, or those who were vaccinated particularly, a normal summer. Only hopefully this time, another variant will not come around.
Gamble
There is an end in sight, right? It's not, does it, does it just keep going?
Barry
Oh it keeps going, yes, again, but so does the common cold virus. They don't stay, they don't stay the same. Neither does influenza. Just because it mutates, and it will continue to mutate, that doesn't mean that it continues to cause the problems that it has caused. You know, partly the virus works out a modus vivendi with the host, and partly, the immune system learns either, again, through vaccination or exposure to the virus, the immune system learns how to respond very specifically and very efficiently to the virus. Right now, the immune system, when presented with the virus, really doesn't know what to do. So it throws every weapon it has at the virus, and it's got a lot of weapons. And those weapons create all sorts of havoc throughout the body. When the immune system gets better and better at responding to the virus, it'll be more like a sniper, as opposed to launching artillery attacks. Using another war analogy, you have patrols set up at the perimeter, and they will they will capture and destroy the virus early in the process of infection. You know, and I think we'll get to that point. Whether we get to that point in six weeks, six months, six years. I don't know. Hopefully not to six years.
Gamble
John, thank you so much for being with us today. It's been illuminating to learn about what we've done in the past, how that impacts us today and what that means for our future. Thank you so much for sitting down with us.
Barry
It's been a pleasure. Thank you.
Gamble
Thank you for listening to this edition of On Good Authority. If you like our show, please rate and subscribe wherever you listen to podcasts. And for more information about the show, visit us at tulane.edu/on-good-authority.
Host: Aryanna Gamble
Editor: Will Burdette
Producers: Marianna Boyd and Audrey Watford
Production team: Marianna Boyd, Keith Brannon, Will Burdette, Faith Dawson, Roger Dunaway, Aryanna Gamble, Daniel O'Connell, Mike Strecker and Audrey Watford