Image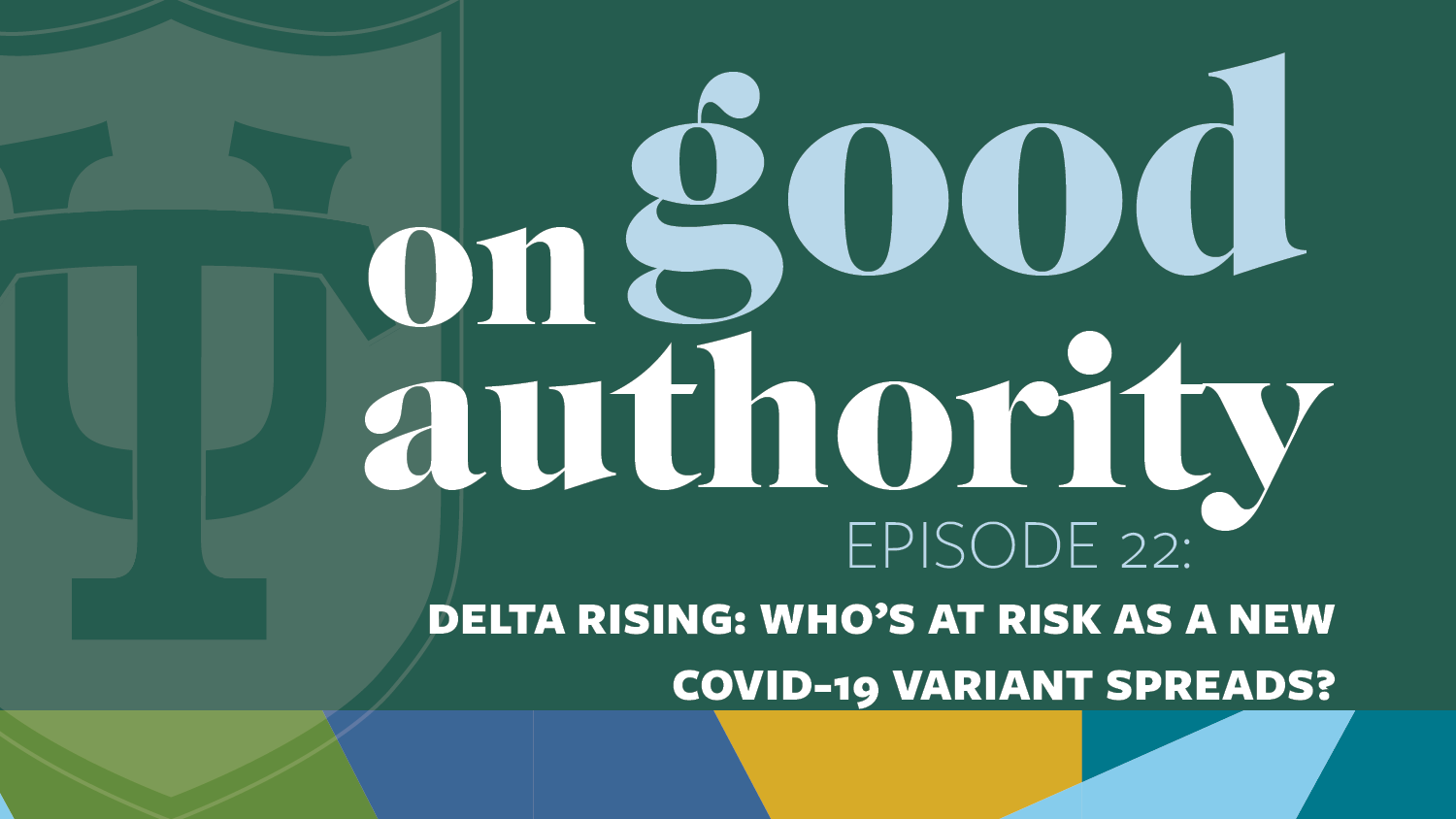 Tulane epidemiologist Susan Hassig answers questions about the highly contagious Delta variant — what's at stake for low-vaccinated states, what we know about breakthrough cases among the vaccinated and what people should do to protect themselves as the virus that causes COVID-19 continues to mutate.
Transcript ▾
Speakers
Keith Brannon, director, Tulane University Public Relations
Dr. Susan Hassig, epidemiologist, Tulane School of Public Health and Tropical Medicine
Brannon
Welcome to On Good Authority, the podcast by Tulane University, where we bring you leading experts to talk about issues of the day and ideas that shape the world. I'm your host, Keith Brannon. Viruses mutate, and that's clearly the case with SARS-CoV-2, the virus that causes COVID-19. The Delta variant is now the most dominant strain of COVID-19 in the United States. The variant, which represents more than 50% of cases, is more transmissible and appears more virulent than the alpha strain, which itself was twice as contagious as the original virus.
Hassig
We've seen the successively more transmissible variants emerge, one after the other, and it will continue to mutate until we stop it.
Brannon
We're talking with epidemiologist Susan Hassig, from Tulane University School of Public Health and Tropical Medicine. She has been closely following the country's vaccination rates and the rise of the new variants. Dr. Hassig, welcome to On Good Authority.
Hassig
Hello, Keith. Happy to be here.
Brannon
So how fast is the Delta variant spreading in the U.S. right now?
Hassig
It is spreading quite rapidly, Keith. Just a couple of weeks ago, the beginning of July, we only had a few states that were seeing increases in cases. And now we have more than 40 states which are experiencing rises in cases and the beginnings of rises in hospitalizations. And that's totally due to Delta.
Brannon
What is the most important thing people should know right now about the Delta variant?
Hassig
The most important thing people need to know is that if you are fully vaccinated, you are largely protected against this variant. But if you are not, you are vulnerable to a potentially life-threatening virus that is spreading very, very quickly throughout our country.
Brannon
How much more transmissible is it? I mean, do we know why?
Hassig
It is much more transmissible. The estimates for just how much range from two to four times more transmissible. And one of the reasons for this is that this virus seems to build up a larger quantity of virus particles in the upper part of the respiratory tract, where people can shed it more easily and in a greater volume than the previous variants. We are also seeing evidence that individuals are developing that, reaching that shedding level of virus much more quickly in the course of their own infection than the previous variants, and they remain infectious for a longer period of time. So it just increases the opportunity that an individual who is infected, whether they become ill or not, is is likely to infect many more people. And that's how it becomes more transmissible.
Brannon
As an epidemiologist, how concerned about Delta are you right now?
Hassig
I'm very concerned. All we have to do is to look at the the case counts that are rising in Europe to see where we may be heading in just a couple of weeks. Europe has always been a kind of bellwether for what we might expect here in the United States. And the trajectories for those case counts in, in many European countries is almost straight up. And so, we've been on that kind of flow on ramp to a potential surge, and I'm afraid that we may be taking off very quickly, very soon.
Brannon
But we're more vaccinated than Europe, right? You know, as of mid-July, what is our vaccination rate in the U.S.?
Hassig
Well, the challenging thing with Delta is that it doesn't appear that a single dose of vaccine is as protective as a fully vaccinated double dose of the Pfizer and Moderna vaccines. So single dose, we are in very good shape, but fully vaccinated, we're still roughly about 50%, averaged out over the country. But Delta and any of these coronavirus variants spread on a local level. And so, any community is really at risk if they have less than 50%, or in some cases here in Louisiana, we still have communities that are less than 25% vaccinated. And so, low vaccination levels at a community or local level is what's really going to drive this spread and the expansion of the disease. And it's going to then penetrate into better vaccinated areas but that are still not fully vaccinated in terms of a community.
Brannon
Are you expecting a surge across the country or are you just expecting to see these surges in these pockets of low-vaccinated states?
Hassig
Well, we will definitely see surges in areas of probably every state. The magnitude of those surges is difficult to predict right now because we're not testing nearly as much as we were a few months ago. And so, we're probably not finding all of the Delta cases, all of the infections that are out there. And because many of our vaccinated populations are the most clinically vulnerable, we're, we've got a little bit of a challenge in understanding exactly how far this virus has already spread. But it is going to generate some kind of surge. How high is difficult to predict right now.
Brannon
Is the variant convincing more people to get vaccinated?
Hassig
Unfortunately, there's not a lot of evidence of that. It's it's stunning to me because the CDC and, most recently, and the state of Louisiana and the city of New Orleans have recently reminded us that 99% of the deaths that are occurring from coronavirus now are happening in unvaccinated people. And if that kind of information isn't motivation to get vaccinated, it's really challenging for me to see what might be more salient, but it does not appear that there's a rush to vaccination sites and services, despite this, this looming threat.
Brannon
Do we know how effective the vaccines are against the Delta variant? Is there a percentage efficacy?
Hassig
They are very, very effective. What you have to remember is vaccine efficacy for Pfizer, Moderna especially, which are the dominant vaccines throughout much of the country, was based on its ability to prevent severe illness and hospitalization. And at the time of the clinical trials, they were in that mid to high 90s. And they are still in the mid 90s against Delta. And so, these vaccines are preventing serious illness and hospitalization in people who are fully vaccinated. What we know is that these vaccines do not necessarily prevent infection. But they do seem to be definitely, and still preventing hospitalization in individuals that are fully vaccinated, not completely eliminating it, but preventing the majority of those individuals from experiencing hospitalization.
Brannon
Are you concerned about these so-called breakthrough cases where people who have both doses of the vaccine do still get the virus?
Hassig
Well, we know that since we were testing the virus, the vaccines in clinical trials, that people who were fully vaccinated can become infected. That's how we got the outcomes in the trials to assess their ability to protect us against severe illness. So I think that we have to be clear about what we mean by breakthrough cases. Some individuals talk about breakthrough cases as being evidence of infection. And that may not necessarily mean in vaccinated people that they are capable of transmitting the virus to somebody else. It may just mean that they are kind of colonized by the virus, but their immune system is preventing it from actually infecting them. But I think it's more important to pay attention to breakthrough cases that represent clinical symptomology, particularly serious or hospitalization worthy symptomology. And those are the breakthrough cases that are of greatest concern to us because that's how we will find out if the Delta, or any other subsequent variant, has become more threatening and virulent towards its human hosts. The CDC is going to be focusing on those clinical outcomes as breakthrough events rather than on simple infection going forward.
Brannon
What do we know about those breakthrough cases, where people do get symptoms or present with illness? Is it severe, or we you know, is this something that people should be concerned about?
Hassig
Well, I think it is something to pay attention to. I don't think that necessarily concerned about on a large scale. They are very uncommon, especially when you think about the millions and millions of people that have been fully vaccinated already. We see very, very few of these severe clinical cases in people who are fully vaccinated, but we have had a couple of people die who have been fully vaccinated. But again, these vaccines are really really good, but they're not 100%. They're not perfect. And that's why I think, in an environment where we are dealing with a very transmissible new variant, even fully vaccinated people need to pay attention.
Brannon
And you mentioned that this is, we were talking earlier, and you said that those deaths represent well under 1% of all people who've been vaccinated.
Hassig
Yes, as of mid-July, both on the national and on the state level here in Louisiana, it's far less than one-tenth of 1% of deaths occurring in people who have been fully vaccinated. Less than one-tenth of 1% of people vaccinated have in fact died from this. So that's well within the 95% efficacy that we've seen for these vaccines. That means 5% could develop serious illness even after being fully vaccinated.
Brannon
This summer, the U.S. began opening up. You know, people resuming activities that we've all missed, going to concerts, attending religious ceremonies, and gathering with friends and family. The CDC has said, if you're vaccinated, you don't need a mask. Do you think that the Delta variant could threaten that advice?
Hassig
I think that people need to consider their local circumstances and conditions when deciding whether or not to mask. I would argue that anyone that is at all concerned should feel comfortable and free and, and legitimately able to protect themselves by putting on a mask. I wear a mask in indoor spaces when I'm out in public, the grocery store, places like that. But it is, I think, something that when CDC made that recommendation for the entire country, I think they were trying to provide some benefit to individuals who had made that step to become vaccinated. And as an encouragement to individuals who might not yet have become vaccinated. Unfortunately, a lot of places had already dropped mask mandates when that announcement came out. And I do think that it makes a difference if you are in an environment, a population, a community, where vaccination levels are low. That means that even as a fully vaccinated person, you are far more likely to interact with someone who is potentially infected with Delta. And that means that if you are not masked yourself, you might in fact acquire an infection that may cause you some clinical experience that you just don't need to deal with. And so, I would encourage people, especially in dense indoor spaces, a bar for example, that you might want to think about wearing a mask if you're in a community that has a relatively low vaccination rate or where there is documentation of high spread of Delta variant.
Brannon
Well right now, kids under 12 still can't get the vaccine. What should parents be concerned about with the Delta variant?
Hassig
I think parents need to think about how their children are interacting with the rest of the community and who they are interacting with. And that on a case-by-case basis, parents need to consider what their activities might do in terms of potentially carrying a virus into the household with potentially, you know, vulnerable, unvaccinated young children. When schools reopen in the fall, I would strongly encourage parents to send their kids to school with a mask, particularly if they're under 12, and encourage them, even if it's not required within their school setting, to wear a mask when they are in school. The distancing, masking, the presence of substantial numbers of people vaccinated in a community is going to be helpful for those young children. But we have seen outbreaks already this summer in camping settings, in congregate activity kinds of situations, where large numbers of children have become infected. And we've seen a number of reports of hospital systems, pediatric care settings, that are dealing with a lot of very sick children with coronavirus, with COVID-19. So it is something for parents to still pay attention to. Just because they don't get sick at a very high rate, doesn't mean that they can't get sick, and with Delta, may get sick more. We just don't have a really clear picture of that quantitatively yet.
Brannon
What about vaccine booster shots? Pfizer and Moderna have announced plans for them. Is this going to be needed?
Hassig
Well, it may be needed. And planning is always a good thing. Preparedness is a keynote of public health. But I think the determination of when and the criteria for utilizing a booster shot is still to be determined. I think that we, we need to be ready to do it if we see evidence that suddenly fully vaccinated people are not being protected. That's why we, I think, want to monitor breakthrough cases, especially for clinical illness. Because if suddenly in two weeks, we saw that, you know, half the people being hospitalized are in vaccinated, fully vaccinated people. That would say, "Oh, no, we do need to think about a booster." Because something has changed in the viral landscape. But the reasons for doing a booster, generally, in immunology and immune protection against infectious diseases, is that the vaccine-generated protection is diminishing to a level, that it's not going to be protective for the individuals who have been vaccinated, individually or collectively. And then that there is some new version of the pathogen that is not being protected against by the existing vaccine response that has been generated. And so, we don't really have evidence of either of those two conditions at present, in July of 2021. But by December, that might be the case. And so, I think planning is important. Doing the studies that are being done, not just by the pharmaceutical industry, but by academic institutions, by governmental agencies, to monitor and assess vaccine response is totally appropriate, and is what is happening now, to make sure that we have a clear sense of what is happening biologically, between the variant and the vaccine response, and making an appropriate decision. I suspect that when and if a booster is suggested or recommended, it will probably target particularly vulnerable populations. But for the general population at this point in time, I don't see any signals that suggests that we are due for a booster on a wide scale in the near future.
Brannon
Is there anything else about the variant that we haven't discussed that the public should know?
Hassig
Well, I think the important thing to know is it's still a coronavirus. It's still transmitted respiratorily. So the things that we've done since the beginning of this pandemic, distancing, avoiding dense crowd situations, wearing masks, staying home if you're at all symptomatic. All of those things are going to make a difference in terms of transmission. But I think it's important to remember that the best kind of airbag version of protection is the vaccine. You don't have to think about making sure you've got a mask in your pocket as, as diligently if you're already fully vaccinated. So it's always there in the background, protecting you. And so, I think these new variants, and Delta won't be the last, I'm sure, because not only in the United States, but around the world, we have billions of people who are unvaccinated to these viruses. And as they move from person to person freely in populations, they will continue to change and mutate. And, you know, the next one could be more virulent. It could make people sicker quicker. And we're seeing a little bit of that with Delta. And once a virus starts moving in that direction, sometimes it continues that way. So be on guard. Do the things that we know will protect ourselves and our communities, our families and friends, and, and keep those practices up for a little bit longer.
Brannon
And that's some very good advice. Dr. Hassig, thank you for joining us here today.
Hassig
I'm happy to help, Keith. And and I hope it has been informative for people.
Brannon
And thanks for listening to this edition of On Good Authority. For more episodes of our show, visit our website tulane.edu/on-good-authority. If you like our show, please subscribe using your favorite podcast app.
Host: Keith Brannon
Editor: Daniel O'Connell 
Producers: Marianna Boyd and Audrey Watford
Production team: Marianna Boyd, Keith Brannon, Will Burdette, Faith Dawson, Roger Dunaway, Libby Eckhardt, Aryanna Gamble, Daniel O'Connell, Mike Strecker and Audrey Watford