Image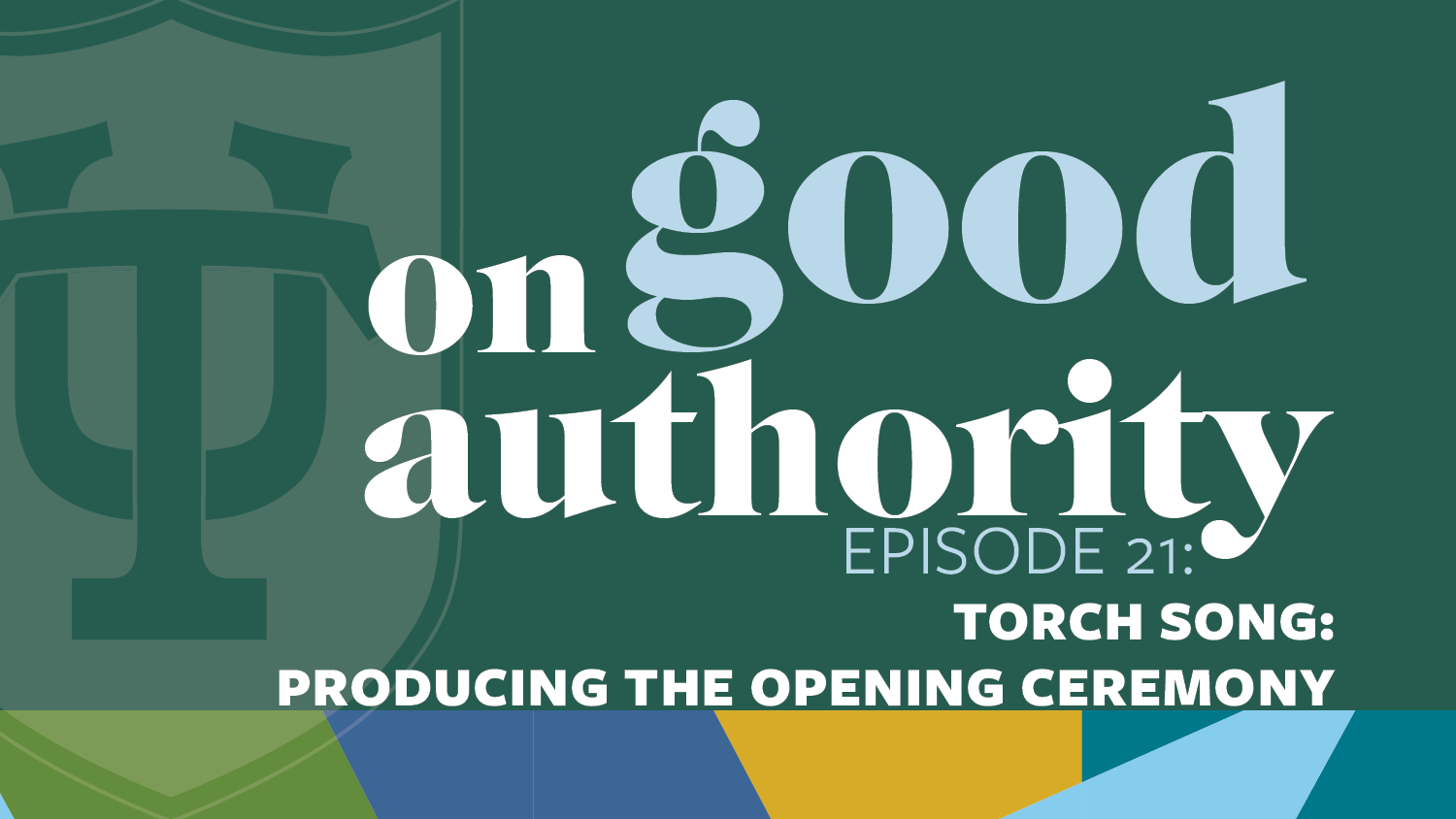 The only thing that may rival the inspiring athletes at the Olympics is the pageantry of the Olympic opening ceremony. What does it take to put on such a memorable spectacle broadcast live around the world? Tulane's own Director of Bands Barry Spanier discusses his experience producing and directing music for two opening ceremonies and shares the magic and ingenuity required to produce the historic event.
Transcript ▾
Speakers
Aryanna Gamble, director of special projects, Tulane Communications & Marketing
Barry Spanier, director of bands, Tulane University
Gamble
Welcome to On Good Authority, the podcast by Tulane University where we bring you leading experts to talk about issues of the day and ideas that shape the world. The opening ceremony for any Olympics is a marquee moment of the Games. It's an opportunity to showcase the best of the host country and their history and story. Planning these events are years in the making. And on this edition of On Good Authority, we're sitting down with Barry Spanier, director of bands at Tulane University, who's produced and directed music for two opening ceremonies. I'm your host, Aryanna Gamble. Join me to get a sneak peek behind the curtain to learn how these opening ceremonies grow from the seed of an idea into reality. Barry, welcome to the show. And thanks so much for sitting down with us.
Spanier
Thanks very much for inviting me.
Gamble
You served as the venue band coordinator for the 1984 Summer Games in Los Angeles, and as the artistic director of the Sydney Olympic band in 2000. How do you get selected to serve in that capacity as part of an opening ceremony?
Spanier
A lot of it has to do with like any career path. It's who you work with and the mentors you have. So I'm very grateful to have mentors, my band director at USC, Art Bartner, who just retired after 50 years. Also Ric Birch, who is the ceremonies producer and director, and Tommy Walker, also who was involved in a lot of Olympics and Disney and so forth. And they all kind of brought me along and one opportunity led to another.
Gamble
Planning for an Olympic ceremony is such a huge undertaking. Walk us through where that starts. How far in advanced do you start planning? What does that team look like? And where do you develop what the show will be?
Spanier
Well, the Olympic bids are historically seven years out. A city will be awarded. And that's been changing in recent years and going forward. But so, the city would receive the Olympics seven years out. And then the Olympic committee, the host committee, would start forming its fuller staff, including a director of ceremonies, director of entertainment. That might be happening within the first year. And then that, that producer, that director starts fleshing out with creative ideas and develops a team, start putting the components together. So, for instance, for the Sydney Olympics, I'd worked with Ric Birch on the Los Angeles Olympics and the Brisbane World Expo prior in Australia. And so, he asked me to get involved with the Sydney Olympics when he became director of ceremonies. And we met in New York at a restaurant and on the back of a postcard, started sketching out, he wanted live music for the parade of athletes, which hadn't happened in decades and decades since recorded music start being used. And so, it was putting together a band to play live music for an hour and a half of the parade of athletes, nonstop. And then it further developed, and I still have that postcard, a little oval shaped stadium, and where people would enter. And then we fleshed it out to have also about a 10-minute field show prior to that, and then who would the band be comprised of? And so a youth band, and the idea was Sydney 2000, to have a 2000-piece band, from musicians from around the world. And so, it ended up be 23 nations, Australia, and the US and Japan provided a large bulk of that. And then smaller contingents from, from different countries.
Gamble
How do you coordinate the logistics of getting these 2000 band members from 23 nations all on the same page? How do you get them materials? What does that rehearsal look like? And how do you even practice a field show across several continents?
Spanier
My percussion instructor, Dave Glyde from Northern California, we would, the music was arranged, and he would add the percussion arrangements. And we would send them out again through FedEx, so hard copies, and then PDFs on a disk. So they could print more or do whatever. And so, they would go, would be sent out to the band directors and music instructors in each country. And they would work with their local kids. And they would send us recordings or videos so that we could give them feedback. And then Dave and I traveled every six months for a couple of years to the larger cities. So we'd worked with the larger groups at least, and say, "Okay, that's good, but let's, you know, fine tune it." And then also introduced new material. So it was always kind of a constant flow. Now the smaller groups, there were some groups that were only maybe six kids from a certain country, and there may be language barriers. The contingent from Osaka, Japan, was about 200. And they had their own translators. When we finally got together, all together north of Sydney, to live and rehearse, whenever we'd give field commands over the sound system, then we'd pause, and the interpreter from Japan with a megaphone would be on the field near that contingent, and he'd give the translation. And then we would blow the whistles and run that portion of the show. Other kids, there was one group, I can't remember the exact nation, an island nation, the kids showed up. Their group leader just left with all their funds and stuff. They didn't have shoes or anything. So we, the other groups just adopted them and brought them along and it was fine. And we interspersed the small, the kids from the smaller groups, amongst, they were like in between individuals from the larger hubs who were able to rehearse more, so they could sort of follow along and learn it.
Gamble
That sounds like such an incredible undertaking. What are some of the other maybe challenges that come along with that?
Spanier
You have such a long lead up time. And yet, the resource of time is absolutely limited. There is a deadline. And so it's like a funnel effect, right? Everything, not just let's say the band component, but every component of the opening ceremonies. The ceremony's budget, supplies, facilities, all these things are limited. So as you get closer and closer, you have less flexibility. All these things, time is probably the most precious resource because you can't get it back, you can always kind of throw some extra money at things if it's available, things like that. The field itself for the Olympics, it's a big, thick carpet. They spread out over the entire field. They stretch it, and it has a dot every four meters, so that every element of the show has something to base their lines on. And the grid is like in positive numbers, negative numbers, starting at zero in the middle going out. And then alpha going up and down and going into double letters of the alphabet. And so, the whole thing works on a metric grid. So every performance, dances, tap dancers, horse riders, whatever. They can measure where they are on the field. But when they brought that from the practice facility to the real stadium, they had to re-stretch it, you know, re-stitch the seams and put it on the field. Well, when they did it, they didn't quite stretch it straight or tight enough. So me and some of the staff found some white paint. And they were serving fried chicken for lunch. We got chicken legs, and we dipped the white, we just eyed it, okay, this line, and we just basically painted new dots on a third of the field where we could.
Gamble
Any way to make it work.
Spanier
Any way to make it work. So as I said, there's all sorts of surprises, but that kind of thing where the time, everything else, you know, you can kind of manipulate make adjustments except for the time. So that's most, even though it's such a long lead up, that's the most pressing.
Gamble
What are some of the elements of an opening ceremony? And where are there storytelling opportunities for the host nation to get creative?
Spanier
Right. The, let's start with the creative part, because that's really what opens the ceremonies. There's about an hour and a half to two hours of creative, that's where the host city and culture gets to tell its story. Right, what they want the world to see, and to be inviting. It's about the tourism. Right and getting people interested in coming. So it's a financial thing as well. So what what is the story they want to tell? And as technology advances, what the host, producers can do with that storytelling can be tremendous. Some nations would be very traditional and some cultures, you know, they want to, they want to show off what their strengths are, right? So you could see like in the Beijing Games, the opening ceremony, the mass of people performing and the precision, which is phenomenal, right? Which shows what what they can do. In Los Angeles in 1984, it was in LA and the producers were Hollywood, so it was all about that kind of flair kind of thing. Certainly a lot of precision, but it was you know the jetpack man and balloons and 90 grand blue grand pianos with players in blue tuxedos playing "Rhapsody in Blue." So it was that kind of thing. But it told the story of also westward expansion. That kind of thing of the kind of history of settling the West. So that was part of the story. For Australia it was a chance to really feature Aboriginal culture, as well. So it was the dream time. And there's a, and also the arrivals of immigrants, you know, and also the prisoners from England who, who were settled there first. Those kinds of things. So it definitely told the story. But I think from a different kind of perspective, and Aboriginal culture, especially in the early part of it, and then kind of kept coming back as a theme was very simple. Then the band was kind of an aperitif to kind of after that come on and do a big, splashy kind of thing to prepare for the parade of athletes. So we played music from past Olympic themes like "Chariots of Fire." "An Ode to Joy" is very often used in either a choir or an orchestra. "Waltzing Matilda" of course, some other things like that. Also "Also sprach Zarathustra" was used in the movie "2001." Right, because it was the new millennium happening in 2000. So we used those themes for our field show. Then to John Williams' 1984 "Olympic Theme."
Gamble
There are also elements that are part of every opening ceremony. What elements are required?
Spanier
An after the parade of athletes is when the more, getting back to your question, is when a lot of the official required elements happen. There's a welcome there's a, the representative for the athletes do an oath for fair play, the umpires and referees also take an oath. There's the entrance of the Olympic flag itself carried by athletes and they're raised on the flagpole. That's two, there's an official anthem for the Olympics. There's the host nation's national anthems and then the overseeing officials from the IOC and from the host nation to do their, their speeches as well. And then there's a bit more entertainment. And of course, the last thing is the lighting of the torch, which is just always magical.
Gamble
So this Summer Games in Tokyo has certainly seen some special challenges in the face of the COVID pandemic. What are you looking forward to the most for this year's ceremony, opening ceremony?
Spanier
Yeah, it's been obviously, as we've all experienced this year, with challenges and being unable to do things. And the dynamics of the IOC, the International Olympic Committee, pushing forward and what they have at stake for making it happen, which is directly tied to the sponsorships. Which NBC, right, is a primary. Without their bid and the money goes to the Olympics and then comes in from other sponsors, kind of wouldn't be able to happen to, at least the way it happens. So for me, I'm curious to see what the opening ceremonies are going to be like, because they may have had to adapt things quite drastically. I don't know what their original design was. So I'm curious to see how they, how they handle it, and how they approach it. But because so many things are gonna be limited, very few in the audience, things like that. To me, it really goes back to basics about what the Olympics is about, and that's the athletes performing. That can be, is often so inspiring, especially people overcoming challenges or reaching out to competitors, helping them, those kinds of moments. Because I think all of us have experienced this past year and a half, what is everything about that we do, right? What's the elemental foundation of why we're doing what we're doing? And working with our students at Tulane, you're trying to at least create some consistency. Giving them an opportunity to play their instruments and perform, even if it's only on videotape, but still share that with our audiences. You know, we're here to teach music, improve skills, be able to perform and provide entertainment. So, we had to melt things down to what we could do to keep with our basic mission, right. To keep continuity. And so I think, because the Olympics is about that physical competition and reaching beyond what we've done before, I trust that that is still going to be the primary element and perhaps even a greater focus on it, because a lot of the other things won't be distracting from it. So I look to really enjoy and be motivated by the athletes.
Gamble
Barry, the skills you need, and really develop from directing these kinds of major events. That's a muscle that not many people develop. How do you take these skills and apply them to what you're doing in your career and in the classroom?
Spanier
I've always enjoyed teaching. Teaching is something I always wanted to do. But early in my career, I got these performance opportunities, whether it was producing and directing a recording project in Hollywood or musical theater, either in a collegiate setting, or professional, all those things. So teaching was part of communicating to the artists I was working with. But it wasn't formal teaching, structured teaching. So the opportunity, one of the reasons I went to get my masters, is because I wanted to really settle into more of a teaching environment, which I was able to do at NYU, fortunately after getting my master's there. And then here at Tulane, really starting a new program and working with students every year. A lot of it is, there's the x's and the o's, right. So here's the technique for marching. Here's where you go. And here's what the show looks like, and teaching music, too. But what it's really about is, how are you impacting people through your art, right? So we can do things together that we can't do as individuals. That's what it's about. So it's how do you, what's your motivation, for learning and learning your craft, even if it's not going to be your career, right? Most of our band members are here at Tulane or studying here. They're pre-med, or architecture, or sciences or liberal arts, whatever it may be. So they're not going to go into a career in music, but using the passion they have for what they do with music, or dance, dance team or color guard, to push yourself to always improve, so that you can better impact your audiences. You're, as a musician, you're playing music in front of you that somebody else composed. And somebody else did an arrangement for it. And they're trying to, to move the audience. They're trying to get them to cry, or laugh or remember, or, or challenge them to think in a different way through the music. And so, it's the performer's job to be true to the composer's intent and the arranger's intent. And then make it connect with their audience, with our audience, right. So whether that's our, our band parents, or, you know, university alumni, or people in the community, it's about how are you going to move people and touch people? Again, sometimes that's challenging them, or having them listen to music in a different way that they haven't before. So it always comes down to, everything to me, comes down from that. And from these experiences, and especially, like in Olympics, where you've got kids from all over the world, you can't even meet them all, but from them mingling with each other, and that they are dedicated to really work for each other. And then to impact the crowd. So that to me, is the umbrella over everything in performance and teaching, that we're, we're touching the lives of those students, but they're touching the lives of each other and of their audiences. So to be effective, that's why you have to work at it and be good, and to work together. So it's also life skills about working together, being responsible, being on time, have a uniform clean, your instruments working. So those kinds of things for sure and developing leadership. But across the board, it's how can I help mentor or guide these students and motivate them to be their best, to make an impression and leave a memory for their audience?
Gamble
Barry, thank you so much for joining us today. It's been thrilling to see behind the scenes of how a ceremony like this gets put together.
Spanier
Thank you for allowing me the opportunity. And I hope everybody enjoys watching the games, however they pan out. And again, they're reveling and be motivated by the effort that the athletes give.
Gamble
Thanks for listening to this edition of On Good Authority. If you like our show, please subscribe wherever you listen to podcasts. And for more information about this show, visit us at tulane.edu/on-good-authority.
Host: Aryanna Gamble
Editor: Marianna Boyd 
Producers: Marianna Boyd and Audrey Watford
Production team: Marianna Boyd, Keith Brannon, Will Burdette, Faith Dawson, Roger Dunaway, Libby Eckhardt, Aryanna Gamble, Daniel O'Connell, Mike Strecker and Audrey Watford