Image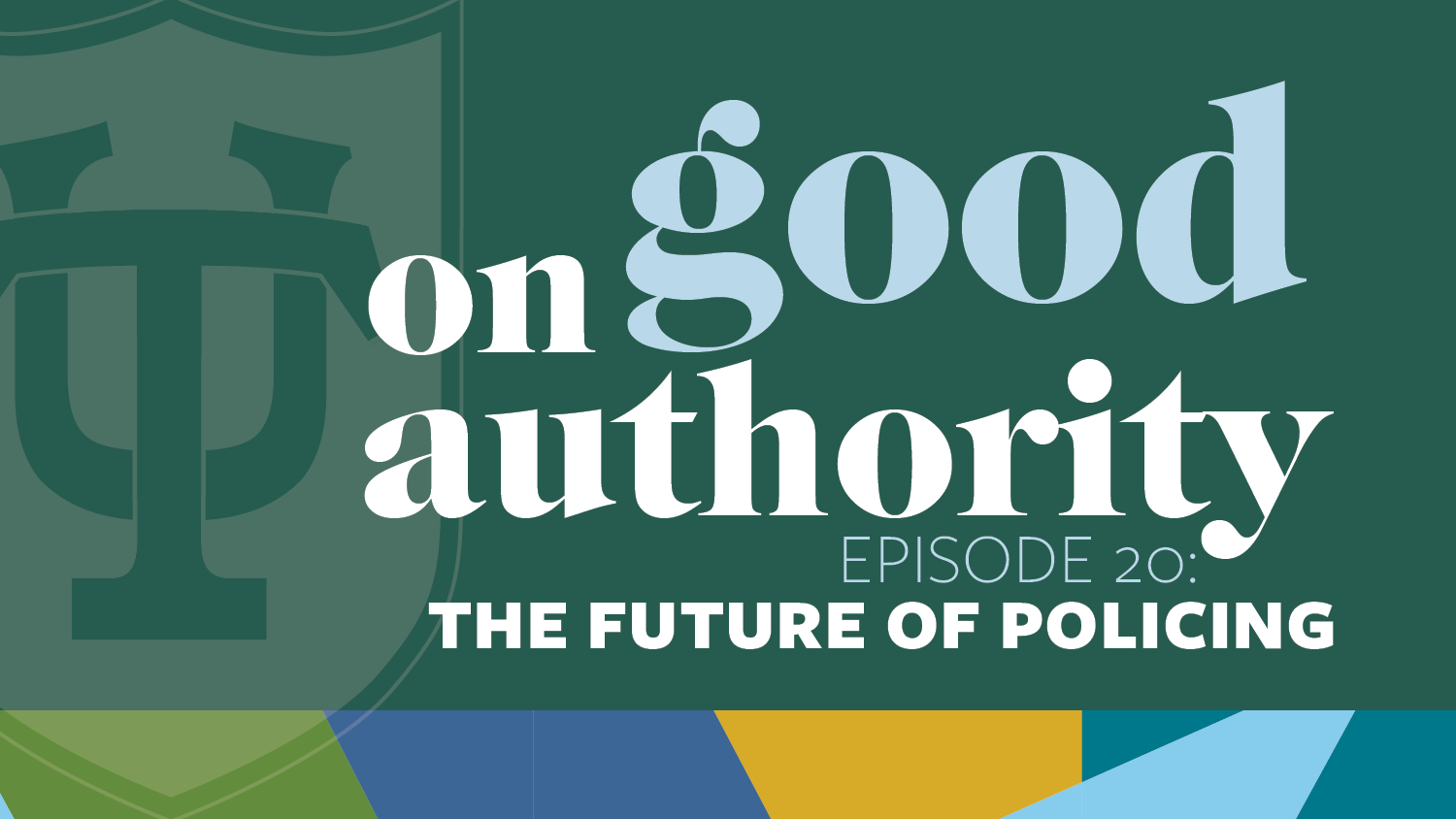 Tulane University Associate Professor of Sociology and Africana Studies Andrea Boyles, a race scholar, ethnographer and author, discusses what we have learned about police interactions and in the year that has passed since George Floyd died in Minneapolis.
Transcript ▾
Speakers
Dr. Andrea Boyles, associate professor, Tulane School of Liberal Arts
Faith Dawson, editorial director, Tulane University Communications & Marketing
Dawson
Welcome to On Good Authority, Tulane's podcast that brings you leading experts to talk about the issues of the day and ideas that shape the world. I'm your host, Faith Dawson. May 25 marked the anniversary of the death of George Floyd in police custody in Minneapolis. The cell phone video that captured those moments touched off a massive protest against police brutality. And even though one of the officers involved in George Floyd's death was recently convicted on murder charges, incidents of police brutality, especially those concerning African Americans, continue every day. Today, the podcast welcomes Tulane University Associate Professor of Sociology and Africana Studies, Dr. Andrea Boyles. She's a race scholar and ethnographer, and author of "You Can't Stop the Revolution: Community Disorder and Social Ties in Post-Ferguson America," and "Race, Place and Suburban Policing: Too Close for Comfort." Welcome, Dr. Boyles.
Boyles
Thank you, I appreciate you all having me on.
Dawson
I'd like to start by asking you about police training. Recent headlines highlight the fact that there are basically no federal standards or universal guidelines for police training, that it's basically up to cities, states or counties to come up with their own standards. So what, if any, standards of police training and education do you think should be enacted across the board?
Boyles
So that's sort of a tricky question for me, Faith, because I've honestly been moved along on so many levels concerning police. One thing is the educational component. I think that for both police and people in the broader community, what is oftentimes missing in these conversations is that law enforcement in and of itself began for Black folks through slave patrol. And so, the idea, the educational component, like what has this meant, what has this organization, one after the other, meant to the Black community? I think that that is a key piece missing. Policing has been, has hinged on violence, you know. Its training is rooted in violent confrontations, the expectation of it, and doing a number of, or at least engaging in a number of tactics, for the sake of controlling, completely controlling by state authority, you know, what has ultimately and oftentimes been Black people. And so again, connecting those dots. I'm not particularly comfortable with the amount of training, in terms of that training being rooted in violence, which then translates to escalation versus de-escalation for Black people specifically, and Black and brown communities generally.
Dawson
So given that we're talking about hundreds of years of, of carrying out law enforcement in a certain way, what do we, as a society, need to examine about police subculture? You know, like I realize that that's highly subjective, because the experience of police officers on one end of the country may be completely different from another end of the country. Rural versus, you know, urban or whatever, but what do we need to, what do we need to look at in these subcultures?
Boyles
Well, there's a couple things. One, I'd like for us to think about the the police subculture as being literally that, a subculture that is embedded in the broader culture. And so one is not happening, or at least policing is not happening in isolation from the broader society, right? And so, if we are experiencing racism and discrimination, by and large, across all facets of society, how then can we not understand it to also rear itself in these pockets, or these smaller segments of society, these subcultures and so forth. And so that is the case. It is a reflection of the larger. Policing is also a reflection of government. And so, it is the enforcers of government. It is the enforce, they are enforcers of government agenda. And so, I think that it's so important for us to understand that this, the way in which policing occurs, the way in which they exist and correspond with each other, even within agencies, one from the other, and onto the streets, all those things are happening in concert of each other and are happening at the expense of Black and brown people. I would also further that by saying that the subculture is one that has always positioned, and inherently has been positioned, as a "us against them" kind of exchange. Because again, if we think about policing rooted in history as being introduced to Black folks as slave patrol, like I want us to really think about, and some folks might say, "Well, that's been hundreds of years ago." No, but it matters because it is, there are extensions of it, that have persisted from one century to the next, one decade to the next. What could the relationship possibly be? It's not going to be one inherently rooted in, you know, a mutual exchange. It's one of control. And what that is meant is absolute control of Black and brown bodies, alive or dead, and how the narratives are generated as a result of those exchanges.
Dawson
Some of the ways that what you just explained manifests itself kind of fascinates me. And one of those things is traffic stops. Traffic stops are the most common police-citizen interaction. And I would think, you know, in my head, I think somebody's got a busted taillight, if they're Black or white, the police officer writes the ticket, and we move on with our day. And yet so many traffic stops with Black drivers ends violently. What happens at these stops? Why do they get escalated in such a way that they end with someone's death, with a fatality?
Boyles
Yeah. And that's a pretty loaded question because we can go so many different angles with that. But one of the things that I will say as a researcher is that when we talk about traffic stops, those are involuntary police stops. I account for, you know, several ways in which people come in contact with the police, particularly Black people. And that would be through either direct or indirect contacts with law enforcement. That would be through involuntary contacts, voluntary contacts or vicarious contacts. And so, I flesh all those things out in my research. So, but more specific to your question, those stops, traffic stops, those are going to be involuntary contacts. And those kinds of stops generally do not strike positive or land positively for anyone, you know, across racial categories. People just generally, regardless of race, don't necessarily want to be stopped or pulled over by the police. So there's, so it inherently produces unfavorable responses from citizens. However, what leads to those traffic stops oftentimes becomes very problematic and disproportionately ambiguous when it comes to Black people. When I say what leads to those traffic stops, it's because there are always stages and phases through which Black encounters come to be. So some of the participants, for example, in my projects have talked to me about being tailed, like by the police. So this is happening before there's an actual stop, right? That they've been tailed. They, somehow the police is like behind them, tailing them, running plates. So there's this whole process of fear that's taking place because of history. That is taking place, and not necessarily taking place because that driver or that walker, because there are also several kinds of stops, motorist stops, or vehicular stops, as well as pedestrian stops, doesn't mean that that person has done something wrong. It's just the fact that you know they're following you, they are probably running your plates. We have research and reasons to believe and know that that has happened. And what is that going to mean? Are they going to actually stop me? And if they stop me, then for what? I've not done anything wrong, you know, so there's this process, this mental process that's playing out, that oftentimes can go right or wrong. And when I say right or wrong, in and of itself, it's subjective. But even in some of the recent cases, people ask, "Well, why did they run?" You know, "Why did they just not comply?" Because people are afraid. People are people are literally scared. And fear doesn't mean that there's guilt. And so, I guess what I'm trying to communicate to you is that even in a question that simple, and how it completely goes wrong, can also be rooted in bias, a history of idealizing and thinking about either people based on race or locations, because we live in segregated places. So if you're in a Black community, what does that mean? You know, who are you likely to stop in that neighborhood, you know. So all those things, again, are still very much connected and are part of the long standing process of fear. Fearful Black people rooted in very violent forms and tactics used against them through law enforcement.
Dawson
A lot of people would argue that law enforcement entities should be held to a higher standard when it comes to like examining their potential for implicit bias. But how do we, how do they counteract that, you know, when, again, when you're talking about hundreds of years of carrying out your business in a certain way? How do you undo that?
Boyles
So part of the problem is that people continue to approach this as if they are isolated incidents. Where I differ as a researcher is that I am accounting for all of these exchanges within history, a historical perspective of cause and effect, and from one century to the next and one decade to the next. But they, but I'm doing that as immersed in a broader society. It is, it is incredibly hard to sort of think that we are going to single-handedly perfect one agency within a society that, by and large, still buys into racism. People are continuing whether they are in law enforcement or not, because remember, these officers hadn't always been members of an agency. They have been absorbing and been socialized across racial categories long before they even think or decide to enter into an academy. And so, they take that into those academies with them. And then whatever they are learning, that is being compounded. And when I say whatever they're learning, like, how do we think about who's committing crime or what neighborhoods? All of that information that is being absorbed begins in the broader society. It is then exacerbated in policing because now you have state authority and space to act out. And they do it in ways that are almost unable to be challenged. And in ways that are ultimately going to be protected, even if challenged, are going to be protected because they are occurring within the framing of state expectations for controlling citizens' bodies.
Dawson
The recent trial and conviction of Derek Chauvin, long and difficult trial, and the appeals process will probably be equally long and difficult. Do you feel that the original trial will have any lasting change on law enforcement practices?
Boyles
Yes and no. I think yes, to the degree that it certainly has to be unnerving I would imagine for law enforcement officers who see a member of you know, their professional community, facing life in prison and now also facing federal charges as well. And as well as those who actually witnessed. Who stood there, the additional officers who are also facing trials and so forth. It's several levels for not, you know, for allowing it. And so, I would like to think that, you know, that's gotta rattle some nerves, you know, across agencies, and so forth. But, again, I'm also very cognizant of the fact that the Chauvin trial would have never happened, had it not been for the 17-year-old, or the teenage, young Black woman who stood there and filmed the entire thing. I'm also very conscious of the fact that the initial report that came out from the agency did not suggest what we ultimately see on camera. In fact, it was very short in details and did not give any inclination at all that George Floyd had been killed. So I'm saying that to say this, that there was still some kind of cover up, you know, some real ambiguous kind of articulating of what happened that day. And had it not been for that camera, that footage, they would probably, there would have been space for, you know, for them to defend. What I what I'm saying to you is that I believe that the Chauvin case, this situation, it called for almost a perfect aligning of stars in social justice, in order for America get to get to the point where they were able to convict this particular officer on all those counts. I so I don't know. We'll wait and see. Administrations change. And so then, so do policies in the way that they're enforced. You know, even in terms of policing, so all those things are still in the air. And so, I'm I'm not necessarily pessimistic, but I'm very realistic. And I'm realistic based on evidence.
Dawson
Do you feel like people in general are going to demand more accountability?
Boyles
So people in general, when we speak of Black folks, have always demanded accountability. What has not happened is that there's, everywhere there has been a Black, you know, Black progress, or at least resistance and push in various ways for accountability. There's been contrary, a white or police-centered resistance, a literal structural pushback, in many respects. So for example, just in the moniker, you know, saying that Black Lives Matter. What do we see as the counter? Then there was the moniker, Blue Lives Matter. So there there's this tit for tat that never plays out, or rarely plays out, to the advantage or the benefit of the Black community, again, even in the narratives. And so, I'm not inclined to believe that, you know, that will be different because what it calls for is an unraveling of structure. Which makes very uncomfortable for people in empowered positions. People don't want to relinquish control, so I don't know that any of those things are possible without having that happen.
Dawson
Some of your research indicates that you support transformative policing. Can you address that?
Boyles
So I'm, I am very supportive of funding the community. I look at police budgets, from one agency to the next, one precinct to the next, one region to the next. And public safety is extremely lucrative. Public safety, oftentimes, in some of the most disadvantaged of places, suffer tremendously in education, and all sorts of other needed resources and, you know, for the community, but then can simultaneously have a billion dollars' worth of budget for policing. That is, you know, that that's unconscionable. You know, and it's unconscionable, again, even if we consider some of the recent cases. I think those matter, for the sake of example, because even if we're thinking about, let's say, the Daunte Wright case, for example. You know, in that community where Daunte Wright was shot and killed, you know, he was shot and killed by what was supposedly a training officer. An officer who's actually a veteran on the force and training other police officers, and the budget, they're allowed for an incredible like, it was the second largest, in fact, the largest cut of the of the pie was going towards law enforcement. So if the trainers, like obviously, the training is failing. What are people paying for? There are other things that are crucial in terms of public safety. Proactive measures that can be taken that are more successful, we know based on evidence, that would work to create space for people to thrive. Not just survive, but actually thrive in some of these communities where public safety would certainly not be a needed component, not a component needing of millions upon millions of dollars at the expense of other very necessary resources. So I guess my point in saying all of that is this. You have folks that are on the street being paid, you know, for the sake because we have all been convinced nationally that we, the only way to exist is to have police be operating in every element of human existence. Be it mental health issues, be that, you know, issues that might warrant you know, social, social workers' involvement, be an issue, and I'm not even necessarily pushing one of those issues over the other. But I think we should be thinking about social issues broadly. The fact that some of these communities, at least the ones I've covered, are food deserts. People can't even get to a decent grocery store. There's a detachment. There's a disruption in how we think about these things. There's an addiction to having police and having that and having people believe that they are inevitably the answer for everything. They are not.
Dawson
You are a new, as of 2021, you are a new associate professor on the Tulane School of Liberal Arts faculty. So we welcome you to the faculty, and we thank you for your time today, Dr. Andrea Boyles.
Boyles
Thank you.
Dawson
And thanks to you for listening to this edition of On Good Authority. For more episodes, please visit tulane.edu/on-good-authority. And if you like our show, please subscribe using your favorite podcast app.
Host: Faith Dawson
Editor: Marianna Boyd 
Producers: Marianna Boyd and Audrey Watford
Production team: Marianna Boyd, Keith Brannon, Will Burdette, Faith Dawson, Libby Eckhardt, Aryanna Gamble, Carolyn Scofield, Mike Strecker and Audrey Watford