Image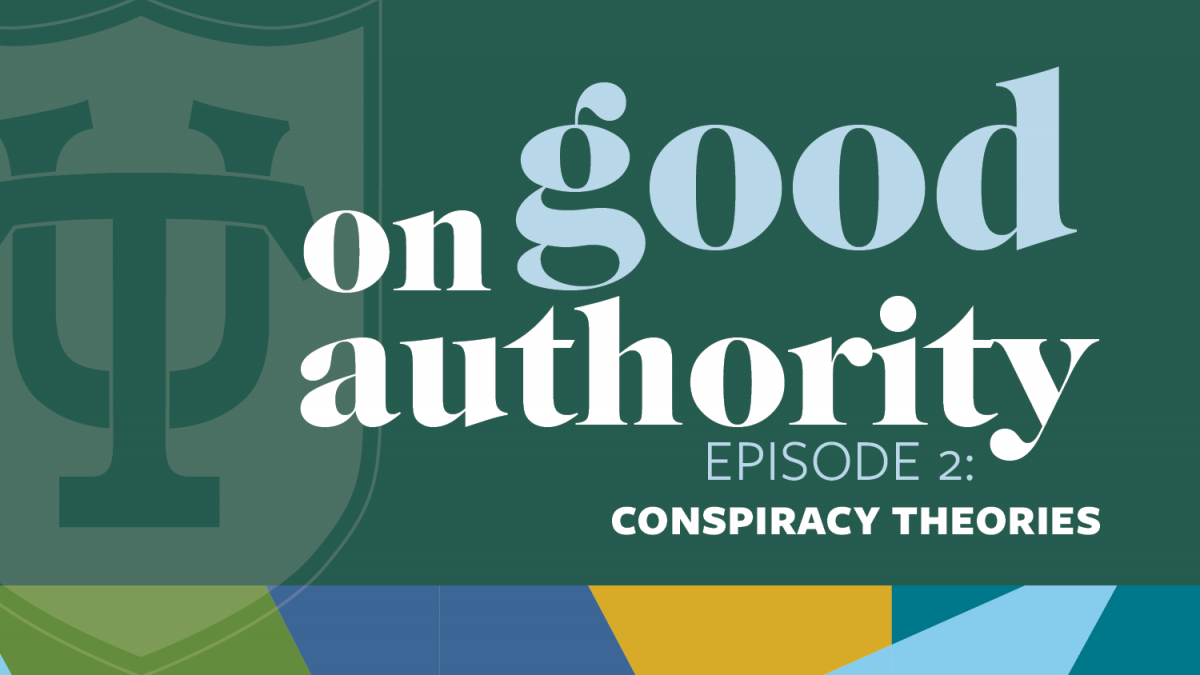 What are conspiracy theories? Who buys into them? In confusing times like a global pandemic are we more susceptible and willing to believe in them? A discussion with Geoff Dancy, associate professor of political science at Tulane who teaches a course about conspiracy theories, answers questions about how we process information and why people are willing to believe.
Transcript ▾
Speakers
Keith Brannon, Geoff Dancy
---
Keith Brannon  
Thanks for joining us here On Good Authority, the podcast featuring Tulane experts. I'm your host, Keith Brannon. Today we're talking about how we process information, specifically complex information. Think about it, in an average day, how many social media posts or news stories do you see? How do we make sense of all the conflicting ideas coming at us? Increasingly, some are turning into deep skeptics, they don't trust the media or traditional sources of knowledge. Instead, they look to the fringes to explain things.
Geoff Dancy  
That's where conspiracy theories live and thrive. Anything that scares people, makes them anxious, makes them feel like there's disorder or chaos. You're gonna have conspiracy theories immediately emerge.
Keith Brannon  
When the COVID-19 pandemic started, there were more than 2,000 rumors and conspiracy theories explaining how the virus happened. In fact, almost a quarter of Americans believed that the pandemic was a big global conspiracy. Others swear it's all hoax, a bioweapon that escaped from a lab in China. There's even a conspiracy theory that Bill Gates is using the COVID-19 vaccine as a global tracking device. None of this is true, by the way, but that still hasn't stopped these wild conspiracy theories from spreading online. To help us make sense of it all, we have an authority on conspiracy theories. Geoffrey Dancy is an associate professor of political science here at Tulane. He teaches a course all about conspiracy theories. Geoff, welcome to On Good Authority.
Geoff Dancy  
Hey, thanks for having me.
Keith Brannon  
So am I the one being paranoid here? Are we in a golden age of conspiracy theories right now because of coronavirus?
Geoff Dancy  
That's a good question. Would it surprise you to know that people have literally asked if we're in the golden age of conspiracies throughout American history?
Keith Brannon
That's a lie, Geoff.
Geoff Dancy  
Yeah, it's fascinating. In 1978, for example, Don DeLillo, who's an author of fiction and nonfiction, said this is the age of conspiracy, the age of connections, secret links, secret relationships. And that was in that was in 1978, which I can't even remember what the conspiracies were in that year. So no, we're not in the golden age of conspiracies, we're just in the newest iteration.
Keith Brannon  
So talk me off the ledge here. I refuse to believe we've always been this paranoid. It seems like social media, Facebook, Twitter is filled with this kind of information about conspiracy theories. Is it just more in our face? Are we are we engaging it more?
Geoff Dancy  
Part of what we're seeing is the democratization of the information environment. Anybody can say anything and have it read or go viral, which is pretty unique to our time. I mean, you could be a pamphleteer back in the 18th century, but whether your pamphlet would go viral was, it was a little bit harder than having a tweet go viral. So that that is a new experience that we're going through. But I still don't think that this is a unique time for conspiracy theories. For example, think about 1690s, Salem witch trials conspiracy theory that actually led to people being murdered, essentially. It was under the color of law, but there are many women that were victimized by the Salem witch trials conspiracy theory that there were witches getting together in a in a den and trying to ruin society. There were theories in the 1890s that Roman Catholics were seeking to take over the United States. There were conspiracy theories that US financiers started World War I to gain from war profits. There were theories that there was going to be communist infiltration and takeover of the US government during the Red Scare. In the 1980s, there was a moral panic that there were Satanists engaged in ritual child abuse, and many people were sent to prison for that. And, and only 15 or 20 years later got out of prison, because they didn't ever do anything at all. There was never any evidence except for witness testimony of children. So there have been many, many, many, many conspiracy theories, thousands probably in the United States, that have gained purchase and have actually been politically and socially influential. So it doesn't surprise me that we see a lot of people talking about QAnon or talking about Bill Gates starting COVID. There, there are reasons that these things happen. And and they're maybe not even as widespread as we think that they are. It's just that we, we follow the news and they've become newsworthy of late.
Keith Brannon  
So there's a difference between misinformation and a conspiracy theory. What are conspiracy theories and how can we spot them?
Geoff Dancy  
Yeah, that's a really good question. So the key element of a conspiracy theory is that there's a secret plot. And it usually involves a group of people that are, are acting in the shadows. So they're behind closed doors, or they're meeting in a smoky boardroom somewhere. And they're, you know, they can be any group of people. And so that's a conspiracy. A conspiracy is just a plan to hatch some plot to do something usually sinister, right. For that, that will hurt society, but benefit that small group of people. A conspiracy theory is that there is a small group of people that are controlling everything, that it's a causal theory about what's causing something to happen in society. So if we have COVID-19, it's a small group of people that have unleashed this virus on us, and it's become global. So that's a conspiracy theory. Now what distinguishes that from disinformation is a really good question. Disinformation campaigns, and this is kind of an irony, are conspiracies. They're they're planned campaigns to spread false falsehoods to confuse people. And this comes from an old Soviet tactic during the Cold War called dezinformatsiya, right. But the, you could spread falsehoods about anything. Let me make a distinction. So Plandemic, the documentary that everybody has watched that has conspiracy theories in it about COVID-19 says that masks actually activate the virus. Well, that's just a simple piece of disinformation. It's a wrong fact. Right? It's not true. But a conspiracy theory is that Bill Gates and Dr. Fauci funded research in China to spread the virus around the world for profit. That's a conspiracy theory.
Keith Brannon  
So who's likely to buy into all this? I mean, is there, this type of thinking, is there any sort of psychology behind these theories and what they do for believers?
Geoff Dancy  
Yeah, we have to be really careful here, I think Keith, because we're all human, right. And we all have a deep psychic need to answer: why? There's this need, especially in moments of uncertainty, to try to provide order to the world. And that's what's going on with any theory and conspiracy theories, in particular. Is there some kind of demographic that's more likely to believe in conspiracy theories? And maybe, but it's not what we think. So I think I think when we think of conspiracy theorists, we think of Gene Hackman in Enemy of the State, you know, some guy that is super smart, that has a mainframe computer in his house, or he lives in industrial chic building, you know, something like that, and he knows everything. Well, it might surprise everybody to know that that's not necessarily accurate. There's no racial demographic that's more or less prone to conspiracy theories. There's no gender demographic that's more or less prone. And also, party affiliation isn't really associated with proneness to believe in conspiracy theories. What you have are people that are actually less wealthy, less politically engaged, lower education, and Gen Xers. People that were born in the 60s. Gen Xers are certainly part of it because of Vietnam, because the 1960s was a turbulent time and they lost trust in their society and their government. And they've spread that distrust through the rest of their lives. If we want to get away from demographics a little bit and get more to the psychological profile that of somebody that believes in conspiracy theories, it's that they lack trust, they don't accept social institutions or political institutions, and they're more accepting of violence. So they're more radical. And they're, they think that order is breaking down and they want to reestablish order. That is the psychological profile of a typical conspiracy theorist.
Keith Brannon  
So obviously, social media is a tinderbox for conspiracy theories. But there are also dark corners of the internet, where these really do thrive. Where are these most likely to spread?
Geoff Dancy  
They start anywhere. They start anywhere where information is not carefully curated. So, any place where people are not controlling the spread of information on their platform, a conspiracy theory can start. Now how does it spread? Well, it spreads in any variety of, of outlets. So right now, the QAnon conspiracy is traveling all over Instagram, which is not something that we would really expect. Because Instagram is for, you know, pictures of cakes or something. I haven't really figured out what makes things popular on Instagram.
Keith Brannon  
Just so you know, Instagram is more than pictures of cakes.
Geoff Dancy  
Yeah, I guess it's also pictures of people on vacation. But people are figuring out ways of incorporating this information, or disinformation or conspiracy theories, on their comments after posting things on Instagram, so it can spread anywhere.
Keith Brannon  
How do these theories get into the mainstream though? The latest example would be QAnon. For those who don't know, it's, it's a far-right conspiracy, that there is a deep state who is protecting this network of very high profile people who happen to run a child sex trafficking ring. You know it, you know, it sounds completely outlandish. But it's gone from the fringe to more mainstream traction. In fact, there are a number of candidates running for office who believe in it.
Geoff Dancy  
So why do certain ideas or conspiracy theories go viral? Well, the answer for QAnon, at least, is that it explains a lot at once. So it's nice when you can have, if you're a conspiracy theorist, if you can form this kind of universal theory of everything, or a unifying theory, that has that has purchased over many, many different phenomena at one time. So QAnon can explain why the government's dysfunctional, why people like Jeffrey Epstein exist and evaded accountability for so long, why we're in a pandemic, why there are protests all over the country, and why the President is persistently unpopular. They can do all that at once.
Keith Brannon  
Right now, we're in a global health crisis. These conspiracy theories can have serious health consequences. If people think the pandemic is a hoax, or safety precautions don't matter, they could put themselves at risk. How do we challenge that, when it's so important for people to actually believe science?
Geoff Dancy  
People don't trust in institutions. They don't trust in things like the CDC. They don't trust in experts that have studied public health their entire lives, to tell us what is probably the best course of action, that it's going to be problematic. So places where there's been more trust in government, and there's been a better planned and more concerted effort on the part of government to counteract COVID, are the places that are not dealing with the crisis anymore. Whereas here, we're very much in the middle of it still. You think about cases like New Zealand and Australia, there aren't conspiracy theorists that are talking about COVID being planned by Bill Gates in New Zealand, and they aren't dealing with the disease anymore. So I think you could make the argument that those things are related to each other.
Keith Brannon  
What can we do to stop the spread of conspiracy theories? Surprisingly, you say it's a bad idea to try to debunk them with facts.
Geoff Dancy  
Yeah, I do think that's true. So debunking means saying, hey, look, there's this fact that your theory can't explain. So you shouldn't believe it anymore, right. Why doesn't that work? Well, conspiracy theories are remarkably resilient to that kind of a thing. Because if you say that to conspiracy theorists, they just think that you're part of the conspiracy, right? To change a conspiracy theorist's ideas or susceptibility to the actual truth, you have to change the way that you interact with them. And so, I think that there's a better way than just saying, no, that's factually incorrect. And then having them, you know, come back with, you're part of the conspiracy. Instead, you approach them as if you are also a seeker. They are seeking something, and you're seeking something alongside them. So if you're approaching somebody who believes in QAnon, for example, it might be good to first, always say their name. Always say somebody's name if you're in an argument with them, because it gives you a little endorphin hit. But you also agree with them on something. Find something to agree with them about first, because that gives them another little endorphin hit. So you say, you know, I think it's pretty weird, the circumstances surrounding the Jeffrey Epstein case. I think that's bizarre. All that is suspicious, and that he had such reach in the Hollywood and Washington D.C. community is problematic. So I see that as a problem, just as you do. I also think that it's problematic that there's child sex trafficking that happens all through the world, even in the United States. So those are things that we agree on. Then you say, you know, uh, but I'm not entirely sure that this is satanic. And I'm not sure that some of the bigger claims that are being made by QAnon are verifiable. So show me the best evidence that you have on this stuff. And so, if if you allow somebody that believes in these things to show you the best evidence, then you can have a conversation and talk them through what's good and what's bad evidence.
Keith Brannon  
So for the coronavirus, say someone on Facebook says that the virus is wildly overblown. The number of testing that states are doing is exaggerated. They're double counting tests. In fact, the mortality rate is no different than the seasonal flu.
Geoff Dancy  
Yeah so you say, listen, listen, I agree with you that there are testing irregularities around COVID. In In fact, I think that we've lost control of it. You know, I don't even see who is running the show anymore. And so that's something that very much worries me. The question I have is, could you show me some figures on how much hospitals are getting paid for COVID tests, for example? Could you show me what, you know, how you know that the numbers are overinflated? I'd really like to see that evidence, so I could use this in arguments in the future. Do that, you're, you're never gonna entirely win, Keith, that's just the truth. But there are certain things that you can do that kind of chip away at it. All this is, is teaching people scientific methods, just through conversation. The one way that you can really detect a conspiracy theory, is how many people would have to be involved in it for it to come off. You can you can detect how implausible it is through. So for September 11 to be an inside job, how many people would have had to been in on it? Tens of thousands of people would have to be in on the secret and nobody ever comes out and says we did that. That's just not believable. Right? So that's one way that you can kind of mentally key in on how implausible a conspiracy theory is. But we should do it with all of our ideas. I mean, people on the right and the left have conspiracy theories. You know, people on the left think that the Koch brothers run everything. People on the right think anti-fascists run everything right now. And it's weird. So we have to constantly examine our own ideas, too. That's something that you can do amid uncertainty is is return to the things that you know have psychic benefits that maybe aren't sinister, or maybe aren't gonna get you wrapped up in something that later it goes away or is fleeting. So yeah, I, if there is one thing that I like to communicate in the in this podcast is that we have to come up with ways of dealing with uncertainty, and my way of dealing with it is reading about it and listening to music.
Keith Brannon  
Geoff Dancy, thank you so much for joining us here today On Good Authority.
Keith Brannon  
Thanks for listening to this edition of On Good Authority. And you can catch our newest episodes by subscribing to our podcast on your favorite podcast app. If you want more information on our next show, visit tulane.edu/on-good-authority.
Host: Keith Brannon
Editor: Marianna Boyd
Producers: Marianna Boyd and Audrey Watford
Production team: Marianna Boyd, Keith Brannon, Will Burdette, Faith Dawson, Libby Eckhardt, Aryanna Gamble, Carolyn Scofield, Mike Strecker and Audrey Watford