Image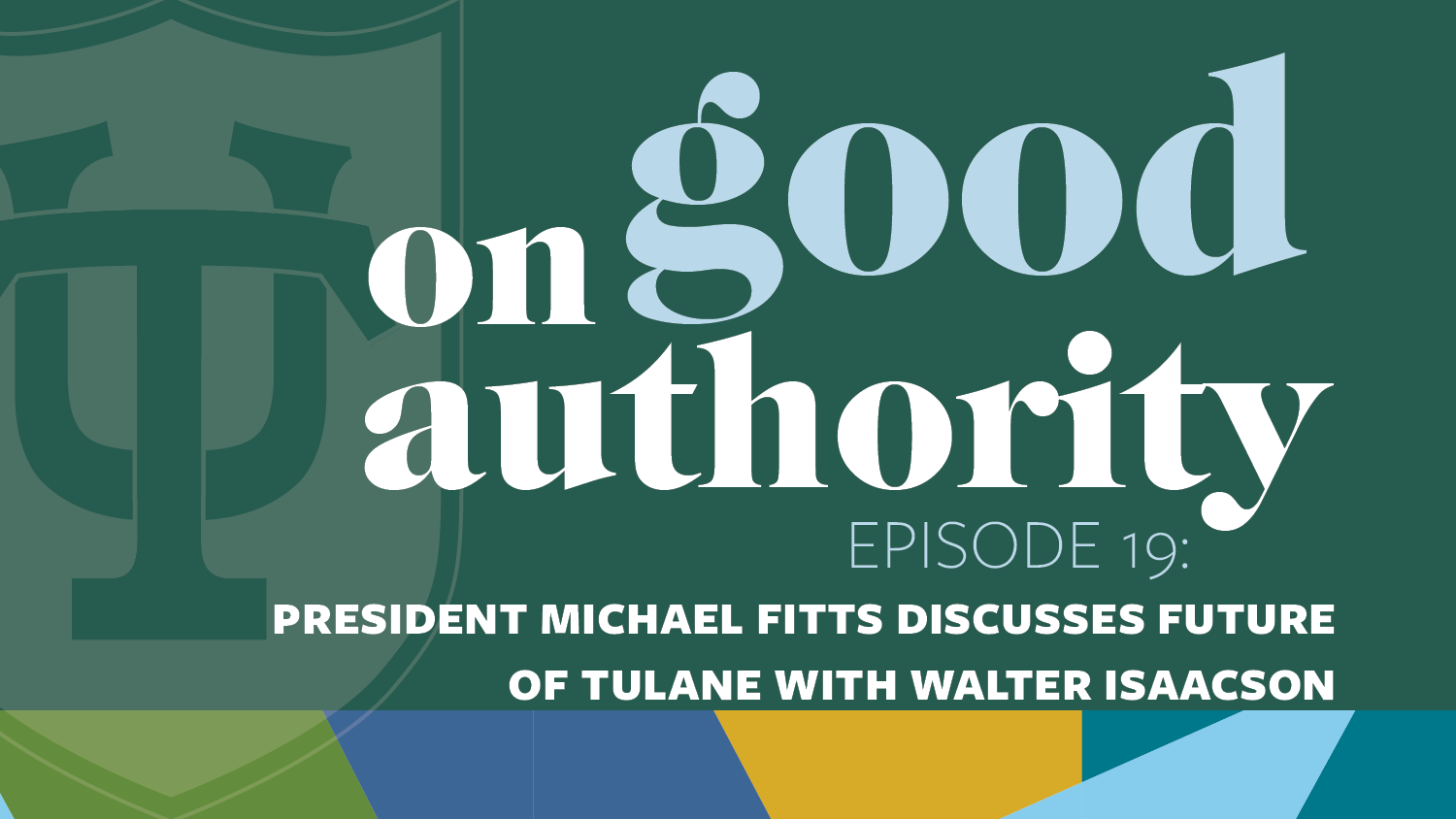 On this special episode, bestselling author and Tulane faculty member Walter Isaacson sits down with Tulane President Michael A. Fitts to discuss the resiliency of the university, his time at Tulane, and what the future holds for the university.
Transcript ▾
Speakers
Faith Dawson, editorial director, Tulane University Communications & Marketing
Michael Fitts, president, Tulane University
Walter Isaacson, bestselling author, professor, Tulane University
Dawson
Welcome to On Good Authority, a podcast featuring Tulane experts discussing news and topics of the day. I'm Faith Dawson. Today we have a special episode. Our guest host is noted author and Tulane faculty member, Walter Isaacson. He recently sat down with Tulane President Mike Fitts to discuss his time at Tulane, this unprecedented academic year, and what the future holds for the university. But first, a little bit about our guest host. Walter Isaacson is the Leonard Lauder Professor of American History and Values at Tulane. He is the past CEO of the Aspen Institute, where he is now a Distinguished Fellow, and has been the chairman of CNN and the editor of TIME magazine. Isaacson has written biographies on Leonardo da Vinci, Steve Jobs, Albert Einstein, and most recently, Nobel Prize winner, Jennifer Doudna. He is also the host of "Amanpour and Company" on PBS and CNN. Now, here's Walter Isaacson and Tulane President Mike Fitts.
Isaacson
I'm Walter Isaacson. And this is a special, I should say, a very special edition of On Good Authority, because we're actually interviewing Mike Fitts, the president of Tulane. And Tulane has come through this pandemic with amazing resilience. But that doesn't surprise me because encoded in the DNA of Tulane is audaciousness and resilience, ever since the 1830s when we came through the first wave of pandemics that affected Tulane, and certainly through hurricanes as well. But the fact that we have come back so strong, and in a financial as well as academic position, is a great case study in leadership. And so, I'm going to be talking to President Fitts about that. But I want to begin, since I'm a biographer, with sort of a biographical question, which is about seven, eight years ago, you came from the University of Pennsylvania where you had transformed Penn Law School. You have deep roots in Philadelphia. Why Tulane?
Fitts
Well, thank you, Walter, thank you for doing this interview. But just as importantly, thank you for being one of the most distinguished and visible faculty members at Tulane University. And thank you for all you do for Tulane. So why did I end up, why did a kid from Philadelphia end up at Tulane University? And I must say, what drew me here is what I think drives students from around the country and the globe to come to Tulane University. First of all, it's the culture, it's the relational culture of this city. It's innovative, it's creative. It's it's unsiloed. And it's it's it's such a, an expression of innovation as a place to be. But it's not just that, it's that that's what a wonderful place for a university. I mean, if you think about what education is about nowadays, it's about innovation. It's thinking out of the box. It's connecting with other people, your classmates. It's about research that that sort of flows from one area to another, where you're unsiloed. It's about all those aspects. It's about a city that supports that, the greatest college town in the United States. So when I was sitting in Philadelphia, which I must say, dominates New Orleans in terms of the quality of cheesesteaks, has so much in a sense, to to sort of look at New Orleans and say this is a model, not only a place to live and a place to grow, but a place to go to school and be part of a university.
Isaacson
Well like any New Orleanian, when you mention food, we drill down on that. So what's the best place for cheesesteak sub in Philadelphia? And what's the best place for a po' boy in New Orleans? And which do you like better now?
Fitts
So I must say, in terms of Philadelphia, I'm a Jim's Steaks fan and nobody else mentions Jim's Steaks. I actually went to the Commons week before last and served about 150 cheesesteaks to Tulane University students. And all them loved it except the students at Tulane University from Philadelphia, who said it just didn't compare to the Jim's Steaks cheesesteaks. In terms of po' boy, I'm not going to respond because anytime I mention any specific place in New Orleans where I like to eat, I get in trouble because their their, every New Orleanian, every Tulanian, has their favorite place, and I just get in trouble anytime I mention any specific location for food. But easy, obviously, Philadelphia is a great place for food, but nothing can top New Orleans in that regard.
Isaacson
I'm going to give a shout out to both Domilise's and Casamento's, maybe Parkway, just so that we can, I can get in trouble instead of you. You know that Forbes article was totally amazing. I hope everybody's read it about the financial hit, the statistics that are pretty grim for universities around the country, and what a blow it's been to colleges. And then there's Tulane, it said that Tulane has weathered the storm better than most. Why is that?
Fitts
So it's a great question. And part of it is just who we are. The culture. You know, obviously, we're a university that started in the middle of a pandemic, and it was a medical school dealing with epidemic, and it's part of our DNA. You saw through Katrina, we saw it, I think, in terms of COVID-19. We, it's that connection between our, our community and that we, in a sense, deal with these problems together. Now, I must say, for us, as many people have been involved with doing, we went through a real restructuring of our financials, I would say, five, five years ago, four or five years ago. And I could go through the details of that. But it really put us in a good position in terms of dealing financially with issues, balancing the budget, decentralized budgeting. And when we came into COVID, it was an amazing situation. We, in a sense, we froze all our salaries, and we said we had to put everything in order. But we made a judgment. We weren't going to lay anyone off, and we were going to marshal our resources so we could literally take care of the community. And that meant building temporary classrooms. It means testing. It means supporting the health and safety of the community and continuing with all the initiatives, and there's so many of them, through this pandemic. And as you know, crises, as the great proverb says, are our times for opportunity. And what it allowed us to do was, in a sense, confront the pandemic, both in terms of research and care, and then move forward as an institution, which I think will allow us to emerge, it's hard to believe, even stronger than when we entered the pandemic.
Isaacson
By stronger, do you mean Tulane might actually grow? I noticed Rice University and others that have, the few that have made it through the pandemic well, are thinking about growing.
Fitts
We're clearly growing. I'm not sure if we'll be growing the size of our undergraduate population. We've actually grown the size of our undergraduate student body over the last few years, not by intention, but just because our our, the interest in Tulane has skyrocketed, and the yield on our offers is skyrocketing. So it's been sort of unintentional that we've grown, but we're clearly looking to grow the size of our graduate schools, and they have grown, believe it or not, this year the size of the graduate education has expanded. At the same time, undergraduate has stayed as strong as ever. And then we're looking obviously to grow our research enterprise. Tulane has been in the forefront of so many different areas, whether it's environmental issues, infectious diseases, issues of health equity, aging neurosciences. We really see ourselves as not only continuing our leadership there, too, but to emerge internationally as as a great institution in those areas. So we will be growing.
Isaacson
The word audacious is one that you helped us pin on the university. And one of the audacious things that turned out to be right was keeping Tulane open for students to come to through the pandemic, but in a very safe way, and blending on campus learning with remote learning and new ways of doing things. I run into so many parents of my students who just say, "Thank you." But walk me through that decision. And were you surprised at how correct that decision turned out to be, to have safe reopening and have a blended learning like we did?
Fitts
So it's a great question. And as you look back, it seems like an obvious decision. We're now through 24 of 28 weeks of the semester, but obviously turn back the clock to to March and April and May and June. Everybody was sort of trying to figure out, you know, could you come back? Could you do it safely? Was there reason to? And there were lots of universities, certainly in the fall, that did not come back at all and stayed remote. And even in the spring, um, what led to our decision to come back? And first of all, it literally we said, "If we're going to do it, we have to do it in a safe way." So we need to think through all the different, in the sense of precautions, and I viewed it as a belt and suspenders system. And I'll talk about that in a moment. But the second part is, we concluded that because Tulane is Tulane, because we're a relational culture, because of the research that we do, because of the connections between our students, it was important to come back. Important to what happens in the classroom, important to what happens out of the classroom. So we started with the assumption, if we could do it safely, it was critically important to do it. I think a lot of other universities reached the opposite conclusion. And I think they've had challenges, in you know, not only keeping their students and keeping their research. For us, if, you know, it was a two-part decision. Now I can go through all the different sort of health precautions. And it really was a system of precautions, and then backups and backups. Because obviously, back in the, in the in the summer, everybody was thinking through this. So we build 18, 19 classrooms, we have a massive testing program that we set up. All sorts of distancing, isolating precautions across the board. I'm not aware of any university that in a sense had a broader array of precautions. And we talked to our experts at Tulane and really did deep dives about how we can ensure the the safety of the community. But the second part of that is, you know, if you're a student, the ability to sort of relate to your fellow students in a personal way, to talk to your faculty upfront, is actually essential. And so, we decided we had to provide those protections. And I think the results speak for themselves. We ended up with the highest enrollment we've ever had at Tulane this year. Students came back. Even though I think they were concerned about whether we'd make it through the year, they understood what the value was of coming back to Tulane. The faculty, in terms of the research they were doing and the teaching, I think were remarkable. It was certainly not easy to learn how to teach in the classroom or teach remotely, with some of your students remote, certainly challenging. And then the entire administrative staff putting this whole package together. It was certainly in retrospect, I, it was absolutely the right decision. Great for Tulane, great for the reputation of the university. But you go back to May and June, I think people were less sure about what what, how, what we should do.
Isaacson
Well, congratulations. And I now do my lectures online. In fact, there's a YouTube playlist. And a lot of my students say that parents are watching the lectures too with them. And it's it's made them feel closer to Tulane, I mean, even the parents. Has this been reflected in things like applications and yield?
Fitts
You know, absolutely. As you know, Tulane has seen an explosion in interest, around the country and the globe, in coming to this community. And our, if you look over the last five, five years, I think our applications have probably gone up as many, much as any school in the country. But it's not just applications, it's individuals who want to be here. So our early decision applications have have skyrocketed because students say, "This is the place I want to be." And and that makes a difference, as well as yield. You know, students are admitted to Tulane, they're admitted to other schools, this is the place they want to go. I must say this past year, we will have ended up taking over half of our class early decision. That is half of the students were coming to Tulane said from the very get-go, "This was our first choice." Again, we've had more applications, stronger applications, more diversity, more global interest, just on every level, and that's a testament just the culture of this place. The the identity of this place, you know, students, you know, they have all these polls, students who love their classmates, Tulane is always in the top three in the country. And as, Walter, as you and I know, when we went to school, students just sort of siloed into individual cases. And that's the vision, the relational vision of Tulane, that's socially important but academically important.
Isaacson
As you grow Tulane and make it more connected to the community, what is the role of tapping into and being a spur more to the innovation and entrepreneurship spirit that has now hit New Orleans?
Fitts
Well, you know, as you and I quote all the time, the great Pat Moynihan statement that the way you build a great university is, is found it and wait 200 years. And he he understood the just incredible connection between universities and cities. It's it's education, it's ideas, it's the source of innovation. You look around the country, you look at places, obviously, everybody talks about Silicon Valley and San Francisco, and they talk about Boston, but places like Nashville and Pittsburgh, Columbus, they've grown incredibly. And and that's the underscore, Tulane and New Orleans are literally tied together at the hip. Our future, our success is tied to New Orleans, and I think vice versa. And it's, you see it in our graduates who stay here, but we also see it in, in a sense, the research that we produce, and the startups that proves, the innovation that's, that comes out of that. And we view this as critically important to us and to New Orleans. We did an economic impact survey that showed we do $3 billion worth of business, in a sense, in New Orleans. But this this future of of research and the innovation that it provides and the startup activity is really essential to Tulane and essential to New Orleans. I mean, Walter, I'm speaking, I'm in a sense, repeating what you've said on so many different occasions. You know, we've we've had, you know, sort of three different revolutions in this country. A physics revolution, a digital revolution. And we're now in the middle of a biomedical revolution, in a sense accentuated by this pandemic. Well Tulane, with the medical school, the oldest school of public health in the country, a school of science and engineering, is literally positioned perfectly, in a sense, to create the innovation, the startups for this, this new world. And so, you know, Moynihan made the comment, obviously, many years ago. I don't think it's ever been more important than it is at this moment. And we have so many sort of ideas on the on the plate, challenge, sort of initiatives that I think, especially with the downtown district, which will be great for New Orleans and great for Tulane.
Isaacson
Tell me about some of those initiatives.
Fitts
Sure, as we know, many people think of Tulane as an Uptown school, an Uptown campus. And we have an exquisite campus here. We're building a new undergraduate quad, a new science and engineering building. But we are totally landlocked. We're not building into Audubon Park. We have a downtown campus. Whereas we have 17 buildings, we now have three schools downtown, probably a fourth we'll move downtown, and we will have more employees downtown than we have Uptown. So just in terms of geography, that's our future. Where we're expanding, where our research is expanding. It's not just physical, though. It's the nature of what we're doing. Our research in the middle of the pandemic, we've gone up close to 50% over the last few years. And that's because our research has focused on areas whether it's the environment, or infectious disease, or health equity, or all sorts of other areas that's critical to our society right now. And so, as as you know, we've been in very serious discussions with taking over a third to a half of the old Charity Hospital building, for expansion of our research and consolidating the Tulane population there. We will have a downtown campus, but it's a campus that will be creative, and we look to be a place where in the sense, will be an innovation district. It will be geared by an innovation institute, so that the things that occur on at Tulane University can become the basis for startups that really can help New Orleans become sort of an innovation hub nationally.
Isaacson
If you look at the great innovation hubs nationally, obviously Stanford helped spawn Silicon Valley. But you just mentioned, you know, places like Pittsburgh, Columbus, Nashville, being innovation hubs. What they all have in common, they have a great research university like Tulane that focuses on biomedical. So we're well positioned, and I think we are grateful that you're leading us in that direction.
Fitts
Well, I should mention, Walter, you've been absolutely critical, not only in articulating the vision for this, but you know, that'll looking at the research work that you did and the great books, biographies, but also our, you know, sort of talking to the community and explaining to the community how this is the future, not only of Tulane, but so important to New Orleans. Historically, of course, hospitality has been sort of central to our economy. And it's going to continue to be important. But this is a way to diversify the economy. And I also should mention, to make sure all those Tulane graduates stay in New Orleans and help build the city.
Isaacson
Issues of equity and diversity and inclusion have become very prominent recently. Tell me about how Tulane's progressed on those.
Fitts
Sure. Let me sort of back up a second. The great universities are diverse universities. Many years ago, I took a year off from law school and worked with Leon Higginbotham on his first book, on Race and the American Legal Process. So I've always been deeply committed to these issues. When I came to Tulane, I appointed the Presidential Commission on Race and Tulane Values, because I understood the importance of this to the university. So we've we've obviously moved on a number of different fronts in terms of diversifying the student body, diversifying the faculty. Moving forward Louisiana Promise to draw students with financial need to Tulane University. There are a whole series of initiatives now with that we move forward, a Center for Academic Equity to support students who are first generation, Leadership Institute, I could go down a whole sort of series of initiatives. And every institution in society at this moment, I think, is is deeply in a sense, trying to solve these issues by by becoming more diverse and more supportive. But I do think Tulane is in a, it has many challenges, but we are in a good, very good position at the same time, which is, we're national, we're international, we have the ability to attract students from all over. And we have a commitment in terms of our our community to support individuals, whether they're first generation or otherwise. And to understand that differences is a source of creativity and bringing people together from different backgrounds is a source of energy, a source of commitment, and also a source of greatness for universities.
Isaacson
When people ask me, "What is the secret to the creativity that you find in New Orleans?" I say it's one word. It's the city's diversity. And it's been that way for more than 300 years. So I think it's now reflected at Tulane, which is great. So speaking of that, let me end by some quick, fun questions, which is what's your favorite New Orleans tradition, your favorite Tulane tradition, and maybe something that just you finally learned to grow to love more recently? Just like my wife after 30 years has finally grown to love Mosca's Restaurant.
Fitts
So, you know, let me just say something about tradition in New Orleans. And it's, it's, in some sense, there's no city more connected to tradition, just have to look at the streetcars and Audubon Park and the architecture, and sort of all these sort of institutions that have remained over the years. But there's a different aspect to it. It's it's, there's a creativity, an innovation and change with all these institutions. And that's what I love. It's, it's, it's that it's that combination of the two. I mean, I let me say the thing about New Orleans, the tradition I love most, or the institution, may be Jazz Fest. And it's certainly something which, you know, before I came here, I sort of knew of it, but I had not experienced it. And of course, what's what's so special about Jazz Fest it's it's been around longer than perhaps any anything of its kind. On the other hand, it keeps evolving and the participants keep changing each year. And it's that combination. I actually close my office each year and everyone goes to Jazz Fest. So there's, there's, there's, there's a day or two when the president's office at Tulane is shut down. And then when people call and try and contact it, they get the little message, "Sorry, we're not here. We're at Jazz Fest." I can assure you there's not a president's office in the country that does that does anything like that. In terms of, I have to tell you, one of the other things I've enjoyed so much, I have to say is Mardi Gras, which is in a, it's both sort of as old as it gets, but on the other hand, it's evolved and changed and morphed in different ways. And for me, I must say, the experience I've had that's been most special was was going marching with the Tulane Marching Band in Mardi Gras right before we shut down at at last year. And it was just so cool. I mean, it's just so cool. And people, as you know, everyone comes up and hugs you. And people don't usually hug presidents, presidents of universities, but I must say I got 500 different hugs as as part of that event. And there's just again, it's it's part of the joy that that comes through the city.
Isaacson
Well, this has been fascinating. And to all of y'all out there, thanks for listening. And for more information on this episode, please go to tulane.edu/on-good-authority. All one word. Thanks for listening.
Introduction: Faith Dawson
Host: Walter Isaacson
Editor: Marianna Boyd 
Producers: Marianna Boyd and Audrey Watford
Production team: Marianna Boyd, Keith Brannon, Will Burdette, Faith Dawson, Libby Eckhardt, Aryanna Gamble, Carolyn Scofield, Mike Strecker and Audrey Watford