Image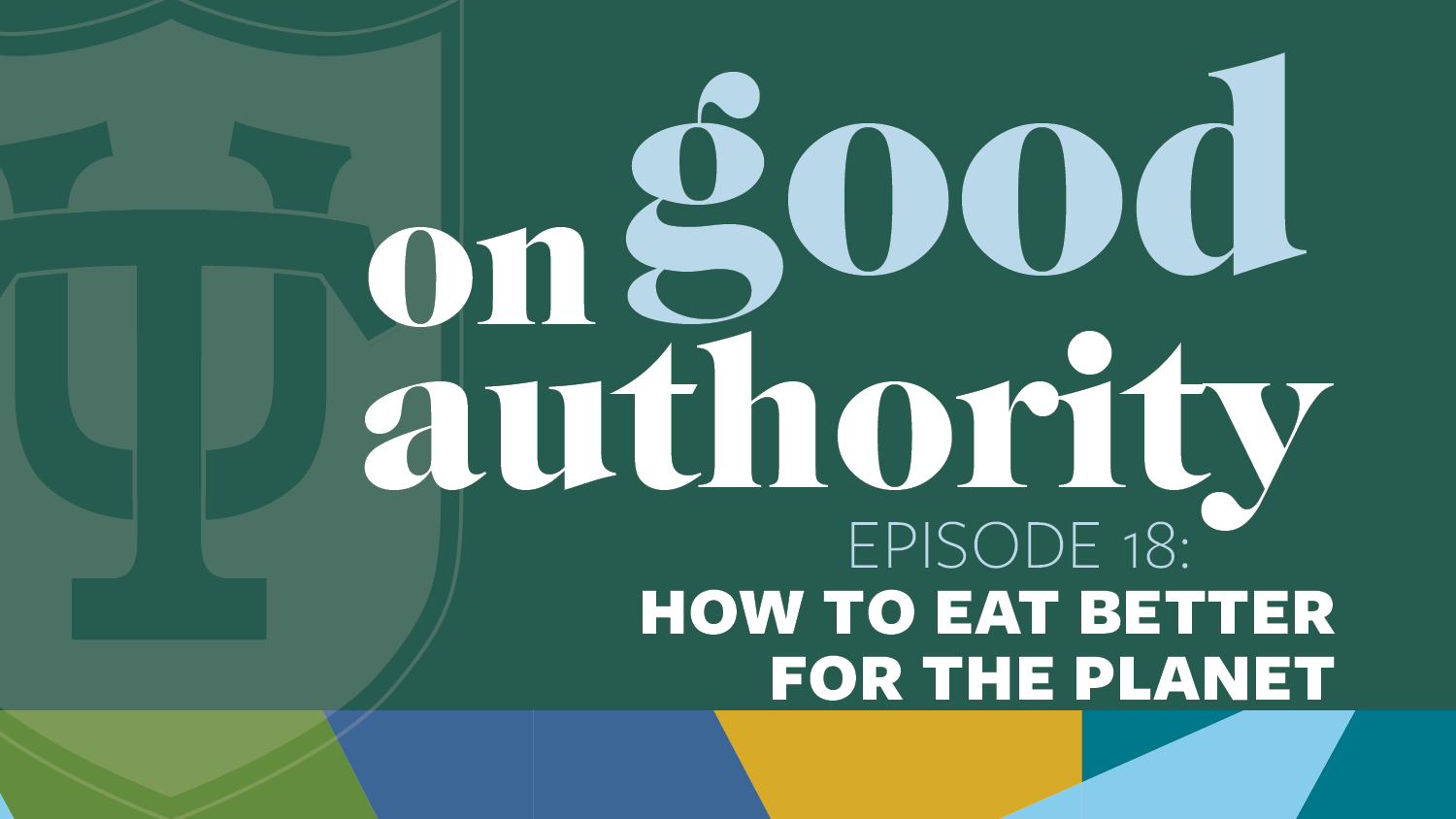 Food production accounts for about a quarter of all greenhouse gas emissions across the globe. Yet, diet is often overlooked as an important factor in climate change. Tulane nutritionist Diego Rose found that if we changed our diets by swapping out just one item each day, Americans could greatly reduce our carbon footprint from food. He discusses how food choices affect the environment and ways people can make their diets healthier — for themselves and the planet.
Transcript ▾
Speakers
Keith Brannon, associate director of Tulane Public Relations
Diego Rose, PhD, MPH, RD, professor, Tulane School of Public Health and Tropical Medicine
Brannon
Welcome to On Good Authority, the podcast by Tulane University where we bring you leading experts to talk about issues of the day and ideas that shape the world. I'm your host, Keith Brannon. We all know that what we drive and what we buy all have an impact on the planet. As consumers, many of us try to be green by supporting more sustainable industries, using less plastic, recycling goods, and lowering our carbon footprint. But should we also be taking a closer look at what's on our plate every day? Tulane nutritionist Diego Rose says we should. Food production accounts for about a quarter of all greenhouse gas emissions across the globe, yet diet is often overlooked as an important factor in climate change. Rose is a professor of nutrition and food security at Tulane School of Public Health and Tropical Medicine. He authored a study that found if Americans change their diets by swapping out just one item each day, they could greatly reduce their carbon footprint from food. He's here today to talk about how our food choices affect the environment and ways people can make their diets healthier for themselves and for the planet. Diego, welcome to On Good Authority.
Rose
Keith, thanks for having me.
Brannon
So you've been a nutrition researcher for quite some time. I first got to know you when you were studying food access, specifically food deserts in New Orleans, after Hurricane Katrina. What prompted you to explore climate change in food?
Rose
As a food security expert, I got invited to a National Academies workshop a number of years back. And it was one of these crazy things where they put us in a room with a bunch of other folks from different disciplines, including ecologists and sustainability systems people, and gave us a challenge. We had a challenge to think about what the future of food security would be and what the impact for sustainability would be. And, and so I spent two days with these people, like working on a problem and doing cocktails and dinners and the whole thing. And at the end of that I started getting interested in the whole idea about sustainable diets. And that sort of led, one thing led to the next, and here I am all these years later, still working on it.
Brannon
A lot of people might not know what a food security researcher is. What is that?
Rose
Food security is the idea that people have enough access to food, healthy, nutritious food. Do people have economic access? Are our our food assistance programs doing the job that they they need to do? Another way is looking at local food access. Is it really hard to get to a supermarket? Does that make a difference in the kinds of things you buy? But I kind of see the whole idea of sustainable diets as part of that, because we're just, we want to make sure that we have secure food into the future.
Brannon
So what is the first thing that you would want people to know about the impact of diet and climate change?
Rose
I mean, one of them is that what you eat does make an impact on the on the environment, particularly for folks that live in cities and don't really think about where their food comes from. What is the food system that delivers our food? How does it get on our plate? You kind of need to know that the food we eat, the diet choices we make, come from someplace, and those diet choices can actually influence what gets produced. So the short answer is yes, what you eat makes a difference in the environment. Because it influences what producers produce.
Brannon
What are the food choices that have the biggest impact on greenhouse gases?
Rose
Meat and dairy, to make, to summarize really briefly. In general, animal products have the highest impact, and within animal products, ruminant animals are the ones that have the highest carbon footprint. And and you know that may be surprising people, why is that? I mean, ruminant animals are kind of amazing. They've, cows got four stomachs, right, in the digestion and fermentation process, those four stomachs, a lot of methane gets produced.
Brannon
We know that beef is bad because of all the methane that's produced into the atmosphere from their digestion and things like that. I guess methane is worse in terms of global warming than CO2?
Rose
Yeah, methane is like about 30 times more more impactful. It retains more heat in the atmosphere than carbon dioxide. You know, scientists talk about carbon dioxide equivalence. And so most consumers just hear carbon dioxide. But when scientists say carbon dioxide equivalence, they're actually looking at methane and nitrous oxide and carbon dioxide and putting them all on the same scale. It turns out that methane for chemical properties bumps up that impact a lot more than just carbon dioxide.
Brannon
Some of your researchers have tried to quantify the impact of eating a burger on the environment. Is there a way to translate that, like is a steak dinner almost the same as driving a car a certain distance? Or maybe getting on a plane?
Rose
Yeah, a hamburger, a quarter pounder, is about 10 miles in an average passenger car, nine to 10 miles in an average passenger car. Steak dinner is probably a little a little bit more than that. But you know, it's about the same. You know, assuming that you're, depends on how big a steak you're eating, of course.
Brannon
Well, the good news is that your research has shown that small changes can make a big difference. Tell us about your study looking at real world diets of thousands of people in the United States and how swapping one thing a day can reduce your carbon footprint.
Rose
Well, this was really interesting because it turns out that our national nutrition and health surveillance systems have really rich data sources for us to think about what Americans are eating. There's in fact, there's a survey that's called "What We Eat in America." And we looked at 17,000 individuals. And what we have in that survey is what they ate yesterday, the day before they were interviewed. And those interviewers got everything. They get all every little thing that they ate in that day. And we are, part of our research was to map that to each each food item to a carbon footprint and then add it up for the whole person. So basically, we have carbon footprints on 17,000 people. And one of the things that we noticed, we rank them in terms of the carbon footprint of their diet from low to high. And we noticed that that top 20%, the top quintile, had about almost half, 46%, of the total impact for everybody. So they really had an outsized impact. So we started looking at that and said, "What's going on?" And one of the things we noticed, we looked at it food by food by food, and noticed that there's always one item, at least, for those really high impact folks that stood out. One item in their diet, one out of the 10 or 20 or 30 items that they ate over the over the day, really stood out. And so we thought, "Okay, what would happen if we just swapped that?" And so then we did a bunch of analysis on what and then that was our that was our experiment. Let's let's just change one item and and see what see what happens. We swapped it out for chicken in most cases. And what we found is that that cut their footprint, each individual's on average, that cut their footprint 48%, almost in half. So it's pretty dramatic. Just one change can make a big difference.
Brannon
So if you are a big consumer of meat or beef, and you do this, say you do a Meatless Monday or a, "Hey, I'm gonna go for poultry instead of beef." We collectively could be making a big difference.
Rose
Yeah, I think I you know, I had mentioned that that, you know, a burger is about nine or 10 miles in an average passenger vehicle. And that's about on the order of what our substitution showed too. So that if you make this one substitution, that's 10 miles an average passenger vehicle, doesn't sound like a lot, you know, for one person. But we're, you know, if everybody did it on every day, it'd be 12 million passenger vehicle miles. And so that's, that's a lot. And so that's the kind of thing where little changes that everybody does, makes a difference.
Brannon
So what food should we all be eating a lot more of to help the planet?
Rose
Well, I think in helping the planet we want to help ourselves too. I mean, we don't want to kill ourselves off by helping the planet. So I think nutrition for ourselves is important. And I think you can do both at the same time, mostly by eating more plant foods. You know, having a plant forward diet would would certainly be helpful for the planet and would also be healthier for us.
Brannon
Are there any foods that people think are healthy and eco-friendly but really aren't?
Rose
I think there's some misconceptions about the whole environment and sustainability and diet thing. I think there's there was a lot of attention paid to food miles. This is the idea that you should buy food that's locally produced because there's less energy used in transporting it to you. That's true. But those those impacts, you know, transporting vegetables from California to Louisiana, for example, in bulk has a lot lower impact than switching off of beef.
Brannon
There's some nuance here because you have a caveat about eating more plants. It's better to eat produce in season.
Rose
If we're thinking about blueberries in, you know, in Louisiana in June. That's perfect. There's no problem there. But if all of a sudden you got a Christmas party, and you're going to start buying blueberries from from Chile or South Africa. And blueberries are the kind of foods that are fragile, and oftentimes, they're shipped by air. And so that that really jacks up the carbon footprint of that. So I think an easy thing to think about would be to, to eat, eat fruits and vegetables in season, because when you start shipping stuff from South Africa, it really raises the carbon footprint.
Brannon
So are plant-based meats a good alternative? Things like the Impossible Burger or some of those other new options?
Rose
Interesting that you asked because I was just writing a paragraph on this today. My colleagues, I actually have colleagues at University of Michigan, Marty Heller and Greg Keoleian. And they did a what they call lifecycle assessment of the Beyond Burger. And it, what we looked at, it looks it looks to have about the same impact as like a turkey burger. If you can make it ground turkey and turn that into a burger. It's a tenth of what a beef burger would be. So that's a really dramatic decline. And that's important. It's about the same as a turkey burger.
Brannon
A lot of people are saying, "Well, you know, maybe if, hey, if I give up meat, I could go for an Impossible Burger, or I could do a plant-based meat. And that will be better for the environment." There's also synthetic lab grown meat that is perhaps a thing in the future. Are are those more eco-friendly, nutritious options?
Rose
I mean, certainly. Marty's study showed that Beyond Burger was a lot more eco-friendly, a lot lower carbon footprint than a beef burger. So there's no question about that. I think there's a lot of people who don't want to give up the the taste of beef. And if these are these items are things that can get them to switch to plants, then great, then go for it. And they've caught on too, they're they're doing pretty well.
Brannon
Have you tried one? I've never had one.
Rose
Ah which one was it? I think I had an Impossible meatball I was at a conference.
Brannon
Was it, was it any good? Or was it?
Rose
Yeah, it was fine. I'm not a big beef eater to begin with. So it's like, I mean, I think it's it's it's really good for people that, like people that like burgers. There's gonna be some people that won't notice, that won't won't go for it because they really want their beef. But they're getting better and better at getting it closer to what beef is like. And, and so for those folks that want the beef but also want to make a difference and have something that's close to it. Why not? That's fine. I think environmentally, it's a good thing to do.
Brannon
So what's better for us as people is also good for the planet. You found that earth-friendly diets are generally healthier, right? Tell us about your research comparing the climate impact and nutritional value of U.S. diets. Usually, they're aligned.
Rose
Yeah, that's true. There's, you know, I talked about that study where we looked at the diets of 17,000 Americans. And and I said that we arranged their, we ordered them in terms of their carbon footprint. And we and we, we looked at the highest carbon footprints diets and compare them to the lowest carbon footprint diets. And then we we evaluated them on this thing called the Healthy Eating Index. It's an index of healthy eating, as the name implies, developed by USDA. It's it's an overall measure of of diet, and it looks at things like the amount of sodium and added sugars and saturated fats, but also like, you know, are you getting a fruits and vegetables and things like that. So it's an overall measure. We scored everybody's diet on this Healthy Eating Index. And what we found is the folks that had the lowest carbon footprint had a higher Healthy Eating Index.
Brannon
Americans are bombarded with health information about diet, what to eat, what not to eat. We're a nation notoriously struggling with overconsumption. Do you think that adding another aspect to nutrition, you know impact on the planet, will be a hard sell here? Is this something many people are even aware of when they think about food here in America?
Rose
I think a lot of people are not aware about it. And that's that's part of why we're talking about it. You know, we're doing the research because we're interested in trying to get the word out. But I think there are a lot of people that are interested in it. I mean, I my my classes, students are really interested in this material and they're moving forward with sustainable diets because it's their future basically. I don't believe in bombarding anybody with anything. And like I said, I don't think we should make people do anything. It's it's really consumers' options. But there's a lot of folks that are interested in this material. And so, they might as well know what the latest science says. And that's all we're trying to do.
Brannon
So you see this as something that's going to be an emerging trend?
Rose
Oh yeah, it is already. It's it's people are interested. Interest in this is going up all the time. You know, the stock prices of Beyond meat and Impossible meat, those companies, I forget which one went public, but they went way off the charts really quickly. And so that, and that's because the financial people see that there's a market for this. In fact, some of the meat industry is actually buying into tissue-grown, they're buy buying shares in tissue-grown meats in the future, because they see that they're the writing is on the wall. We need to live within our planet's means.
Brannon
Do you see other countries embracing this more than the U.S.?
Rose
You can look at just dietary guidance policies, and we did a study on that. And the dietary guidelines in different countries all have different carbon footprints. It's that you know, it's a common human biology. But what the recommendations are from the government are very different. In some governments, like Scandinavia and Germany, actually talk about sustainable diets in their recommendations, and they orient their recommendations to be sustainable. So yes, definitely, there's governments that are, are more concerned about it. I think, you know, there's a lot of U.S. citizens that are concerned about this. And one, certainly the research has has been going on in Europe way before us. I saw recently that Germany and the Netherlands were both considering meat and dairy taxes, which I can't imagine we'll ever get to here. But but that's something as an indication of other societies being a little bit ahead of the curve.
Brannon
Do you worry that given the highly polarized political environment here, messages about food, diet, and the planet could be become much more politicized? You know, people worried about being shamed for being, you know, meat eaters? Or as you said, attacks on certain items?
Rose
Yeah, I mean I, I don't, I do worry about polarization of the issue, because I think it detracts from what we're trying to say. You know, there's where we live on a planet with finite resources. And so, we all need to like, get to the future. So we can see our kids, kids, kids, grandkids survive. And we all need to make changes to get there. And those changes don't have to be so drastic and dramatic. Typically, when we say, "Oh, you should cut back on meat." People in the meat industry polarize that and say, "You should, they're saying you should eliminate all meat." Which we know we never say. We're suggesting, you know, a single item substitution, that was the title of that study, once in a while, you know, or as much as you can or as much as you want to. But there's no sort of idea that you have to like not eat meat anymore or the rest of your life. I mean, we're definitely serious on the environment. We have to do everything we can about that. But I don't think we're in a society where you can just sort of eliminate foods.
Brannon
So Diego, thanks for joining us here today.
Rose
My pleasure, Keith.
Brannon
And thanks for listening to this edition of On Good Authority. For more information about other episodes, visit our website tulane.edu/on-good-authority. If you like our show, please subscribe using your favorite podcast app.
Host: Keith Brannon
Editor: Marianna Boyd
Producers: Marianna Boyd and Audrey Watford
Production team: Marianna Boyd, Keith Brannon, Will Burdette, Faith Dawson, Libby Eckhardt, Aryanna Gamble, Carolyn Scofield, Mike Strecker and Audrey Watford