Image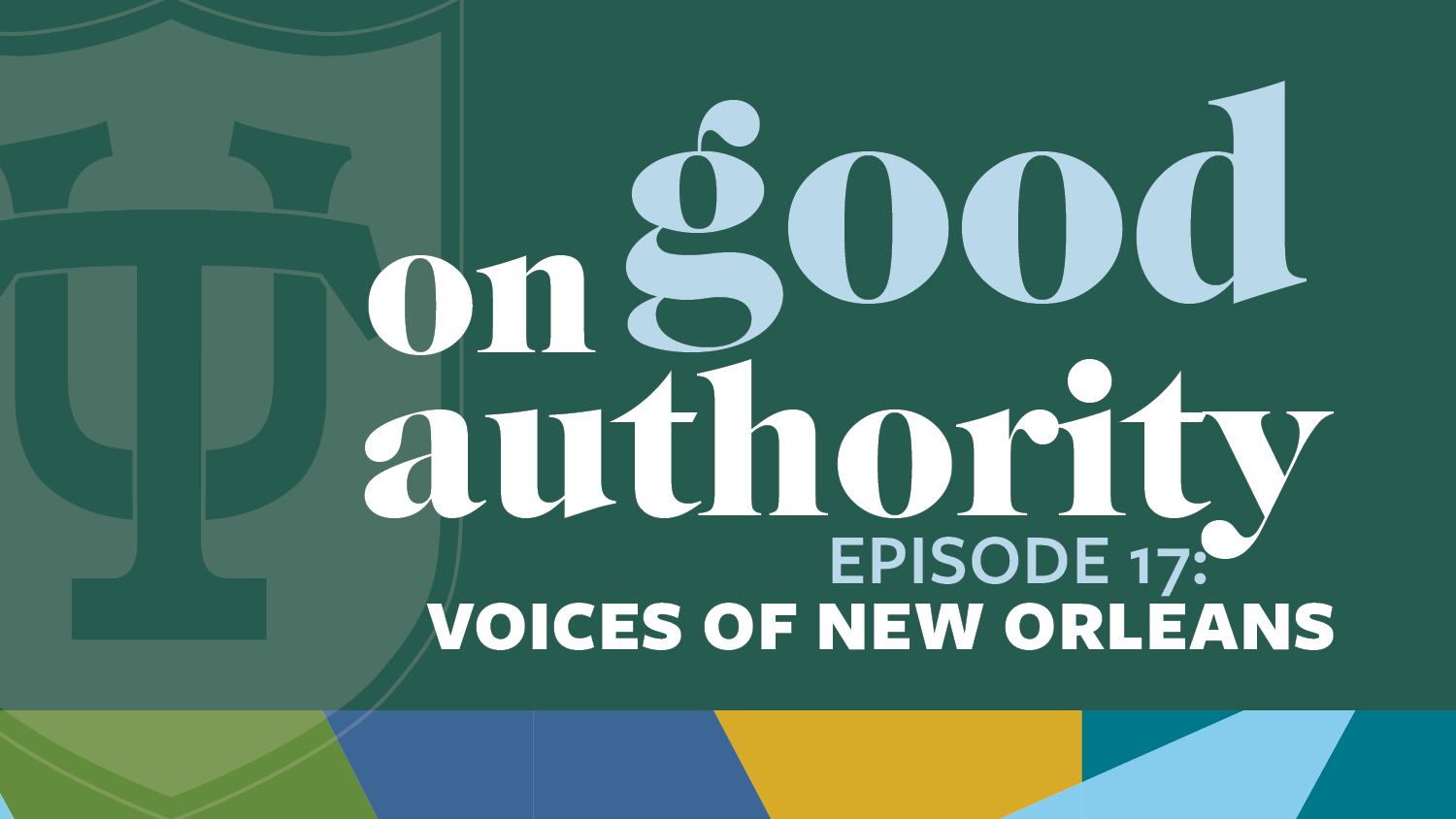 A New Orleans native may ask you where you went to high school and who your mama is. Those are ways we create connections around the city. Another way we identify New Orleanians is by our accents. Nathalie Dajko, associate professor of anthropology at the School of Liberal Arts and researcher of New Orleans accents, discusses the origins of various local accents and how they evolve over time. Listen to examples of various New Orleans accents referenced by Professor Dajko.
Transcript ▾
Speakers
Nathalie Dajko, associate professor of anthropology, Tulane School of Liberal Arts
Faith Dawson, editorial director, Tulane Communications & Marketing
Dawson
A New Orleans native may ask you where you went to high school and who your mama is. Those are ways we create connections around the city. Another way we identify New Orleanians is by our accents. The bad news is New Orleans accents, such as our beloved and semi-famous yat accent, may eventually disappear. Welcome to On Good Authority, Tulane's podcast that brings you leading experts to talk about the issues of the day and ideas that shape the world. I'm your host, Faith Dawson. Today, our guest is Nathalie Dajko, associate professor of anthropology at the School of Liberal Arts and researcher of New Orleans accents. Welcome, Nathalie.
Dajko
Thanks for having me.
Dawson
You have what I consider an enviable research project – documenting the ways that New Orleanians talk. Along with your research partner, Katie Carmichael of Virginia Tech, you've been studying New Orleans accents in the city for several years now. So, can you tell us, where are New Orleans accents going?
Dajko
To the suburbs, short story. As everybody comes in and replaces New Orleanians, right, but yeah, I mean, the purpose of our project is literally to document what what's missing, and pretty much in New Orleans, that's a lot. So we're trying to just establish a baseline in the first place, what has been, I mean, there's no such thing as right. Traditionally, it's always been this because language is always changing, right? When you said in the intro that the yat accent may eventually disappear, well, in some sense, it will. I can guarantee you that, right. Like nobody sounds like Shakespeare walking around today. It's why we find Shakespeare hard to read. Dialects are replaced by other dialects as well, that does happen. And so the ways in which that the language is changing is what's interesting to us. There's there's a video actually, it's probably the best sort of overview of the city. It's called "Yeah You Rite!" They get people saying things like, "There's an Uptown white, fancy dialect. And then there are the working classes, white and Black. Those are the three dialects." Other people say "Oh, yeah, you can tell every street." So, what's going on? Since you know, since all this has happened, we've had immigrations, large immigrations of, say Vietnamese, into the Greater New Orleans area. And there's literally one article on that written by my colleague, Allison Truitt, in the anthropology department that appears in a book that I edited, right. So there's really not a whole lot on New Orleans and New Orleans historically. Of course, now upwards of 90 percent of the population says we only speak English, but historically, it was a really polyglot place. You had people speaking all kinds of languages, up to 50 African languages, for example. German, Italian, right, depending on the era, and so you always had people in New Orleans speaking all sorts of indigenous languages. But also, we want to know how things are changing. And especially there's been this great demographic movement, especially in the wake of Katrina, and gentrification was already happening before that. There was already an exodus to the suburbs, right, starting in the 60s, at least by the working-class, white population. And now, things have picked up speed. And we're interested in in in seeing what's going on with the language. When that kind of thing happens, when you have these major demographic shifts. How do people express where they're from, basically, or who they are, more accurately, because we're interested in both ethnic identity and place-based identity.
Dawson
So, can you talk to us about how you collect your data?
Dajko
Yeah, it was interesting when you said that I have an enviable, or enviable job, I guess, however it was you put it. But that's what I'm always saying, right. Because I get to go out and hang out with people. I go out, and I hang around in bars. I find people to talk to. And I'm not even joking about the bars. That's one of the kinds of places we go, right. Public places, where are people sitting outside, at the library, wherever it is that they are and strike up conversations, and hopefully somebody agrees to interview at some point. They sit down, and we just talk about New Orleans, about growing up here, about living here now.
Dawson
But it sounds like you don't start off saying, "Do you pronounce it 'New Orleans,' 'New Orleans' or 'New Orleans'?" You don't, you don't start with that?
Dajko
No, we start with you know, "Who are you? Where are you from? What where'd you go to high school?" right. And these kind of background questions. We have people read a couple of passages that we've written, so that we get people saying the same kind of things. And we also get a sample of their speech when they're paying attention to the fact that they're speaking, right. So there are various reasons for the tests that we have.
Dawson
How does the role of New Orleans being a French city play into the accents that you find?
Dajko
Well, the most obvious is that there are lexical items that were taken from French and made their way into English. And some of them are on their way out. I did some surveying with some students at the time. We wandered around asking people for examples of authentic New Orleans English, just to see what people said was authentic. And some of the stuff they gave us was French, but we also asked some recognition like, "Do you know this term?" And the kids were like, "I have no idea what a parrain, and I tried parrain, I tried, like maybe they put the stress somewhere else, they had no idea. And so, but like across different demographics.
Dawson
You got to know what your marraine and your parrain is. Ok, sorry.
Dajko
Apparently not anymore. All I know is the young people were like, "I have no idea what you're talking about." But at the same time I had, you know, I was at, I can't remember what it was, it was somewhere in the Seventh Ward. It was some kind of cultural center, I can't remember which one, but the guy was like, "Look, nobody uses banquette anymore. And nobody uses all these other terms anymore, that we used to say when I was a kid." And so clearly, right, banquette being French as well. The number one term that people cited as being authentic New Orleanian was making groceries, which is in fact, from the French faire les courses, meaning either to do or to make, and so therefore, to make. But I don't know how many people know that that comes from French, whereas with banquette, I think they're a lot more aware. They were certainly aware of beaucoup, in French beaucoup, meaning either a lot or very. I mean, French, I think does play, it's hard to find a French speaker these days.
Dawson
So it's funny you should say that because about the woman who could give you like a few words here and there. My late mother was born in 1935. And they were always discouraged from speaking French, from childhood, even though that was their heritage. And not long before she died, she told me she was walking to church, and she lived on Esplanade Avenue in New Orleans. And she said, "You're never gonna believe what fell out of the tree and hit me on the head. A chenille." And I'm like, "What is a chenille? Like is that a twig? Is it a branch? What what can chenille mean?" It was a caterpillar. Like I had never heard her use that phrase in her life before, but just it popped into her head one day.
Dajko
Some of those expressions are dying. My favorite, this might be my new favorite, but my favorite until now, a friend of mine told me about gros comme ça, meaning pregnant, right. So you're big like this, those kinds of expressions seem to be going away and others, less so, right. Others have stuck around longer. But I think French still does play a really important role symbolically for people, all over the place. And so French, I think it is for fun. But I think that's the fun is serious for people, right. If this is a part of our identity. And even if my ancestors didn't speak French, this place was a French place at some point. And I know that, and I'm going to stress that by playing with the language some.
Dawson
So do you find that speech patterns in general kind of are intrinsic to our identity, especially in New Orleans? But and if if they are, how can we continue on like that if our speech patterns are going away?
Dajko
Well, I mean, yeah. We always express who we are linguistically, whether I think in New Orleans, that the fact of being from New Orleans is very important to people. And what matters to people is what they express, is what they express in the way they speak. And we have features that are associated with various social whatever, right, region, ethnicity, religion, whatever it is. And we can use those, we can manipulate those. People don't speak the same in every context. You speak differently, just on a basic level, to your mother than you do to your friends than you do to your teacher. And if you get pulled into court, God forbid, you're gonna speak very differently to the judge, right. There there are different ways that you speak in different contexts because linguistic features have social correlates. And place is certainly one of them. What people are going to do if the language goes away, well, new stuff is going to come in, right. So I think people are always going to feel that attachment to New Orleans. New Orleans is like first or second alongside New York City, right, with the number the percentage of people who don't leave as they grow up, right, people who stay. It's a place that people love to live in. But people want to express that. It's important to them to be from New Orleans. And that's what New Orleans is about is the now, and so there's always something new coming down the pipeline that if one thing dies away, something new takes its place, right. So I don't know what it'll be. I can't predict that, it doesn't work that way. We don't know when, you know, groups of people are going to come in from somewhere. Some natural disaster is going to hit or a war is going to break out or whatever it is, it's going to happen, right. Economic reasons, people move away, people come in, who's going to be next, what's going to happen in the city. So there's no way to say, "This is what's going to happen." This is not physics. This is not chemistry. You can't predict with super accuracy how things are going to go, but as it looks right now, you're probably going to get a lot of people who sound a lot like me, coming into the city and bringing in Northern features.
Dawson
So I do want to get back to the, the fact that you your research centers around the fact that there are so many New Orleans accents. But for a moment, I want to ask you about our shining star, the yat accent. What is it exactly? Is it Brooklyn-esque? Is it Boston-esque? Is it something else? Do we know what it is?
Dajko
It's a working-class white dialect. How much it shares, it clearly shares features, right, with other dialects in South Louisiana. With African American English, I've heard features coming from people who are clearly speaking something that we would call yat, that I find in descriptions of African American English as being either exclusive or we don't know yet whether other people do it. And I'm like, now I do. There, there's definitely overlap. How different it is, especially from other working-class Englishes, especially of say, the Black community that used to live in the Lower Ninth Ward right beside the white community there, right. So presumably, it wouldn't be shocking to find a lot of overlap there. So yeah, I mean, it's a working-class white dialect. And the most common comparison is to Brooklyn or the Bronx.
Dawson
Do you, is there a line of origin there?
Dajko
That's the question. I mean, there are two suggestions. And one is that yeah, there were people in contact with New York, or two, right, there was a maritime English port city right there. Boston, New York, Charleston, all these places are port cities, and you know, people are going up and down the coast. So that's a potential also. But you know, New York and and New Orleans, my colleague, Katie, did some research with another colleague who studies New York, and they compared the rates of r-lessness. And it's not as simple as just you drop the "r" after a vowel, et cetera. Um, it actually patterns differently in different places. And New York and New Orleans look more similar to each other than either of them look to, say Boston. Whether that's because of contact, or the other suggestion is that there are similar immigrant populations, right, there was a huge Irish influx in both of these places, there was followed by Italians, and the Germans, of course, at the same time as the Irish. And so, we have potentially all these sources of similar populations mixing together, therefore creating similar dialects, has been the other suggestion.
Dawson
There's there's many, many different accents in New Orleans. Which others have you identified that people, if they were to listen to us speaking would say, "I have heard people in New Orleans say that."
Dajko
I mean, I don't doubt that there is sort of an upper crust white dialect that some people call Garden District English. Some people say there are five dialects at least. So you got this, like standard like American English, you've got the old Garden District type, you got your yats, you got your your African American English, and you've also got Creole. And I actually, you know, the focus on yat is interesting. It's it's sort of the authentic New Orleans par excellence. You know, that fact also hides just enormous swaths of the population, right. It leaves out all of these people who are equally authentic New Orleanians. And for whatever reason, people have seized on this one and not others. And but but that was one of the conclusions that Katie and I came to in a paper we wrote a few years ago on Vic & Nat'ly comics, right. Like there's this image of New Orleans, that's very much, very much white, which is not an accurate representation of the city of New Orleans, which is, in fact, quite diverse. You have your working-class white, African American English. From our data, we could see definite differences between white and Black working-class New Orleanians. The question of whether Creole English is a thing is sort of the one that's been up in the air. And so, our early data shows that that it's kind of complicated. They sort of exist in in an in between zone linguistically. And so older speakers sound a lot like white people, or they're indistinguishable. They're not, at least statistically, significantly different from either white or Black speakers. The younger speakers, most of whom have basically abandoned that identity. So it's, you know, it's not surprising, right? People who don't call themselves Creole anymore don't sound different from white or Black speakers, depending on how they now affiliate, right. So we're finding a disappearance, which is not surprising, I mean, we've noticed it just sort of informally. I've lived here for 19 years now. And I don't find a lot of people my age or younger who call themselves Creole.
Dawson
Folks can read about your, more of your research, you're in Katie's research in the spring issue of Tulanian magazine. And one of the things that I found interesting in that article is after Hurricane Katrina, some of your research subjects said, "I didn't realize that I even had an accent until after the hurricane and I, you know, relocated or evacuated someplace else." And I guess, presumably, people told them, you know, like, "Oh, where are you from? You have a very strong accent."
Dajko
Right. In fact, I think that's like the whatever you call it, before the colon in the title of Katie's dissertation was "I didn't know I had with this accent before the storm." I paraphrase, but, but yeah, I mean, that's one of the ways that when we talk about language in these interviews, is we ask people, you know, "Has anybody ever commented on the way you speak?" And the answer is pretty much universally, "Yes." When they left town, either because of Katrina, which was very often the catalyst for leaving, or when newcomers came in here, right. But people comment on the way they say baby, which I cannot do. There's no way I can imitate it.
Dawson
Baby, baby. That flat "a" sound. Baby.
Dajko
There it is. Alright.
Dawson
Sorry.
Dajko
Yeah, that was perfect. Nobody, I tried to imitate Valley girl once and the students made fun of me. I can't even. But yeah, you know, I mean, that's a pretty common thing though, right. People leave, they, I left Canada thinking we sound just like the people on the TV. And I was gone for two years, and I came back and I was like, "Oh my god, did I sound like this? I had to have sounded like this, right?" Like you just don't hear it until you go away.
Dawson
But it doesn't put people, it doesn't prompt people to action, right? Like I think of Henry Higgins and Eliza Doolittle. And you know, she's trying to like have these lessons to make her sound more cultured. That's not what New Orleanians about, are about is it? Like we're not trying to?
Dajko
Well sometimes, sure, sure. I mean, like any other nonstandard dialect, people suffer stigma for the way they speak. There's value to a nonstandard dialect as well, right. As much as nonstandard dialects are associated with all sorts of negatives, right. And traditionally, it's been lack of education, lack of intelligence, laziness, et cetera, et cetera, right. That's why they sound like this. And you can tell that they're from this group of people who are lazy, stupid, et cetera, et cetera, because they sound like this. But those dialects are also associated with warmth and friendliness. And so you, there's a motivation, it keeps the, you know, placidness. Am I from this place? Yeah, you can tell because of the way I speak. Conversely, the standard is associated with all kind of kinds of prestige, but it's also cold and distant. And to speak, you know, in a standard way in a community in which the the dialect is quite different from the standard, makes you sound standoffish. And so, you know, there, there are reasons that people would be motivated to maintain features that are also stigmatized, right. There's this notion somehow that the way you speak is something you fully control easily, et cetera, et cetera. And if you're not doing it, you're doing it on purpose, and it's bad. And we can hope to change society in that regard. But at the time being, I mean, I think things are changing. When I try to ask people to do evaluative, you know, listen to this dialect and tell me if you think this person is nice or not, they're like, "How should I know? It's just the way they speak." Which I think is progress. But but yeah, but those things exist. And New Orleans isn't immune to it. And but certainly, right, there's also this pride of being from here and that can overtake it, depending on context.
Dawson
Your research is currently on temporary hiatus for the pandemic, but once you resume, how can people get in touch with you, so that you, if they want to be involved with your project?
Dajko
The easiest way is to email us.
Dawson
Okay. Very good. Is there anything else you would like for our listeners to know about voices of New Orleans?
Dajko
I want them to know mostly that New Orleans is is rich in diversity, and that all of those dialects are wonderful in their own ways, and that they reflect people's individual histories, right. The way you speak tells your story. It tells your past, it tells who your people are, it says who you are. And for that reason, no one should ever be ashamed of the way they speak so.
Dawson
I love the way you put that. Well, thank you for being our guest today, Nathalie.
Dajko
No problem. Thanks for having me.
Dawson
And thanks to you for listening to this edition of On Good Authority. For more episodes, please visit tulane.edu/on-good-authority. And if you like our show, please subscribe using your favorite podcast app.
Host: Faith Dawson
Editor: Marianna Boyd
Producers: Marianna Boyd and Audrey Watford
Production team: Marianna Boyd, Keith Brannon, Will Burdette, Faith Dawson, Libby Eckhardt, Aryanna Gamble, Carolyn Scofield, Mike Strecker and Audrey Watford