Image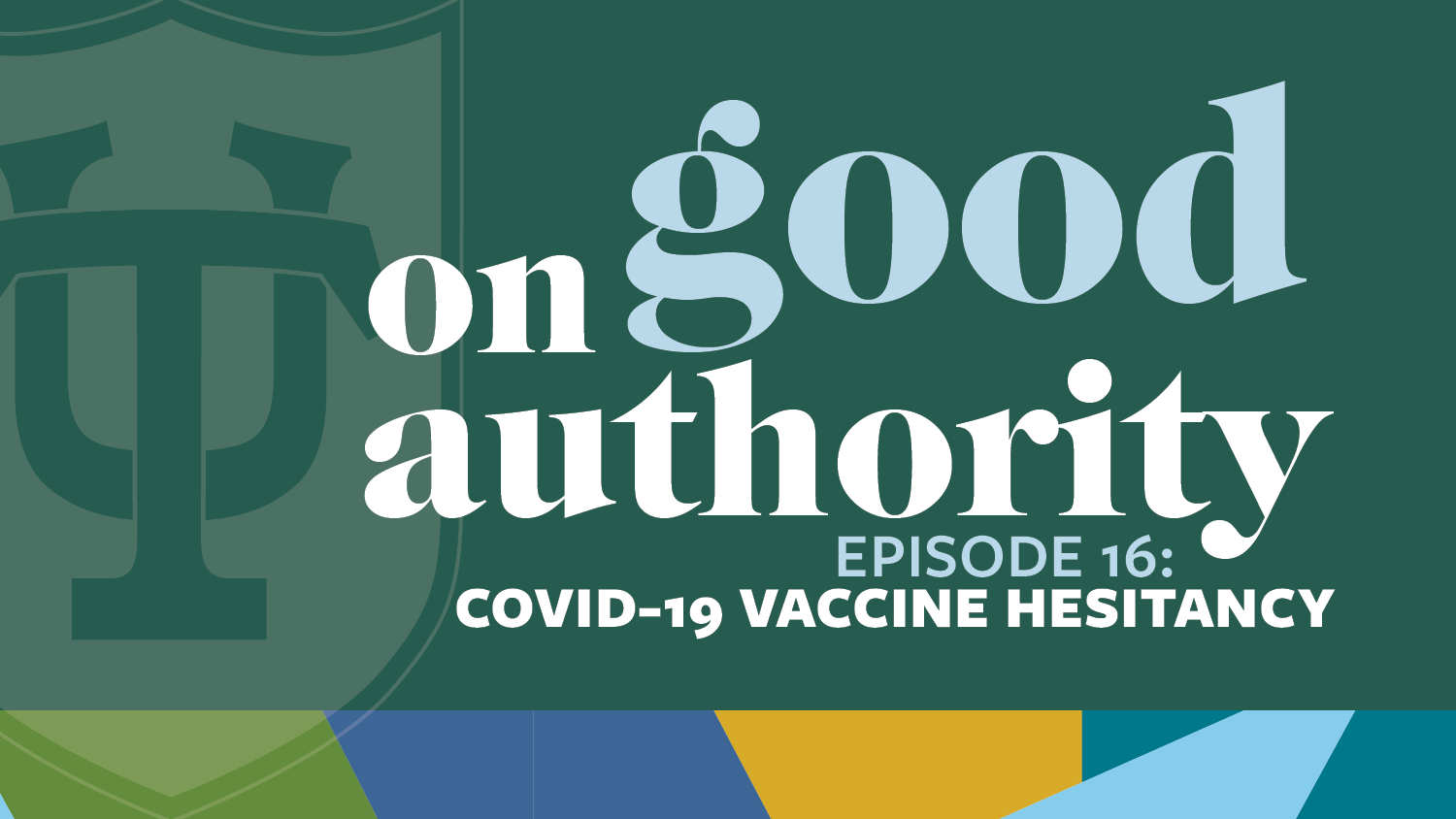 Black Americans are more likely to die from COVID-19, yet communities of color are falling behind in the nation's vaccine rollout. One of the nation's leading experts in health disparities, Thomas LaVeist, dean of Tulane University School of Public Health and Tropical Medicine, talks about vaccine hesitancy in the Black community, what can be done to increase confidence in the vaccine, and how the pandemic has exposed long standing health inequities in the United States.
Transcript ▾
Speakers
Keith Brannon, associate director of Tulane Public Relations
Dr. Thomas LaVeist, dean of Tulane School of Public Health and Tropical Medicine
Brannon
Welcome to On Good Authority, Tulane's podcast where we bring you leading experts to talk about issues of the day and ideas that shape the world. I'm your host, Keith Brannon. Today we're talking about an important issue of health disparities and COVID-19. Black Americans are one and a half times more likely to die of COVID-19, yet communities of color are falling behind in the nation's vaccine rollout. Many are hesitant to take new vaccines against the coronavirus. Dean Thomas LaVeist of Tulane School of Public Health and Tropical Medicine recently wrote an opinion piece in The New York Times, urging Black Americans to get vaccinated. The op-ed was signed by 59 other Black health experts from the National Academy of Medicine. Dean LaVeist holds the Weatherhead Presidential Chair in Health Equity at Tulane. He's a leading expert in health disparities and has spent decades researching U.S. health policy, the role of race in health research, and social factors contributing to mortality, longevity and life expectancy. He's here today to talk about vaccine hesitancy in the Black community, what can be done to increase confidence in the vaccine, and how the pandemic has laid bare long-standing health inequities in the United States. Dean LaVeist, welcome to On Good Authority.
LaVeist
Well, thank you for having me. It's my pleasure to be here.
Brannon
As of mid-February, the CDC says of those who have received the first dose of vaccine, nearly two-thirds were white, about 63%, and 6% were Black. Now the CDC only has demographics for about half of those who've gotten the vaccine so far. Did those statistics surprise you at all?
LaVeist
Not really. I mean, there are several challenges here. Really three challenges that that we've been facing. One is that there just isn't enough vaccine. So just having enough to meet the demand has been a problem. Determining exactly how to allocate that between the nursing homes and outside of nursing homes has been an issue because we do have some excess in the nursing homes, but not enough to really meet the demand outside. So that's one issue. The other issue we have is that the vaccine distribution locations that you would normally use – hospitals, pharmacies, clinics, things like that – those facilities are not equally distributed throughout the country. And the country is dramatically racially segregated, and the communities that are more likely to be medical deserts, you might say, communities without those resources are more likely to be Black and brown communities. So using the normal structure, you're going to produce inequities. And then finally, there's the vaccine hesitancy issue, which is a real issue. That that you know, we have to address as well.
Brannon
You have said that we need to look at these numbers with an important caveat. You can't fully compare demographics to the total population of a state because not everyone is eligible to get the vaccine yet.
LaVeist
So what people like to do is, they say, "Okay, only 12% of the vaccines in Louisiana have gone to African Americans, but African Americans are 32% of the state and there's a disparity." And there is a disparity, but that really isn't the right comparison. Right now, we're still only in Phase 1 of you know, of distribution, which means only people in tier 1, a and b, are eligible for the vaccine. So the comparison is not the total population of Louisiana. The comparison is the proportion of Blacks in the nursing home, among nursing home residents, and the proportion of Blacks that work in nursing homes. That would be the true proportion. And and that number is not 32. It's probably, my estimate was something closer to 23. Now, we still have a disparity. I'm not suggesting that there isn't one. But I think just from a level setting standpoint, it's helpful to to keep in mind that we shouldn't be comparing it back to the total population because not everyone's eligible yet.
Brannon
The National Foundation for Infectious Diseases had a recent poll that found around half of Black adults planned to get the vaccine, but around 31% said they won't. Do you see that changing over time?
LaVeist
I do see that changing over time. So the Black community in this country has a long history of being targeted in some cases for behavior from the healthcare industry that has been dangerous to our health. You know, we've been exploited for research. And the Black community has not always been the priority for receiving healthcare resources. So there's a lot of distrust, that distrust comes from a real very real place. It comes from that history. But over time, I think Black people will realize that the the risk of COVID is a substantial risk that's devastated our community, and that the only way that we're gonna protect ourselves is with a vaccine.
Brannon
Do you think this is more of a wait and see, an unwillingness to be the first to get it, rather than a hard no, "I don't trust the vaccine"?
LaVeist
Exactly. I do think it's much more of a wait and see than a hard no. When you think about this narrative, so about a year ago, when the pandemic really began to take root in the country, we were struggling with testing, and the communities that were not really getting the testing resources were the Black and brown communities. As partly because of that, Black and brown communities have been devastated by the pandemic. So now we've got a vaccine that was created over 10 months, which usually vaccines take more than 10 years. So people are looking at that as a hardly prepared vaccine. And that narrative is that now you've got this rushed vaccine, and now you want to deploy it in the Black community. Right? And, and it's another opportunity to experiment on us and see how it works with us first. That's not what's really happening, but that's the narrative that we're fighting against. And it's a it's a powerful narrative.
Brannon
So how did the op-ed come about?
LaVeist
Well, it came about, really, from my work as co-chair of the Louisiana's COVID Health Equity Task Force, and seeing this, this coming problem with vaccine hesitancy and wanting to figure out how can we, what can we do, to maybe help address that issue? And just thinking about, you know, what, what resources and assets I, I had. One, one was being a member of the National Academy of Medicine. So I got the idea of bringing together other African Americans that are NAM members to see if we can bring our voices, and maybe bring some authority, to this idea that the vaccine is safe and effective, and African Americans should should accept it.
Brannon
So former President Barack Obama retweeted the op-ed. What has the response been since it ran?
LaVeist
I think the response has been overwhelming. President Obama tweeted out the article. He also posted on his Facebook page. And that was, of course, huge. Just getting an article in The New York Times is huge, and because of the amount of attention that it gets, and this is what we were trying to do. And so to be clear, the goal was never that we would publish an editorial in The New York Times, and that would reach the, you know, the man on the street, and that people would say, "Oh, well, then the National Academy of Medicine members think we should take the vaccine." You know, most people, I venture, don't know who the NAM is. The idea was for us to speak to other influencers, you know – celebrities, politicians, clergymen – other people who have, who do have the ear of the Black community, and maybe allay concerns that they might have and hopefully make them more likely to be willing to put their own reputations on the line and come forward and suggest to people that they should get vaccinated. And I do think that has worked, at least to some extent.
Brannon
What is the most effective messaging to sway people to change their minds about the vaccine?
LaVeist
You know, I think that's gonna vary from one person to the next. But but I think I mean, the methods that I try to use is to, first of all, acknowledge the distrust and hesitation that is coming from a real place. This is not imagined. And I understand that distrust. So I think that's the first thing. Don't try to tell people there's something wrong with them for distrusting because there's a reason to distrust. But then I try to explain to people, why they, why they should take the vaccine. Why it is safe and effective. Why, you know, when you weigh the risk of COVID, versus the risk of the vaccine, I conclude that the vaccine is the safer bet. We know COVID has killed a half million Americans in just one year. It's devastating. That's more than heart disease, cancer and stroke, you know, these leading causes of death of killing. And more than one out of every one thousand Americans have been killed by COVID over the last year. This is a devastating disease. And even people that survive, people that come out of the hospital and are seemingly cured, continue to struggle with health problems. We don't know how long that's going to happen, going to occur as well. The vaccine's profile, it hasn't been anywhere near, the side effects haven't been anywhere near as bad as the side effects of surviving COVID.
Brannon
And it's an incredibly effective vaccine, 95% efficacy. I mean, granted, there are new strains of the virus that are circulating that may affect that, but this is an incredibly well-designed vaccine.
LaVeist
It is and then and when you look at also the profile in terms of hospitalizations and deaths, extremely effective. And I'd say the same thing from the data from the Johnson & Johnson, which is the single-shot vaccine, suggests the same thing. So one of the things that I'm really concerned about is that the way it's been portrayed in the media is Johnson & Johnson, 72% effective. Pfizer, Moderna, 95% effective. And I think that's really focusing on the wrong thing. When you focus on hospitalizations, severe disease and death, the Johnson & Johnson vaccine had a 100% efficacy rate, zero deaths. That's what people should be focusing on, and why people should accept any of those vaccines that they're offered. Whichever vaccine you're offered, you should take it because they're all very effective.
Brannon
You're a national expert in health disparities, and your research looks at life expectancy and zip codes. I saw a graphic recently that looked at the pandemic through the same lens. It was a map of Chicago, and the zip codes in the South Side, which is predominantly Black, showed that's where most of the COVID-19 deaths had occurred. And then another map, showing zip codes in the north, showed that's where most of the vaccine was going. This could be playing out across the country, is that what you're seeing?
LaVeist
Yes, and and that is predictable. And that is exactly the problem that we're that we're trying to address. As I said earlier, if you follow the sort of a normal process of distributing the vaccine, pharmacies, hospitals, clinics, things like that, you're going to have those, you're gonna have maps like that, because communities such as South Side Chicago are less likely to have those resources in those communities, right. And so, you've got to be, you got to get out of the box. And you've got to think about other strategies, other types of infrastructure, other community organizations, churches, supermarkets, other strategies to get the vaccine to those communities. And then you do still have the hesitancy issue that you've got to address.
Brannon
As, as someone whose research area is health disparities, what has it been like for you to see this pandemic play out the way it has?
LaVeist
I mean, it's sort of it's pre-, it's been, it's predictable. I mean, it follows the same pattern that we see with other diseases. And so, nothing has been surprising, you know, for me. What I have found heartening, however, is that, you know, as a health equity researcher, I have been reached out to by policymakers to consult and provide advice on how we can address these equity issues. And I've been impressed by, you know, certainly some some of the states that have been very, very interested in engaging and figuring out, "How do we address this issue?"
Brannon
And you're the dean of a school of public health at a time when public health, as a field, has been, I mean, this whole country is depending on public health officials. Has the school seen a surge in interest because of the pandemic?
LaVeist
Oh, I think so. Not only media interest, but just applicants to our programs, you know, inquiries from prospective students. I mean, everybody knows what epidemiology is now. You know, people don't think it's about insects or something. So, you know, we certainly have been in the forefront. Typically, you don't think about public health until there's a problem, right? Nobody thanks you for not getting polio. But I think people are seeing what we do now.
Brannon
And we're almost about a year into the pandemic here in the U.S., actually just just surpassed it.
LaVeist
Yeah.
 
Brannon
Are you hopeful? Are you, do you feel the worst is over or where do you stand?
LaVeist
Well, you know, I want to be hopeful. And I'm not in, you know, you have to have a certain amount, a certain amount of hope, just to stay in the fight. But these new strains are troubling. And, you know, viruses are living organisms. And they basically, they live to reproduce and survive and the mutations, that is a strategy that the virus uses to survive. It's mutating as it was predicted it would. And so we're gonna, you know, we're gonna have to, you know, stay on top of that. And if we can get the people vaccinated as quickly as possible, there'll be less mutation that we'll have to deal with. But I'm trying to be hopeful. And I hope that these mutations will not, that we'll be able to vaccinate quickly enough that the mutations don't become as problematic as they could be.
Brannon
As we do have more options available, when do you see us reaching herd immunity? I mean, that's one of the key questions that everyone has, when will we start seeing change?
LaVeist
Okay, so, if I give you the short soundbite answer, I'll do more harm than good. If I give you the nuanced answer, it'll take too long. So I'll just say right now, we think we'll have enough vaccine to vaccinate the entire country by midsummer, right. So the question is, how long, what proportion of people will we be able to get that vaccine to and what percentage of them will accept the vaccine is the question. So it's, all of those are variables that have to be taken into consideration. But I do believe that if we're successful at getting the vaccine into all the communities that need it and getting a large enough percentage of people to accept the vaccine, I do think by by end of summer, early fall, we should be to what we would call herd immunity.
Brannon
And what does even herd immunity look like, for this pandemic? Yeah, what does that mean? Does that mean we're gonna go back to normal? What does it mean?
LaVeist
See you're trying to drag me into the, into the rabbit hole of answering that question with the nuance that it really needs. But I think that we're not going to go back to what we might say was normal. I think we're going to have a new normal. We're going to have to learn to live with COVID. It's going to be with us going forward the same way that we've learned to live with influenza and polio and measles and other other diseases that we've been challenged by.
Brannon
Well, thank you very much for joining us here today, Dean LaVeist. We appreciate it.
LaVeist
Thank you.
Brannon
Thanks for listening to this edition of On Good Authority. For more episodes, please visit tulane.edu/on-good-authority. If you like our show, please subscribe using your favorite podcast app.
Host: Keith Brannon
Editor: Marianna Boyd
Producers: Marianna Boyd and Audrey Watford
Production team: Marianna Boyd, Keith Brannon, Will Burdette, Faith Dawson, Libby Eckhardt, Aryanna Gamble, Carolyn Scofield, Mike Strecker and Audrey Watford