Image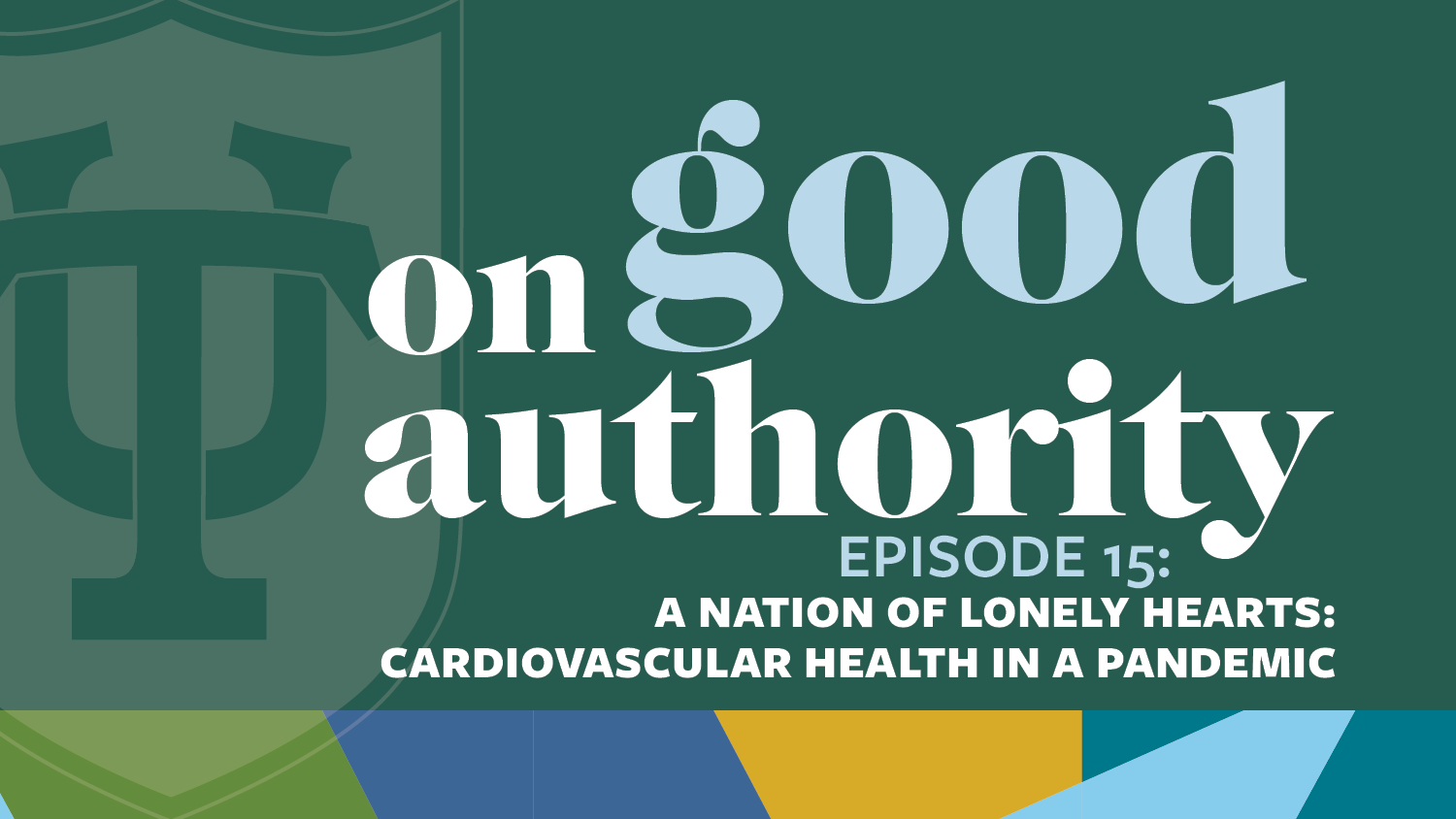 Leading cardiologist Dr. Keith Ferdinand at Tulane University School of Medicine talks about how stress and social isolation from the pandemic may be undermining our heart health, what researchers are learning about how Covid-19 affects the heart and what people at any age should know about keeping their hearts healthy.
Transcript ▾
Speakers
Keith Brannon, Keith Ferdinand
Keith Brannon
Welcome to Tulane University's On Good Authority podcast. I'm your host, Keith Brannon. It goes without saying that this past year hasn't been easy. The pandemic has added all kinds of new stressors and uncertainties to everyday life. To cope, many of us are turning to comfort food, maybe drinking more alcohol and binge-watching Netflix. We're also collectively more isolated. All told, these changes could have lasting impacts on our health, especially our hearts.
Keith Ferdinand
We have an increase in hormones in the body called the fight or flight hormones. It's the same thing that happens when we had, a wild animal would attack us, where your heart rate would go up, your blood pressure would go up, you start to perspire. Here with coronavirus, there's no line. There's no wild animal. But there's something out there that's lurking, and it causes a constant fear of being exposed. So that stress becomes omnipresent.
Keith Brannon
Since February is Heart Health Month, we're getting a checkup from leading cardiologist, Dr. Keith Ferdinand, at Tulane School of Medicine. He's here to talk about how the pandemic is affecting our hearts, what we're learning about COVID-19 in the heart, and what people at any age should know about how to keep their hearts healthy. So Dr. Ferdinand, thanks for joining us here today.
Keith Ferdinand
It's my pleasure, Keith.
Keith Brannon
You've been in practice for more than four decades. How unusual has this past year been for both you and your patients?
Keith Ferdinand
This has been a very difficult year for everyone. The pandemic has been a source of universal stress. The isolation, the inability to meet with extended family and friends, the inability to go to the movies to sporting events, bars and nightclubs. So all ages, from children to the elderly, have felt the stress and the psychosocial ramifications. And you have to build that in on top of a real morbidity and mortality, big words, illness and death related to coronavirus.
Keith Brannon
And like many cities in the South, New Orleans is not exactly an area known as a bastion of cardiovascular health. How hard has this year been on patients, those who haven't had the virus?
Keith Ferdinand
You know, I'm from New Orleans. I'm a native of the Lower Ninth Ward. So I'm a neighborhood kid. And we've always cherished a good time coming together, laissez les bon temps rouler. But it's hard on the population where tourism, live music, restaurants, coming together has been so much a major part of the culture. We have more people dying right now in the month of February from COVID-19, from the two leading causes of death, heart disease and cancer combined. So that has a profound effect on our psyche. It has a profound effect on how we live. And it's taken away a lot of the joy in life that we have from being together. So yeah, I see that my patients, when I do visits and I'm trying to talk to them about their blood pressure, cholesterol or diabetes, many of the visits are overwhelmed by some of the misery related to the isolation, the personal disease, or the disease or death of an extended family from COVID-19.
Keith Brannon
How much of an impact does this isolation have on people's cardiovascular health? And how does it affect us? Is it distress and the human psyche?
Keith Ferdinand
Yeah, you know, when we look at conventional risk factors for heart attacks and strokes, we usually include blood pressure, which is perhaps the most prevalent and potent risk factor for heart attacks and strokes. We also include elevated cholesterol, diabetes, smoking, obesity, physical inactivity. Oftentimes we don't list stress as the major risk factor, and that's not because stress doesn't affect the heart. But it's so difficult to measure, to quantify, to put it into a clinical trial and say, "If you have this amount of stress, it increases your risk for heart attacks and strokes." But let's think clearly, that fight or flight phenomena is something that patients are bathed in, day in and day out. So it's hard to measure. It's hard to quantify, nobody's done a scientific paper and say, "Coronaviruses causes x level of stress in the community." But we know that there's been an increase in depression, alcoholism, suicide, even among young people. So clearly that stress is a fact.
Keith Brannon
There have been several times over the course of this, where you know, my own heart, I catch myself, I can hear my heart. And it's either after a long day, or I'm reading, you know, we just got out of a stressful election. We all the news has been pretty anxiety ridden. You feel that in your body and it's hard to really get rid of that stress. And you can't go out and decompress like the way we normally do with people and friends. You can't go to the gym. So you're right. It is a recipe for a lot of people with anxiety, that they can't really have an outlet to fight.
Keith Ferdinand
Well, there's several helpful things that I suggest to my patients and I would suggest to all of us. One is try to live a healthy lifestyle. And that includes having some degree of physical activity. I didn't say exercise because exercise conjures going to the gym, and you can't go to the gym if it's closed. But you can do housework, if you have a backyard or side yard, you can do gardening. You can actually walk outside, unless you're right next to someone, you don't have to wear the mask. Walking aerobic activity actually increases the ability to handle stress. After a nice walk, you clear your head, you vasodilate, meaning that your blood vessels open up, your circulation opens up, you feel warm, you feel relaxed. So I recommend aerobic activity, which means using the oxygen in the air on a regular basis to help my patients cope with stress. How much, well depends on your level of fitness, no one should go out and start jogging or running. But even older persons can walk 15, 20, 30 minutes most days of the week. The American Heart Association suggests we target 150 minutes of moderate activity. And it doesn't have to be at one time. So if you're doing 30 minutes five days a week, five times 30, 150, you're there. If you go a little longer, 45 minutes, you can do it four days a week, but a nice walk clears the head. The ancient physician Hippocrates talked about rest, water and air. But he also said that walking is the best medicine and I agree with that.
Keith Brannon
Has there been any sort of documented rise in heart attacks or strokes since the pandemic has started, not related directly to having COVID?
Keith Ferdinand
Absolutely. Many persons delayed going to their physician, even delayed getting their refills on their medications, so that there was a peak in heart attacks, strokes and heart failure that we're now starting to see superimposed on the death and disability from the coronavirus. Now that's not unusual here at Tulane, there's actually been studies, Keith, and I think you may be aware of it. After Hurricane Katrina, several months to a year after, they saw a peak in heart attacks. And I know personally, my extended family, after that terrible, terrible period in 2005, some of the older patients developed heart failure, atrial fibrillation, which is a type of heart arrhythmia, strokes, elevated blood pressure. So clearly these disasters, whether they be caused by a ruptured levee, or by a virus that we can't see, these disasters have a profound effect on the heart and vasculature.
Keith Brannon
And it's particularly striking right now, because some of the major risk factors for bad outcomes from COVID are common heart risks – obesity, high blood pressure, metabolic syndrome. Has this been also a wakeup call for some people to get those issues under control? Because the stakes are so high right now, during the pandemic?
Keith Ferdinand
Absolutely. We just talked about stress. And I said how hard it was to measure that I think it does have a profound effect on how people live and die. But let's take stress aside, those things that we can clearly measure – an increase in weight, an increase in blood pressure, increase in cholesterol, increase in glucose – have been shown to be elevated in persons who are living in the pandemic. So there now is objective evidence, not only do we have more heart attacks, strokes, people with heart failure who are getting worse, but control of those risk factors tends to deteriorate. Now, why is that? Well, isolation, again. Stress, again, but also not seeking help with your provider. Especially the older patients being afraid to come into the clinic, will stay at home, run out of their medicines, and will not get refills on their blood pressure medicines, the statins for lowering cholesterol, anti-diabetic medications. So it makes good sense, even taking stress aside, that if you don't control risk factors, bad things will happen. And we're seeing that now.
Keith Brannon
So what are you seeing amongst patients who do get COVID-19? You know, what are the long-term impacts that doctors are learning about this that the public should know about?
Keith Ferdinand
It's not just the deaths directly related to COVID-19. It's what we call disability. Many patients, about eight to ten percent, even after they recover, have long-term side effects that affect their ability to do meaningful activity. What are some of those side effects? The long haul is often have a mental fog where they just don't feel right, they can't remember things. Some patients actually will develop a decrease in the ability to get oxygen. That's because the virus can scar the lungs, and when you do a chest X-ray, you see areas of patchy whiteness where it should be clear. In the lungs, and this is well after the coronavirus infection has resolved, some patients actually can develop heart failure. The virus can enter into the heart muscle, or the inflammatory reaction that's seen throughout the body can damage the heart muscle. And even in young people, and I know you've heard of this, there have been cases of strokes or heart attacks, where the inflammatory response can affect the blood vessels. The person may not even have had a severe blockage from cholesterol. A blood clot can be superimposed on the blood flow, so decreased blood flow. If you decrease blood flow to the brain, that's a stroke. If you decrease blood flow to the heart, that's a heart attack. And that can happen even in the person who did not have identifiable heart disease prior to getting COVID-19.
Keith Brannon
So how long will those who recover have to be concerned about having a clot or other complication after they've recovered?
Keith Ferdinand
So I think if you're about, let's say 30 days out, and you're not having any bad side effects, then you probably will be okay. The problem with the long haulers, those people who have those long-term complications that I talked about, just always feel a little short of breath, fatigue, memory fog, generalized weakness. So if you have that, and it's persistent, then might be the time that your provider would want to get objective evidence of how your lungs and heart are doing.
Keith Brannon
So this is Heart Health Month, a perfect time for people to take inventory of their own health. What are the most important things people should be doing right now to protect their heart at any age?
Keith Ferdinand
For Heart Month, which is February, but for the other 11 months, I would try to pursue the seven steps that the American Heart Association has outlined. They include trying to achieve ideal body weight, that's really hard. And you don't have to do any kind of fancy diet to do that. But try as best you can to avoid excess body weight. Increase fresh fruits and vegetables, whole grains, and use lean sources of protein. That includes fish, poultry with the skin removed. In all cases, try to have some physical activity. Perhaps the most potent and prevalent, meaning widely available, risk factor is hypertension or high blood pressure. We used to say 140 over 90 was hypertension, we now have dropped it to 130 over 80. And why is that? We're not trying to give people disease. But we know from observation that if you wait until the magic 140 over 90 to control your blood pressure, you have twice the risk for heart attack or stroke than someone who has a normal blood pressure of 120 over 80.
Keith Brannon
How bad is alcohol? And what should we be thinking about our drinking habits and the heart?
Keith Ferdinand
While there may be some benefit in occasional alcohol, no more than one glass of wine or one beer for women, because of smaller body size, and two glasses of wine or two drinks of beer for men in raising HDL. We're not as convinced now that alcohol in itself is protective against heart disease. Why is that? If you consume higher levels of alcohol, you also raise the triglycerides, which is a type of fat. Alcohol then turns into calories. So it affects the body weight. And it has an effect on hypertension. Two or more drinks in men, or in women, actually can elevate the blood pressure. But if you binge drink, you can get arrhythmias, atrial fibrillation where the heart starts to quiver. So my recommendation in the pandemic, when we talked about stress, we talked about diet, meditation, relaxation response, aerobic activity, extended prayer. I didn't list alcohol because I think if you're using alcohol as a main means of relieving stress, there's a strong possibility that you're going to overshoot any beneficial effects on the HDL, or the heart, and start to get the deleterious effects in terms of increasing the blood pressure and increasing arrhythmias.
Keith Brannon
Basically, put down the bottle of wine.
Keith Ferdinand
I didn't say none, but you know, there are some considerations that if you're going to get vaccination, that alcohol also blunts the immune system. So it's suggested that at least for a few days or a week or so after you you get your first shot or your second shot, that you're not consuming alcohol because you want to give the body the best chance it can to make a good immune response to the coronavirus vaccine. So alcohol is not inherently bad, but like other things, it must be done in moderation, and remember two or more drinks for a woman may be actually too much.
Keith Brannon
I, you know, I had in here, "How will you be celebrating Heart Health Month?" But I mean, I guess, do cardiologists actually do that?
Keith Ferdinand
Well we know about it because the American Heart Association tells us February is Heart Month, and everybody ties that in. But on a regular basis, I have found that Hippocrates was right, that walking is the best medicine. And depending on the weather, I do have a treadmill at home. But I actually like being out in the air, walking anywhere from 30 to 40 minutes most days of the week, and on weekends, I may extend it greater than an hour or so. Does a lot to relieve stress and lower those stress hormones, that fight or flight syndrome that we talked about earlier. So I suggest people look at that. Now if you have some mechanical problems, a bad ankle, severe arthritis, you have heart disease or lung disease, then you should talk to your your physician or your other provider about what type of exercise is best for you. But for people who can, walking 30 to 40 minutes most days of the week I think does wonderful things for relieving stress, helping to decrease blood pressure, maintaining body weight and giving a sense of what we call well-being. Well-being is just a sense that you're doing okay. Often will put on my headphones, and depends on what mood I'm in. I'll listen to jazz. I may listen to hip hop. Yes, I do. I like old R&B because the old R&B has a lot of rhythm and a lot of positive songs that will kind of keep you going. Something like Bill Withers, who's now in commercials. He's he's departed, but he has some wonderful songs, you know, "Lovely Day," "Ain't no sunshine when she's gone," those type of music. I think that really helps along with the aerobic activity. And that's something I do, and I would recommend that for Heart Month, but maybe for the other months too, because there's nothing magic about the calendar in February. We just put a lot of emphasis on heart during this month.
Keith Brannon
Those are some great tips. So thank you for joining us here today, Dr. Keith Ferdinand.
Keith Ferdinand
It's been my pleasure.
Keith Brannon
Thanks for listening to this edition of On Good Authority. For more information on episodes of our show, visit our website tulane.edu/on-good-authority. If you like our show, please subscribe using your favorite podcast app.
Host: Keith Brannon
Editor: Carolyn Scofield
Producers: Marianna Boyd and Audrey Watford
Production team: Marianna Boyd, Keith Brannon, Will Burdette, Faith Dawson, Libby Eckhardt, Aryanna Gamble, Carolyn Scofield, Mike Strecker and Audrey Watford