Image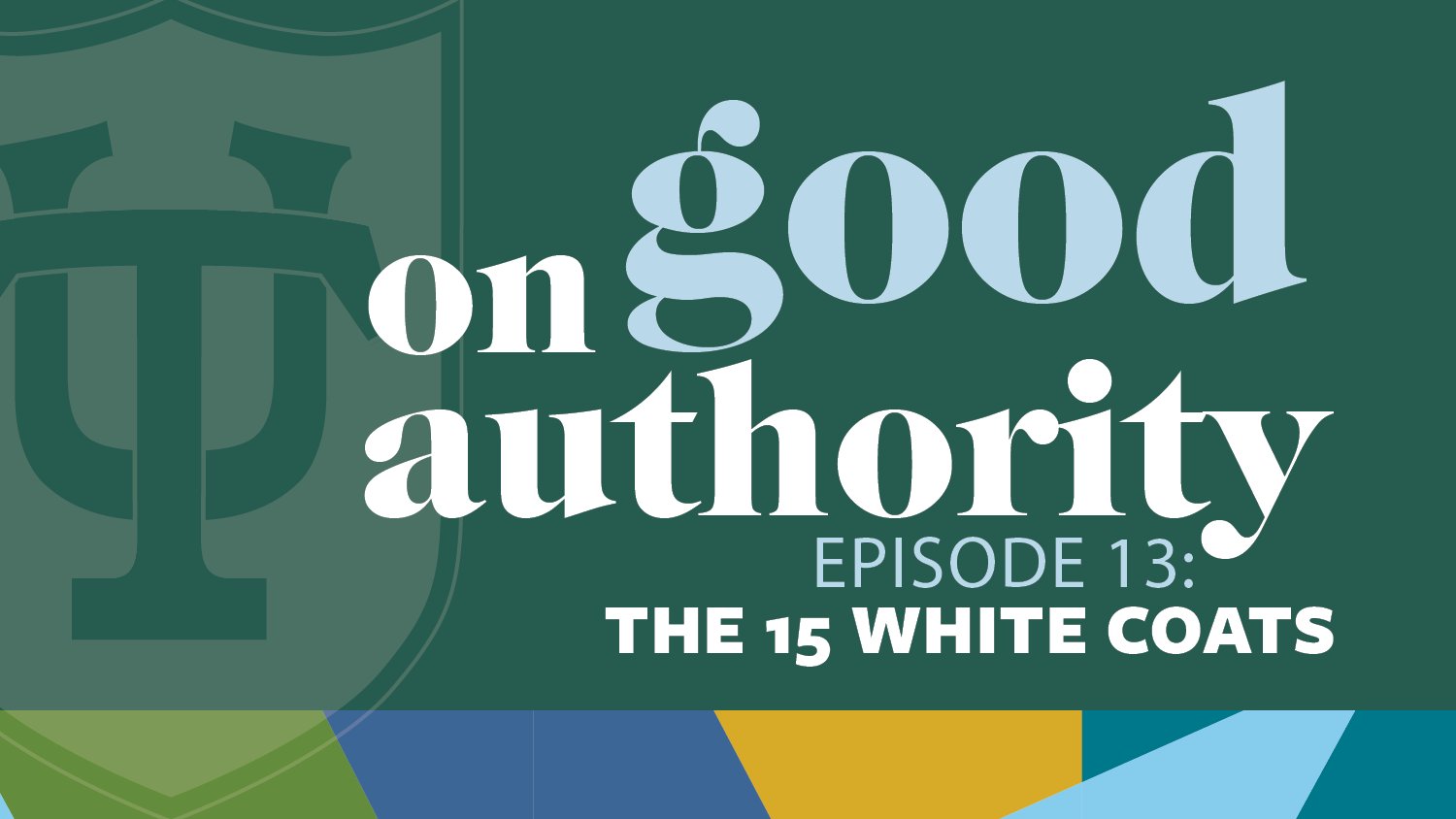 Sydney Labat and Rachel Turner, third-year students at Tulane School of Medicine and co-founders of an organization called The 15 White Coats, discuss why they decided to become physicians, the meaning of being a Black physician, and their viral photograph, taken in front of a former slave quarter, that symbolized Black excellence.
Transcript ▾
Speakers
Faith Dawson, Sydney Labat, Rachel Turner
---
Faith Dawson
In fighting the COVID-19 pandemic, black doctors have been called on to champion the vaccine, and to help eliminate pockets of medical mistrust in the Black community. But there's a problem. We need more Black doctors. Welcome to On Good Authority, a podcast featuring Tulane University experts. I'm your host, Faith Dawson. On today's podcast, we talked to two young Black doctors in training, Sydney Labat and Rachel Turner, third-year students at Tulane School of Medicine and cofounders of an organization called The 15 White Coats, whose photograph of empowered Black medical students went viral last year. Welcome to On Good Authority.
Sydney Labat
Thank you.
Rachel Turner
Hi, hello.
Faith Dawson
Let's consider for a minute physicians, patients and race. Evidence suggests that when doctors and patients share the same race or ethnicity, it improves time spent together, medication adherence and other factors. It can also dramatically affect outcomes of birth to Black mothers. Now, you two are at the beginning of your medical training, how has being a Black medical student influenced your understanding of the needs of the community?
Sydney Labat
I think that's that's probably a multifaceted question. From the standpoint of being a student and being in the hospital and interacting directly with patients, you can definitely see the change in a patient's attitude, the change in the way a patient feels when the provider team walks in the room, they see someone who looks like them. Particularly I can talk about one experience in which I was on one of my rotations and I had a patient who ended up trusting me very much and, and when I had a day off, my resident, or my upper level attending, the people who are in charge of me, texted me and told me that my patient stopped everyone and was like, "Hold on, wait, where's Sydney?" And they they told me that. I had the day off, but it really warms my heart and it spoke to how comfortable you feel when someone you know will advocate for you is in the room. And I think that's just one part of it. And I think another part is that, you know, when we're not in the hospital, we live in this community. And we live in a community with moms, dads, aunts, uncles, brothers and sisters who live with these comorbidities and the issues that they live with everyday. Chronic diseases, chronic medical conditions, and we know what it feels like to be on the other end. So whereas we have experience in the hospital, we also have experience outside of the hospital from the patient standpoint with our family members.
Faith Dawson
Did that reaction take you by surprise at all? Like in 2020 and 2021, this is all the conversation that we're having. But if you asked Black medical professionals and those in training, they would say yes, we knew this a long time ago.
Sydney Labat
Oh, absolutely not. It didn't surprise me. Not one bit. Just because I've experienced that myself. I've gone to a doctor's office and felt uncomfortable and felt a little more comfortable when I've seen a Black nurse or, or another part of the medical team as a as an African American person, knowing that they understand that feeling of fear, that feeling of just being uncomfortable. So it didn't surprise me one bit. It warmed my heart more than anything because it told me I'm doing something right. And I'm doing the right thing for my community. So yeah.
Faith Dawson
What do you think is the origin of that fear? Fear of not being heard, fear of, you know, like not making yourself clear, having, just having a medical professional not listen to you?
Rachel Turner
So I think that's a great question. I think when it comes to the fear and mistrust that exists between kind of patients and physicians, it goes back to previous experiences that patients have had. I think, thinking about how those experiences went, and if it was a bad experience, those are things that patients carry with them everywhere they go, even if the provider changes. I also think it's an issue of patients feeling like they have someone who can relate to them, who understands them. There's something really special about, you know, being a patient in a hospital bed and a team of five or six people walking in and being able to off the bat identify with someone who can relate to you on some aspect, especially race, without even having to exchange words with one another. It's kind of this, "I see you, you see me, I understand you." And I feel like that in and of itself puts patients at ease and kind of allows for an approach to delivering care that might not have been available if there wasn't someone on the team who they felt they could align with right off the bat when they entered the room.
Faith Dawson
Considering that, do you think there's a benefit of attending a medical school that's located in a predominantly African American city?
Rachel Turner
One thousand percent. I think it's a privilege. I think that it's very eye opening, even though Sydney and I, we both identify as Black and African American, being with our counterparts of classmates who may be Caucasian or identify with some other race, they're also getting exposure to an African American community and these populations. And while having, you know, medical students who are Black and are going to be Black physicians, it's important that people who aren't African American are learning and training with the patient population that really need help.
Faith Dawson
So according to census.gov, more than 13% of the US population does identify as Black or African American. But according to the AAMC, American Association of Medical Colleges, only 5% of active physicians nationwide identify the same way. So as you were considering medical school, was the availability of Black doctors or even the lack thereof apparent to you at that time?
Sydney Labat
Oh, absolutely. Speaking for myself, I am from rural Mississippi, I've never seen a Black doctor at all, as a patient. That was never a thing. Growing up, honestly and truly, I can't recall not not one. And that's something that we that we were very aware of. That's not something that I was, I would say, limited me. Growing up where I grew up, there were more people around me who thought that it was, that it wasn't possible versus my thinking of myself that it wasn't possible. I didn't have that attitude. But obviously, the biases around me, were, were very loud. We knew, I knew exactly what I was getting into signing up for this.
Faith Dawson
Wow. What were there other factors as well, that might have influenced your decision, you know, where you went to undergrad, or people who you met along the way?
Rachel Turner
So for me, personally, my father is a physician. So I was fortunate enough to kind of have that exposure growing up. But I will say, when I looked at my dad and where he practiced medicine, which was, you know, out in the suburbs of Houston, he was the only Black doctor that I could pinpoint. And I remember growing up, my dad would take us to these conventions for SNMA, where Black physicians around the country would bring their children. And it was always something where I was like, "Wow." I didn't even know, you know, there aren't a lot of Black physicians, but just seeing the few come together, it was so powerful and impactful that it was part of the reason why I wanted to go into medicine. So for me, I had a little bit of exposure to a good bit of Black physicians growing up.
Faith Dawson
Yeah. But that still doesn't, that still doesn't prevent you from experiencing bias. I've heard stories of people saying like, "Oh, well, I'm waiting for the real doctor to come in." You know, or something like that. Or someone assumes that a Black doctor is a technician or something, no disrespect to technicians or anything, but it can get frustrating for doctors, from what I understand, to be mistaken for someone other than the person who is going to be a main part or major part of your care team.
Rachel Turner
Yeah, I think that that happens a lot. And you know, there are people who won't go to Black doctors because they're Black. That's not for them, not to go and see that doctor. But that happens to us as medical students on our services when we're rotating, you know, walking into the room. And again, no disrespect to any profession in healthcare, because every role in healthcare is essential and important. But you know, people sometimes can't believe that us, as Black females at that, are part of the doctor's team that will be overseeing the patient's care.
Faith Dawson
Wow. Let's talk for a minute about that viral photo, which can be viewed on the On Good Authority podcast page. Now, Sydney, I think you tweeted this photo. And then Twitter went crazy. And then national and international media went crazy. And I can speak for myself, when I saw the photo on social media, it actually took me a day to even realize that you guys were Tulane students. At the time, I was home alone and I'm like, so excited. And I'm looking around and there's no one for me to tell. Like I wanted to say it out loud, but I couldn't. So on that date that you went to the plantation and posed at the slave quarter, the former slave quarter, going in, what did you hope to get out of that visit?
Sydney Labat
I'm gonna be honest with you and tell you that the morning I woke up to go to that visit, I was absolutely stressed out about school and considered not going. The lifestyle that we live as medical students, we live day to day. Sometimes, you know, we're completely stressed out and we're overwhelmed. But something in me told me to get up and get dressed and get in the car. So I think just because I had the idea in my head that, you know, I don't know why I need to do this, but something is telling me to do this. I kind of went into it with an open slate. I had heard of the Whitney Plantation before. I am a graduate of Xavier University of Louisiana, so I have, a lot of classmates of mine from Xavier have gone multiple times, I just never got an opportunity to do so. In that moment, I didn't feel like I had the time to do it even then. But I'm very, I'm ecstatic that I went, not only for, you know, the notoriety and the ability for us to create a nonprofit that affects so many people, but just for the experience. Ever since then I've, I've told multiple people that you need to go. And you need to have that experience, you need to feel everything we felt that I think is clearly conveyed through the photo and in our expressions on all 15 people in the picture.
Faith Dawson
And one of the things that you posted on Instagram or on Twitter, or maybe both, was, you know, we are our ancestors' wildest dreams. And as a parent, that is that is so profound to me, that our children can achieve something that previous generations did not think possible.
Sydney Labat
Just saying that, I don't know where it came from quite honest. I remember I was riding back in the car and me trying to figure out a caption and that just came up. One thing I want to point out is that us being Black medical students and being our ancestors' wildest dream. Yes, that is true. But quite honestly, all Black people are magic in a way that I don't think we understand. And I think in that moment, I understood our magic. And in that moment, I realized our magic. And that doesn't mean like whatever profession you go into, that's, that's artists, that's lawyers, that's educators, that's those who go into social work. Black people have risen above all obstacles. They tried to bury us and didn't know we received. Quite honestly, I couldn't be able to articulate more plainly than that. And our photo was just one depiction of how we are our ancestors' wildest dreams, because like I said, Black people have, have overcome just about everything. And hopefully people can stand on our backs. And that's the only, that's the only thing we could wish for.
Faith Dawson
Yeah, sometimes I tell my child, you know, sometimes your heaviest burden turns out to be be your greatest gift. But now you have formed the organization the 15 White Coats. Can you all talk a little bit about that?
Rachel Turner
Basically, after the photo kind of went viral, and we were getting so much positive feedback, and and just seeing how people were reacting, we kind of took a step back and said, "Wow, we really have the opportunity to do something special here." We could have left it to be just what it was, which was a photo. But I think after we left the plantation and we all, everything that I mean, I couldn't echo more everything that Sydney said, but there were feelings that are really hard to put into words. And I think that in and of itself made us really want to push to do something with what we were given, which was the opportunity to speak about a lack of Black doctors in healthcare on a bigger platform. And that photo gave us the opportunity to do that. And so now, you know, we've formed this organization that has been around now for a little over a year. When we first started the organization, we were using the photos to give to schools for free if they signed up, but also were giving them as an option for people to purchase so that we could use that money to give out as scholarships for people of color who were applying to medical school. We were also going to schools within the New Orleans area to go speak with kids and to present them with posters and offering our contact information as mentors for kids who are interested in medicine and even those who, who aren't interested in medicine, but felt like they needed someone to be able to talk to. Things were going great for the first year. And then you know, COVID kind of hit and we unfortunately had to take a step back from being able to go into schools to speak with kids. But you know, we try to stay active on social media with our Instagram and our Twitter, @the15whitecoats. And you know, recently in the fall, we just did an event where we had a lot of Black physicians in the community and a bunch of kids from all different ages come out. And they just spent time sitting with all of these different Black doctors. Cardiologists, surgeons, internal medicine doctors, I mean everything. And they just got the opportunity to sit and speak with them. And I think for me personally, that was probably one of the most rewarding events that we've done. Because seeing the looks on these kids' faces and also just being able to take a step back and see, I think we had almost 20 Black doctors just all in one area. It was really something special.
Faith Dawson
Wow. What advice do you have for young people of color who want to pursue a medical field, whether it's, you know, an MD or some other field? How can they find support if they don't know where to turn?
Sydney Labat
You gotta ask. I think that's the biggest thing, and I think that's one of the big reasons why we do what we do is because we want to be tangible. We want to be on the ground, want to be reachable, we want to be touchable. And I want every young Black student who feels like they want to do that, to reach out and ask. Because we will not turn you away. Our community, I think our community in itself, the Black community in itself, has this idea of a collective effort. We are definitely here to be mentors. We are here to be a step for you to get towards your goals. Feel free to DM us, feel free to contact us via social media. A big, big goal of ours is to be touchable. And to not be some figure that went viral on the internet, that that's not us at all. And I think I can speak for myself and Rachel and say that we want to help. And that's the whole reason why we do this. And I think every last one of those people in our photo, along with the 60 classmates that we have at Tulane, Black classmates that we have at Tulane, have the same idea and the same goal. And we all know that we wouldn't be here without mentorship. And yeah, the resources are there. And if you can't find them, we'll help you find them.
Faith Dawson
Is there anything else that you would like the On Good Authority audience to know?
Sydney Labat
One thing I would just like people to know is that everything we do has a reason and has a purpose. And literally zero of it is for self-gain. I think a lot of people see the notoriety that we've gotten, they're like, "Oh, this is amazing." But I guarantee you that everything we think is about putting it back into the community, everything we raise, it's about putting it putting it back into the community. This is so important. And this is such a vital, vital [thing] for us that we need to see through because like you said, like, it's only, there's only 5% of Black physicians in the nation right now, which is ridiculous considering the patient population. So this is something that we're always going to push forward. This is something that we would love your support on, we will always love to collaborate. Anyone who has ideas, anyone who wants to help in any way, because like we said, this is incredibly important, and we will make time and we will make change.
Faith Dawson
And you have a website too.
Sydney Labat
We do.
Rachel Turner
Yes, our our website is www. the one five, the number, white coats.org. So the 15, and the number 15, white coats.org. And on that website, you can find out about our mission, how the money and the donations that we get, and the money that we get from purchased photos and also t-shirts, how that money is allocated and where, you know, people's investments in our organization are going. There's also a way to contact us on a forum that way. It's a really great website, you can learn a lot about the organization there.
Faith Dawson
Our guests today have been Rachel Turner and Sydney Labat, medical students at Tulane School of Medicine. Thank you all so much for being guests of On Good Authority today.
Sydney Labat
Thank you. We really appreciate you having us.
Rachel Turner
Thank you. This was such a pleasure and I look forward to keeping in touch with y'all after this interview.
Faith Dawson
Thank you again for listening to On Good Authority. I'm your host, Faith Dawson. For more information on this and other episodes, please visit tulane.edu/on-good-authority.
Host: Faith Dawson
Editor: Marianna Boyd
Producers: Marianna Boyd and Audrey Watford
Production team: Marianna Boyd, Keith Brannon, Will Burdette, Faith Dawson, Libby Eckhardt, Aryanna Gamble, Carolyn Scofield, Mike Strecker and Audrey Watford