Image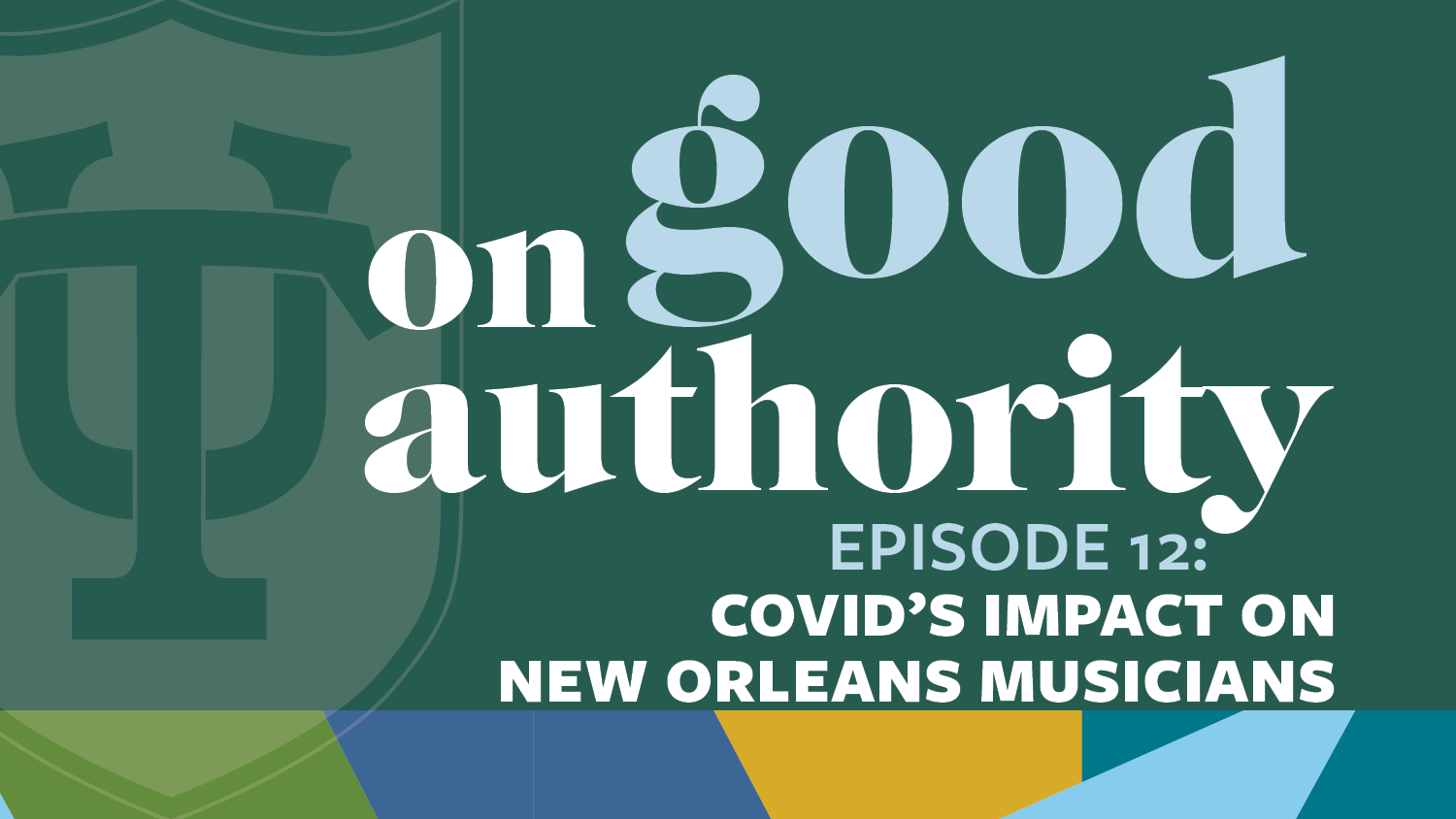 Since the start of the COVID-19 pandemic, New Orleans musicians have borne the brunt of living in an economy where live music poses a threat to public health. Melissa Weber, curator of the Hogan Jazz Archive with Tulane University Special Collections, discusses how musicians are adapting and how this may impact New Orleans musicians' legacies.
Transcript ▾
Speakers
Marianna Boyd, Melissa Weber
---
Marianna Boyd
Hello. Welcome to On Good Authority, Tulane University's podcast featuring fresh perspectives and lively discussions from leading experts on global topics and issues of the day. I'm your host, Marianna Boyd, with Tulane Communications and Marketing. Since the beginning of the COVID-19 pandemic, almost every industry has been upended by changes necessitated by the quickly spreading virus. In New Orleans, where music is an integral part of our culture and daily life, it became apparent that our cities musicians would be impacted significantly by safety precautions to combat the virus. Without their regular gigs at the city's many music venues or festivals throughout the year, musicians faced a seemingly insurmountable challenge: How to continue bringing music to audiences while we're all stuck at home. Today's guest is Melissa Weber, Hogan Jazz Archive curator with Tulane University Special Collections, the leading research center for the study of New Orleans jazz and related musical genres. Melissa, welcome to On Good Authority. Thanks so much for joining us.
Melissa Weber
Thank you for having me. I'm thrilled to be here.
Marianna Boyd
So to start us off, can you tell us a bit about what you do as curator of the Hogan Jazz Archive with Tulane University Special Collections?
Melissa Weber
Sure thing. As the Hogan Jazz Archive curator with Tulane University Special Collections, I'm primarily responsible for developing our collections and improving means of access to our collections, which support the research of New Orleans music and culture of the late 19th and 20th centuries forward. Our collections represent the musical cultures of New Orleans, and that includes, but is not limited to jazz, ragtime, rhythm and blues, blues, gospel and other styles. And the Hogan archive is just one unit of Tulane University Special Collections. It also includes the Louisiana Resource Collection, University Archives, Rare Books and the Southeastern Architectural Archive. And if you're wondering what special collections are, I love to answer this question. Special collections and archives contain rare, fragile and non-circulating primary source items, including things like correspondence, photographs, business papers, personal papers, memorabilia, oral histories, and yes, audio and video recordings and more.
Marianna Boyd
So from a music historian's perspective, how do you think the pandemic and its effect on musicians will change the nature of recorded music?
Melissa Weber
I think the challenge that a lot of musicians, both locally and internationally, are facing right now is not necessarily how recording music will change, because music musicians today can thrive using the technology to record their own music, their own videos, right in their homes. The challenge that I have seen from musicians is how, during this time, to monetize their creations during the time when concerts, touring, and and most live performances are on hold. And as far as a change in the nature of the recorded music, that can go either way, you know, some musicians, they create well, and they find inspiration in times of duress. Others have, like a writer's block or a creative block, and they can't create at all. And I know people on both sides. Really though, COVID will change the nature of music performance and how musicians are or are not able to make money right now because being a musician is work. And some people might write being a musician off as a hobby, but there are musicians who have been making a living solely as musicians for decades, especially in New Orleans. And this is the first time that they are at a loss as to what is next. And and everything that I'm saying is related to the musicians and the entire industry. You know, that includes the venue owners. That includes the event professionals, bartenders, you know, everybody is is affected with when the music community is hurt like this. It affects so many segments including our musicians and our culture.
Marianna Boyd
So looking forward, can you share how you think New Orleans musicians' legacies will be impacted by the current restrictions on live music and performances?
Melissa Weber
Yeah. For New Orleans musicians, the necessary restrictions on live music, and I have to say necessary because we understand why they are restrictions they are necessary. But these these restrictions on live music, they're an even scarier scenario than Katrina because at least then, if you had the means you could travel to another state or country and you could perform, you could make money. That is not an option during the pandemic and also, the nature of so much of New Orleans music culture comes out of gathering and community. COVID has halted our second lines, our jazz funerals, our meeting places, our Mardi Gras Indian and Black Masking Indian practices, and our music venues, both traditional and non-traditional, large and small. And in New Orleans, the functionality of music doesn't solely exist as a format just performed by musicians for an audience. It's more than that. Music is a part of our lives here. And in New Orleans music, the audience is part of the music making. And that feeling can't be replicated on an internet live stream, for example. So for me, we have to be careful to make sure that the legacy of New Orleans music is included in every conversation that is had about any reopening plans and New Orleans businesses. In general, New Orleans is special because of our culture, and that includes our music.
Marianna Boyd
That's such a good point. And you're really highlighting how much music affects our economy and is just integral to the rest of our businesses here.
Melissa Weber
So New Orleans musicians have been hit so hard financially as well, because remember, the pandemic started to really take hold at the beginning of the festival season, which happens during the spring. And all of the money that musicians normally really look forward to making during the spring and summer, both locally and out of town, took a hit with no festivals, no venues, and it's looking like the same thing may happen for 2021. My fingers are crossed that we are out of this by then, but only time will tell.
Marianna Boyd
Right and once the pandemic is over, however we define that, I can't imagine what that first Jazz Fest or Mardi Gras or French Quarter Fest will be like.
Melissa Weber
They will be dancing in the streets, and I will be among them.
Marianna Boyd
Oh, absolutely. Concerts broadcast over social media seem to be one of the ways that musicians have been creative about finding ways to continue to perform. Do you think that virtual concerts will continue after restrictions have been lifted?
Melissa Weber
Yeah, that's a great question. And while I have not asked any musicians personally, or specifically, if they would stop doing online concerts once live music restrictions are lifted, my informed guess is to say, probably possibly so. And the reason why is because a lot of people now have online event fatigue, right, both artists and audience members. And it's hard to make money with most of these online performances. People assume that the musicians are making lots of money, and that's just not the case. Musicians want to be paid for their work and their art. So for those reasons alone, I'm not sure how many of the social media concerts will continue. Maybe large venues who can manage that that type of infrastructure for the monetary and monetizing part, but for the average person just turning on their phone and wanting to play for people? That's not, that's not really doing doing the work.
Marianna Boyd
With this pandemic, we're often looking to the past and drawing parallels to when something similar has happened before and asking, "How do people get through it, then?" Obviously, a popular one lately to talk about has been the 1918 flu epidemic. But for musicians specifically, can you talk about a time in recent history that has impacted music in the way that COVID has?
Melissa Weber
Yeah, honestly, the big one is obviously Katrina. That affected the culture of New Orleans music and musicians in some significant ways, such as displacement housing issues, threat to financial security. However, and I remember this time, you know, there was an outpouring of support and aid from around the world for our local and regional community, and especially our musicians, and with Katrina, musicians, again, were able to perform outside of New Orleans. And in New Orleans, there was a lot of gathering and fellowship that happened with the rebuilding effort and people outside of New Orleans were really invested in helping with that effort. Now, that's not the case with the pandemic, because essentially, everyone is in trouble right now. Everybody, everyone needs help, and the pandemic problems are not specific to New Orleans or New Orleans musicians or people in our region. However, the needs of our culture and music are unique and need to be addressed that way.
Marianna Boyd
So moving forward, in your opinion, what steps big or small can we take to help our musicians and our culture bounce back?
Melissa Weber
Yeah, this is a great opportunity for me to state the main needs for the New Orleans music community, and they resemble the needs for everyone. The need for personal health and wellness, attention to mental health because this pandemic has taken a toll on emotional care, the need for having safety needs met, in cases where public performances are allowed once more, which I hope is coming really soon. The need for testing, and I will say the New Orleans Musicians' Clinic is doing a great job of destigmatizing testing by having musician-only testing events. Access to resources, support for those who have the virus or are recovering, minimizing contact to prevent the spread while remaining socially connected, negotiating how to survive financially, housing and meal insecurities. All of these things are challenges right now. And it's particularly hitting New Orleans musicians hard because the plans don't appear to include them in a significant way that acknowledges their creative labor, their financial needs, and their integral contributions to the culture of not only our city, but the world. New Orleans musicians want and need to be recognized, need to be part of the decision-making process in the COVID business plans and the phases because their work is so important, and it is work.
Marianna Boyd
Last thing before we go, is there anything else that you'd like to add?
Melissa Weber
I just really am thinking about the safety and well-being of everybody, and I want our culture to be intact when all of this is over. And like you said, when we can have live music again, when we can have gatherings again, and our social aspect, which is so much a part of who we are in New Orleans, it'll be like never before. So I used to say at the beginning of the pandemic, that COVID would be the New Orleans culture killer. After we get out of COVID, we are going to see a renaissance like never before. That is my hope and that is my prediction as well.
Marianna Boyd
Wow. Thank you so much, Melissa, for joining us today on the podcast.
Melissa Weber
Thank you again, I enjoyed speaking with you.
Marianna Boyd
Thanks for listening to On Good Authority. For more information about this episode and others, visit tulane.edu/on-good-authority.
Host: Marianna Boyd
Editor: Marianna Boyd
Producers: Marianna Boyd and Audrey Watford
Production team: Marianna Boyd, Keith Brannon, Will Burdette, Faith Dawson, Libby Eckhardt, Aryanna Gamble, Carolyn Scofield, Mike Strecker and Audrey Watford