Image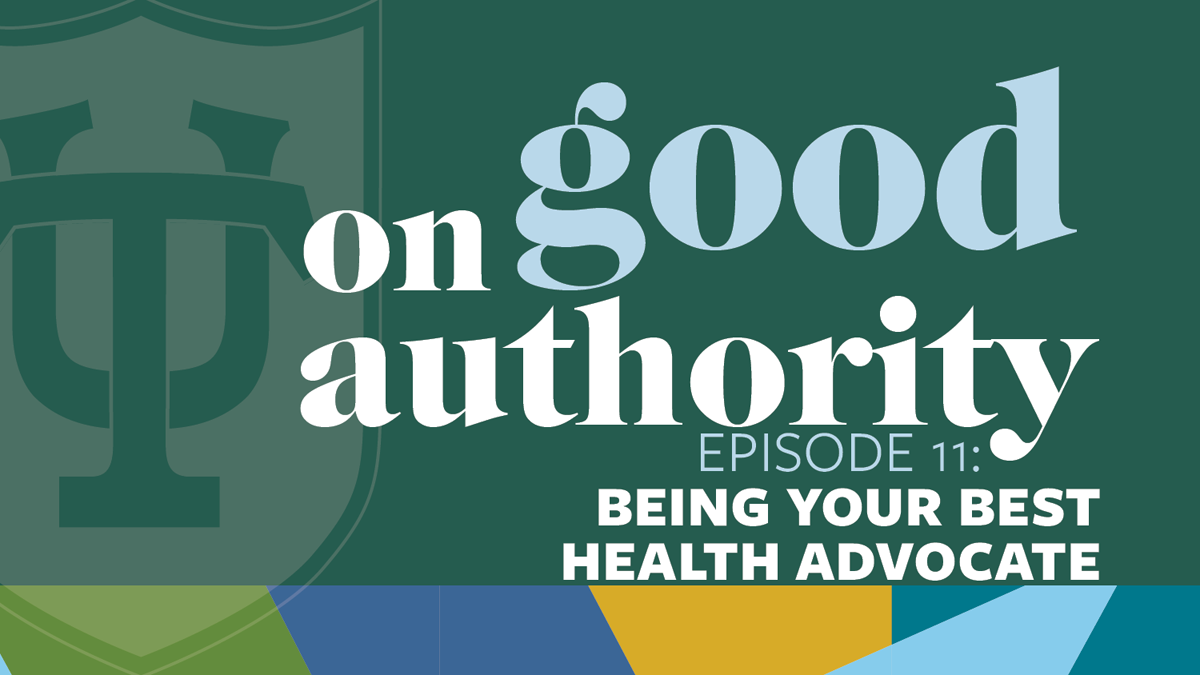 From routine checkups to end of life wishes, our health care doesn't have to depend on a stranger in a white coat. Dr. Jacey Jones, academic hospitalist and assistant professor of clinical medicine in the Tulane Section of General Internal Medicine, shares how to approach medical visits and ensure we play an active role in our health and wellness.
Transcript ▾
Speakers
Jacey Jones, Carolyn Scofield
---
Carolyn Scofield
As we start out the new year, and what seems like an extension of the stress we experienced in 2020, are you interested in taking better care of yourself? That conversation may start at your doctor's office.
Jacey Jones
Your health care does not have to be in somebody else's hands. It doesn't have to be all on this random stranger in a white coat.
Carolyn Scofield
I'm Carolyn Scofield. Welcome to On Good Authority. Dr. Jacey Jones is an assistant professor of clinical medicine at Tulane University School of Medicine. She joins On Good Authority to talk about being your best health advocate. Let's get right into it and start at the beginning. Dr. Jones, you say the first step is finding a primary care doctor, how do you go about doing that?
Jacey Jones
So that's an excellent question. And I think really the best way that one can find a good primary care doctor is by word of mouth, really. So talk to your your peers, your co-workers, your friends, your family, see who they who they, who takes care of them. Who's their primary care doctor? Do they have any recommendations? What was their experience like? Do they have anybody that they would recommend that you avoid. You'll quickly sort of find out who are the good doctors and who are the not so good ones in your area. If you don't have that peer support network, it can be you know, a little bit more tricky. But your insurance company can be a really excellent resource for that. If you've got insurance, you can always access your in-network providers by either going onto the insurance company's website or calling the phone number that is provided on the back of your insurance card. If you don't have insurance, number one, probably should work on on trying to get some insurance, because it's really important that everybody has coverage. And it's really accessible and affordable ever since we've had the Affordable Care Act. And two, even if you don't have insurance, there are free clinics available in almost any major city. Here in New Orleans, there is a resource called 504HealthNet, it's a website. They list all the local community clinics that take either no insurance and cash payment, or free care if necessary, or payment on a sliding scale. Whatever is is required to get you the care that you need. The bottom line is don't let not having insurance be a barrier to getting you a doctor. And the second bottom line is get a doctor because you really should try and have that relationship with a good primary care doctor.
Carolyn Scofield
Are our bodies sort of like cars, in that we should be getting a yearly tune up?
Jacey Jones
Yes, that's a that's an excellent question. And in fact, I'm glad you asked it that way because I mostly take care of patients in the hospital as my, in my practice. And sometimes patients will come into the hospital with one particular problem. But then we open up the hood, if you will, and find all sorts of other problems and end up having to essentially do a tune up. So I say that to say, a lot of that can be avoided if you have these yearly tune ups, if you are on a regular maintenance schedule, sort of like you do for your car. So that can include anything like you know, getting your annual flu shot or getting your vaccines, that's not the flu. So you know, tetanus, shingles, those sorts of things. Getting cancer screening, depending on your gender, your age, your risk factors. Getting screening for things like heart disease, high cholesterol, all these sorts of things are important and really are all part of your annual health maintenance. And we even call it health maintenance, just like maintenance for a car.
Carolyn Scofield
In your practice, do you see a lot of people who have looked at Web MD before they come in and have self-diagnosed? Is it okay to ask questions of your doctor?
Jacey Jones
Yes, yes and yes. We definitely see lots of of, you know, internet diagnoses, which can be a gift and a curse. We, as doctors, as providers, we want our patients to be as informed as we possibly can. So looking up your symptoms on the internet, looking up your medications on the internet, your conditions on the internet, understanding, you know, side effects, understanding how your conditions might change your lifestyle. Those sorts of things are really great for you to use the internet as a resource. You probably shouldn't look to the internet for a diagnosis. You should leave that to, you know, doctors, nurses who are trained for that. Because, you know, a lot of times you type in your diagnosis, and you'll end up being told you have cancer, you probably don't. But it's important to take that information and discuss it with your doctor. We want you to ask those questions. We want you to come prepared with those questions so that we can talk about it, and it really shows that you care about your health and you really want to be a part of it.
Carolyn Scofield
2020 brought up so many conversations about racism and how it can influence nearly everything, including medical care. What can patients of color do to be sure that their concerns are being listened to and taken seriously?
Jacey Jones
Thank you for that question. That is an incredibly important question. As a black woman, I find that I'm having these conversations a lot more with my patients these days. About how racism and you know, systemic and structural inequalities in medicine have really become more into the forefront these days. But really, our patients and our our, we as providers know that this has been an issue for a long time. And I think it's important that we recognize that this is an issue as physicians, but as patients it's, the most important thing for you as a patient is to feel comfortable with the person that's taking care of you and feel comfortable with the person that's in charge of your health. So if you don't feel like your concerns are being heard, if you feel like you're being dismissed, if you don't feel like you have good communication with your doctor, it is important that you feel comfortable speaking up. And a lot of times, you know, patients who are, who are in the Black community, who are in the Hispanic community, who are in, you know, disadvantaged socio-economic circumstances, don't feel like they have that leg to stand on to be able to really stand up for themselves and have those conversations. But I'm here to tell you that as your physicians, we want you to feel like you can do that, because we want to take care of you. And in order to do that, we need to be able to have your full trust. So to have your full trust, we need you to, we need to be on the same team. So we want to be on the same team with you. And in order to feel like that, you really have to be able to have that open conversation with your doctors, with your nurses, with whoever. Sometimes that also involves, you know, having having a buddy, a health buddy. So whether that's a friend or a family member, you know, obviously during COVID, that can be a little bit of a challenge going to the doctor's office. But somebody that you feel comfortable discussing your health with, so that if you have an issue, they can have your back, and maybe even talk to your doctor for you if you have trouble communicating these things. So you know, these are things to keep in the back of your mind. The most important thing is that you feel like your needs are being met and that you are being understood and heard and and communicated with clearly.
Carolyn Scofield
When it comes to bringing a buddy with you, how do you go about choosing the right person?
Jacey Jones
That's another excellent question. I think having these conversations with your family and your loved ones, especially during you know, during COVID times. There, there have been so many hospitalizations that were unexpected recently. Tragically, so many deaths recently that were unexpected. A lot of us think it can't happen to us and can't happen to our loved ones. But these are conversations that we have to have. You need to talk to your loved ones. Sit down with your family, with your parents, your siblings, your friends, and say, you know, if something were ever to happen to me, and I were to become unable to make decisions for myself, or God forbid, I were to become sick and hospitalized, who would be that person that I would trust with that information? And have a conversation with that person about what is important to you, what values you have. Some people value living as long a life as humanly possible. A lot of people, on the other hand, value having as good a quality of life. And it's important that those values are communicated to your health providers, especially if you can't, so having somebody as a proxy, as a health proxy, that you trust. The first step in that is, is choosing somebody that you trust and having that open conversation with them. So I encourage all my patients to do it at any stage of their life, whether they're 18 or 88.
Carolyn Scofield
And to piggyback off of that, from another perspective, my mom passed away in November after being in the ICU for a couple of weeks. One thing that my sister and I found helpful is that we had already established a medical power of attorney and we knew what her wishes were.
Jacey Jones
It helps, right? It takes some of the burden off of you and makes you feel like you don't have to own all of those decisions and hold all of that weight on your shoulder as as the loved one. But at the same time, you know, having that frank discussion ahead of time or having those wishes outlined ahead of time, makes sure that that what happens to you when when you can't make those choices for yourself is respected. Which can be really, really difficult when you're sick and in the hospital, particularly very sick, particularly during COVID when visitation is restricted.
Carolyn Scofield
I mean this is not really a doctor, it's more of a lawyer question, but should people be having these conversations and and getting living wills together because of what we've seen in 2020?
Jacey Jones
I think that's an excellent question. Um, it some of it depends on your state laws. Some of it depends on your particular family situation. So if you have, you know, a spouse or an adult parent or an adult child, typically that person would automatically become the one to make your medical decisions. However, if you want somebody different to make those decisions, then that would need to be legally outlined. Or if you have very specific wishes, it may be better to have that legally outlined. It certainly is no harm for everybody to have an advanced directive. I have an advanced directive, I'm only, I'm not going to tell you how old I am. I'm in my 30s. But everyone should have one, regardless of how healthy you are. Everyone should at least give consideration to the ideas behind an advanced directive. What would you want? Or who would you want to make those decisions?
Carolyn Scofield
It sounds like being a good health advocate involves a lot of conversations with your doctor, with the people you know and love and include in your life. Does it make it easier when you are faced with tough choices, possibly, when you've already had these conversations before?
Jacey Jones
Absolutely, absolutely. And our patients, so like I said, I take care of patients in the hospital when they are at their sickest, at their most vulnerable. The ones whose family members or friends or whoever it may be that's involved in their life, know that that person has clearly laid out what they want, what they don't want. It just makes everything so much easier. It also makes it easier on your physician and on your providers. Because then you know that your patient that you're taking care of has an understanding of what's going on in their life. And what the the course of their illness is, particularly in those of us who are chronically ill. And allows us to really have that frank and open conversation that sometimes is more difficult to have in high stress situations. So in high stress situations, when you're very sick, those are not really the best times to be having these very delicate conversations. Nobody wants to have these conversations, right? You know, you don't want to go to your primary care doctor's office when you're feeling great and it's a sunny day outside and you want to talk about end of life. You don't want to have that conversation, I get that. But you also don't want to have that conversation in the ICU or in the hospital or after a surgery when something's gone wrong.
Carolyn Scofield
We've talked about having all these conversations. Is that possible to do over telemedicine visits, since so many people are being forced to do telemedicine in 2020 and 2021 possibly?
Jacey Jones
Certainly, it makes it more tricky, right? It's definitely not as easy to have a conversation with someone over a Zoom chat or over a telephone, especially these tricky conversations. But you know, telemedicine is is here for at least 2021. Hopefully not too much more beyond that, depending on how things go. But telemedicine is is a very, you know, simple and easy way for you to access your providers. So I don't want patients to feel like they can't access their providers because of COVID. I don't want that to be a barrier to your care. So all you need is, you don't need a webcam, you don't need access to Zoom, you don't need Skype, all you need is a telephone. And you can communicate with your doctor, you can have a regular doctor visit. They might not be able to lay hands on you. But they can talk to you, they can hear about your problems. Most of the time with a conversation, I can figure out what's going on. So most providers can figure out what's going on with a conversation, or at least refer you to the right test to figure out what's going on.
Carolyn Scofield
And I probably should have asked this question first because one of the complaints that many doctors have is that patients wait until the appointment is almost over to ask and address their most major concerns. Do you find that?
Jacey Jones
Oh gosh, please don't do that. So you know, like I've been saying, this is a collaboration, this this relationship between you and your doctor. We want it to be a partnership, not just a one-way street. So you come to your visit prepared with with items that you think are important for you to address, whether that's you know, my low back pain and I can't sleep, and your doctor may have things that they want to address. They might want to talk about your high blood pressure and your diabetes. But that doesn't mean that all four of those things or all eight of those things or however many there are, can't be addressed. We want to make sure that it's not waiting until the last minute of the visit for us to talk about something that could potentially be very important and very serious. So make sure you let your doctor know up front, "Hey, I have some things that I want to talk about. I know you want to talk about my labs and my vaccines. But can I, we also talk about these things?" If it helps to write them down, maybe write them down. If it helps to, like I said, bring a buddy so that they can remind you to bring up those things. All of those are great ideas to make sure that you have all those things covered. Another thing that's important for your doctor visits that I want to plug is making sure you bring all your medicines with you. A lot of time is spent in the in the visit sort of trying to figure out what medicines you're taking and which ones you're supposed to be taking and not supposed to be taking. That can save a lot of time if you just bring them with you. That way that's five more minutes that your doctor has to talk about whatever it is that you want to talk about, rather than sitting in the computer trying to figure out, "Well, it says you're on this medicine, but you're only taking this. Why is that?" You know, it makes it a lot easier if it's all up front.
Carolyn Scofield
Well, Dr. Jacey Jones, thank you for this On Good Authority checkup.
Jacey Jones
Thank you for having me.
Carolyn Scofield
And thank you for listening to On Good Authority. If you liked this episode, be sure to follow us wherever you subscribe to podcasts.
Host: Carolyn Scofield
Editor: Carolyn Scofield
Producers: Marianna Boyd and Audrey Watford
Production team: Marianna Boyd, Keith Brannon, Will Burdette, Faith Dawson, Libby Eckhardt, Aryanna Gamble, Carolyn Scofield, Mike Strecker and Audrey Watford