Image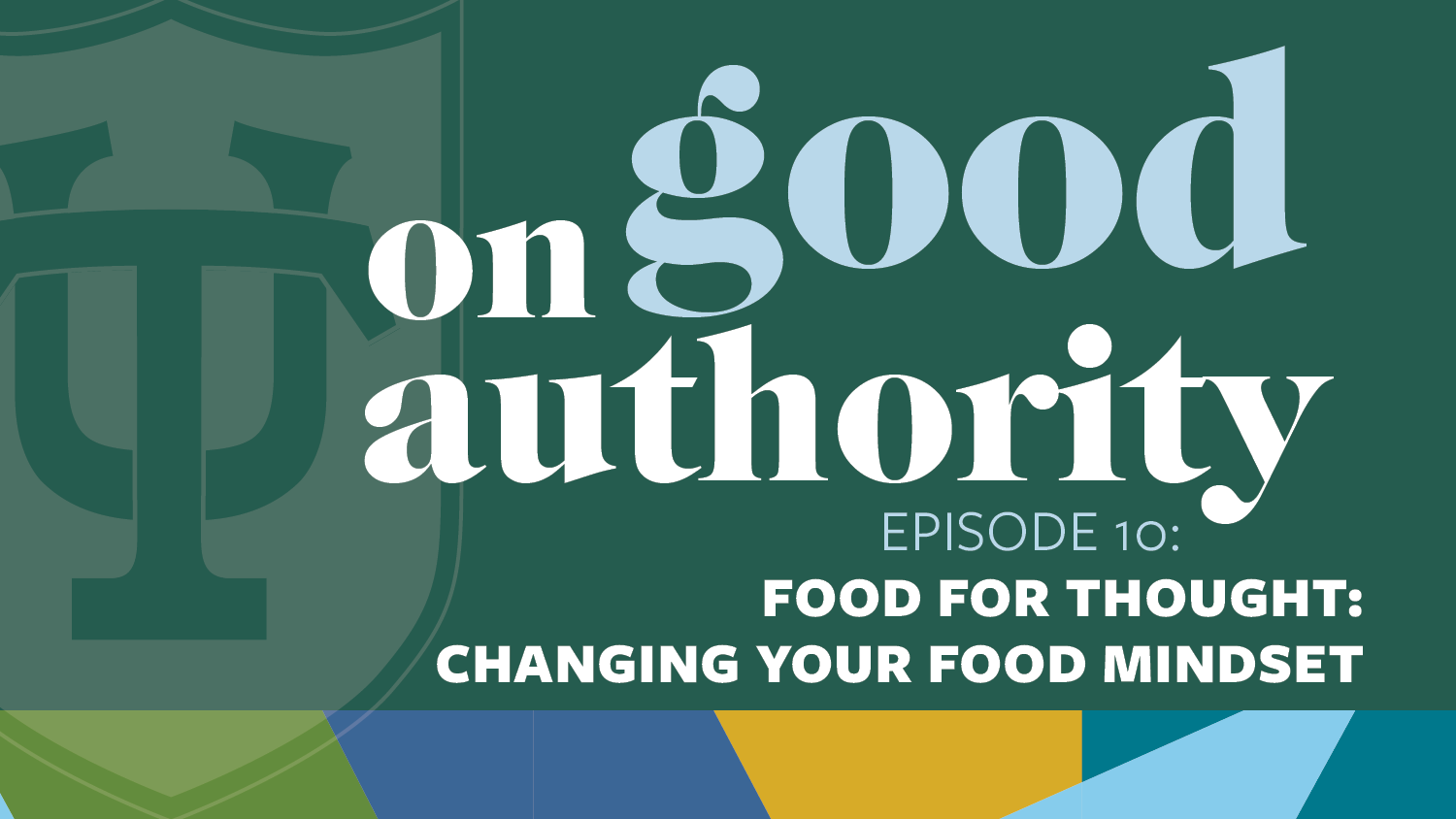 How can we make and implement better, healthier habits as we continue to navigate pandemic life in 2021? To figure that out, Heather Nace, Director of the Goldring Center for Culinary Medicine at Tulane University talks about tips and tricks to help make successful, sustainable changes to your diet.
Transcript ▾
Speakers
Aryanna Gamble, Heather Nace
---
Aryanna Gamble
Welcome to On Good Authority, the podcast by Tulane University, where we bring you leading experts to talk about issues of the day and ideas that shape the world. Throughout 2020, we've stayed home more. We're cooking more of our meals ourselves. We're learning new skills. And looking forward to 2021, what skills are important for us to continue to develop in the kitchen, and how can we make and implement better, healthier habits? To figure that out, on this episode of On Good Authority, we're sitting down with Heather Nace, director of the Goldring Center for Culinary Medicine at Tulane University. Welcome to the show, Heather, and thank you so much for sitting down with us today.
Heather Nace
Thank you so much for having me.
Aryanna Gamble
Can you give our listeners who may not be familiar with Goldring Center, a quick intro into what you do and what your mission is?
Heather Nace
Yes, I would love to. The Goldring Center for Culinary Medicine is a really special place. We were the first teaching kitchen to be implemented at a medical school in the U.S. And the reason that we got started is because traditionally, doctors were not receiving much, if any, nutrition education in their curriculum. And we knew this was a problem because so many of our chronic diseases are diet and lifestyle related. The cool thing about what we do in culinary medicine is we actually blend the art of cooking with the science of medicine. And the extra cool thing we do is we get our medical students in the kitchen with community members. So the medical students get to learn the skills and techniques and nutrition education. But they also get to pass that along to the community members when we teach our community cooking classes. They get to work right alongside the community and really practice what they preach. They get to the point where they're not just talking the talk, but they get to walk the walk as well. What's so cool about it for us, the team that works here, is that we love when we see our people come back after taking classes with us and report to us that they've been to their doctors, their blood pressure has gotten better, their blood sugars have, you know, decreased, and that they're feeling so much better. And it really just warms our heart to be able to know that what we're teaching people has a big impact. Our kitchen is also located very strategically within the New Orleans community in a neighborhood that, for a long time, has seen a lot of health disparities. Our overall goal is to really teach both the med students and our community members the same things. We're teaching them how to plan, how to shop for, and how to cook food that's both nutritious and delicious. And what's really special about what we do is that we're doing it through hands-on cooking classes. So we're getting people in the kitchen, and we're actually showing them the practical skills, the techniques, that they can then take home and use in their home kitchens to have those impacts in their own life.
Aryanna Gamble
That's so great. It's it's a mutually beneficial kind of situation, right? Where your your students are learning how to teach. And then you're in class students who are learning good skills about how to eat better are walking away with some very valuable skills.
Heather Nace
Yes, absolutely. We're all about helping our medical students become better doctors in the future by helping them not only talk the talk, but walk the walk as well, when it comes to eating better.
Aryanna Gamble
So speaking of eating better, overall trends for 2020 are showing that we're cooking more, folks are taking the opportunity with more time at home to learn new skills. What skills do you think will be important or useful for this like next stage of pandemic cooking?
Heather Nace
Well, assuming that everyone by now has perfected their sourdough baking, I think that it would be a great time to start focusing again on healthy cooking. Um, but I do think that healthy cooking gets a little bit of a bad rap. Um, what we like to promote here is showing that it does not have to be difficult, you do not need a ton of special health food ingredients, and it definitely does not need to be bland or boring. One of the main things that we teach at the Goldring Center is how you can take the food that you already love and make some simple tweaks to improve the nutrition. So for example, in our Intro to Culinary Medicine class, we show people how to make basic spaghetti and meat sauce a little bit healthier. We do this by swapping out the white pasta for whole grain pasta. We cut back the meat a little bit. We add additional vegetables, and we actually add some lentils. All of that adds extra fiber. Fiber, by the way, is my favorite nutrient of all time. It has so many wonderful benefits in your body. It helps you control your blood sugar, your cholesterol, your digestion. But my first personal favorite thing that it does is it keeps you full after you eat. So anytime we can add more fiber to our meals, we know we're going to be successful with creating a really filling, satiating dish.
Aryanna Gamble
Heather, you know, I don't know about you, but my pandemic cooking has been very comfort food heavy. There's been a lot of baking, a lot of carbs, a lot of bread. And I'm definitely feeling the new year guilt of needing to implement some healthier habits. What are some tips you can share about how to make those positive changes in your diet?
Heather Nace
Well, first of all, you are not alone. I also hopped on the baking bandwagon at the beginning of the pandemic. I figured it was a great time to bust out my KitchenAid and start all the baking projects that I never normally have time to do. But after a few weeks of making things like homemade cinnamon rolls, and realizing that I live alone, and I was quarantining, this became a little problematic. So, um, that being said, I do think overall, we need to give ourselves a little extra grace right now and realize that it's been a really difficult year. It's completely natural to gravitate towards comfort food. But the good news is you can enjoy comfort food without having to feel guilt. My first tip for that is really just to watch your portion sizes. I really don't like to promote restrictive eating or anything that eliminates complete foods or food groups. So have what you want to have, just watch your portions. And think of how you can maybe bulk up the meal, so that you're not eating just a small portion, you can add some extra veggies. You know the old saying, like have a salad or a bowl of soup before your meal. There's a reason people say that. It's because it can help fill you up if you're having a smaller portion of something. And additionally, you know, everything in moderation, that really resonates for me personally. I think that the traditional concept of dieting, where we have certain foods that are off limits, it feels really restrictive. And at the end of the day, it's why most diets fail. You know, taking away entire food groups, or making too many sweeping changes all at once, is not going to be sustainable. And if I learned one thing in my nutrition training, it's that for a diet to be successful, it has to be sustainable. At the Goldring Center, we use the Mediterranean diet as the basis for our curriculum and all of our recipes. And the thing I like about the Mediterranean diet is that it's not really a diet. It's a lifestyle. It's been studied for a long time. It has proven scientific evidence showing that it, it will result in positive health benefits when you follow it. And I think the best thing about it for me is that it's really easy to do. We focus on the nine main points of the diet, which very simply put are eating more vegetables, eating more fruits, more whole grains, more beans and legumes, more nuts and seeds, and a little more seafood than we probably normally eat right now. And then we do limit our red meat intake a little bit. We focus on consuming moderate amounts of heart healthy plant-based oils and low-fat dairy and alcohol. That's really it. Um, and I think some of my favorite ways to do this in a practical manner is when you're looking at a recipe, you ask yourself, can I cut the amount of meat in this dish by a quarter? Maybe I can cut it in half. Can I add beans or lentils? Can I add more vegetables? And most of the time, the answer is going to be yes. And that is a big reason why this way of eating really works. You only have to make a few small changes to see a big impact. Obviously, the more points in the diet that you can hit, the better. But you can really work your way up to that level over time.
Aryanna Gamble
I really like this idea of more things that are good for you. I think it's, it's really easy to pick and choose like, yes, beans, I love beans, I can really get into that. And for listeners who may be reevaluating their situation for 2021, maybe making some New Year's resolutions, it seems like that approach would be really helpful to implement in a way that's sustainable. And you can have success eating more beans, eating less red meat. You know, those kinds of goals for a New Year's resolution are are easy to implement.
Heather Nace
Yes, I mean, I generally kind of find myself steering away from New Year's resolutions as a whole. I find that sometimes what we do is we set ourselves up for failure. We try to do too much or too big. And I do think if you can focus on one thing, right, maybe it's just, I'm going to eat more beans this year. I'm going to eat them, you know, twice a week. Or I'm gonna drink more water every day or go to bed an hour earlier. You know, something that's kind of simple, you start with that. And once you master that, it becomes second nature. And then you can move on to the next thing. And little by little, you've built up all these healthy habits over time.
Aryanna Gamble
You know, I also think about implementing healthy habits. But maybe, how do we start to rein in some of those bad habits that we might have picked up during the pandemic?
Heather Nace
That is a little bit of a tough one. But I would say I think that we all struggle with this, even myself, I work in nutrition. Um, it's easy to fall into what's comfortable, and what's familiar, especially when we've had so much weighing on our minds and our hearts this year. But again, I think it's really just about don't beat yourself up. The past is the past. Move forward in a positive way and really just focusing on small things. You know, maybe you do look at if you have a certain bad habit, I'll be honest, mine's eating ice cream at night. I love ice cream. And if I had my way, I would eat a big bowl of it every night before I go to bed. It's a pretty bad habit to have. Over time, that's not going to be so good for me. So I will say one trick that I did for myself when I was trying to overcome this, because I worried about trying to do it cold turkey. Um, I found these little ice cream sandwiches that you can buy. I think they were like 60 calories per ice cream sandwich. I looked at the ingredients, I felt pretty good about it. It wasn't anything too crazy. I thought, let me give it a try. And I found that if I had one or two of those at night, it was satisfying the craving enough for me. And I felt like it was much better than the big, big bowl of ice cream. And eventually, over time, I really didn't rely on it as much as I had been in the past. I was being more mindful about the whole thing. So maybe if you can find something, and if you've got that go-to thing, but you're like, I know, it's so bad. I'm eating chocolate at my desk, you know, every afternoon, or whatever that thing is for you. Your bag of chips that you stash and hide and you know, go to when the stress is getting to you. Trying to maybe find a swap that's a little bit healthier. You know, maybe, you've got to think too, if it's a snacking thing, like, "What kind of snacker am I?" You've got to replace something crunchy with something crunchy, you have to. For me, I wasn't going to be satisfied with something that wasn't ice cream. So I had to find something that was close enough, that hit, scratched that itch for me, I guess you could say. And I think that could be a good way to sort of ease yourself out of it. And then and then trying to focus more on the positive things you can add. I think if you're always focused on taking things away, it can kind of put you a little bit into a negative headspace. Um, and that makes it sort of feel harder. But if you can focus more on instead of, you know, thinking so much about like, "I'm not going to eat chips anymore." Thinking about, "You know what I'm going to eat some popcorn that I popped myself in the microwave in a plain paper bag with nothing in it." We do it here all the time. It's delicious. You can add your own seasonings to it. Really control the salt and the oil, and you've got a great crunchy snack. It took you two minutes to make, super cheap. Um and like looking at the positives that come along with adding something different to your diet.
Aryanna Gamble
What resources do you guys have at the Goldring Center that can help folks on their healthy habit journey?
Heather Nace
So this past year, of course, we had to stop posting our in-person cooking classes. And in a lot of ways, that did free up some of our time to be able to work on creating new resources for people, which was pretty exciting. So we have developed a lot of new recipes, we've done some videos, both showing recipes, as well as some knife skills. And we have also been trying to keep seasonality in mind a little bit more as we develop new recipes. And basically, we have, we're just trying to crank out as much content as we can with the time we have. And we basically keep updating our website as frequently as possible with new recipes. We have handouts that can give you a little bit more guidance on nutrition. We have a great snacking handout that talks about things that you can make that are smarter choices than maybe what we're used to picking without much thought. So we have a lot of great stuff on our website. Um, we also have been doing online cooking classes for the public, which had been really fun, because we've been offering these with a different theme every time. We've done everything from basic skills and techniques, like how to make sauces and how to properly sear and sauté, how to build flavor without relying too heavily on a lot of oil and salt. And we've done things like proper egg cooking. We've done a Cooking With Your Mini Chef class for the kids to get involved. And most recently, we've done some holiday-themed classes with a sides and desserts class that we did, as well as edible gifts class. We're really looking forward to 2021 because we have some great healthy-themed classes coming up, which are going to focus on how to make filling and satiating salads, as well as really tasty homemade dressings. We're going to do meal prepping and batch cooking. We're going to have a pizza party for the kids. And we're going to do a Valentine's-themed class. So I will say that in some ways, this pandemic has actually allowed us the time to be a little more creative and create new content for our fans and our friends out there.
Aryanna Gamble
Is there anything else you'd like to share with our listeners?
Heather Nace
I think I would just like to say that we all need to go easy on ourselves. And it can be really frustrating to, when you're seeking some big results, to have to make changes slowly and see those results a little bit more slowly. But it has been proven that we do see those results most effectively when we take it slow. And when you try to change everything all at once, you know, that's when you usually fail, and then you end up on that yo-yo cycle. Um, so you do have to be patient. And other than that, I would just say, if you're not super confident in the kitchen, I would definitely recommend checking out our classes because that is what we're really about is increasing people's kitchen confidence, and just giving people practical skills and tips and advice on how they can make those small changes that have big impacts.
Aryanna Gamble
So Heather, where can our listeners find out more information about all of the resources that you guys have available?
Heather Nace
So we do post updates about ongoing upcoming classes on our social media accounts through Facebook and Instagram. On Facebook, you can find us as the Goldring Center for Culinary Medicine, and on Instagram, you can find us @culinarymedicine. But the best place to find information is actually our website. And that's goldringcenter.tulane.edu. And hopefully we'll see some of our listeners in the virtual kitchen soon.
Aryanna Gamble
Heather, thank you so much for joining us for this episode. I feel like you gave us so much great information.
Heather Nace
Thank you so much for having me. It was great.
Aryanna Gamble
Thanks for listening to this edition of On Good Authority. For more information about our show, visit us at tulane.edu/on-good-authority. If you like our show, please subscribe wherever you listen to podcasts.
Host: Aryanna Gamble
Editor: Marianna Boyd
Producers: Marianna Boyd and Audrey Watford
Production team: Marianna Boyd, Keith Brannon, Will Burdette, Faith Dawson, Libby Eckhardt, Aryanna Gamble, Carolyn Scofield, Mike Strecker and Audrey Watford