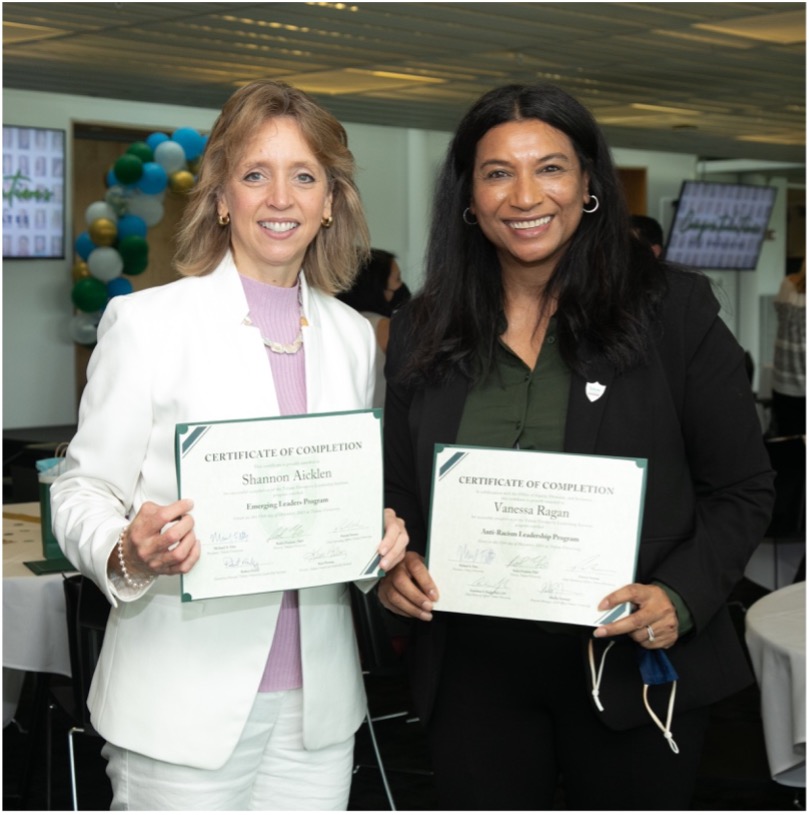 Offered to Tulane University employees at the Manager level and above, the Emerging Leaders Program (ELP) is a strategic and professional growth opportunity for high performing Tulane University employees that are interested in sharpening their leadership skills to take their career to the next level. The Emerging Leaders Program is specifically designed to give emerging leaders the time and space to gain a greater understanding of the organization of Tulane; to enhance their current leadership skills; to collaborate on current initiatives; and, to strengthen their practice within a university-wide network. Graduates of the Emerging Leadership Program will be members of a network of university leaders who are dedicated to the betterment and growth of Tulane University and who will be champions in leading future change initiatives in the Tulane community.
Program Goals
The Emerging Leaders Program seeks to:
1. Bring together a network of dedicated, high-potential Tulane employees
 
2. Provide Emerging Leaders a more expansive view of Tulane University as an organization and community of faculty, staff, and students
 
3. Provide Emerging Leaders the space and time to engage in discussion around the opportunities and challenges that face Tulane University
 
4. Provide Emerging Leaders the knowledge, skills, abilities, and competencies, as outlined in the Talent Development Leadership Model, to take on larger leadership roles within the Tulane Community
 
5. Provide Emerging Leaders the platform, resources, guidance, and encouragement to lead change initiatives in the Tulane and New Orleans community upon graduation
 
Program Highlights
 
Nine-month intensive program focusing on building the leadership competencies as identified in the Tulane Talent Development Model to implement strategy and lead change at the University
 
Immerse in powerful, hands-on learning based on adult learning principles and transformational learning practices
 
Hand-selected curriculum based on leadership best practices, academic literature, and current issues and opportunities at Tulane University
 
Create an Individual Leadership Development Plan (ILDP) to ensure your growth and development throughout the program
 
Engage and network with individuals from different departments to share with and learn from the different experiences, roles, and knowledge that make up the cohort
 
Opportunity for individual coaching based on your current role, responsibilities, goals at the University, and Individual Leadership Development Plan
 
Limited to a select Cohort of 30 emerging leaders from across the University
2023 ELP
The 2023 Emerging Leaders Program will run from September 2023 to May 2024, and applications for the 2023 program will open in March 2023. If you would like to be notified when applications open, please fill out the interest form linked below. Thank you!
Curriculum
The Emerging Leaders Program curriculum is hand-designed to Tulane faculty and staff to seeking Take on leadership roles and to promote involvement and inclusion in the broader university community.
The ELP empowers Tulane faculty and staff to explore different leadership practices and navigate new leadership opportunities at Tulane through the program's balance of foundational leadership topics; Equity, Diversity, and Inclusion initiatives; applied, practical learnings; and reflective and transformational individual coaching.
2023 ELP Curriculum coming February 2023
Cohort
The Tulane University Leadership Institute defines Emerging Leader as a high potential employee committed to:
1. Developing and gaining the necessary skills needed to extend their reach beyond their team and department;
2. Taking on leadership roles and opportunities in the broader Tulane community; and,
3. Promoting growth mindset and a culture of life-long learning at Tulane University.
The Institute has proudly seated Emerging Leader cohorts that are diverse not only in race, ethnicity, age, and gender, but also in roles at the University, levels of experience, thinking preferences, and management styles. The diversity of the Emerging Leaders Program cohorts allow for an inclusive culture of learning, growth, and development.
Criteria
To be considered for the 2023 ELP Cohort, all applicants must meet the following criteria:
You must be a Tulane employee at the Manager level or above
 
You have at least 3 years of practice at Tulane University; or two years of practice plus completion of the Manager Development Program
 
You have demonstrated commitment to Tulane University and/or the community of New Orleans
 
You have shown the potential to make a significant future contribution through assuming higher and increased levels of leadership responsibility
 
You have the support of your direct supervisor and in growing your leadership abilities with their full participation in the program as necessary
 
You will be available for and committed to participating in all aspects of the 9-month program
 
You have the readiness to invest in lifelong learning for the betterment of self and others
If you meet the above criteria, we would love to receive your application for the 2023 ELP Cohort. To apply, please continue reading below.
How to Apply
Applications for the 2023 Emerging Leaders Program will open March 2023. If you would like to be notified when applications open, please complete the interest form below. Thank you!
If you have any questions, please contact the TULI Team at: tuli@tulane.edu.